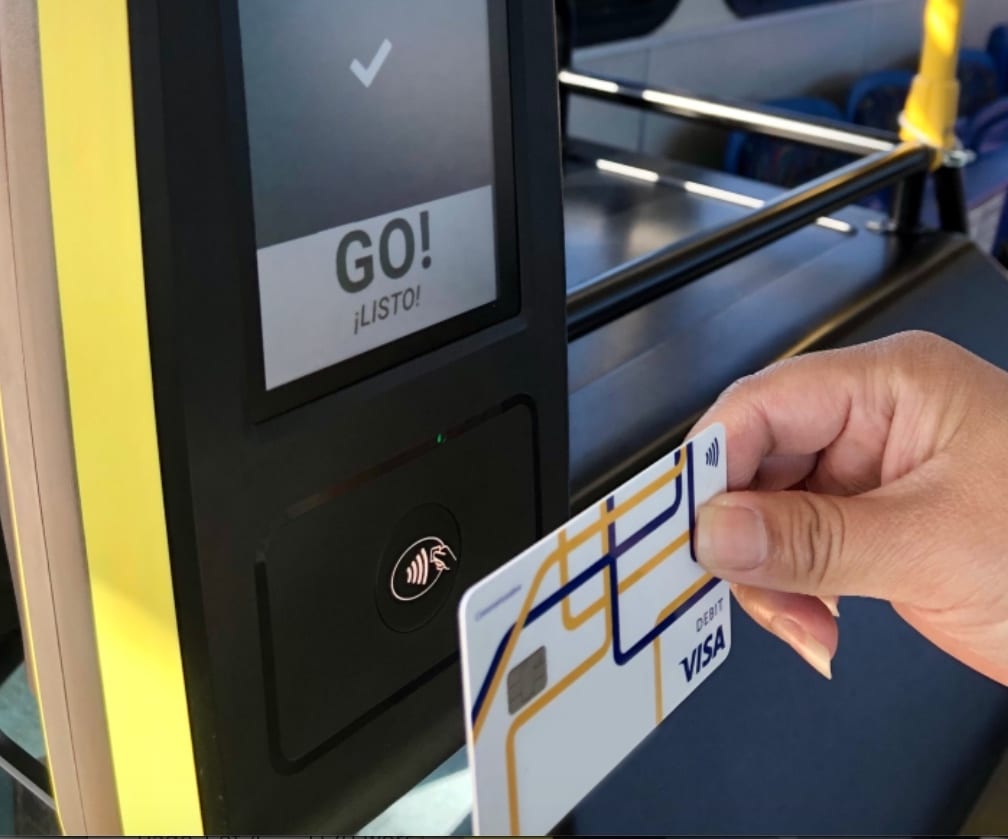 Article Highlights
Key Takeaway:
California's bold experiment into helping transit agencies procure technology to launch open-loop payments is off to a slow start, with only eight agencies–most very small–placing orders with state-vetted vendors through December. The program seeks to make it easier for transit agencies to buy and install open-loop technology.
Key Data:
• Graph: Orders of open-loop tech via Cal-ITP program through Dec. 2022
California's bold experiment into helping transit agencies procure technology to launch open-loop payments is off to a slow start, with only eight agencies–most very small–placing orders with state-vetted vendors through December, Mobility Payments has learned.
Nearly a year after officially launching its "Mobility Marketplace," in mid-March 2022, and opening the procurement program to transit agencies across the U.S., vendors reported a little less than $500,000 in total orders for validators and related hardware and maintenance from agencies–two-thirds of that from just one agency, Capitol Corridor, documents show. (Capitol Corridor, an intercity and commuter rail agency in Northern California, is a major financial backer of Cal-ITP itself, using state grant funds.)
And there was only one small agency outside of California, Coast RTA of South Carolina, that is buying its open-loop technology through the California program, the records obtained by Mobility Payments confirm.
In addition, most of the open-loop projects are still in the trial stage or haven't launched yet at all.
But backers of the initiative, the California Integrated Travel Project, or Cal-ITP, which is part of the state Department of Transportation, say it takes time to get these types of projects to the procurement stage and then up and running. That's even with Cal-ITP's streamlined modular approach.

The backers note there are other projects in the pipeline and also interest in the Cal-ITP concept from other U.S. states, even the federal government. As Mobility Payments reported last week, the U.S. General Services Administration–known as the federal government's landlord–has issued a request for information, RFI, directed at transit validator suppliers. The federal agency issued the RFI "on behalf of" the Department of Transportation. Cal-ITP and the department are looking for more validator suppliers.
'Challenge is Multidimensional'
The three vendors with master service agreements from the state to supply validators are UK-based Kuba, Singapore- and India-based SC Soft and Germany-based INIT. Only Kuba and SC Soft have won contracts from transit agencies so far to supply hardware.
Payam Herischi, SVP and general manager for the Americas at SC Soft, told Mobility Payments he believes small agencies don't have enough resources to "evaluate the advantages of new technologies or adjust their resources to take on new challenges," in explaining why more transit agencies in California and beyond haven't yet shopped at Cal-ITP's Mobility Marketplace.

"The challenge is multidimensional and fees could be a part of it," he said. "I believe there are other challenges for them, such as low ridership, as they have not recovered from the pandemic fully."
But for California-based consultant and longtime industry veteran Gary Yamamura, the problems run deeper and relate to what he believes is a difficult business case for open loop for agencies. That's true, at least for now, even if the agencies get a break on substantial integration fees, which some of the Cal-ITP vendors are waiving, said Yamamura, who is no fan of open loop.
"Considering that most agencies are lucky to reach 5% of passengers using open payments, when combined with the capex and opex issue, the agency will be faced with the prospect of having made a significant capital investment and would be committed to pay large opex for the life of the agreement while only serving a small percentage of its ridership," he said. He added that he used Cal-ITP's own cost-estimation tool on one of the agencies using Cal-ITP services, Clean Air Express in Santa Barbara County, to help confirm his conclusions.
Opex continues even if the agency were to receive grant funds for capital costs. And those opex costs include bank card fees, Yamamura added.
"While there are ways to reduce merchant fees, such as aggregation of payments, the agency will still be bearing merchant fees for every transaction processed through the system, a cost that it does not necessarily incur for all other fare payments it receives."

'Doesn't Happen Overnight'
Cal-ITP told Mobility Payments in a statement that "switching to a contactless fare payment system doesn't happen overnight." It said that it's encouraged by the interest it has seen "from many transit agencies to begin that transition" and is "excited about the trendlines," as the one-year anniversary nears for its master service agreements having taken effect. The agreements have a total of six vendors under contract to supply open-loop hardware, software and services.
Cal-ITP, however, didn't explain why there were not more agencies placing orders as of the year-end 2022 and didn't respond directly to a question from Mobility Payments about whether there are more orders from agencies in the pipeline.
Cal-ITP head Gillian Gillett, speaking to a committee meeting Feb. 8 with board members of two of the largest transit agencies in the San Francisco Bay Area, BART and AC Transit, said Cal-ITP has "60 agencies in our pipeline and about 15 of them are outside of California."
It's not clear she was referring to transit agencies that have ordered or definitely plan to order from the Cal-ITP vendors or that the agencies have merely contacted Cal-ITP for guidance and are only thinking about ordering. Offering consulting services to agencies considering rolling out open loop is one of Cal-ITP's major roles. Caltrans didn't respond to a request for clarification.
Cal-ITP also said in its statement to Mobility Payments there are "dozens of agencies" receiving free technical assistance from Cal-ITP, "as they apply for and receive funding to purchase" from the venders under contract.
There doesn't appear to be dozens of transit agencies that have received grant funds to pay for open-loop equipment, such as validators with certified contactless EMV readers.
The Transit and Intercity Rail Capital Program, or TIRCP, a major state grant program for transit agencies in California, listed only seven awards, in which the agencies mentioned they would use part of their grants to roll out contactless payments. Of these seven agencies, four had placed orders with Cal-ITP vendors as of December. That takes in Capitol Corridor, Sacramento Regional Transit and small agencies in Santa Barbara and Mendocino–the latter in the far Northern part of the state.
The three other agencies are the Anaheim Transportation Network in Orange County, south of Los Angeles; one in the San Joaquin Valley in Central California and one for the tiny city of Wasco, near Bakersfield. Anaheim Transportation confirmed to Mobility Payments that it was "working on moving forward," with the project." The agencies don't necessarily have to mention contactless payments in their TIRCP grant applications, so there could be more recipients planning open-loop projects.
Cal-ITP doesn't provide grant funds itself for the open-loop equipment and services. It set up the master service agreements working with the California Department of General Services. And it helps agencies to make cost estimates to buy their open-loop technology and to draft a scope of work document to guide contractors.
Few Vendors Get Work
The "usage reports" of agency orders of open-loop technology show relatively little activity during the second half of 2022. Vendors reported orders totaling $114,000 for the third and fourth quarters combined. The second quarter totaled $374,000, mainly for the Capital Corridor project. (See chart below listing all projects Cal-ITP vendors have supported).
Kuba won the contract with Capitol Corridor, the largest such contract to date, accounting for more than $300,000. The agency placed the order in the second quarter.
Capitol Corridor hires Amtrak to run its trains and also its ticketing system. That reliance on Amtrak for ticketing will start to change when Capital Corridor introduces open loop.
The agency recently announced that it would launch a 200-person open-loop pilot next month that will run for several months. Capitol Corridor, which is controlled by board members for the eight counties the rail system serves, did not commit to more than the pilot, though it is expected to expand acceptance of open-loop for all customers later. Besides Kuba and Australia- and UK-based payments service provider Littlepay won a contract with Capitol Corridor.
Elsewhere, SC Soft beat out Kuba to win a contract with a group of four small Northern California transit agencies to supply bus validators at a sub-$900 price each. Procurement documents obtained by Mobility Payments show that SC Soft had slashed the price for its SCV500 validators by 25%, down from the $1,200 price the vendor bid on the same validator model to secure its master service agreement with the state. The agencies placed a little more than combined $65,000 worth of orders with SC Soft in the second quarter.
The project may launch this month after months of delays because agencies are changing their fare policy from distance base to flat fares, the lead agency told Mobility Payments.
Besides validator suppliers Kuba, SC Soft and INIT, the state hired "transit processors" Littlepay, Canada-based Enghouse and U.S.-based Bytemark. INIT also has a master service agreement to provide transit processing. A transit processor takes the taps from validators, applies fare capping and fare policy and deliver the transactions to acquirers. They also serve as payments service providers.
But to date, transit agencies have contracted with only three of the vendors for any project, Kuba or SC Soft, for validators and Littlepay for transit processing/PSP. All three vendors have already integrated their platforms with one another, while waiving integration costs to agencies on one or more projects. Littlepay and Kuba are part of the same ownership group, ICM Mobility.
Waiving of the integration costs potentially saved agencies hundreds of thousands of dollars, at least they did compared to one or more other proposals received by the Far East Group, the consortium of small Northern California agencies that procured their technology through Cal-ITP in mid-2022.
The pre-integrations also appear to be putting other transit processors at a disadvantage. INIT had not won a contract to supply transit processing (or validators) to any agency as of December–though its bid prices are higher than others, as well. Neither Enghouse nor Bytemark had won a supply contract as of December, either.
Littlepay is also integrated with the only acquirer, Elavon, to have been selected for contracts with the transit agencies so far. Elavon only clears and settles the open-loop revenue. It's not apparently qualified to process the transactions, according to one source. Cybersource, a Visa company, does that.
Littlepay also has waived fees for level-3 EMVCo certification for the end-to-end system, that is, from the validator through the acquirers. The fee waivers are one reason it's won contracts, but they are also one reason Littlepay hasn't reported any revenue from integrations and other set-up fees on the usage reports.
Littlepay's global head of commercial, Paul Griffin, pushed back on criticism that being sister companies with Kuba gives both a leg up on the competition. He contended that no agency has raised concerns about "any shared ultimate ownership" between Littlepay and Kuba.
"The market understands very well that we are entirely independently managed organizations," he said. "We (Littlepay) have an equal working relationship with SC Soft," adding: "We have also signaled our interest, openness and willingness to work with INIT validators as soon as any agency requests this." Kuba did not comment.
Littlepay views all of its waivers and other price cuts as investments it hopes will pay off later when the open-loop projects get rolling. To date, the Cal-ITP open-loop projects are either very small or not live yet. Littlepay charges a 2.25% "introductory" commission rate on open-loop transactions its software-as-a-service PSP platform handles. It bid a rate of 2.8% for its master service agreement.
But just how much revenue Littlepay earns depends on how many more agencies sign up through Cal-ITP and how much their customers use the service. If the lead Cal-ITP pilot agency, Monterey-Salinas Transit, or MST, is any guide, adoption rates could be a challenge. MST had seen no more than 5% of fare payments made by open loop, as of last September, around 16 months after launching.
Littlepay's Griffin said that while the state's Mobility Marketplace framework "has massively reduced the procurement burden, that doesn't mean it's a trip to the candy store."
He said that before launching an open-loop service, transit agencies still need to get board approval, negotiate with vendors, sign contracts and make other preparations.
"What we are seeing now is the first tranche of agencies that expressed very early interest," he said. "There is a healthy pipeline of further agencies working through these steps."
© Mobility Payments and Forthwrite Media. Mobility Payments content is for individual use and cannot be copied or distributed without the express permission of the publisher.