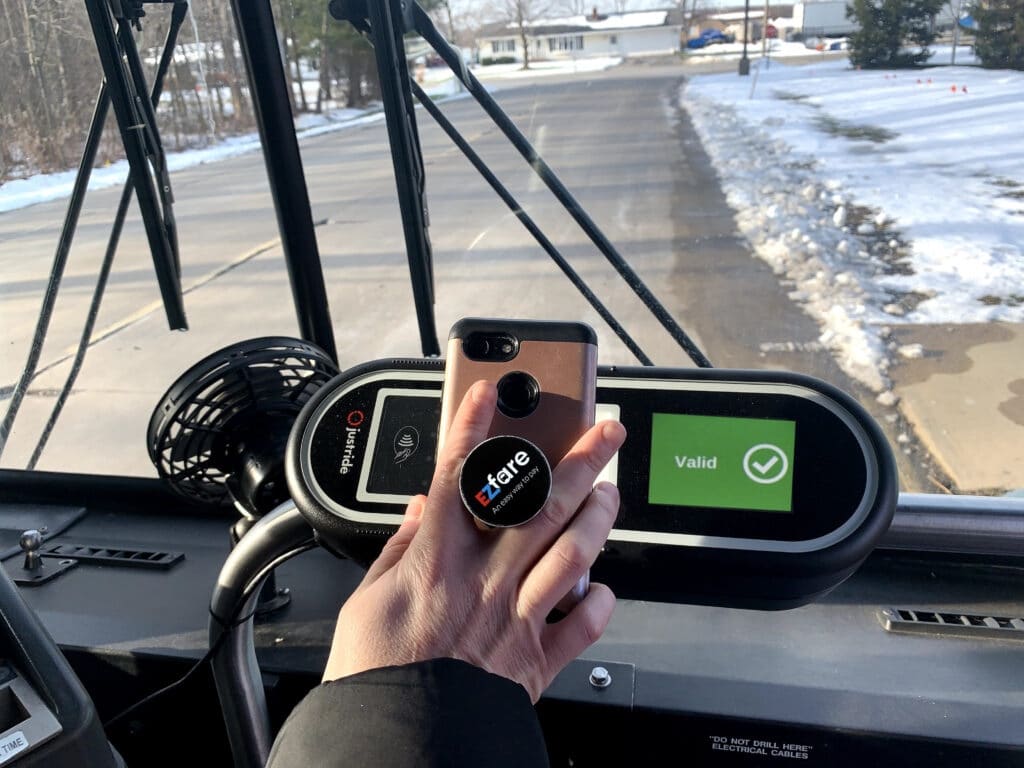 Article Highlights
Key Takeaway:
Some groups of small and medium-sized transit agencies in the U.S. are looking to procure new fare or ticketing systems, hoping to get a better deal from vendors than the agencies could on their own. Led by Ohio-based NEORide, backers of the concept say it can give smaller agencies more visibility and bargaining power with vendors.
Key Data:
• Table: List of agencies in two groups procuring fare systems.
• Table: EZfare mobile ticket purchases, by app and channel
Some groups of small and medium-sized transit agencies in the U.S. are looking to procure new fare or ticketing systems, hoping to get a better deal from vendors than the agencies could on their own.
The joint procurements by multiple agencies also could potentially make regional travel easier for riders, say backers and observers.
Furthest along on the concept is Ohio-based NEORide, a council of governments consortium of agencies that has already launched mobile ticketing with 15 agencies in three states. It recently issued a request for proposal to expand its EZfare mobile-ticketing system to at least 18 agencies across five states, with more to come.
Besides increasing its agency footprint, NEORide wants to enable EZfare to handle more complex fare payments, including those with reloadable closed-loop smart cards, open-loop cards and credentials and fare capping. Proposals from vendors are due May 4.
Separately, a group of small agencies in Pennsylvania, led by the Lehigh and Northampton Transportation Authority, or LANTA, of Allentown, recently issued a request for information, or RFI. The group is also looking for a new fare system that can support mobile ticketing, reloadable closed-loop cards, open loop and fare capping.
LANTA, which had a ridership of less than 4 million last year, stated in the RFI that at least 13 other small transit agencies could join in the procurement. The agency is asking for responses from vendors by May 15.
(See table on this page for a list of agencies that are involved in the procurements by the two groups.)
There are also some small agencies in California that have joined for procurements, including at least one through the state-backed Cal-ITP program.
The trend does not refer to multiple small to large agencies in a given region using the same fare card or system, such as those in and around Los Angeles, San Francisco and Toronto. In these cases, large transit authorities LA Metro, MTC and Metrolinx are the ones procuring the fare systems–TAP, Clipper and Presto, respectively–then enable the transit agencies they serve to use the fare cards and systems.
Building Bargaining Power
NEORide director Katherine Conrad said she believes joint procurements increase the visibility and bargaining power of small and mid-tier agencies.
"Procurements are expensive and time intensive," she told Mobility Payments. "In addition, smaller agencies cannot always get the attention of vendors. By coming together to do procurements, agencies can leverage the joint buying power of transit."
Conrad's group will be looking to buy a total of around 500 new validators for fixed-route buses and around 90 more for paratransit, or on-demand, vehicles. That's in addition to approximately 1,000 validators for fixed-route buses and 450 for paratransit it already has in operation for mobile-ticketing across the 15 agencies that are live with EZfare. Just about all of the validators and other capital expenses were paid for with state and federal grant funds, which will also fund the devices in the new tender request.
Masabi has Much to Lose
NEORide now uses a software-as-a-service platform from UK-based Masabi, which has much to lose if it does not win the forthcoming vendor competition.
NEORide has been one of Masabi's high-profile projects, and transactions are growing. Total EZfare ticketing revenue nearly tripled in 2022 to $6.4 million. Much of that was due to the addition of the Greater Cleveland RTA to the EZfare service. This one agency accounted for around 40% of the 2022 EZfare ticketing revenue and only joined the service at the midpoint of the year.
The Cleveland agency declined to release Masabi's fees, but for a mobile-ticketing contract approved last year in Utah, Masabi is charging 2% of mobile-ticketing revenue its platform handles, not counting fixed fees.
Overall, total revenue also increased for the EZfare mobile-ticketing service because of the elimination of pandemic restrictions.
The growth showed up in ticket purchases in apps and other channels supporting EZfare. The volume tripled to more than 1.6 million transactions last year, compared with 2021. (See table on right.)
Growth is expected to continue as NEORide adds more agencies with the new tender, if not before. That includes Rock Region Metro, serving Little Rock, the capital city of Arkansas.
Much of NEORide's expansion of EZfare mobile ticketing has occurred while Masabi has been the ticketing provider. That will likely include an agency serving the capital of West Virginia, KRT in Charleston, which Conrad said is now onboarding.
To date, all or nearly all of the 15 agencies that are part of EZfare are offering only mobile ticketing, not closed-loop smart cards, which could use the same account balances. But many of these agencies are scheduled to get account-based ticketing, or ABT; reloadable smart cards; and fare capping; this year, Conrad said. She did not say whether that migration to these features is behind schedule.
When asked why NEORide decided to go for a new procurement rather than asking Masabi to add the agencies and features it wants, Conrad said the group determined that with the growth of EZfare, it needed a "full procurement."
"NEORide's original procurement was done with five transit agencies in 2018 and had a much more limited scope–only visual validation and validators," she told Mobility Payments. "Since that time, we have learned much more about the mobile-ticketing arena and the technology has continued to evolve. Given the much larger number of agencies and the desire to move forward expanding the sophistication of EZfare, we decided to conduct a full procurement."
A Masabi spokesman told Mobility Payments that the company doesn't comment on RFPs, but he said that the "groundbreaking EZfare deployment provides a blueprint for how to do multiagency, and multistate, ticketing, which is being watched and replicated by other regions." He did not say where.
He added that the group procurements can lower costs and make for more "seamless regional travel for riders."
Masabi appears to have a good shot at holding the business. NEORide has said it prefers to stick with the SaaS-ticketing model. It also has a tight rollout schedule, and wants to have the new system in place by mid-2024.
'Comprehensive Fare-Collection Technology Solution'
Meanwhile, although LANTA–speaking for its loose consortium of agencies in Pennsylvania–says it wants a "comprehensive" fare system that is not focused only on mobile, it is asking for much the same things as NEORide. In addition to mobile ticketing, that includes open-loop acceptance from credit and debit cards and wallet credentials, reloadable closed-loop cards, as well as fare capping and the ability for customers to do cash reloads at ticket-vending machines, retail outlets and transit service centers.
LANTA, like NEORide, also wants to be able to offer "specialty passes," such as those purchased by employers or universities for their employees or students, along with "discounted (fare) media for target populations."
And the groups want to be able to enable payments for third-party mobility providers, such as bikeshare and scooter-rental companies, to be able to plug into the groups' payments platforms.
Making Fare Payments Interoperable
California-based consultant Gary Yamamura, co-founder of SaaS-ticketing platform provider Delerrok, which was later acquired by Cubic Transportation Systems, said he believes that creating purchasing scale is not the main driver for agencies to join for procurements.
"Agencies have overlapping routes and stops and need to provide a convenient way for passengers to transfer and pay," he told Mobility Payments.
Sometimes local and state governments mandate that agencies make it easier for riders to pay fares with multiple agencies. Procurement of a single fare system across agencies can help them to meet this mandate.
 In addition, some larger transit agencies and smaller agencies serving nearby cities and towns already share such ticketing services as free transfers at common bus stops. "In order to accommodate more complex fare policies, (they might) jointly procure an electronic fare system," Yamamura said.
An example is the procurement by three bus agencies in and around Portland, Maine: Metro of Portland, South Portland Bus Service and Biddeford Saco Old Orchard Beach Transit. Yamamura said his former company got a contract in 2019 to enable the agencies to introduce smart card and mobile fare payments. The payments would cover three differently priced tiers of service for each agency.
"Although issuing a joint procurement was a requirement to enable interagency fare acceptance, the two smaller agencies also needed to leverage the buying power of the much larger Metro," he said.
NEORide's Conrad said that technically, the stored value in customers' EZfare accounts are interoperable, so a customer of one agency would be able to ride with another agency using that value, as long as both agencies support EZfare. The customer would need to choose a particular agency in their app when they buy the actual ticket.
"Currently, all direct ticket sales go directly back to the agencies," Conrad said. "The stored value is combined into a single purse and then allocated to each agency based on usage by the transit riders."
NEORide's growing footprint means that more riders might buy tickets outside of their locality, such as in the next county. And it is possible, though probably unlikely, that they would use the EZfare service when they travel out of state.
"Really, we want to get to the point where you can ride across multiple counties, and you're tapping and going, and you don't have to calculate any of it on the back end," Conrad told a researcher in a video interview late last year. "It all gets calculated and issued to the correct transit (agency) that saw the ride."
© Mobility Payments and Forthwrite Media. Mobility Payments content is for individual use and cannot be copied or distributed without the express permission of the publisher.