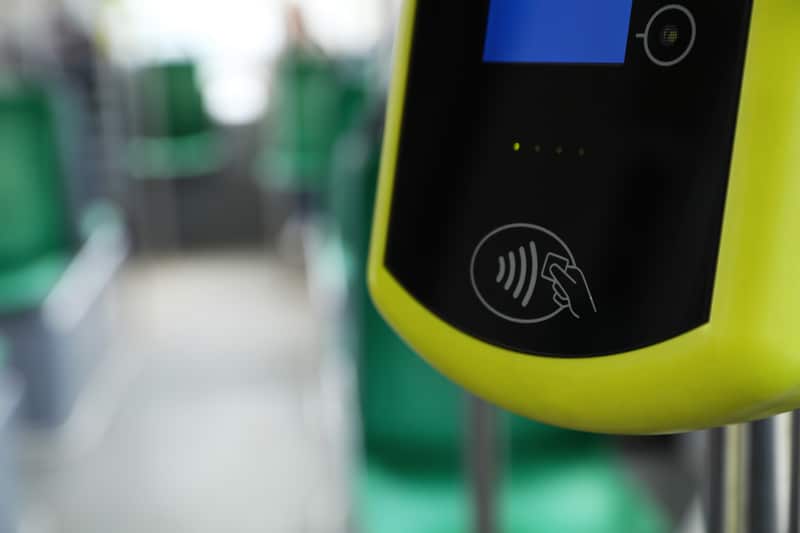 Article Highlights
Key Takeaway:
Transit agencies in the U.S. could be able to buy fare validators through a federal government procurement program administered by the U.S. General Services Administration, as part of an initiative by the California Integrated Travel Project, or Cal-ITP.
Key Data:
The Cooperative Purchasing Program allows state, local and other government agencies to buy IT, security and other products and services through the MAS program, which is usually reserved for federal agencies. For the IT sector alone, there are more than 7.5 million products, services and solutions from over 4,600 "pre-vetted vendors," GSA said.
Transit agencies in the U.S. could be able to buy fare validators through a federal government procurement program administered by the U.S. General Services Administration, as part of an initiative by the California Integrated Travel Project, or Cal-ITP.
GSA, which is the U.S. federal government's chief procurement agency, has agreed to fast-track its process to qualify fare validator suppliers to become part of its Multiple Award Schedule, or MAS, program, according to a letter from the head of the Cal-ITP, obtained by Mobility Payments.
GSA's MAS program enables commercial suppliers to sell a wide range of products and services to federal agencies–and in certain cases, to state and local governments, including transit agencies. GSA said its MAS program accounts annually for more than $39 billion in purchases by governments at all levels.
Meanwhile, Cal-ITP, a state-backed initiative set up to help transit agencies procure technology to accept open-loop payments–wants to increase the availability of fare validators for transit agencies, not only in California, but across the U.S. Cal-ITP is part of the California Department of Transportation, or Caltrans.
Cal-ITP head Gillian Gillett, in an email message sent to a number of fare equipment and other suppliers March 24 said Caltrans "has had several discussions with GSA about the technology needs of local transit agencies across the U.S., and the challenges that particularly the small and mid-sized agencies have regarding procurement."
She further stated that "GSA understands the urgent need for making transit technology more accessible for local purchasers nationwide, and has agreed to open up their 'FASt Lane' program to expedite the process of getting transit technology vendors onto MAS contracts…"
It remains to be seen how many fare validator suppliers will apply to join the GSA program. There are restrictions on the prices they can charge. And there are no guaranteed sales. But the program could give U.S. transit agencies another option through which to buy lower-cost validators from suppliers and without being required to solicit bids. The agencies, of course, would still have to procure other parts of the fare system.
The move follows a request for information GSA issued last fall at the urging of Cal-ITP and Caltrans. The California officials wanted GSA to "research the market" to determine the availability of qualified hardware vendors that meet requirements of the state's Cal-ITP program, as Mobility Payments reported.
It was evident from that RFI and statements by GSA that the federal agency could decide to vet the validator vendors, ask them quotes and put them under contract. A spokesman for GSA told Mobility Payments at the time that, Caltrans had come to the GSA "seeking market research assistance for their potential requirement under GSA's Cooperative Purchasing Program."
The Cooperative Purchasing Program allows state, local and other government agencies to buy IT, security and other products and services through the MAS program, which is usually reserved for federal agencies. For the IT sector alone, there are more than 7.5 million products, services and solutions from over 4,600 "pre-vetted vendors," GSA said.
Gillett and Caltrans have not responded to a request for comment sent last week from Mobility Payments on the GSA program. And a GSA spokesperson issued a statement to Mobility Payments after several days containing very little new information. The statement did say that "Caltrans asked GSA to help identify potential suppliers" of fare validators.
But the statement said that Caltrans wanted GSA to identify suppliers that were "already" part of the GSA MAS procurement program. It's unclear what this refers to, since lists of GSA's current MAS suppliers appear to contain no fare equipment or technology vendors.
The GSA also said in its new statement that "GSA has not specifically invited companies selling fare validators to become part of the GSA Schedule (MAS) program." That appears to contradict Gillett's message to vendors that GSA was "inviting" them to submit an "eOffer" to become part of the MAS program.
Cal-ITP, in an entry in its industry newsletter earlier this month, also promoted the "new opportunity" for vendors to be part of the MAS program and provide "contactless fare-collection products via GSA contracts."
Cal-ITP has worked with the GSA before, on single sign-in platform, Login.gov, to try to link open-loop payments with concessionary discounts when seniors tap their credit or debit cards to pay. Riders can also establish their eligibility with the system. The system was not being used much and only worked with cards, not NFC smartphones and smartwatches, as of last September.
Allowing More Vendors into 'Mobility Marketplace'
Cal-ITP's efforts to expand the availability for fare validators also appear to be a tacit admission that the three vendors under contract by the state of California under its own program are insufficient to meet Cal-ITP's goals of making open-loop payments equipment available to transit agencies throughout California and across the U.S.
The state had hired the three validator suppliers in late 2021, after it had conducted a procurement to find both validator suppliers and "transit processors." The latter are mainly payments service providers. These vendors were placed under five-year master service agreements and could then sell their goods and services directly to transit agencies. Agencies also could hire one of two acquirers, or payment processors, which were already under contract by the state. One of those processors, Fiserv, appears to have dropped out, however, leaving only Elavon.
This modular approach to procurement of fare technology, which Cal-ITP is promoting, is designed to enable agencies to more quickly introduce open-loop payments, often at a lower cost than they could get otherwise. In addition, small agencies sometimes find it difficult to attract bids from vendors if they try to conduct their own tender process.
With Cal-ITP, agencies also can count on technical assistance from the small state program and its consultant, Rebel Group, to help them to negotiate and contract with vendors and to draft a statement of work for their projects.
There are only three validator suppliers under contract by the state of California because most vendors that submitted proposals for the state procurement in the latter half of 2021 were disqualified for failing to meet technical and, especially, strict administrative requirements.
That included such well-known suppliers as Scheidt & Bachmann, Flowbird and Access-IS, along with Modeshift. None met the state's administrative requirements, including those that required their references to return their reviews to the state within five business days.
Other well-known vendors, Vix Technology, Masabi and Paragon ID, along with ZED Digital, were also knocked out of the competition because of both administrative and technical issues flagged by state evaluators. (See story from January 2022).
Gillett is believed to have asked all or most of these disqualified vendors, among a number of other suppliers, to consider applying for the federal program. She noted that if they were accepted by the GSA and also complied with Cal-ITP specifications for validators, they could be listed on California's "Mobility Marketplace," where the stated-vetted three validator suppliers and four transit processors are listed. (There are six vendors in total with master service agreements in California, with one, INIT, winning state contracts to supply both validators and transit processing.)
Loss for Current Cal-ITP Vendors
If Cal-ITP does indeed expand its Mobility Marketplace to include other vendors contracted by GSA, it would provide more competition for the three validator suppliers now with MSAs from the state.
Of the three suppliers, UK-based Kuba, India- and Singapore-based SC Soft and Germany-based INIT, only Kuba and SC Soft had received orders from transit agencies as of the end of 2022. In general, orders by transit agencies during Cal-ITP's first year were off to a slow start.
Besides Kuba and SC Soft, the only other Cal-ITP vendor that had gotten any business through the end of last year was transit processor Littlepay. One issue has been that Kuba, which is a sister company with Littlepay, and SC Soft are both integrated with Littlepay's open-loop payments service platform. But Littlepay was not apparently integrated with any of the other transit processors hired by the state.
Littlepay, Kuba and SC Soft have waived integration fees, at least for their early projects, making their offers more attractive to transit agencies. INIT, as a transit processor, was only vertically integrated with its own validators, at least when it bid for the state contracts in 2021. As of the end of last year, INIT had not recorded any orders from transit agencies through its California MSAs. That could also be the result of higher prices INIT has charged, in general.
When asked whether INIT has applied to become a GSA MAS contractor or plans to do so and whether it fears losing business because of MAS, a spokeswoman said the company is "aware of the MAS program and plans to respond accordingly." She noted that INIT's PROXmobile3 validators are American made and comply with Visa Ready specifications, as well as those of ITxPT, an association promoting open architecture and interoperability.​
"We understand that the MAS program may introduce additional players but believe INIT is well-positioned to compete."
Representatives of neither Kuba nor SC Soft responded to a request for comment.
One longtime industry observer believes that the potential GSA validator supply contracts do not bode well for the existing Cal-ITP validator vendors.
"What seems clear is that the vendors that have already received contracts through the Cal-ITP program will no longer have exclusivity for deals within the state," the observer told Mobility Payments. "While California agencies were never obligated to use the Cal-ITP contracts and vendors, there was, very likely, some political pressure to do so and, at least in theory, some financial and logistical advantages."
Vendors Stay Mum on Possible Participation
But it's not a given that all fare validator suppliers will apply to become part of GSA's MAS program. For one thing, vendors don't get any guaranteed business by having a MAS contract. These are "indefinite-delivery, indefinite-quantity" contracts, according to the GSA.
Suppliers would also have to offer "fair and reasonable" ceiling prices. To determine what is fair and reasonable, GSA said it would look at "pricing on competitor contracts, historical pricing, and currently available pricing from other sources, corporate benchmarks, etc."
The prospective MAS validator contractors would also have to share two years of financial statements in most cases, and would have to demonstrate at least two years of "measurable past performance."
The GSA statement to Mobility Payments did not mention that validator suppliers would be allowed to apply for fast-track consideration to join the program. But that is generally available in the IT product categories. If they do apply to join the MAS program under GSA's "FASt Lane" procedure, they'd have to respond no later than 24 hours of receiving any requests for information from GSA, perhaps sooner.
Besides the three validator suppliers that are now part of Cal-ITP, along with the suppliers that were earlier disqualified from becoming part of the state program, Gillett is believed to have contacted several other industry vendors asking them to consider applying for a GSA contract.
Mobility Payments contacted several of these suppliers and besides INIT only two responded. One said it would apply for the GSA program, but did not respond with further details, as promised. Another said his company was "currently investigating" the opportunity.
For its part, Cal-ITP made it clear that vendors that do not follow the administrative and technical requirements of California's master service agreements for validators, would not have their products advertised on the state's Mobility Marketplace if they got a GSA contract. Among the technical requirements, of course, is that the validators can accept open-loop payments.
In any case, it appears likely that Cal-ITP will have much less control over procurements by transit agencies for products procured through the GSA program. Still, the state agency is supportive of vendors joining the federal program.
"By completing this process and getting your products and services onto GSA's MAS, transit agencies would be able to immediately and directly access those products," concluded Gillett in her message. She added that joining the GSA program could also make vendors eligible in the future if GSA were to "conduct a competitive procurement for more specific products and services."
© Mobility Payments and Forthwrite Media. Mobility Payments content is for individual use and cannot be copied or distributed without the express permission of the publisher.