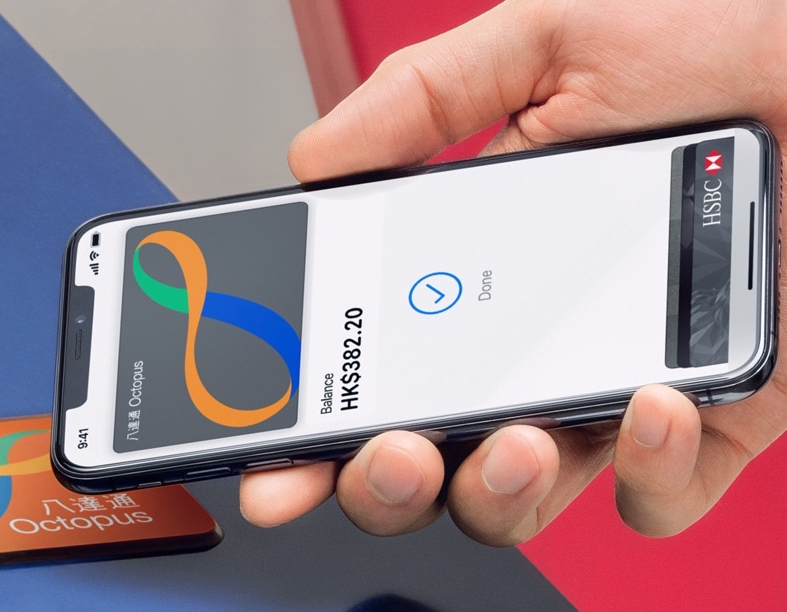 Article Highlights
Key Takeaway:
Apple enabled the popular Octopus card from Hong Kong in its wallet, long after it first promised the service. Apple continues to add closed-loop fare cards in other cities to its wallet, which it sees as an important service to attract more users to Apple PAy.
Key Data:
Table: Major Pays Add Closed-Loop Cards to Wallets to Complement Open-Loop Payments
(This premium article was originally published in June 2020. © Mobility Payments and Forthwrite Media.)
Apple finally launched its Octopus transit payments service in Hong Kong on Apple Pay, nearly a year after the service was originally announced and more than two years after rival Samsung introduced a similar service in the market.
The long overdue service, launched in June 2020, helps Octopus Cards Ltd. to further its years' long effort of encouraging more riders to tap to pay with their mobile devices. Around 95% of Hong Kong residents already carry the near ubiquitous Octopus card, which users can tap to pay for rides on Hong Kong trains, buses and ferries, in addition to 35,000 retail and other outlets that accept Octopus.
Apple has enabled its Express Transit feature for Octopus, which lets users avoid using Touch ID or other authentication methods as they approach readers, and extends the device's battery power to ensure users have enough juice to complete their rides. Apple has only enabled a subset of the transit payments services it supports in Apple Pay–both closed-loop and open-loop–with Express Transit, including those in Japan, mainland China, New York City and London.
Customers need an iPhone 8 or later model, or at least an Apple Watch Series 3–updated to iOS 13.5 and watchOS 6.2.5, respectively–in order to use Octopus in Apple Pay.
Apple is making it convenient to top up value on the digital Octopus card in its wallet. Customers can use their bank cards, branded either with Visa, Mastercard or China UnionPay, in the Apple Pay wallet to charge up Octopus, although the cards have to be issued by a Hong Kong bank. They also can top up automatically from Octopus Cards' own mobile app, using bank transfers powered by the Faster Payment Service. The app can be loaded either on an iOS or Android device. Users also can reload Octopus manually using cash. For the Octopus launch, Apple also added real-time Hong Kong transit scheduling in Apple Maps.
The launch of Octopus in Apple Pay took much longer than expected, given that Apple already had the technology it needed to enable the service–which is based on proprietary FeliCa contactless technology. Apple launched the high-speed, closed-loop Suica payments service on iPhones and Apple Watches in Japan in late 2016. Suica also uses FeliCa from Japan-based Sony Corp.
FeliCa-based payments services usually have demanding requirements, especially for transit fare collection. Processing times have to be within 200 milliseconds supporting throughput of 60 persons per minute through transit turnstiles, said Silvester Prakasam, senior advisor, fare systems for Land Transport Authority of Singapore, speaking last year at APSCA's Transport Payments Asia Pacific conference. That is twice as fast as the processing speed required by Land Transport, for instance, which has launched open-loop fare collection, he noted. He added that Apple has invested heavily in Suica and since introducing the iPhone 8 and Apple Watch Series 3, Apple's NFC embedded chips have supported a global FeliCa specification.
Octopus Cards Ltd. had announced the planned support by Apple Pay last July and said the service would be launched before the end of last year. The fare-payments company, which is owned by the major transit companies serving Hong Kong, did not give an explanation for the delay, such as whether there were technical or commercial obstacles or if the Covid-19 pandemic or even political tension in the Chinese administrative region played a role.
Samsung Pay managed to launch Octopus in Hong Kong in December 2017. The payments service was trialed even earlier on NFC SIM cards.
Apple, Samsung, Google and other Pays wallets backers have been keen to support transit payments in their wallets as a way to broaden usage. For example, Apple, in addition to supporting open-loop fare payments in such cities as London, Chicago, New York, Sydney, Vancouver, Madrid and the Chinese cities of Guangzhou and Hangzhou, has been seeking ways to support popular closed-loop transit purses on its embedded secure chip. In addition to Suica in Japan and local cards in Beijing and Shanghai, Apple more recently added T-Union transit cards, which are interoperable in more than 250 cities in China. Apple also implemented the Hop Fastpass in Portland, Ore., in the U.S. and plans to add others, including SmarTrip in Washington, D.C. (See table on this page).
Octopus was one of the first contactless transit cards introduced globally when it launched in 1997. There are more than 30 million cards in circulation for Hong Kong's 7.5 million people. Octopus is accepted not only for rides on various modes of transportin Hong Kong but also at thousands of retail outlets and for access control at public and private buildings, among other uses. Users tap the popular stored-value service for more than 14 million daily transactions, valued at the equivalent of around US$25 million.
Without Octopus, the task of persuading consumers to adopt a new payments method is that much more difficult in Hong Kong.Besides, competition from other international Pays wallets, such as Samsung Pay and Google Pay, Apple also faces competition from giant Chinese mobile wallets, Alipay and WeChat Pay, which serve not only Chinese visitors from the mainland, but also Hong Kong-based users.
© Mobility Payments and Forthwrite Media. Mobility Payments content is for individual use and cannot be copied or distributed without the express permission of the publisher