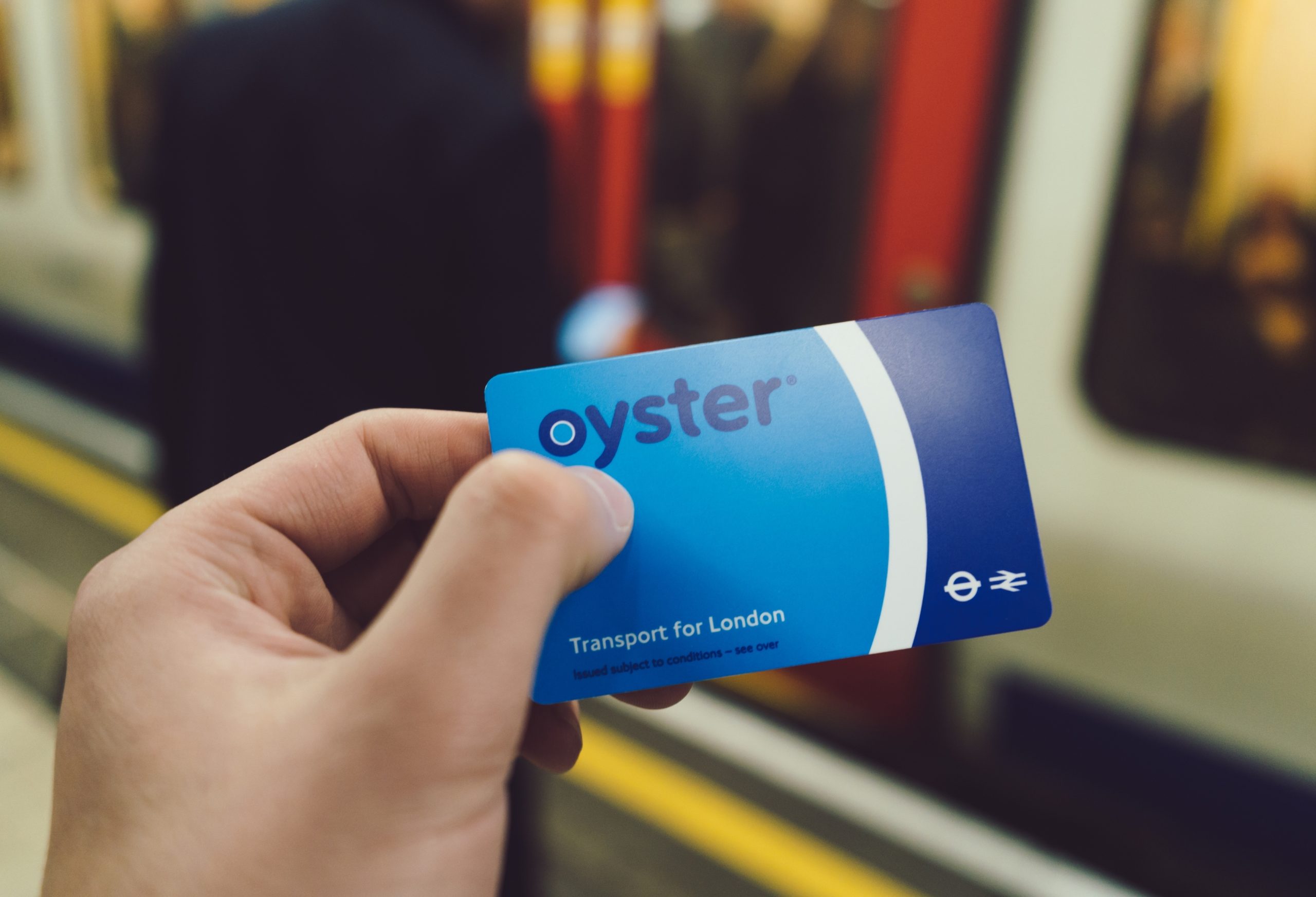 Article Highlights
Key Takeaway:
Transport for London has no plans to phase out its closed-loop Oyster card despite strong growth of contactless EMV fare payments.
Key Data:
Graph on percentage of TfL fares paid for with contactless payments, Oyster PAYG, season tickets and printed tickets.
Organizations Mentioned:
• Transport for London
• NXP Semiconductors
(This premium article was originally published in February 2020. © Mobility Payments and Forthwrite Media.)
As more and more transit authorities globally seek to emulate Transport for London's success in gaining widespread adoption for contactless open-loop fare payments, they should take note that London's closed-loop Oyster card remains popular, even among visitors to the city.
Perhaps no other statistic demonstrates this better than the fact that the London transit authority still issues up to 30,000 new Oyster cards per day, a number that hasn't declined with the growth of contactless, according to Andrew Anderson, head of transformation portfolio, payments, for Transport for London, speaking at the recent Transport Ticketing Global conference in London. It's not surprising then that the authority has no plans to retire the nearly 20-year-old Oyster card.
That is despite the fact that "contactless is now the single-most popular way to pay for transit in London," Anderson said. He added, however, that most of the gains for contactless open-loop payments have come at the expense of season tickets–which have fallen by 50% since the agency fully rolled out contactless in 2014–not from Oyster. Customers use both contactless bank cards and most Oyster cards for pay-as-you-go transactions.
"People prefer the flexibility of pay-as-you-go versus the concept of the subscription with the season ticket," said Anderson, noting that pay-as-you-go customers using contactless credit, debit and prepaid cards, along with Oyster cards, can get daily fare capping. And those using contactless also can get weekly fare capping. The transit agency plans to add weekly fare capping for all pay-as-you-go Oyster cards this year.
Fare capping offers customers rides at no additional charge after a certain threshold has been reached. In London, where contactless payments, as well as Oyster, apply to all transport modes managed by the transit agency, the fare-capping feature can include a combination of rides customers take on trains, buses and trams, for both peak and off-peak journeys and for traveling across various zones. Transport for London's fare-capping feature makes use of the agency's hybrid account-based ticketing system that keeps track of the number and types of rides customers take in its sophisticated back-office system.
Contactless Continues to Grow
The authority has offered both weekly and daily capping for contactless payments users since October 2014, when it rolled out the open-loop service across its transport network. It had launched first on London buses in late 2012.
Enabling customers who tap their contactless EMV bank cards to benefit from even better fare capping than Oyster is one reason for the strong growth of contactless. It is perhaps the biggest reason customers have increasingly passed on buying season tickets. With fare capping, they are confident in the knowledge that they will be getting the same or a better deal on rides by tapping their bank cards.
In addition, contactless payments enables customers to avoid topping up their Oyster cards to ride. That helps explain why contactless overtook Oyster to account for more than 50% of all pay-as-you-go transactions a couple of years ago. But Anderson emphasized that the real loser is season tickets, since overall, pay-as-you-go transactions, both with contactless EMV cards and with Oyster, now make up two-thirds of all trips on public transport managed by Transport for London, he said. The agency plans to try to reduce season tickets and other subscription-based products even more.
That includes promoting contactless payments more than it has in the past. With contactless EMV, riders also can tap for rides on a range of transport modes, including buses, the Underground subway, Overground suburban rail and Docklands Light Railway, as well as National Rail services in London and on certain other lines, including those going to Gatwick and Heathrow airports.
Contactless payments as of last June have accounted for a total of 3 billion rides since the authority launched the service. That includes an average of more than 1.6 million rides per day on the Underground and more than 1 million trips per day on London buses, Anderson said.
In addition, the share of contactless rides made with smartphones and wearables–using such NFC payments services as Apple Pay, Google Pay and Samsung Pay–continues to climb steadily and now accounts for 21% of contactless transactions. The balance comes from EMV cards, which banks rolled out widely in the UK years ago. As Mobility Payments' sister publication NFC Times reported last fall, Transport for London, responding to a freedom of information request from Mobility Payments editor Dan Balaban, confirmed that transactions using "mobile and other noncard devices" made up 20% of all contactless paymentsas of last October.
That is up from earlier in 2019. As Mobility Payments' sister publication NFC Times reported then, according to a report released last June by banking and payments group UK Finance, NFC wallets accounted for 16% of contactless journeys, with the rest coming from EMV cards. That percentage was based on information from Transport for London.
The authority hasn't officially announced a figure for payments from NFC wallets since April 2018, when it said NFC devices made up one in every eight contactless transactions, or around 12.5% of contactless payments for the London Underground, buses and other transit modes. A year earlier, in 2017, the authority had announced that NFC devices accounted for 10% of contactless transactions.
So use of NFC smarphones and wearables for fare payments doubled in a little more than two years as a percentage of contactless transit payments in London.
Contactless Not for Everyone
The goal of Transport for London when it launched contactless payments seven years ago was always to get out of the business of minting its own currency, which is Oyster, as Shashi Verma, now the authority's head of strategy and CTO, said at the time. But he also acknowledged that some people will not have contactless payment cards or won't want to use them.
Transport for London's Anderson said during the recent conference that there continues to be a significant number of customers "that contactless does not work for." That includes people who prefer to pay with cash or with season tickets; those who want to manage their budget carefully so favor a preloaded card like Oyster; users who get concessionary fares, such as senior citizens, students and certain teens; and, of course, children who do not have bank cards.
And perhaps surprisingly, while visitors are prime targets for the authority's contactless payments service, Anderson said visitors are still one of the biggest reasons that the authority issues up to 30,000 new Oyster cards per day. That is despite a survey that showed 77% of Transport for London customers are aware of contactless fare payments, although the survey did not necessarily cover foreign visitors. Card issuing is a significant cost for a transit agency. While a recent cost figure for Transport for London isn't available, the agency reported that issuing and distributing Oyster cards made up 6% of the total cost of revenue collection in 2006.
In response to a question from NFC Times during the transport ticketing conference Jan. 28 and 29, Anderson said it's unlikely that the authority would be able to support concessionary discounts with contactless bank cards, since these cards have no facility to prove, for example, that users are of a certain age or are enrolled in school.
"The challenge we have is how does an inspector know that someone is traveling with a concession issued to them?" Anderson said."There is currently nothing the EMV specification that would allow us to put a flag on a contactless card to allow the inspections to be made."
Plans for Oyster
While Oyster will continue for years to come, there will be some changes. Transport for London will make use of its contactless back-office system to enable weekly fare capping for Oyster. That feature has already happened for some customers and will continue to be rolled out this year. The authority also plans to extend fare capping to concessionary customers who use the Oyster card.
And the agency will continue to develop its mobile app, which helps users manage their Oyster cards and, to a more limited extent, their contactless payment cards, including enabling users to view their journey histories for both types of cards. They also can top up their Oyster cards in the app.
When asked by Mobility Payments' sister publication NFC Times if the authority plans to enable customers to load a digital Oyster card into Pays wallets supporting such services as Google Pay and Apple Pay or its own Android app, as some other transit authorities are doing, Anderson said that while it's a "possibility," there are no firm plans to do so at present.
He recalled that before the authority launched its app, it asked people in focus groups about putting Oyster into the phone. They said they didn't understand the concept. "Then we launched the app, and people said, 'Why can't we use it as the Oyster card?'" But by that time, Apple Pay had launched and users were able to load their credit and debit cards into the Apple Wallet and pay for fares. Anderson added that it still "makes sense" to support closed-loop Oyster cards on NFC devices.
Anderson also confirmed plans by the authority to keep the Oyster brand but to eventually change the chip technology from the current Mifare DESFire to one that is EMV compatible. That is somewhat similar to plans by New York's Metropolitan Transportation Authority, or MTA, to issue its own closed-loop transit card application next year that would work with the agency's OMNY open-loop fare payments service. MTA, however, has jumped directly from a mag-stripe transit card to open-loop contactless, unlike London, which has a well-established closed-loop contactless card program in Oyster.
The change to EMV technology for Oyster would be a loss for NXP Semiconductors, which owns Mifare and provides the chips for Oyster cards. Anderson said that converting to the same technology as contactless bank cards would be more cost-efficient and could also improve the "customer proposition," although he did not elaborate.
He said Transport for London has no "immediate plans" to move away from Mifare, but in a separate conference session hosted by Anderson and his colleague Andy Shaw, senior product manager, payments, the officials said the agency would use its next revenue collection contract to rebuild and replace the aging reader infrastructure.
The contract, with Cubic Transportation Systems, is scheduled to expire in August 2025, and the authority would also use this contract as an opportunity to start to move away from "legacy technology." This no doubt includes Mifare. Besides EMV technology, the agency would also support ITSO, which is an interoperable smart card technology used by transit authorities outside of London.
One change that is not in store for Oyster is expanding to other regions of the UK or beyond, noted Anderson. Oyster is used throughout London and surrounding area for fare collection, but Oyster is "at its limits" in terms of geographic expansion, he said.
Still, Anderson made it clear that Oyster will be a part of mass transit payments in London for many years to come. And as more and more transit authorities seek to follow in London's footsteps to introduce open-loop contactless fare collection, they would do well to remember that their closed-loop cards will likely be here to stay for a long time, as well.
© Mobility Payments and Forthwrite Media. Mobility Payments content is for individual use and cannot be copied or distributed without the express permission of the publisher.