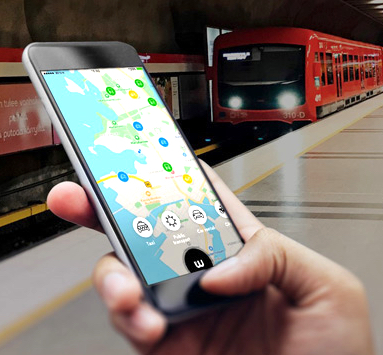 Article Highlights
Key Takeaway:
Experts and members of the mobility-as-a-service ecosystem believe that for MaaS to be successful, some government regulation of the platforms will be necessary.
Key Data:
MaaS revenue–the payments by users to ride transit and use other MaaS services–will hit $52 billion in 2027, projected research firm Juniper. That is up from $405 million this year. The projection for 2020 is around half of what it would have been were it not for the near shutdown of public transit in many cities around the world because of the coronavirus.
Organizations Mentioned:
• MaaS Global
• Uber
• Lyft
• Grab
• Cubic Transportation Systems
• Masabi
• Secure Technology Alliance
(This premium article was originally published in April 2020. © Mobility Payments and Forthwrite Media.)
Government legislation will likely be needed for widespread adoption of mobility-as-a-service, or MaaS, to occur, according to UK-based Juniper Research, which believes that the regulations will be necessary to force MaaS providers, including transit service providers, to work together, as well as to persuade users to get out of their cars to cut carbon emissions.
The assessment is part of a report the research firm recently released, which updates a similar 2018 report on projected revenue for MaaS. The new report forecasts a slower growth rate for MaaS, in part because of uncertainty around the business models for the new mobility platforms. In addition, there are some questions about when and how much public transit authorities–which have been hit hard of late by the Covid-19 pandemic–will end up supporting MaaS..
MaaS is defined as enabling door-to-door travel, including from both public and private transit services, that users can plan, book and pay for from a single app or platform. Some definitions don't include the payments or ticketing pieces.
Juniper projects MaaS revenue–the payments by users to ride transit and use other MaaS services–to hit $52 billion in 2027. That is up from $405 million this year. The projection for 2020 is around half of what it would have been were it not for the near shutdown of public transit in many cities around the world because of the coronavirus, said Juniper. The firm declined to provide its forecasts for each year leading up to 2027.
But the slower, yet still healthy, growth projection is not surprising. While MaaS has been much hyped in recent years, the mobility platforms are not rolling out as fast as expected. Yet, expectations remain high for the MaaS concept to eventually take off.
Legislation Deemed Necessary
MaaS platforms include transportation network companies, or TNCs, such as Uber, Lyft and Grab; micro-mobility services, such as bike share, e-scooters and small electric cars; and autonomous vehicles, which are anticipated in coming years.
But the core of MaaS is expected to be government-run public transit services, such as buses, subways, trams, ferries and commuter rail. That is among the reasons government regulation is considered necessary, said Juniper, which notes that government intervention is needed to "force different providers to work together.
"MaaS providers tend to operate in isolation, competing with one another, rather than working together in a cohesive way," said Nick Maynard, lead author for the MaaS study. "While alliances and partnerships have emerged, there is little evidence of common standards emerging to date."
The firm also said it believes governments will have to adopt more "unpopular rules to encourage users to adapt MaaS and minimize car usage." That could include strict limits on CO2 emissions, which could force motorists to use public transit once or twice a week.
Governments in Europe are expected to give the strongest support to MaaS compared with other regions, at least first, Juniper said.
The view that government officials will have to intervene to speed adoption of MaaS is shared by many in the transport industry. For example, Mick Spiers, general manager for Asia for U.S.-based fare collection systems integrator Cubic Transportation Systems, speaking at the Transport Payments Asia Pacific conference organized by APSCA, said that after much debate within his company, Cubic has decided that regulation is needed for MaaS.
"And that might sound funny coming from a commercial business, but what we fundamentally believe is that if you're going to leave it up to market forces, at the moment, in the way things are working, those market participants are going to look after self-interest," said Spiers, in comments during a question-and-answer session at the conference in Manila. He stressed that it's important not to create the appearance that one transit service provider is being favored over others in MaaS platforms or apps. In particular, the company or organization that controls the platforms or apps should be seen as impartial.
"The MaaS aggregator and integrator should be one that does not have a commercial interest at all in any of the mobility service providers to avoid even the perception that one mobility service provider is being looked after better than the others," he said. "There'll be a perception that the mobility service provider that belongs to that channel is going to be favored."
Public Transit 'Backbone' of MaaS
For MaaS to work, Spiers, like Juniper and other industry observers see public transit agencies and their services as the backbone of the new mobility platforms. Other transport providers, such as the TNCs and micro-mobility providers could offer what is known as first- and last-mile transportation connecting users to the public transit hubs.
But it's still unclear how much transit agencies will support MaaS. Some agencies might see MaaS as a platform giving prospective rivals access to their customers. Other agencies believe MaaS can help to boost public transit ridership and to meet the general goals of governments to reduce carbon emissions and to better satisfy the transportation needs of their citizens.
In some of the early MaaS launches, public transit agencies are featured prominently. For example, in Finland, the Whim app includes public transport from all modes supervised by the Helsinki Regional Transport Authority, including buses, metro, trams and local trains, along with taxis, bikes, car rentals and electric scooters. In Berlin, Germany, public transit operator BVG runs the Jelbi app, which includes its own buses, trains and trams, along with e-scooters, bikes, car sharing and ride sharing. The latter service, from minibuses, is also BVG's own service. The platform uses technology from Lithuania-based Trafi.
In the U.S., transit agency RTD in Denver allows ride-hailing company Uber and journey-planning provider Transit to sell RTD bus and train tickets in their respective apps. While these are not all-in-one MaaS apps, they do cover multiple modes of transit and handle ticketing and payment in one place. Before the pandemic struck, at least, RTD sold the vast majority of its transit tickets in its own app, not in the Uber or Transit apps.
Juniper declined to go into detail about its projections for MaaS revenue, but did say that the lower rate of growth in the new report compared with its previous forecasts was due in part to "uncertainty" over public transit agency support for MaaS, particularly following the interruptions of service caused by the Covid-19 lockdowns.
Ridership Plunges from Lockdowns
Randy Vanderhoof, executive director of the U.S.-based Secure Technology Alliance trade association–which has made payments integration with MaaS one of the major focuses of its Transportation Council–said he believes progress will not be quick for the rollout of MaaS by public transit agencies in the U.S.
Most likely, the agencies will continue to "slowly respond to the challenges of (previously) declining ridership and start to embrace mobile ticketing and open (contactless EMV) payments," he told told Mobility Payments' sister publication NFC Times. This, in turn, will increase their ability to work with private transport services as part of MaaS platforms. At the same time, private transportation providers will likely grow larger through mergers.
But hanging over both public and private transportation providers is the pandemic, which has severely cut transit services, said Vanderhoof.
For example, a spokesman for New York's Metropolitan Transportation Authority said in early April that ridership was down by 95% for commuter rail. It has reportedly dropped by 92% for the New York City Subway. And any other cities in lockdown are seeing ridership plummet.
"The Covid-19 virus will be a huge step backward for all of these transit innovation plans, as the industry will suffer from huge deficits and lost ridership that it will be slow to recover from," said Vanderhoof.
Questions Over Business Models
Juniper added that there are also uncertainties around the business models that will drive growth of MaaS. Two primary models have emerged so far: the subscription model, which allows users to pay a monthly fee to consume, in many cases, unlimited transit services from participating providers; and pay as you go, which enables riders to pay per trip, which could include multimodal transit for door-to-door travel at one price.
The subscription model can be expensive for users. For example, Whim, the platform from MaaS Global in Finland, charges up to €499 (US$545) per month for unlimited single tickets on the various modes of transit from Helsinki Regional Transport; along with unlimited car rentals and significant use of taxis, bikes and some e-scooters. Whim also has a pay-as-you-go model.
Juniper's Maynard said that while the pay-as-you-go model or what he calls, "ad hoc," might drive early use, he believes the subscription model will eventually earn the trust of users and have a "slight lead" in revenue by 2027, according to the firm's forecasts.
"This is because we envision that subscription models will have really demonstrated their value proposition by then, backed by subsidies from governments," he told NFC Times. "Ad hoc will always have a role to play, however, in catering to occasional users and users who do not wish to commit to a full subscription.
Some in the industry do not agree that the subscription model will eventually outpace pay as you go. For example, Ben Whitaker, head of innovation and co-founder of UK-based Masabi, a fare-collection-as-a-service provider, said he believes pay as you go will carry the day.
Masabi integrated the ticketing and payments piece in Denver and also the transit authority service serving Las Vegas in both the Uber app and Transit App. Whitaker calls these apps "practical MaaS," which he describes as pay as you go for users who want to try multimodal travel and don't want to download a new app.
"I think that 'subscription MaaS' is the Kool-Aid that's only going to work with high income Scandinavians and a few places with a big discount," Whitaker told NFC Times. "I don't think it's going to happen. All the numbers coming out of Whim and MaaS Global are that everyone's really using it as a pay as you go. And very few people outside of the Kool-Aid drinkers are using the subscriptions. And I think that's going to be true for the foreseeable future."
But enabling users to ride both public and private transit with a single payment adds complications, not least of all because public transit is often heavily subsidized for users. And with MaaS, a transit agency might be called upon to subsidize the services from a private provider, such as a ride-hailing company or a bike-rental agency, suggested Cubic's Spiers.
"It's public and private, and they are working in unison, so when we go to different conferences, and we have politicians, they're often asked this question: 'Could you envisage a world where a government, instead of forking out money for an extra one kilometer of railway track, could you envisage a world with that money is used to incentivize a Grab driver to take someone from their home to a railway station?' "
Assuming that after the Covid-19 pandemic ends and ridership eventually returns to normal levels, MaaS may change how transit service providers think of their roles. And that could even involve a change in what we call them.
"So we need to think that a public transport authority shouldn't be called that anymore. It should be called a mobility authority," said Spiers, speaking in 2019. "And the mindset needs to shift to, 'My job is to move people from where they live to where they want to be, whether it be work, shopping center, a sports stadium, whatever the case might be, and then home again, in a safe, convenient and stress-free way.' "
© Mobility Payments and Forthwrite Media. Mobility Payments content is for individual use and cannot be copied or distributed without the express permission of the publisher.