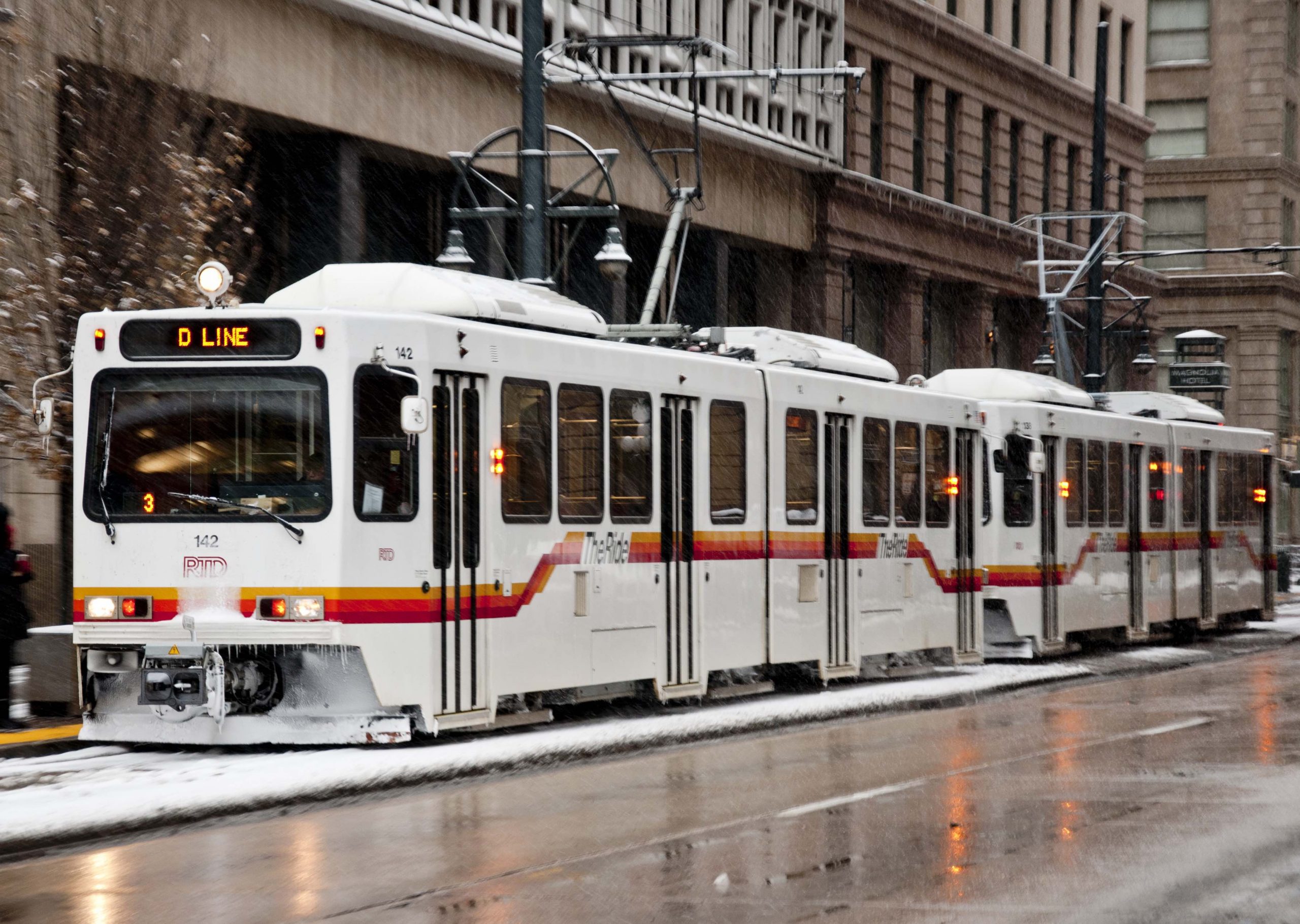 Article Highlights
Key Takeaway:
While Denver transit agency RTD has been on the leading edge of supporting mobile payments in third-party apps, including those by Transit and Uber, the vast majority of its mobile ticket sales are through its own app.
Key Data:
Chart on mobile ticket sales by type of app.
Organizations Mentioned:
• RTD Denver
• Uber
• Transit
• Masabi
(This premium article was originally published in March 2020. © Mobility Payments and Forthwrite Media.)
Since last May, when ride-hailing service Uber officially began enabling customers to book and pay for public transit tickets in Denver directly in the Uber app, use of the service remains relatively low, accounting for less than 3% of all mobile tickets purchased by customers of Denver public transit agency RTD, Mobility Payments' sister publication NFC Times has learned.
At present, customers purchase the vast majority of mobile tickets with RTD's own mobile app, which launched in the fall of 2017. All told, the RTD local app, called "Mobile Tickets," accounted for more than 97% of all mobile tickets that customers purchased for rides on RTD buses and trains for the year ending February 2020, with Uber and the trip-planning Transit App making up the rest, according to an RTD spokeswoman. Public transit ticket purchases through the Transit App began last September.
Technology from UK-based Masabi enables the mobile-ticketing and payments functionality in all three of the apps.
According to the RTD spokeswoman, the agency has sold an average of 260,000 tickets per month from its branded Mobile Tickets app during the year ending in February. This, plus the ticket sales through the Uber and Transit apps have accounted for 3% or less of all paid rides on RTD (Regional Transportation District) buses, light rail and commuter trains. But in terms of revenue, mobile ticketing now makes up 15% of RTD's total monthly fare collection revenue, and it has been growing, the spokeswoman said. The reason for the disparity between the ridership share and revenue is that ridership does not equate to fares on a one-to-one basis, she said.
Tonya Anderson, senior product manager, electronic fare operations, for RTD has said recently that sales of tickets through the Mobile Tickets app, along with the other apps, such as Uber, have "well exceeded our expectations."
When it was launched May 2, Denver was the first market in which customers could purchase public transit ticketing in the Uber app. Uber has since launched the service with RTC of Southern Nevada, a smaller transit agency serving Las Vegas and the surrounding area. All told, Uber's "Transit" unit provides trip planning in its ride-hailing app in 15 cities, including Denver and Las Vegas, offering what it says are real-time information and end-to-end directions to users. Uber might add payments and ticketing/passes to more of these cities in the future.
The separate Transit App, which offers trip planning for various transport modes in more than 200 cities in 10 countries–mostly in the U.S.­–also offers payments for public transit in a handful of markets, including St. Catharines in Canada, Denver, Las Vegas and several smaller cities and towns in Ohio. That's in addition to payments in selected cities that the Transit App enables for rideshare and ride-hailing services and bicycle and scooter rentals.
Early Examples MaaS
The Uber and Transit initiatives are among the first examples of working Mobility-as-a-Service, or MaaS, apps. MaaS generally combines multimodal transit with booking and payments, all in one account. MaaS has been much hyped but has been slow to roll out. Backers, however, say it is just a matter of time before MaaS transforms the transport industry.
In Denver, the RTD spokeswoman told Mobility Payments' sister publication NFC Times that since launching in early May 2019, RTD sold a total of more than 51,000 tickets in the Uber app through the end of last month. And it sold an additional 21,000 tickets in the Transit App between last September and last month. These amounts are much lower than the number of mobile tickets the agency has sold through its own app for iOS and Android phones.
RTD's Anderson's said in late January at the Transport Ticketing Global conference in London that sales of RTD tickets through the Uber app have grown by around 10% month over month, and some riders buy monthly passes in the app, not just three-hour passes. She said at the conference that she didn't know whether the sales through the Uber app was increasing overall ridership for the transit agency or whether customers were shifting from the local app to the Uber app, or vice versa.
No Data-Sharing Agreement with Uber
One drawback with the Uber app is that RTD doesn't have a data-sharing agreement with Uber, and Anderson said in brief remarks to NFC Times that RTD would like the ride-sharing company to share more of its data on RTD customers and potential customers using the app.
Ben Whitaker, head of innovation and co-founder of Masabi, told NFC Times that Uber does give RTD all of the data on agency tickets sold and used through its app. And the Transit App shares even more data, including customer search information. Data sharing aside, the transit agencies and customers are both benefiting from these initiatives, he said.
"If I get more people to realize that transit is going to be there at the right time, on the right journey for them, they're going to use it. And also, if they realize the public transit is not going in the right direction at the right time they won't, and that's going to be good for everyone," Whitaker said.
Riders can buy three-hour, day and monthly passes from RTD through the Uber and Transit apps and the agency's own app. These mobile tickets cost the same as they do with other payments options. The riders activate and show the mobile tickets for visual inspection to bus drivers and to inspectors on light rail and commuter trains. The RTD app includes a bar code that inspectors can scan to validate a ticket, as needed.
"There are customers that really love the flexibility, the ability to use an app that already exists on their phone," said RTD's Anderson, speaking at the recent transport ticketing conference. "You know, some people are very brand specific. They love our transit agency. They want to use our app to purchase their tickets, but there are others who don't really care, and they would like to use an app that's already on their phone. This can be very positive."
Apps Show Growing Mobile Ticket Sales
Together, the RTD Mobile Tickets app and purchases of mobile tickets for RTD transit through the Uber and Transit apps account for a combined average of 269,000 rides per month the past year, according to the RTD spokeswoman. But that has been growing and in both January and February of 2020, total ticket sales topped a combined 305,000 each month. Still, 97.7% of those rides are with RTD's own app. And while mobile tickets in all three apps now account for 15% of fare-collection revenue, mobile still makes up a small percentage of the more than 9 million rides taken on RTD transit per month, with riders using closed-loop smart cards and paper tickets for the vast majority of those rides.
Anderson, in a recent client testimonial for Masabi, noted that the agency originally projected that tickets sold in its own branded Mobile Tickets app would account for only 2% to 3% of revenue, not what she said was 14% of the agency's fare collection revenue earlier this year. (That has since grown to 15% of revenue in February).
Use of the local app has been steadily growing. RTD said in a presentation in May 2019 that the Mobile Tickets app accounted for 9.8% of revenue in March 2019 and only 3.7% of revenue in March 2018, which was around five months after the agency launched the app.
And when the app launched, riders could only buy day passes. RTD later expanded that to three-hour passes and monthly passes. According to figures from the agency, in February, the leading type of ticket purchased in the app was three-hour passes, at 57% of all mobile tickets in the app. That was followed by day passes at 42% and monthly passes at just 1%.
Ticket sales from RTD through the Uber and Transit apps are also increasing. Although dropping in January to just under 4,700, ticket sales through Uber hit a monthly high of more than 9,000 in February. Ticket sales via the Transit App have steadily increased since launching in September, rising from just over 2,000 that month to more than 4,600 in February.
Masabi: Uber App Introduces New Customers to Public Transit
Payments for all of the mobile ticketing that RTD supports is enabled with technology from Masabi. RTD's own Mobile Tickets app uses Masabi's account-based Justride fare-payment-as-a-service platform. The Uber and Transit apps integrate a Masabi Justride mobile ticketing SDK to offer payments in Denver, Las Vegas, and a few other cities for Transit.
Masabi's Whitaker told NFC Times that he believes that overall, the significance of the early purchases of RTD tickets in Denver through Uber and Transit is that customers didn't have to buy the tickets through the local RTD app. They might not have known this local app even existed. They likely opened the Uber app, for example, expecting to book an Uber car, only to discover public transit options in the app.
"And some of these people might have never done it (taken public transit), because they didn't know how to do it," he said. "It could reverse the downward trend of ridership by making public transit less scary and more discoverable–just like all of these cool, hip new mobility things."
© Mobility Payments and Forthwrite Media. Mobility Payments content is for individual use and cannot be copied or distributed without the express permission of the publisher.