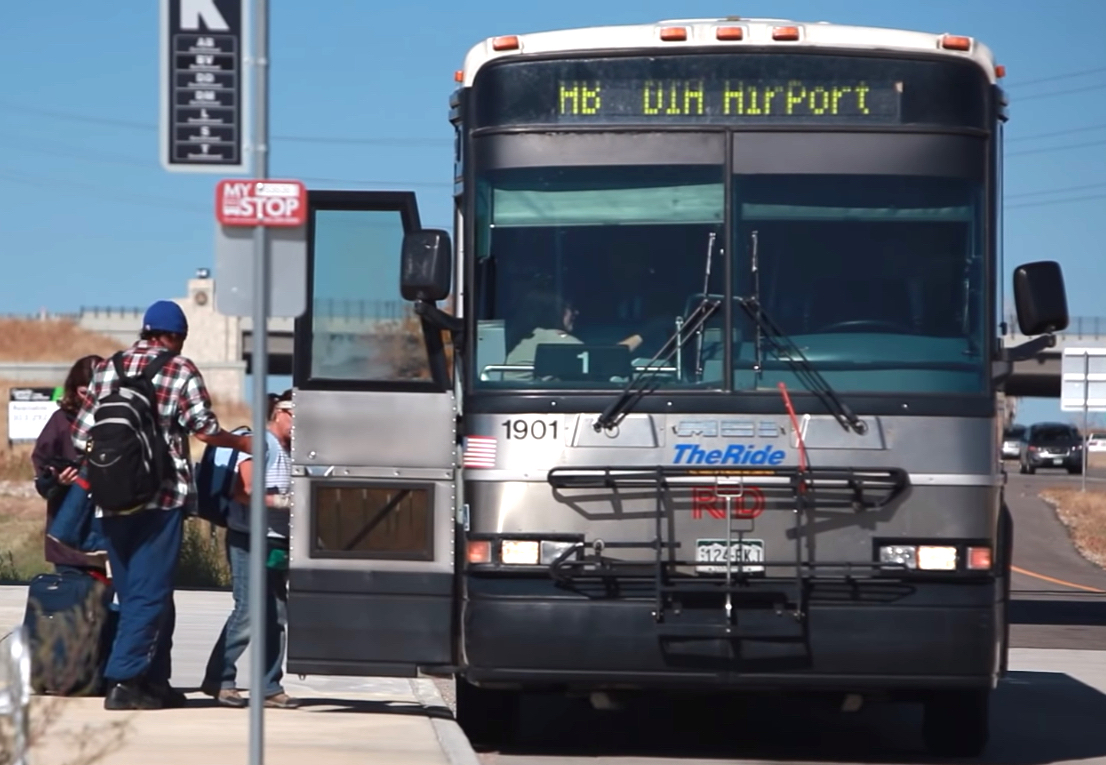 Article Highlights
Key Takeaway:
Trip-planning apps are increasingly interested in enabling ticketing and payments from their apps, but some of the first agencies that have participated show riders still prefer the agency's local ticketing apps.
Key Data:
Chart: RTD Denver's mobile-ticketing sales.
(This premium article was originally published in April 2021. © Mobility Payments and Forthwrite Media.)
The Regional Transportation District of Denver was the first transit agency to work with Uber to sell its bus and light rail tickets through the Uber app in the spring of 2019. RTD later that year expanded the service to trip-planning app Transit and then last fall to the app for another ride-hailing service, Lyft.
Still, after two years working with third-party apps, the vast majority of RTD's customers still use the U.S. agency's own white-label app, launched in the fall of 2017, for mobile ticketing­. RTD's "Mobile Tickets" app accounted for more than 95% of mobile-ticket sales for the year ending February 2021. The other three apps, Uber, Transit and Lyft, made up the rest. (See chart below). RTD notes that, overall, mobile ticketing has greatly exceeded expectations and the agency says it will continue to offer customers various options to pay for their rides.
RTD also plans to launch a mobility-as-a-service, or MaaS, offer with a software-as-a-service ticketing platform from UK-based Masabi. Masabi also provides the ticketing and payments for the RTD local Mobile Tickets app, along with the integrations with RTD for ticketing and payments in the Uber, Transit and Lyft apps.
"Our native app launched first, and so it was almost a year and a half before we started integrating with third parties," Tonya Anderson, RTD's manager of electronic fare operations, explained during the recent Ticketing and Payments Innovation virtual conference. She added that there was a "slight shift" of customers to the three third-party apps during the Covid-19 pandemic.
TNCs Show Interest in Public Transit Ticketing
Uber and Lyft have been offering trip planning, including public transit tabs, in a growing number of cities. They've added the ticketing and payments piece more recently and only in a few cities so far.
Lyft indicated after announcing it was selling tickets for RTD through its app in late 2020 that it believes its customers who book bus or light rail transit in its app will use Lyft for the first and last mile of their journeys. It noted that 58% of its customers say they have taken a Lyft ride to or from a transit station.
RTD's Anderson admitted that some "stakeholders" connected with the transit agency feared that cooperating with TNCs, or transportation network companies, like ride-share providers Uber and Lyft, could cause RTD to lose customers. Transit agencies have also complained about limited data sharing they get from the ride-sharing companies when the TNCs sell their public transit tickets.
"But really, when you provide these options and choices to customers, what you do as a transit agency is you build trust," Anderson said. "And as you build trust, then more customers will start riding public transportation."
RTD Customers Continue to Use Agency's Own App
So far, however, RTD customers still rely on the agency's own mobile app for Android and iOS phones for the vast majority of mobile ticketing. That continues a trend RTD saw in the first year after the agency and Uber enabled customers to buy tickets through the Uber app. As of March 2020, sales of RTD tickets through Uber and–starting nearly five months later–in the Transit app, together had accounted for fewer than 3% of mobile tickets sold. Lyft had not yet begun selling RTD tickets.
Updated sales figures RTD recently provided to NFC Times show that RTD's local Mobile Tickets app made up 95.5% of just under $6.1 million in net total mobile-ticketing sales for the year ending in February 2021. Of this total, sales of RTD tickets through Uber accounted for only 2.4%, Transit for 1.9% and Lyft–which only began sales in October 2020–for two-tenths of 1%. (Figures are rounded.) In terms of mobile tickets, customers bought a little more than 1.1 million total tickets for the year ending in February 2021, of which just under 94% were from RTD's white label app, with the other 6% from the three third-party apps.
RTD customers can buy three-hour, daily and monthly passes for bus and light rail in any of the four apps using their stored credit or debit cards. They then show the bus driver or fare inspector the activated ticket for visual inspection upon boarding or when asked.
RTD's mobile-ticketing sales figures for March 2020 alone–the last full month before the pandemic took a significant toll on ridership–showed a total of just over $1.1 million in mobile-ticket sales for all four apps. Of that, 96.4% were from the local RTD app. Total tickets for individuals totaled nearly 181,000 during the month, of which 95% were from the RTD app.
Not surprisingly, the pandemic cut ridership in general for RTD by about 50% for all 2020, and even more for the months of April and May 2020. After May, total mobile-ticketing sales only approached $700,000 once, in October 2020.
In 2019, before the pandemic, RTD provided around 95 million rides annually, not counting commuter rail, and adoption of mobile ticketing was around 13% that year, said RTD's Anderson. That's 10 percentage points higher than the agency had predicted, she said. She did not provide a figure for mobile-ticketing adoption for 2020.
Transit App Key Platform for Agency Fare Group
On the other hand, for agencies that make up the NEORide consortium, which handles fare collection for more than a dozen small to mid-tier agencies in Ohio, Kentucky and Michigan, third-party apps–and the Transit app in particular–account for more than half of the mobile ticketing sales–although mobile-payments transactions as a share of total transactions still appear to be small.
Katherine Conrad, director of client services for NEORide, who spoke on the same panel as RTD's Anderson, said that around 60% of the group's mobile ticketing sales goes through the Transit app, rather than through the group's own white-label EZfare app, both of which NEORide introduced in 2019. The transit agencies were together selling 70,000 to 80,000 mobile tickets per month in the few months before the pandemic. Since adding the Moovit and Uber apps, as well, about 5% of mobile ticketing go through those apps and 55% through Transit.
Transit and NEORide annnounced in mid-April 2021 that they had sold 500,000 rides through the Transit app, presumably since the service launched in the latter part of 2019. By comparison, the Southwest Ohio Regional Transit Authority, which runs the Cincinnati Metro bus service, the largest agency in the NEORide group, had a total of around 600,000 rides per month in 2020.
Customers use the Transit app a lot mainly because the group's largest operators, especially Cincinnati Metro, make Transit their default app and market mobile ticketing. In addition, there was little or no lag time between the time NEORide launched its white-label EZfare app and when it enabled ticketing through the branded Transit app. Both services launched around the same time. Masabi also provides the mobile ticketing and payments platform for NEORide.
Introducing Card-Based Payments
Both RTD and NEORide have been installing validators through Masabi or plan to do so. The validators will expand the options for customers to pay fares via the Masabi SaaS platform using cards, in addition to smartphones.
NEORide's Conrad said the group is using government grants to purchase and install what she earlier said were more than 1,000 validators on buses for the group's transit agencies. She said during the recent conference that the installation is scheduled to be completed by this summer. After that, NEORide will introduce closed-loop contactless cards that can be tapped on the validators. The devices will also be able to scan QR codes that customers display on their smartphone screens for mobile ticketing. And by early 2022, the system will support fare capping, as well, she said. 
"The ultimate goal really is for people to be able to travel across different public transit (agencies), just tapping their card, and not having to select which ticket is the best ticket to purchase; that will all be done for them on the back-end," Conrad said. "There's often so much confusion (among customers) about what's the best ticket, 'what should I pay, which transit system do I have to purchase it from.' So that barrier will be removed." She added that the group is seeking to set up consistent regional fares across its member agencies.
For its part, RTD plans to begin the rollout of the validators in early 2022, said a spokeswoman. The agency already issues a stored-value card.
The readers on the validators for both agencies will be capable of accepting contactless EMV bank cards and card credentials on NFC devices. Both NEORide and RTD say they eventually plan to accept open-loop payments. NEORide's Conrad said it has put this service on the group's roadmap but didn't say when it will launch. The RTD spokeswoman said the agency has held high-level discussions about accepting open-loop payments, but there is no firm timeline yet.
Laying Groundwork for MaaS
Meanwhile, both agencies have also said that with Masabi's integrated payments technology, they plan to enable more multimodal fare payments, including those for private microtransit services, such as those provided by scooter and rideshare providers. 
NEORide's Conrad said the group is currently in talks with multiple rideshare vendors and is also looking at incorporating bikeshare in its EZfare platform, which includes use of EZfare in the third-party apps, Transit, Uber and Moovit.
As for RTD, despite the small percentage of customers that now buy the agency's mobile tickets through the Transit app, Anderson said plans call for her agency to work with Transit and Masabi to enable customers to book and pay for Lime scooters, as well as fares for rural bus service the state of Colorado offers.
At first there would be a deep link taking users to the Lime app to finish booking and paying. But the plans call for enabling users to fully book, pay and unlock the scooters from the same app, in this case, the Transit app. RTD has its eye on a subscription system for MaaS, noted Anderson. Subscription-based MaaS business models have not yet proved themselves in the market, however.
"The more complex aspects of MaaS, it helps to first start with integrating the payments together so that the transit agency or the mobility integrator can determine which products our customers are most interested in bundling," she said. "We don't know if people want to bundle scooters or their bikes or both with public transportation. We believe they do, but we don't really have that data."
© Mobility Payments and Forthwrite Media. Mobility Payments content is for individual use and cannot be copied or distributed without the express permission of the publisher.