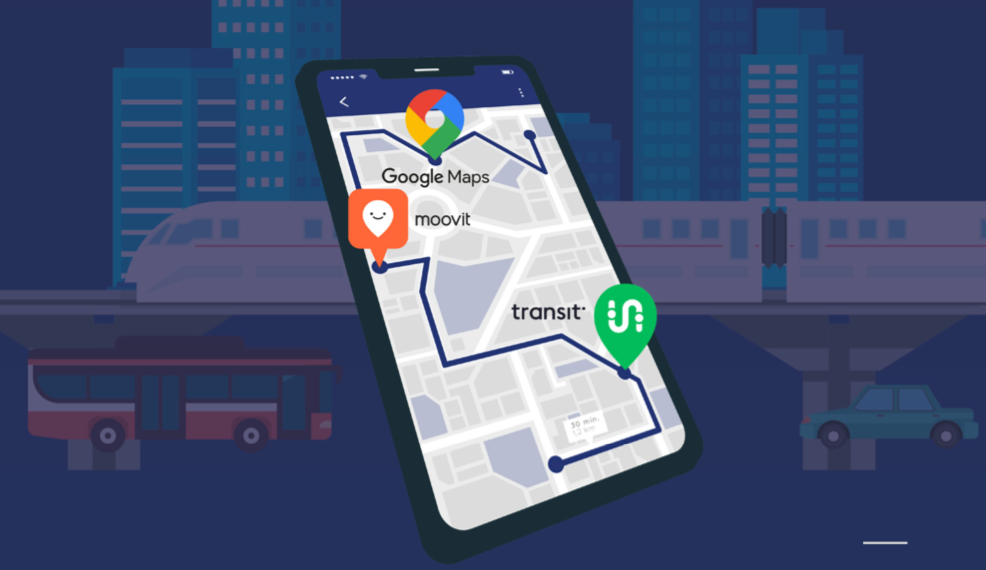 Article Highlights
Key Takeaway:
The world's major trip-planning apps, including Moovit, Transit and Google Maps, see ticketing and payments for public transit rides as a vital new service as they seek to make their apps more useful and–for some–bring them closer to mobility-as-a-service platforms.
Key Data:
• Table: Trip-planning apps: Where are they enabling public transit ticketing and payments.
• Table: Major SaaS ticketing platforms: Major clients, pricing, trip-planning apps working with.
• Chart: Share of mobile ticketing in local apps vs. third-party apps–RTD Denver/RTC S. Nev.
(Updated Aug. 11) Moovit, Transit, Google Maps and other trip-planning app providers are starting to enable ticketing and payments for public transit rides for the first time, a move that could one day transform the way transit agencies sell tickets and passes to their customers.
The Covid-19 pandemic, which is accelerating the rollout of "touchless" fare payments by transit agencies globally is helping to fuel the push by trip-planning apps to offer their users mobile ticketing and contactless card payments.
Although take-up has been slow in some of the first participating cities, the multimodal trip planners–which give their users information on which bus to take or train to catch–see ticketing and payments as a vital new service.
And it brings their apps one stop closer to becoming true mobility-as-a-service platforms, although Google says it is more interested in using transit ticketing to broaden its Google Pay service, not create a MaaS offer. In any case, all of the apps would get the providers nearer to their goal of enabling users to "plan, book and pay" for multimodal travel–whether bus, metro, commuter rail, taxi, ride hail or such micromobility modes as bike and scooter rental–all in one app or platform.
Yovav Meydad, Moovit's chief growth and marketing officer, told Mobility Payments that the app provider plans to expand further in the U.S. and other countries with the ticketing and payments piece. It is working with software-as-a-service ticketing platforms Token Transit, as well as Masabi, Cubic, along with Pango.
"Paying for public transport is a very fragmented market, and in line with our mission of simplifying mobility, we are working toward aggregating as many payment vendors together in Moovit to make planning and paying for transport seamless," he said. Moovit has said it wants to turn its app into a true mobility-as-a-service platform.
The trend is still in its early stages. Moovit, which touts a global reach for its trip-planning app of 3,400 cities across more than 110 countries, only enables ticketing and payments in around 80 markets, at present. They include working with such mid-tier transit agencies as those serving Buffalo, NY; Cincinnati, OH; and Oakland, CA; along with such tiny bus operators as those in Mason County, WA; and Banning, CA. Moovit also offers ticketing in niche apps operating in Barcelona, Madrid and Valencia in Spain, and provides ticketing for 15 agencies in its home country of Israel, including being one of four app providers for a national mobile-ticketing system launched there.
Moovit told Mobility Payments this week that it enables customers of 66 transit agencies in the U.S. to buy tickets through its consumer-facing app, nearly all these services using an API from U.S.-based SaaS mobile ticketing platform Token Transit. A Moovit spokeswoman also said there are more agencies to come.
Meanwhile, rival trip-planning app Transit, which is strong in North America, began signing up transit authorities and operators at least two years ago, focusing mainly on small to mid-tier agencies, and said in July it has more than 50 transit agencies selling tickets through its app, accounting for more than 130,000 customers and more than 1 million fare transactions. Some of those transactions are monthly, weekly and daily passes, so the transactions amount to millions of rides, Transit added. That still represents a small percentage of total rides that these agencies provide, but usage is growing. Transit says it gets a small cut on sales of tickets through its app.
The agencies are in such cities as Denver, Cincinnati, St. Louis and Las Vegas in the U.S.; and a few cities in Canada. It connects its app to UK-based SaaS ticketing platform Masabi through an SDK and through APIs with Token Transit and with U.S.-based ticketing platform Bytemark.
Transit said recently it sells tickets for more than 20 agencies via Masabi, more than 25 agencies through Token Transit and one through Bytemark, which it started working with only recently.
The number of transit agencies Transit is enabling through Token Transit is sure to increase, with Transit, Moovit and Google all enabling many the same agencies through this ticketing platform. These include Oakland, CA and Buffalo, NY; but mainly are such small bus operators as Santa Clarita Transit in California, Clallam Transit in Washington and GO bg in Bowling Green, KY.
Google's Transit Payments Play
Some regional trip-planning apps, such as Jorudan in Japan, also are adding a growing number of cities in which users can purchase tickets in their apps, working with Masabi.
And Google this spring enabled more than 80 public transit agencies in the U.S. to sell tickets or closed-loop cards in its payments app, Google Pay, a figure that has now grown to 110. The vast majority are small- to mid-tier bus operators in the U.S. via the API connecting Google Pay to Token Transit. After users buy the tickets with their cards-on-file with Google, the tickets get issued by Token Transit and then are sent to the Google wallet to be stored. Users don't need to download the separate Token Transit app.
Google also has enabled a handful of larger agencies, including those in San Francisco, Washington, D.C. and Chicago, to sell their closed-loop fare cards directly in Google Pay, although it's possible users have to download the agency app in the Google Play store to buy and possibly to reload the card.
In early July, Google finally enabled users to initiate the ticket purchases through Google Maps, too. Google has inserted a GPay button in Maps that now displays on searches for bus and other public transit routes. Users can click to buy and store tickets in Google Pay, using the credit or debit cards they have on file.
Google ran behind schedule in connecting Maps to Google Pay. It had promised in February that users would be able to initiate their purchases of the virtual closed-loop fare cards and also the digital mobile tickets in Maps in "coming weeks." The target date was repeatedly pushed back.
More Interest in Payments than MaaS
If Google seemed to be in no hurry to complete the final integration with Maps to enable users to initiate ticketing and fare payments there, it may be because Google's priority isn't to turn Maps into a mobility-as-a-service platform, where users can plan, book and pay all in one app. Instead, its ambition is to expand the ubiquity of Google Pay.
Unlike Moovit, Transit and some other trip-planning apps, Google isn't trying to turn its Maps app into a MaaS platform, a Google spokeswoman told Mobility Payments. Instead, the play is a "deeper integration between Google Maps and Google Pay," she said. "Google Maps does not issue a ticket, rather, it gives people the option to use Google Pay on supported routes right from transit navigation."
Kathy Schultz, planning and development manager for Kalamazoo Metro Transit, one of the first transit agencies to support the Google service–including participating in a pilot program last year–earlier told Mobility Payments that riders in the pilot were able to first plan their bus routes in Google Maps by picking their destination, then they clicked on the transit link within Google (Maps) and saw a button to buy and save tickets to their phones. This linked directly to Google Pay, where users purchased and stored the tickets, though at the time, they also could go to the Token Transit app.
Uber and Lyft Get Involved
Such ride-hailing apps as Uber and Lyft are also beginning to enable route-planning in certain cities, and users in an even smaller number of cities–such as Denver, Las Vegas and Cincinnati in the U.S.–can buy public transit tickets in the Uber or Lyft apps or both.
Uber was the first to support the ticketing service in its app, launching in Denver in early 2019 to enable its users to find buses, trains or other public transit to complement or even take the place Uber's own ride-hailing service. It later added Las Vegas; the NEORide consortium, which handles ticketing for more than a dozen mostly small bus agencies, but including Cincinnati; and Fire Island in New York. Uber rival Lyft began enabling ticketing in Denver last fall and in Las Vegas in late June 2021.
Plugging into SaaS Platforms
The vast majority of the payments and ticketing for the trip-planning apps so far use SaaS ticketing platforms. These platforms for years have been providing mostly mobile ticketing directly to the agencies themselves through either white-label apps as with Masabi and Bytemark, or a consumer-facing app for Token Transit.
Masabi and Token Transit each say they have more than 100 transit agencies already using their platforms , while Bytemark says it has more than 50.
SaaS ticketing has grown in demand with the pandemic, which has increased calls for mobile and contactless ticketing to replace cash and paper.
With the SaaS platforms, agencies can start offering the service quickly, within weeks, sometimes even days by plugging into the platforms, if they are only introducing mobile ticketing with visual inspection by bus drivers of the digital tickets. Without the need for validators, they would have virtually no start-up costs, either. They pay commission based on transaction revenue or volume. (See table). Validators that can scan bar coded- or QR-coded mobile tickets and accept reloadable closed-loop contactless cards cost around $1,400 apiece including installation and readiness to also accept open-loop EMV contactless payments. But the vast majority of the SaaS ticketing services only enable mobile ticketing, usually with validation by visual inspection of the tickets by bus drivers or other agency staff.
Drawbacks to SaaS ticketing–that the agencies don't own the platforms and can't add their own features or customize the platforms much, is more of a concern to large authorities or operators, not small to mid-tier ones.
With agencies already plugged into the SaaS platforms, it's mainly a matter of the trip-planning apps installing SDKs or APIs to add the ticketing and payments services of the SaaS platforms, if agencies agree.
Ben Whitaker, head of innovation and co-founder of Masabi, told Mobility Payments' sister publication NFC Times that an agency already being integrated with Masabi's Justride SaaS platform can mean the difference between the trip-planning or ride-hailing app supporting the public transit ticketing service or not.
"They don't have to reintegrate every time," he said. "It's going to be a really tough ask to get Uber to do a separate integration with a city. If you're New York, yeah, they'll do it. If you're some small town in Colorado, probably not."
Masabi last month announced it was enabling 60 transit agencies and operators to sell tickets through such third-party apps as Transit, Moovit and Uber.
Some agencies have made the trip-planning app its default app and added mobile-ticketing directly to the app. That was the case for St. Catharines Transit, a small bus agency in Ontario, Canada, which launched mobile ticketing in the Transit app in April 2019, the first agency integrated with Transit. It uses an SDK from Masabi.
Other SaaS ticketing providers are getting involved. For example, U.S.-based Cubic Transportation Systems–known for implementing huge bespoke fare-collection systems for such major cities as London, New York, San Francisco and Sydney–has adapted the SaaS ticketing platform, TouchPass, it bought to offer more agencies mobile and contactless card-based ticketing with its Umo platform play.
Getting Off to Slow Start
Despite the high profile launches, some of the first transit agencies to have enabled ticketing through the third-party trip-planning apps are still seeing the vast majority of their mobile ticketing coming through their own apps. That appears to be especially true if the agencies had their own mobile-ticketing apps on the market before adding the third-party apps.
Some prime examples are transit agencies RTD Denver and RTC of Southern Nevada, based in Las Vegas, which were among the first to enable ticketing through Uber, and were also early partners of Transit. Both are still seeing more than 95% of their mobile-ticketing sales through their white-label apps. (See charts on this page.) Both use SaaS ticketing provider Masabi for their own apps and for the ticketing sales in the third-party apps.
RTD Denver launched its Mobile Tickets app in late 2017, while RTC in Las Vegas launched its RideRTC app in 2016. RTC saw a healthy 28.3% of total fare revenue through mobile ticketing for the 12 months ending in March 2021, despite the cash-heavy business it does in Las Vegas.
Meanwhile, RTD in Denver was recording around 13% mobile-ticketing adoption before the pandemic.
Tonya Anderson, RTD Denver's senior manager of fare operations, has said overall use of mobile ticketing has greatly exceeded expectations. And the low ticket sales so far from the third-party apps don't faze her. It's important to give customers options, she said.
"There's a concept called app fatigue," Anderson said, speaking earlier at a conference. "It's that friction that you feel when someone says, 'oh, easy, just download an app.' And you're thinking, 'Oh, I can't download another app. I just can't do it.' We wanted to take away this first point of friction by putting our tickets in a ubiquitous app (Uber and Transit) that customers already have on their phone."
RTD later added yet another third-party app, Lyft, in the fall of 2020. Sales are still minimal. RTC added support for the Lyft app in June of this year.
On the other hand, agencies that make Transit their default app are naturally seeing a higher percentage of their mobile-ticketing revenue though the trip-planning apps. That includes the Greater Dayton RTA, which said 30% of the total trips it handles–paid for by any means–are now paid for through the Transit app, though that is slightly down from 35% in January, before the agency introduced contactless fare cards.
"Different agencies take different approaches to mobile ticketing," a Transit spokesman told Mobility Payments, adding that a "growing number of agencies have selected Transit, rather than a standalone mobile ticketing app, as their preferred app for riders, since we work with agencies to provide a seamless experience that combines real-time trip planning, fare payment, on-demand transit and connections, such as bikeshare."
Creating True MaaS Apps
The trip-planning apps are also beginning to enable other transit modes, such as bike share, in their apps, although they have a long way to go.
Enabling users to plan, book and pay for their multimodal travel in one app–to the point where users no longer need to own their own transportation, meets the definition of mobility as a service, or MaaS. While MaaS has been touted as a technology that can transform the public transportation industry, progress toward rollouts of MaaS platforms has been slow.
Now, with trip-planning apps starting to embrace ticketing and payments, more apps of this type could help MaaS begin to meet its promise.
Many of the additional transit modes are deep links in the apps that take users to another app to book and pay, which wouldn't really meet the description of true MaaS apps, however. And enabling users to pay for private mobility, including micromobility, with the same account as for public transit has been slow to happen.
Moreover, public transit operators also complain they are receiving little data when ride-hailing companies sell their public transit tickets in their apps.
But Michelle Whitney, revenue operations supervisor for RTC, speaking at a Transport Ticketing Digital conference in March, said that with the data the agency is collecting from electronic ticketing in general, RTC has a clearer view of who its core riders are and how they are moving through the system. It can use this data to help it develop other services, in addition to bus and bike share.
She said she believes being part of third-party apps will benefit more than hurt public agencies.
"We are building for a lot of different integrations into other apps; a lot of ride-share companies are going to start selling our transit passes," she said. "I mean, once you open that up, you can connect with so many other services in your area. So it's sky's the limit."
© Mobility Payments and Forthwrite Media. Mobility Payments content is for individual use and cannot be copied or distributed without the express permission of the publisher.