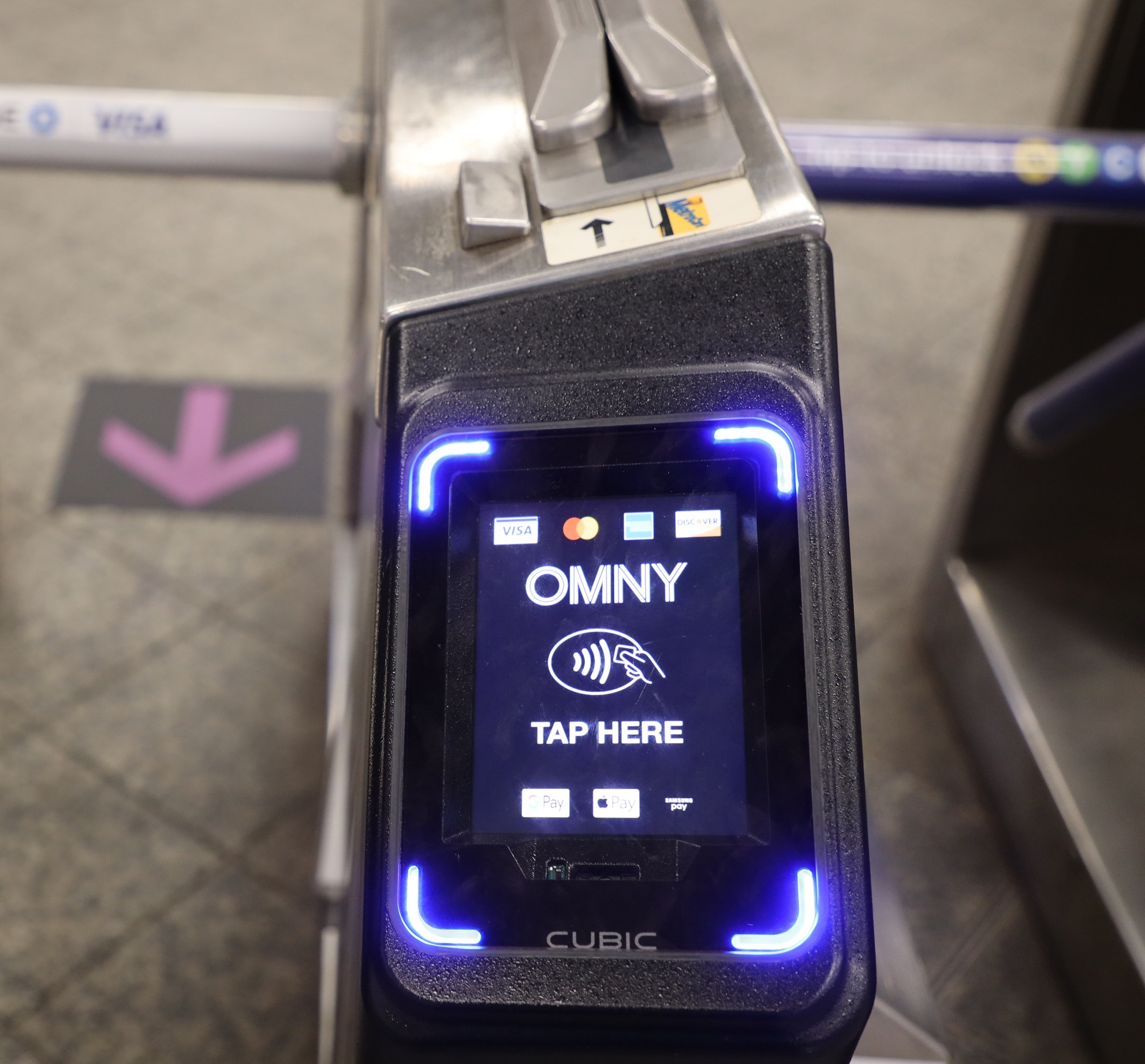 Article Highlights
Key Takeaway:
New York's Metropolitan Transportation Authority said contactless open-loop fare payments now make up around 16% of transactions. MTA will continue to roll out the new fare-collection system through 2023.
Key Data:
Riders have tapped their NFC devices and contactless EMV cards for more than 100 trips since the MTA launched the OMNY pilot in May 2019. Nearly 80% of the rides are on the massive New York City Subway system.
As New York's Metropolitan Transportation Authority marked the two-year anniversary since launching the first phase of its high-profile OMNY open-loop fare payments rollout in May 2019, transactions continue to grow.
Riders were tapping with contactless EMV payments for a reported 16% of all fares for the entire New York City subway and bus systems as of July 6, when MTA announced that OMNY had surpassed 100 million taps since the launch. The authority said that nearly 80% of the OMNY-paid rides were on its massive subway system, with the other 20% on buses.
As OMNY was marking the two-year mark, overall ridership was recovering from the Covid-19 pandemic, which at one point in 2020 was down by 90%. And usage of open loop continues to increase. MTA told Mobility Payments during the third week of June that rides hit a one-day record of 628,000 OMNY taps on June 17. That might have been exceeded later in the month. It's up from the earlier daily record the agency announced in May of 500,000 taps.
Contactless taps as a share of total transactions continue to grow and were only around 9% in October 2020.
Despite the pandemic, which caused workers implementing the OMNY system to miss more than 40 days in 2020, the MTA had hit a key milestone for the project by year's end–deploying more than 15,000 contactless EMV readers at all 472 subway stations in New York City and on all 5,800 city buses.
While it did not release a new breakdown for the share of open-loop payments from EMV card credentials stored in NFC wallets as compared with physical contactless EMV cards, OMNY chief Al Putre said last fall that the share of contactless EMV payments from wallets remained high, at 73%. That is likely to change, however. According to Visa, more than 70% of Visa-branded cards in New York were contactless-enabled as of the end of 2020, up from 5% when the MTA rollout began in May 2019.
The transit authority–the largest in the U.S.–is planning to continue to roll out OMNY in 2021 with its automated fare-collection vendor Cubic Transportation Systems. Cubic has a contract to build OMNY originally estimated to cost around $540 million. The transit agency in April 2020 decided to modify the Cubic contract and to double the number of certified EMV readers that Cubic would install on buses in order to enable customers to board at all doors on the bus fleet, the agency said.
Going forward, MTA plans to launch its contactless closed-loop OMNY card in 2021, giving customers who don't have open-loop credit, debit or prepaid cards–or who don't want to use them to pay fares–an option other than the agency's aging MetroCard. (An estimated 12% of MTA customers are unbanked.) Plans call for MTA to fully retire the more than 25-year-old mag-stripe MetroCard in 2023.
"No more failed swipes, no more lines at MetroCard machines," said OMNY program chief Al Putre.
Well before the MetroCard finally departs, the agency, with the new closed-loop OMNY card, plans to offer the same discount fares for seniors and disabled customers, as well as weekly and monthly passes, as it does with the MetroCard.
Customers will be able to purchase the new OMNY card in more than 4,000 retail outlets, mainly drugstore chains in New York City and, later, in vending machines. The latter will enable customers to purchase and reload their cards at New York City subway stations. MTA will work with prepaid payments service provider InComm to distribute and manage closed-loop OMNY as reloadable gift cards.
MTA will also debut its OMNY mobile app in 2021 and this could support a virtual OMNY card, which users would tap to pay.
Putre said the MTA board has not decided whether OMNY–either closed loop or open loop–would support fare capping. Since OMNY is an account-based ticketing system, the OMNY terminals also could accept a range of other fare media.
MTA is not finished with its rollout. Among other plans, it will extend OMNY to its two commuter rail services, Long Island Rail Road and Metro-North Railroad in 2022.
But while he touts the forthcoming closed-loop OMNY card and pledged that the authority would "never neglect" its cash customers, Putre emphasized that the agency wants customers to tap their open-loop bank cards and NFC phones and watches to pay for fares.
"It's already in your pocket. It all works. You already own it," said Putre, an unabashed promoter of the project. "You don't have to buy it. You don't have to stand in line. It's clean. It's safe, and it's fast."
© Mobility Payments and Forthwrite Media. Mobility Payments content is for individual use and cannot be copied or distributed without the express permission of the publisher.