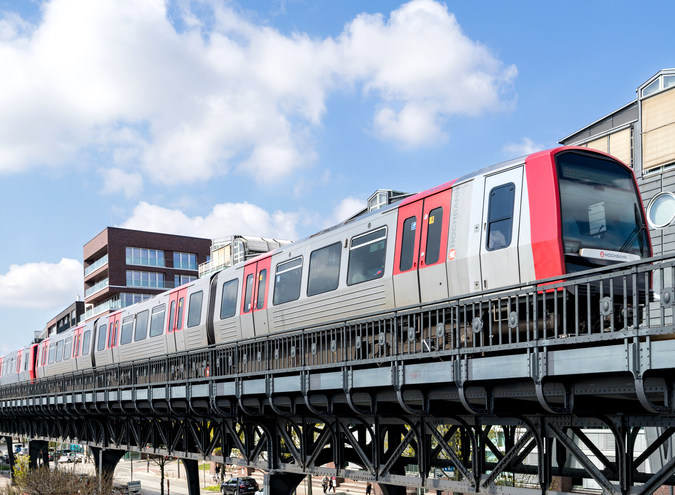 Article Highlights
Key Takeaway:
Check-in, Be-out systems are gaining in popularity among some transit agencies, which want the flexibility that BLE or other location-based technologies offer for fare collection. Implementers say they are able to deter the inevitable fraud attempts in various ways.
Key Data:
Germany's first "check in, be out," or CiBo, fare collections system launched in the smaller city of Osnabrück in October 2020, when Stadtwerke Osnabrück AG, the city's public transit agency, launched its YANiQ mobile application with vendor eos.uptrade. There have been a few other launches of CiBo , such as the Anda mobile app, in Porto, Portugal's second-largest city.
Organizations Mentioned:
• Scheidt and Bachmann
• HVV
The city of Hamburg, Germany, will launch a Bluetooth Low Energy-based "check-in/be-out" fare collection system on its buses and trains later this year.
Following several months of testing and the installation of BLE beacons on the city's transit vehicles, the system is expected to go live in time for a series of exhibitions, trade shows, and festivals scheduled to take place in the city this fall.
"They definitely wanted to be ready with the system in place for that," Lars Rembold, director of strategic business development at Germany-based transit fare systems vendor Scheidt and Bachmann, told Mobility Payments in a recent interview.
Hamburg's public transit agency, which serves a city of around 2 million people, operates buses, subways, commuter trains, and a light rail system. As of late March 2021, when Rembold spoke at virtual Conference, the city planned to also implement an open fare collection and trip planning platform that would connect multiple services, such as public transit, airport shuttles, and car-share. At the time, that was planned for later in the spring of 2021, but no update on the progress of that initiative had been forthcoming, and other aspects of Hamburg's new fare collections system rollout have run a couple of months behind earlier estimates.
As of late June, the city's transit agency was completing the installation of the BLE beacons on its buses, Rembold told Mobility Payments. That process was originally set for completion at the end of April, according to comments from Rembold at the virtual conference back in March, but timelines for rollouts have been somewhat flexible during the Covid-19 pandemic.
"They were not very frantic, in these Covid times, to start before the summertime," Rembold told Mobility Payments. "Summertime is vacation time, which is a good thing for them (the transit agency), because on vacation time, they have less schoolkids and others using the system. This is a good time for public operators in general to try something out," he explained.
The launch follows several months of testing, including a friendly user test with about 1,000 participants, and then networkwide testing. Rembold told Mobility Payments that he hopes to see customer feedback and data on take-up of the system within four to six weeks of the launch.
Germany's first "check-in/be-out," or CIBO fare collections system launched in the smaller city of Osnabrück in October 2020, when Stadtwerke Osnabrück AG, the city's public transit agency, launched its YANiQ mobile application with vendor eos.uptrade. There have been a few other launches of CIBO , such as the Anda mobile app, in Porto, Portugal's second-largest city.
Check-In/Be-Out In Action
Both the Osnabrück and Hamburg systems work in a similar manner. Passengers download a mobile application, create an account, and add a payment card to the account. To "check in," passengers must enable Bluetooth on their mobile devices, then open the application and swipe to signal that they have boarded and are beginning a journey.
The app detects signals from the BLE beacons aboard the bus or train to track the passenger's time spent on the bus, transfer from one bus to another, and eventual departure. If mobile data is temporarily unavailable for this–such as aboard a subway train–the application will store the location data and send it when mobile data becomes available again. In Germany, train systems usually do not have fare-collection barriers.
To end a journey, the passenger must only "be out" or get off the bus. At the end of the day, back-end software calculates the most optimal fare for the passenger and deducts that amount from the selected payment method in the passenger's account. Throughout the journey, passengers can also see their logged travel and expected fare in the mobile application.
If passengers attempt to turn off Bluetooth to try to trick the system in billing them for a shorter journey, the application will warn them, and conductors who board trains and buses for fare inspections can quickly spot-check for compliance.
"When a conductor, for example, enters the vehicle, he's able to have the system on board send out a signal to all devices, all apps that are activated in the vehicle. These apps would recognize an inspection is coming and show a very special inspection sign– it could be a picture or whatever you want," Rembold told Mobility Payments. "If I am somebody who has tried to betray the system, so to say, my phone wouldn't show up anything, because it was turned off, that would allow the revenue protection person or conductor, in that system, to act on that."
Daniel Voelsen, deputy project manager for the CIBO project in Stadtwerke Osnabrück, which is the only system in Germany that is live, told Mobility Payments that there are other safeguards against fraud.
"The system is, nonetheless, able to collect enough meaningful data when Bluetooth is disabled, or the mobile connection is lost," he told Mobility Payments. "If anything is switched off (BLE, GPS, Fitness Data), the user will instantly receive a notification." He added: If power is completely off, YANiQ isn't able to collect further data (from) GPS and BLE. We can identify (that) in our back end."

The Case For (and Against) CIBO and BLE
Backers say CIBO, with or without BLE, offers passengers an easier way to navigate the often-complex calculations involved in transit fares, especially for tourists or business travelers using public transit in an unfamiliar city–such as Hamburg's upcoming fall exhibition-goers and festival attendees. That's true of both the location-based system or open-loop fare payments with contactless EMV.
But BLE in particular seems interesting to transit agencies who want a relatively simple infrastructure deployment, Rembold said, based on his conversations with several of the vendor's transit agency clients.
"Placing a Bluetooth beacon in a vehicle is much, much easier than placing any other kind of device, like a validator that you would need for a cEMV, or if you wanted to use vending machines. If you had a closed-loop system, you would have to have the right reader technology for that, (too). That is a certain amount of work and investment that you have to do," he said. "The Bluetooth beacon is a relatively simple device that you place in buses. It's a small box that doesn't take a lot of space, you can easily place it, and you don't need cables for communication or for power."
Of course, BLE beacons aren't the only way transit agencies could track passenger journeys in a CIBO fare system. Location information from buses, GPS information from passengers' mobile phones and even motion-detector data from mobile devices could all help build the location profile. (The Osnabrück YANiQ application combines BLE with the latter two data sources). Users opt into the tracking.
"We are not the only company working with this technology or similar technologies. Others are out there that, for example, don't do Bluetooth at all, and we also have a solution without Bluetooth," Rembold said.
But Rembold contends that BLE offers increased accuracy compared to other options.
"Whether you want to use Bluetooth at all depends on how much accuracy you want," he told Mobility Payments. "We have customers that clearly say, no, we want as many sources as possible to make sure that we really can identify and match a vehicle on a tour with a passenger trip."
For example, if a passenger gets off a bus, and the BLE beacon in the bus moves away from the passenger, the system can be more certain that the passenger has actually disembarked.
But many agencies around the world looking for a new system are opting for open-loop payments with contactless EMV or NFC mobile payments, such as the BonnSmart system recently launched in the German city of Bonn. Open-loop card payments also offer passengers the ability to avoid complex fare policies, and Rembold says they may have a psychological edge over BLE-based systems, as well.
"People have a tendency–and that is more a question of belief – but people have a tendency that they like to actively do something and like to decide the payment channel and stuff like that," he told Mobility Payments, adding "You can do that with both means," but for some passengers tapping a card may feel like a more active step.
Agencies who already accept contactless smart cards may find the switch to contactless EMV easier than adopting a completely different mode of fare collection, such as CIBO with BLE or location data, while agencies who haven't yet adopted smart cards even for closed-loop fare payments may find it easier, or just as easy, to install Bluetooth beacons and design a mobile application.
"I cannot really say that there is a clear determination right now of a favorite," Rembold told Mobility Payments. "It really depends upon the interest of an agency what would they want to do."
© Mobility Payments and Forthwrite Media. Mobility Payments content is for individual use and cannot be copied or distributed without the express permission of the publisher.