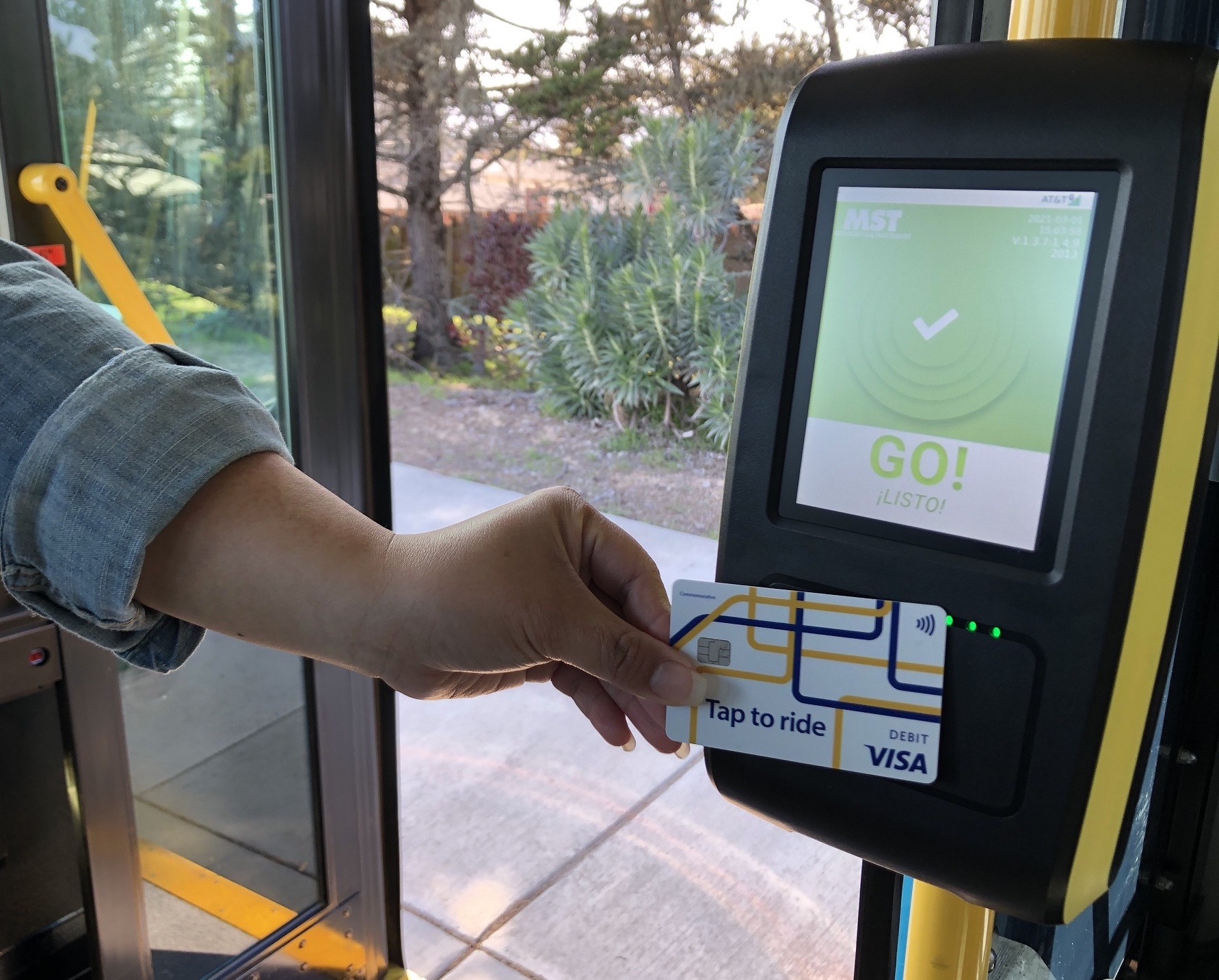 Article Highlights
Key Takeaway:
The state of California seeks to use its contracting clout to line up vendors for transit agencies–especially small ones–to move to an interoperable system of open-loop fare payments. Officials, hoping to encourage more use of public transit in the massive state, also want to find alternatives for California's large population of unbanked and underbanked individuals.
Key Data:
Table: Confusing mix of fare alternatives for Los Angeles and Orange County transit agencies
As the California Department of Transportation, or Caltrans, sees it, the state's more than 300 local transit agencies offer a fragmented and inefficient mix of fare collection systems–a fact it says discourages many potential riders among the state's nearly 40 million residents from taking public transit.
The solution the state has come up with–creating a "marketplace" of vendors that can offer "plug-and-play" components to transit agencies–could change the way agencies procure their fare-collection systems in the future, say backers of CalTrans' Integrated Travel Project, or Cal-ITP.
"Think of (it as) the California 'mobility marketplace,' and it is the desire to make sure that it is plug and play," said Matthew Hudson, a lead at Netherlands-based consulting company Rebel Group and a consultant for the state, speaking at a recent Transport Ticketing Digital Summit conference. He noted that "demonstration" projects, like the pilot of EMV contactless fare payments launched in May by a small bus operator serving California's Central Valley and coastal region, Monterey-Salinas Transit, have proved the concept. Cal-ITP launched its second demo project June 29 on the Sacramento Regional Transit light rail service.
"It is possible to buy readers from one supplier and plug them into a back end from another supplier that plugs into a third supplier that acts as the financial system," Hudson said. "That's the driver that I think is the revolutionary thing that is coming out of California."
Choosing Open Payments
The state is seeking to use its contracting clout to line up qualified suppliers of the main components it believes agencies need to build fare-collection systems based on open-loop EMV contactless technology. Agencies would then shop among these vendors themselves. This compares with single-vendor contracts transit agencies often sign today, either with systems integrators to build bespoke fare-collection systems or, in some cases, software-as-a-service ticketing platform providers. A number of small agencies are also part of regional fare collection systems based on close-loop contactless fare cards, TAP and Clipper, controlled by authorities in Los Angeles and San Francisco, respectively.
Caltrans has held three "market soundings" with fare-collection and financial industry suppliers dating from the fall of 2019 and a feasibility study last year as it seeks to find ways to transform what it calls the "disjointed" and "confusing" fare-collection landscape in California.
The program is mainly targeted at small bus operators, which make up the bulk of the state's hundreds of transit agencies and which mainly accept cash for fares. The program seeks to make their fare-collection systems interoperable, while accommodating what the state estimates is 25% or more of unbanked and underbanked population in the state. The situation as it stands today, discourages many riders from taking public transit, thus adding to traffic congestion and hurting the state's efforts at counter climate change, according to state procurement documents.
Gillian Gillett, manager of the California Integrated Mobility program for Caltrans, which includes Cal-ITP, noted at a recent Intelligent Transport conference that only a small percentage of state residents take public transportation on a regular basis.
"You know, 97% of Californians really don't ever think about taking transit," said Gillett, who previously worked in the financial services sector. "I mean, if we were a business we would be out of business."
After consulting with the private sector, the officials heard loud and clear that when it comes to fare collection, the transit industry needed to standardize.
"Everybody knows what a debit and credit card is and really the only thing left that doesn't take that form of payment with regularity is transit," said Gillett.
She placed the share of state residents who have limited access to bank cards and other parts of the traditional financial system at 30% and giving these people access is a top priority of the state's mobility program, and officials hope fintechs can help fill the gap (see below).
While it remains to be seen whether the Cal-ITP concept will work in practice, it has some large commercial backers, such as Visa, which would like to see it proved successful, given that Cal-ITP supports fare payments with credit and debit cards.
Update: The state has already awarded contracts to transaction processors or acquirers, Elavon and Fiserv. It issues two more RFPs on June 30, one to find suppliers of EMV-enabled payment acceptance devices, or "PADs," which are validators; and the other to provide fare-calculation software for the back office, including engines that could calculate fare capping. State officials call this "transit processor services." The state is expected to award contracts in the fall. End update.
The state isn't buying the equipment or fare calculation software for the agencies, officials note. Instead it is tendering and negotiating contracts with suppliers to make their products and services available to agencies.
"The intent is that when they are ready, the agreement will be in place to enable local transit agency purchases," a representative of the procurement division of California's Department of General Services, told Mobility Payments. "The decisions of when, where, who to purchase from, and how much to spend remain entirely with the local transit agency."
The implementation of the pilot of open-loop fare collection for Monterey-Salinas Transit–a small bus agency that handled only 1.6 million rides in the  Covid-wracked year of 2020 wasn't very quick, however. It took a year to roll out, finally launching in May. MST CEO Carl Sedoryk, speaking at the same conference as Gillett, noted that the agency and suppliers were rolling out the technology in the middle of a pandemic. He said the agency equipped 120 buses with validators for what is technically a six-month trial.
"I wouldn't necessarily advise it, but it can be done for a small agency," he said, speaking of rolling out the technology during the pandemic. "We've put these ticket validators on board our buses, and they can accept the same debit card that I used to buy a cup of coffee or a taco off the taco truck or buy a pair of pants at the department store."
Counting on Fintechs
Any public transit fare-collection system based on contactless credit or debit cards raises the question of equity, especially in a state with so many unbanked and underbanked residents. These include young people and undocumented immigrants. In addition, there will be other riders who have bank cards but don't want to use them to pay fares.
Officials stress that equity is one of the goals of the initiative. They say they will "facilitate" new digital payments methods from fintechs and other companies that will reach people without access to the traditional banking system. These include the Square Cash app, which enables users to send and receive funds and add value that they can use with a companion debit card, which is based on EMV technology. Monterey-Salinas Transit plans to introduce Square Cash cards soon, said Sedoryk. Other agencies adopting open-loop contactless EMV cards will likely do the same.
"Square issues accounts, debit, fully functioning payment-rail accounts to people based on a California driver's license," noted Gillett. "You don't need to have a social security number. You do not need to be a legal resident of the United States of America to get a Square account, but you can use a Square account once they issue your card."
Another example of new EMV-enabled cards that unbanked and underbanked people can use to pay fares is the Angeleno Card, which is a free prepaid debit card for low-income Los Angeles-area residents, said Jeroen Kok payments and mobility lead for the Rebel Group.
But in the tendering documents, the California officials said that the fintechs and other alternatives would not be enough. "We see that the current state of the issuance market does not provide sufficient solutions for every existing transit payment use case, and cash may need to continue to be accepted for some time."
Caltrans' Gillett appealed for more financial products for the unbanked and underbanked, noting that the state, the largest in the U.S., could create a substantial amount of new business for financial services firms.
"We can say the state of California has a lot of transactions if you link all of us together," she said. "We don't want every customer to have to download an app for each transit agency. What's it going to take for you in the payments industry, tech industry to compete for the 30% of the population that needs an account? What is that going to take? And you can't have us until you come up with a solution."
Targeting Small Transit Agencies
The Cal-ITP initiative isn't really aimed at large transit authorities, such as Metro of Los Angeles or the Metropolitan Transportation Commission of San Francisco. It's more targeted at the numerous small transit agencies in the state. And these small and often rural agencies, in particular, "face significant obstacles in procuring new payment technology due to a lack of dedicated resources and specialized expertise," said the state tendering documents.
Rebel Group's Hudson said the state, in effect, is creating bench contracts, with vendors sitting on that bench, waiting for agencies to order their qualified products and services. Hudson, who worked 20 years with large transit authority Transport for London, said it misses the point to look at Cal-ITP as a way to help big transit agencies in the state or those in other states and countries, where the concept might catch on if it proves successful. These agencies almost always order big, bespoke fare collection systems costing hundreds of millions of dollars.
In addition, saving money on procurement with these leveraged contracts by California isn't the main goal, he said.
"The bulk of public transport are smaller operators and transit agencies," said Hudson. "It's about being able to make sure that they can buy from suppliers; they can get the systems in place; they can build relationships to those suppliers. The real thing here is to make sure that the benefits of a modern fare-collection system is available to all public transport."
According to tendering documents, the state does, in fact, say that it hopes to decrease costs for agencies. Among other things, it seeks to use its organizational and aggregated buying power to reduce transaction costs for transit agencies, and to overall "allow them to upgrade their fare payment systems more quickly and cost-effectively than would otherwise be possible."
This indicates that one cost state procurement officials are targeting for reductions are "merchant" fees transit agencies would pay to accept credit cards. Unlike in Europe, credit card fees are largely unregulated in the U.S. and so represent a significant cost for agencies. If the state is seeking to lower these fees in its contracts, it would mean they believe the system they are building can deliver significant transaction volumes for issuers.
Most of the small agencies the state is targeting with Cal-ITP still rely on cash and paper tickets to collect most of their fares, and it's not entirely clear where the often cash-strapped small agencies will get the money to buy the equipment and services they need to launch open-loop fare collection, with certified validators easily costing over $1,000 apiece.
Some agencies probably will use grant funds from the U.S. federal government or perhaps from the state. But a California state representative confirmed to Mobility Payments, that while the state will be negotiating prices, it won't be spending any money on fare payments readers or processing software or services for local agencies interested in getting on board. "The agreement's anticipated use is from local transit agencies only," the representative said. "State agencies are not anticipated to have any spend."
Then there are the small agencies serving the Los Angeles and San Francisco metropolitan areas that use the TAP and Clipper, respectively. These regional fare cards each serve more than two dozen agencies. It's not clear that either they or their planning authorities will want to introduce open-loop payments.
So the timeline for integrating the state's vision for a more uniform and responsive transit fare payments system and data standard will depend on the individual decisions of dozens of local transit agencies, which will be free to choose their own timing, budgets and vendors.
It means that unless the agencies take other measures to eliminate cash, they will continue to accept it for years to come.
Offering More Discounts
California transportation officials say there are other parts of the Cal-ITP initiative that can further the goal of equity.
Along with open loop, the state would like to see agencies adopt an aggregated pay-as-you-go model. In this model, customers would pay when boarding a transit vehicle but the day's total fares wouldn't be collected until the end of the day. Processing companies would then calculate discounts and fare caps. And agencies could extend the fare caps for longer periods, such as a week, even a month. Monterey-Salinas Transit's demo open-loop service already offers daily, weekly and monthly fare capping. This means customers who can't afford to buy money-saving period passes in advance could pay as they go and receive the same savings.
The Cal-ITP initiative also seeks to promote more sophisticated use of data by agencies, including data used to offer more fare discounts for riders throughout the state, say the Cal-ITP documents.
Monterey-Salinas Transit, for example, is working with the state Department of Motor Vehicles, whose registration lists could determine whether certain MST riders would be eligible for senior discounts. MST's Sedoryk said the system would allow riders to opt to register their payment cards tied to this data on the age of the rider.
Cal-ITP also has pushed a minimum general transit feed specification, or GTFS, guidelines, based on the North American specification, to ensure riders can get accurate schedule, arrival and fare information from agencies, which they can use for trip-planning.
Open-Loop Demo Project
The Cal-ITP program includes the launch of a handful of "demonstration" projects or pilots by transit agencies using hardware and other components they purchase through the program. Besides MST and Sacramento Regional Transit, Caltrans' Gillett said at least two other agencies in the state's Central Valley are coming.
First up was MST, which serves Monterey county in California's central coastal area. MST officially launched the service in May 2021 after delays, calling it the first open-loop payments service introduced by a transit agency in California.
Vendors Visa, Cybersource, Elavon, Littlepay and SC Soft are also participating in the demonstration. The same vendors, in addition to Germany-based reader maker Feig Electronic, are supplying the Sacramento Regional Transit project.
Currently, MST's buses accept cash, passes, the closed-loop GoCard and now open-loop contactless payments. By the end of fiscal year 2021, MST is expected to roll out open-loop contactless payments on all of its fixed-route lines and some other services.
If successful, other U.S. states are expected to adopt the Cal-ITP concept, too, said Rebel Group's Hudson.
"This is quite a new way forward, and I think it's almost the natural conclusion of how we've seen this market evolve over the last 10-15 years," he said. "So in some respects, California wants to sort of blaze the way. But I think whatever comes out of this, we will know pretty quickly, and we will see how we can really open this up for other people (and agencies)."
Kiona Smith contributed to this report.
© Mobility Payments and Forthwrite Media. Mobility Payments content is for individual use and cannot be copied or distributed without the express permission of the publisher.