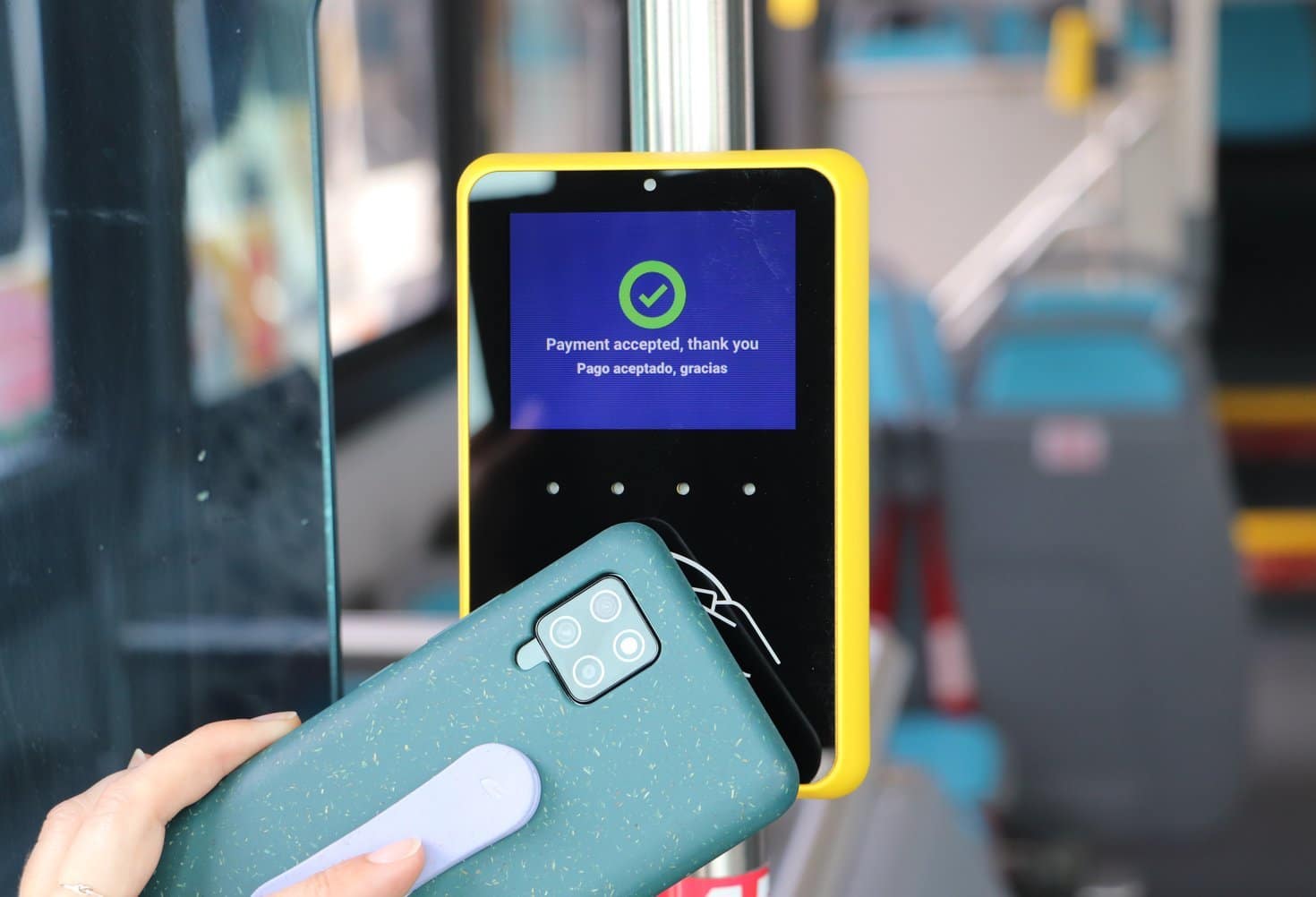 Article Highlights
Key Takeaway:
California's Cal-ITP initiative is not finished helping small transit agencies in the state to launch open-loop fare payments pilots.
Key Data:
Together, the 300-plus transit agencies in California in 2019 recorded over 1.2 billion unlinked passenger trips and collected around $1.8 billion in fare revenue across transportation modes.
The California Integrated Travel Project, or Cal-ITP, is "on track to have at least several more" open-loop pilots or demonstration projects, a spokeswoman for the program told Mobility Payments.
That's in addition to the four pilots that the state has already helped small agencies launch, those by Monterey-Salinas Transit, Sacramento Regional Transit and two agencies serving Santa Barbara County: Santa Barbara Metropolitan Transit and the county-funded Clean Air Express. The spokeswoman didn't say when the new pilots would be launched.
"Several more demonstration projects are very likely to happen," said the spokeswoman.
Meanwhile, the deadline is nearing for vendors to submit bids in response to two state RFPs, one for transit fare validators and the other fare-calculation software. As of today, the bids will be due by 5 p.m. Sept. 6. That deadline, originally set for mid-August, has been extended three times, mainly for minor changes to the RFPs.
The projects are part of a state initiative to help California's more than 300 mostly small bus agencies make their fare-collection systems more uniform and easy to use, based on open-loop payments, along with enabling more accurate trip-planning and discounts for riders. The initiative aims to increase transit ridership, decrease costs for agencies and help the state meet its environmental goals.
As Mobility Payments has reported, the California Department of Transportation, or Caltrans; and its parent, the California State Transportation Agency, CalSTA; seek to build a "mobility marketplace," at which transit agencies could shop for the key components they would need to build open-loop fare collection systems.
In essence, the state is seeking to use its contracting clout to line up qualified suppliers for these components. The state has already awarded contracts to two payments processors/acquirers, Elavon and Fiserv. It issued two more RFPs June 30, one to seek bids for the EMV-enabled payment acceptance devices, or validators; and the other to provide the fare-calculation software for the back office, including engines that could calculate fare capping and other discounts. State officials call the latter "transit processor services."
The state considers the validators and transit processing as the "backbone of a contactless EMV fare payment system." These would be integrated with each other and connected with the payments processor platforms. The system is designed to be "plug and play," as one consultant on the project put it, so that various vendors' products could be swapped in or out as needed. Of course, the final open-loop fare collection system for any given transit agency would require full certification, including EMVCo level 3 end-to-end approval.
Cal-ITP received a state grant from CalSTA of $27.3 million as seed money for the procurement program, though transit agencies will need to buy the equipment and services themselves, and are expected to do so using other grant funds.
Backers of the Cal-ITP initiative say the state believes it can attract a number of qualified vendors to bid on the contracts by offering a large potential market, which bid documents say includes 8,500 fixed-route public transit buses in the state and more than 19,000 total revenue vehicles, including light rail, vans, and other demand-responsive transport vehicles, though not counting commuter and long-distance rail. Many of these 19,000 transit vehicles, such as buses, will need multiple validators to enable boarding at more than one door.
Together, the 300-plus transit agencies in 2019 recorded over 1.2 billion unlinked passenger trips and collected around $1.8 billion in fare revenue across transportation modes, the state said.
While state officials have estimated that the unbanked and underbanked amount to one quarter of the state's population of nearly 40 million, many of these people–who may not have conventional credit or debit cards–could still use the planned open-loop infrastructure with alternative card products. That could include such fintech products as Square Cash. But cash will still be an option for agencies that participate in the procurement program.
According to the RFPs, agencies outside of California that engage in aggregated purchasing have also expressed interest in the Cal-ITP procurement program" and might buy from vendors that the state selects–at the same prices that California transit agencies will pay. These include members of the Oregon cooperative procurement program and the Washington State Purchasing Cooperative.
The Cal-ITP spokeswoman has told Mobility Payments that, in general, the state is hearing strong demand among transit agencies in the state to move to open-loop payments. She said agencies interested in holding demonstration pilots can contact the program here.
© Mobility Payments and Forthwrite Media. Mobility Payments content is for individual use and cannot be copied or distributed without the express permission of the publisher.