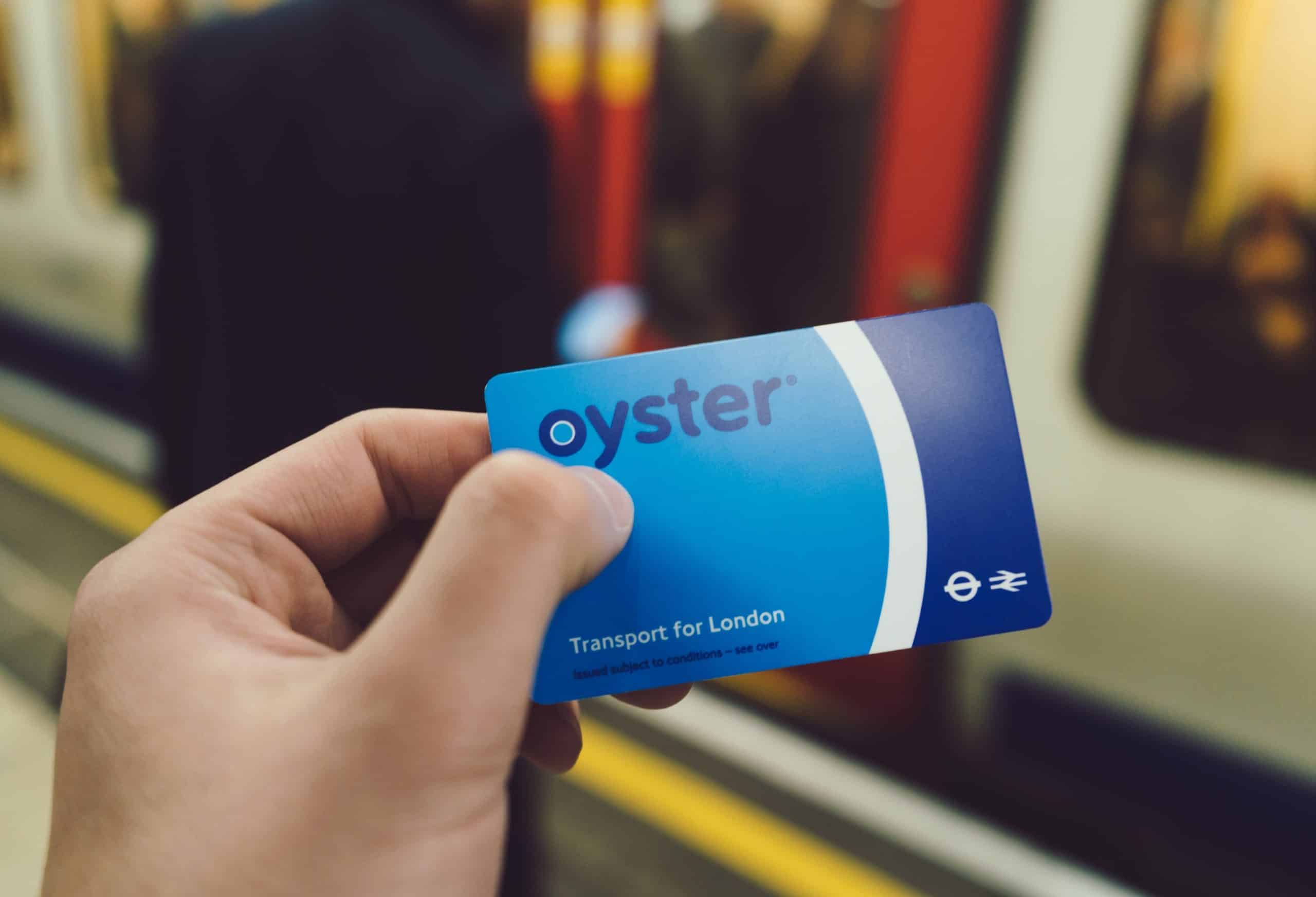 Article Highlights
Key Takeaway:
With contactless fare payments continuing to increase, Transport for London has had to refute speculation that its closed-loop Oyster card is on its way to retirement after nearly 20 years. That's not the case according to the agency, which said Oyster will continue to be needed for customers who don't have bank cards or don't want to pay with them.
Key Data:
Chart: Percentage of trips paid for with various payments types.
Organizations Mentioned:
Contactless open-loop payments have surged in recent months for Transport for London, returning to their steep growth trajectory before the pandemic, and now account for 70% of all pay-as-you-go, or PAYG, trips on the London Underground and two-thirds of PAYG trips on buses. And contactless has surpassed 50% of all trips–including those made with season tickets (see chart below).
That's according to the Transport for London, which continues to refute speculation that its closed-loop Oyster card is on its way out. There's no doubt that contactless credit and debit cards and card credentials on NFC phones and watches are becoming far and away the most favored way to pay by London transit riders for Underground, bus and other transport modes. But in response to questions from Mobility Payments, it's also clear that transit officials see a definite role for Oyster going forward.
"Regardless of the popularity of contactless, there will long be those who will require an Oyster card to travel, such as children, and we expect Oyster cards to remain a part of London for the foreseeable future," Mike Tuckett, head of customer payments at the agency, said through a spokesman.
Oyster Still in Demand
Transport for London just last week announced it had extended weekly fare capping to Oyster, putting it on par with the discounts offered to users of contactless cards and NFC devices. Moreover, the agency's massive new fare-collection contract, which is set to take effect in August 2025, aims to replace the Oyster's aging legacy back-office system and put it on the same system as the contactless open-loop system. The contract or contracts will deliver Transport for London's first full account-based ticketing system.
In addition to children who don't have bank cards, the agency said Oyster, introduced nearly 20 years ago, will be needed by adults who either don't have contactless cards or NFC devices or don't want to use them to pay fares. Some customers also prefer using stored-value or prepaid cards that they believe help them to budget their expenses. And some customers still want to use season tickets rather than pay as you go, even if they get the same or better deal with the latter combined with fare capping and don't have to prepay for the passes.
Crucially, at present, such concessions for seniors, under 18s, students, veterans and the disabled–which offer discounted or free travel–are available with Oyster cards but not with contactless EMV credit or debit cards or card credentials on NFC devices.
Some industry experts, however, are confident that scalable technology will soon be available to enable customers to use bank cards to pay while their identification and the concessionary discounts are applied on the back end.
There is already technology being tested in California that would enable transit agencies to work with the state Department of Motor Vehicles, whose registration lists could determine whether certain riders would be eligible for senior discounts, as Mobility Payments reported. The system would allow riders to opt in to register their payment cards tied to this data.
That type of system will not be available for many cities, of course. But in general, enabling concessionary discounts in the back office could involve customers registering transit accounts that include their age or other qualifying data to receive the concession.
At present, customers in London receiving these types of discounts must apply for special photo-ID Oyster cards after proving ID documents and a photo. This type of data is not available to transit agencies with EMV payments cards, which are issued by banks or credit card companies.
Transport for London hinted that it was looking at technology to address the problem. This potentially could be part of the account-based ticketing system in its new contract.
"There are certainly challenges supporting concessionary fares on EMV, including privacy, ensuring identification of users and admin challenges around keeping the system up to date with those who would be valid for concessions, but there are ways it could work in the future," the spokesman told Mobility Payments.
Contactless Continues to Climb
Transit riders are increasingly turning to contactless, which accounts for well over 50% of rides on the Underground, or Tube, alone, compared with 30% in 2018, Transport for London's Tuckett said through the spokesman. That includes all payments types, including season tickets.
The pay-as-you-go model, which Transport for London has been promoting for years, makes up nearly 75% of total Tube and bus trips, at present. (See chart.)
"It is still too soon to say what will happen after the pandemic, but early signs are that the flexibility of PAYG is even more relevant and important to people now than it was before, and we expect the trend toward PAYG to continue whether on Oyster or contactless," said the agency spokesman. "It is also true, however, that PAYG users are increasingly likely to choose contactless over Oyster."
The agency said that since it launched contactless payments, first on buses in late 2012 and then across the Tube, trams and other transport modes in the fall of 2014, there have been more than 4.5 billion trips paid for with contactless. The agency added that customers are tapping their smartphones and smartwatches to pay for rides for around one quarter of all contactless trips. That's up from just over 20% of contactless fare payments originating from mobile wallets in February 2020, Mobility Payments reported.
Diminished Role for Oyster?
Make no mistake, riders are still using Oyster, and one statistic demonstrates it still has a role to play. Before the pandemic, Transport for London said it was still issuing around 30,000 new Oyster cards per day, according to an official speaking in January 2020. That figure is way down since the pandemic hit, which brought with it sharp drops in ridership. The agency spokesman said the figure today for new and replacement Oyster cards today is only 40,000 per week. Ridership is returning, however, and he expects the number of new Oyster cards issued to slowly increase, especially as more tourists visit London.
Still, it remains to be seen how big of a role Oyster will play in post-pandemic London. A recent article, headlined, "London's Oyster card: Are its days numbered?" from BBC News, quoted Transport for London's Tuckett as saying the agency has "always seen" contactless and Oyster as "sister options that co-exist." But the article also noted that "only 5.7 million of the tens of millions of Oyster cards on issue are still active."
According to the updated chart provided to Mobility Payments, PAYG Oyster now accounts for fewer than 25% of Tube and bus trips, after making up nearly 40% before contactless was rolled out. Season tickets-many of them on Oyster cards–have dropped even more precipitously, from nearly 55% of all trips in 2013 to just under 20% today. And printed tickets represent around 5% of trips.  
Meanwhile, Transport for London's open-loop payments rollout has become a global showcase for the technology because of the agency's high adoption rates for the technology. Some transit agencies elsewhere which have since adopted open-loop payments–and seeing growing take-up–have had to grapple with the role their own closed-loop cards will play, as well.
Other Advantages for Keeping Closed Loop
One of them is Transport for New South Wales in Sydney, which said last week that contactless now accounts for more than 30% of all adult trips with NFC mobile payments making up a whopping 55% of all contactless transactions. But Kurt Brissett, executive director for connected journeys at the agency, made it clear that Sydney's closed-loop Opal card forms an integral part the agency's plans for expanding its payments platform to other transit and mobility providers. It calls that service "Opal Connect," which will give customers the option of using their Opal cards, as well as their open-loop cards, to pay for rides online.
One problem with keeping closed-loop stored value cards as an option is that agencies have to fund and maintain parallel fare-collection systems. Many are doing that already, and are also continuing to support cash and paper tickets, as well.
One alternative for providing closed-loop cards is to use white-label EMV card technology or open-loop prepaid cards, the latter issued by small banks or other BIN sponsors, to replaced closed-loop fare cards that use proprietary technology. The white-label EMV card technology, as well as the prepaid open-loop cards, can use the same rails as open-loop credit and debit cards, however, they generally cost more than most proprietary closed-loop technology. And there are also higher processing costs for agencies to use the cards.
In addition, transaction times are often faster for closed-loop cards than open loop. And agencies own the fare media and also benefit from branding on the closed-loop cards, whether physical or digital versions. In a number of major Asian cities, transit agencies have major shares in fare-collection companies and have built large market shares in retail payments.
Agencies also can benefit from the float, or unspent balances, customers store on the closed-loop cards. For Transport for London, that unspent balance is growing, and as BBC News suggested, this is one more sign that Oyster is falling out of favor with customers. There was £553 million (US$747.5 million) on unused Oyster cards as of March, the highest on record.
There is a significant cost to managing the top-ups and value on closed-loop cards. Transport for London saw its cost of revenue collection fall from 14.3% in the 2005-2006 fiscal year to 9.6% 10 years later. The cost has continued to drop, at least before the pandemic. Not all of the drop can be tied to the agency's contactless rollout, but contactless has certainly contributed, with Transport for London able to reduce costs for ticket counter personnel and commissions paid to news agents and other retail vendors to sell and top up Oyster cards.
Transport for London originally couched its move to open loop payments as a way to get out of the business of managing its own Oyster "currency." So while Oyster definitely has a role to play in the agency's fare-collection system in the future, it seems unlikely to continue as a co-equal "sister" to contactless, as the agency pledges.
© Mobility Payments and Forthwrite Media. Mobility Payments content is for individual use and cannot be copied or distributed without the express permission of the publisher.