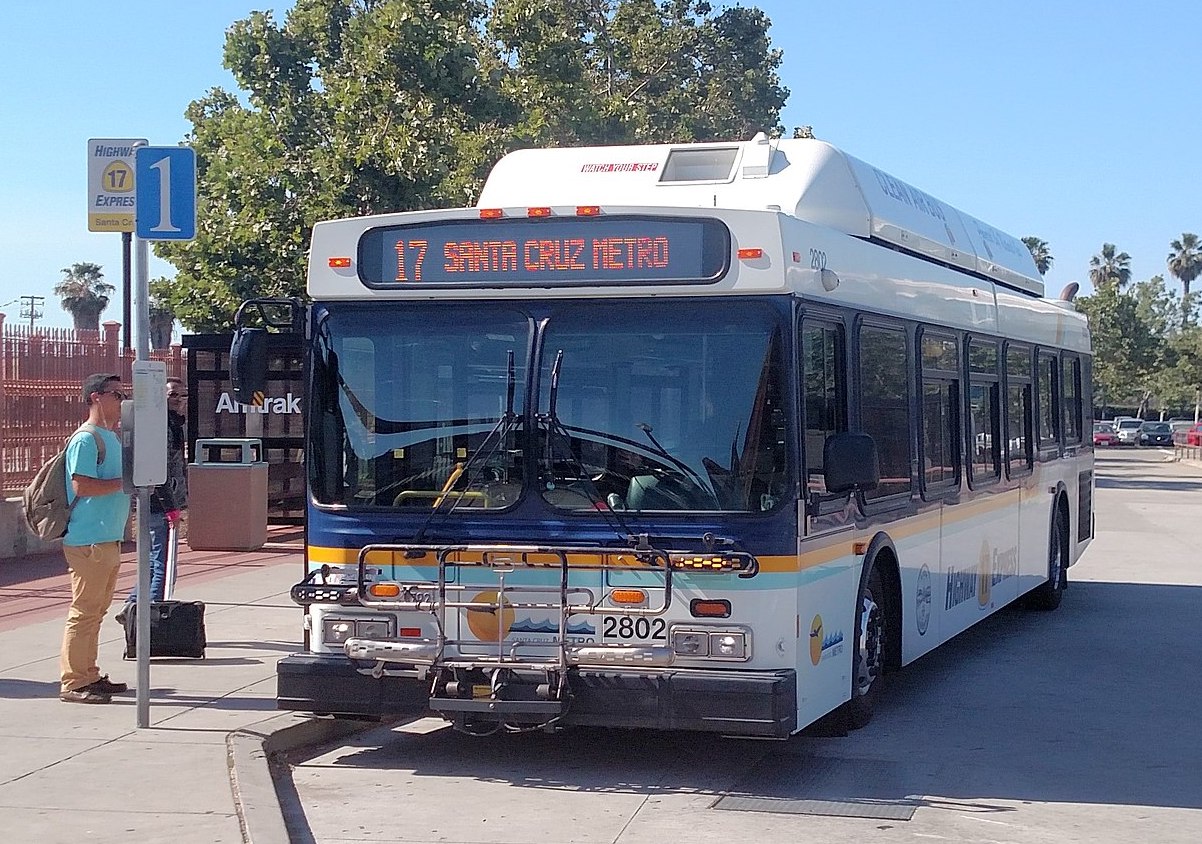 Article Highlights
Key Takeaway:
California bus operator Santa Cruz Metro is the fifth transit agency that is testing acceptance of contactless EMV payments or planning to do so under the state's Cal-ITP initiative. Among other things, the program seeks to create a 'mobility marketplace' for agencies to buy components to set up interoperable open loop payments systems.
Key Data:
A study commissioned by Cal-ITP and released last year estimated that cash-handling costs for transit agencies amount to around 13% of the cash collected.
Organizations Mentioned:
• Santa Cruz Metro
Updated: California transit agency Santa Cruz Metropolitan Transit District, had said it planned to launch a pilot of contactless open-loop payments in early 2022, as it seeks to increase customer convenience and reduce use of cash on board its buses, Mobility Payments learned. As of January 2023, the pilot had still not launched.
The planned pilot, not yet announced, was thought to be planned to be conducted under the California Integrated Travel Project, or Cal-ITP. The state initiative aims to help the 300-plus transit agencies in California to procure interoperable open-loop payments technology, as well as offer more real-time transit information and discounts to riders. With these enhancements, officials hope to begin reversing chronically falling public transit ridership and ultimately to reduce the number of cars on California's clogged freeways.
But agency officials in early January 2023 told Mobility Payments, said they were never planning to work with the state program. Instead, they said they are planning to work with UK-based mobility-ticketing provider Masabi to enable open-loop payments.
Masabi involved in the Santa Cruz Metro open-loop pilot. Its validators are usually technically ready to accept EMV contactless payments in addition to closed-loop cards. And Masabi told Mobility Payments in August 2021 it would be participating as a technology supplier for Santa Cruz Metro's open-loop trial, indicating it was part of the Cal-ITP program.
Masabi, in the latter part of 2021, had originally bid to be part of the Cal-ITP program to supply open-loop technology under a state of California master service agreement. But it was among several vendors that were disqualified from the bid during the tendering process.
Pete Rasmussen, transportation planner at Santa Cruz Metro, told Mobility Payments in 2021 that the agency decided to test the technology to provide more convenient payments options to customers. "Many people these days prefer to use debit or credit cards rather than carrying cash, and even if someone carries cash, having the exact fare for the bus requires pre-planning," he said.
He originally said the agency was planning to launch the pilot in early 2022. The agency did not say why the project had not yet launched by early 2023.
Santa Cruz Metro, which had a pre-pandemic ridership of around 5.1 million in 2019, could be the fifth agency to test the technology, depending on when it launches. Santa Cruz is located about 75 miles south of San Francisco.
Seeking to Eliminate Cash
Rasmussen said in 2021 the pilot would be held on the agency's Highway 17 Express bus route, which charges $7 for one-way full fares. Given that fare amount, "loading a bus full of passengers feeding dollar bills and coins into a fare box can be rather slow," he said.
The agency wants to encourage use of cashless options for the express route, as well as its regular fixed-route buses. These options could eventually include an agencywide rollout of acceptance of EMV payments, along with new closed-loop reloadable cards and a continuation of its mobile-ticketing service.
For customers who don't have credit or debit cards or don't want to use them to pay fares, the agency plans to enable riders to top up their closed-loop cards or mobile apps at a network of retail cash-loading points run by such fintechs as InComm Payments and Handle Financial's PayNearMe, Rasmussen said at the time.
"If that is successfully adopted by our customers, we would like to eventually eliminate cash acceptance on the bus itself," he said, adding: "More likely is that we would keep our (cash) fare boxes to allow cash for walk-up customers, but with that representing a very small percentage of boardings."
Santa Cruz would have been the first open-loop pilot for Masabi in the U.S. and only the second globally–the other being in Bilbao, Spain. UK- and Australia-based Littlepay, a payments service provider and transit transaction processor, was expected to be involved in the Santa Cruz pilot, as well. Littlepay also supplies technology for the other four pilots.
Alternatives to Proprietary Closed Loop
Santa Cruz Metro does not accept the closed-loop Clipper card from the Metropolitan Transportation Commission in San Francisco, since Santa Cruz County lies outside of MTC's nine-county Bay Area service area.
But backers of the state Cal-ITP are promoting use of alternatives to proprietary closed-loop cards. These might include white-label EMV cards that transit agencies could issue as closed-loop reloadable cards. The alternatives also could include open-loop prepaid cards issued by fintechs. These cards or credentials on NFC phones would use the same EMV payments rails as credit and debit cards.
Still, with California's large unbanked and underbanked populations, transit agencies likely will still need to offer a cash option for years to come, a reality that Santa Cruz Metro's Rasmussen appears resigned to.
© Mobility Payments and Forthwrite Media. Mobility Payments content is for individual use and cannot be copied or distributed without the express permission of the publisher.