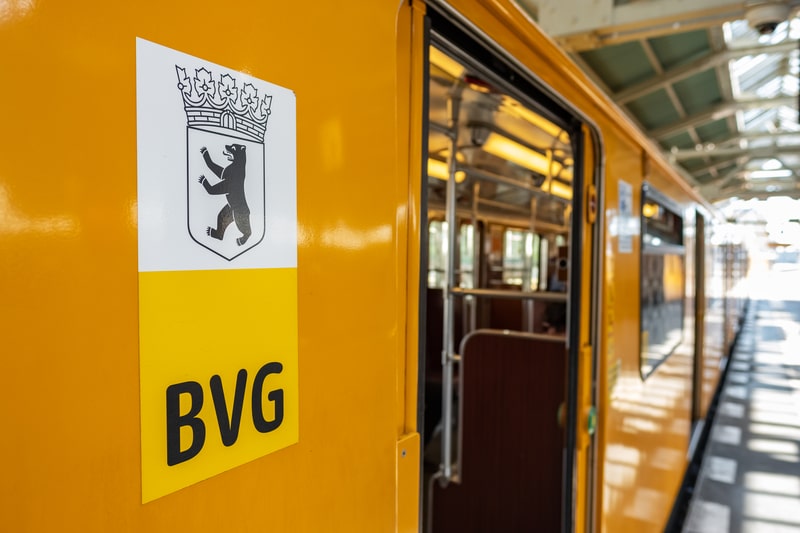 Article Highlights
Key Takeaway:
Large German transit operator BVG plans to test check-in/check-out mobile-ticketing technology this year, one of the largest operators planning to do so. The Covid-19 pandemic is creating more demand for mobile-ticketing options, according to the company.
Key Data:
Check-in/check-out technology platform provider Fairtiq in September said it had seen total transactions increase from 200,000 per week in February to more than 500,000 per week as of September, as riders have sought what they consider to be more hygienic payments methods, as well as more pay-as-you-go options.
Organizations Mentioned:
• BVG
• SWO (Osnabrück)
• Fairtiq
• Scheidt and Bachmann
BVG, Germany's largest transit operator, still plans to launch a test of a check-in/check-out mobile-ticketing service this year, as it continues to experiment with new fare payments methods amid the Covid-19 pandemic.
A BVG spokesman confirmed to Mobility Payments Monday that the 1,000-person pilot–originally scheduled for September­–is still on for this year. The pilot, which will use technologies such as GPS to determine the location of riders, follows an ongoing trial of contactless payments that BVG has extended to its 1,500 buses.
If it rolled out the new mobile-ticketing service across its various transport modes, it could be the largest such implementation of hands-free or nearly hands-free technology globally. But BVG has not indicated that it has any plans beyond testing the new mobile-ticketing service.
BVG transported a total of more than 1.1 billion people in 2019 across its various transport modes, the last full year before the pandemic.
Jekaterina Cechini, head of e-commerce and sales innovations for BVG, speaking at the Transport Innovation Summit 2021 Monday, said the pilot will enable riders to use their apps to check in when they enter a vehicle and check out when they leave.
BVG, which operates the underground metro, or U-Bahn; as well as buses, trams and ferries in Berlin, now collects most of its fares by selling prepaid tickets and passes. It also sells these passes in a mobile-ticketing app that includes 2D barcodes.
As in most other cities in Germany and neighboring countries, BVG's various transport modes are barrier-free, so do not require users to tap or scan cards or other fare media to open gates. Operators usually check that passengers have paid through spot checks. This makes them more suitable for hands-free apps.
With the planned BVG pilot, customers won't need to prepay for tickets. The check-in/check-out system will be similar to pay as you go, Cechini said, giving users the best fare for their trips. It will offer daily fare capping to start off with, adding monthly fare capping later. The system will likely deduct fares from bank cards, bank accounts and perhaps such payments accounts as PayPal that users will register in the app.
Cechini said BVG's drive to innovate in fare payments is getting a boost from the Covid-19 pandemic, which has increased demand for mobile-ticketing services, in particular, among customers.
"If you have your own smartphone, you also can keep a distance from other passengers," Cechini said. "It's easier to buy a ticket; it's your own device. You do not have to tap something different."
She added that BVG has already seen mobile-ticketing volumes (from its existing mobile app) recover faster from the pandemic slump than other fare products.
Growing Use in German-Speaking World
Hands-free or nearly hand-free mobile ticketing services are progressing in the German-speaking world, including Germany, Austria and Switzerland.
The apps use such technologies as Bluetooth, GPS, Wi-Fi localization and motion-detection technologies to pinpoint the location of customers. These technologies and others on the vehicle itself also help prevent fraud by telling the transit agency whether a customer is still traveling on the same vehicle if he, for example, has shut down the app prematurely.
These apps either require users to check in and check out–usually with a swipe of a finger in their apps–to be in/be out; or some combination of the two, such as check-in/be-out, or CIBO.
An example of the latter is the YANiQ app, which transit agency Stadtwerke Osnabrück launched in October 2020, in a city of 170,000 in Northern Germany. Vendor eos.uptrade developed the app. The much larger city of Hamburg was planning to launch a CIBO service this year, as well, with technology integrated by Germany-based Scheidt and Bachmann. Both are using a system in which riders check in with a swipe in the app, then simply leave the transit vehicle at the end of their journeys.
Switzerland-based Fairtiq is a technology platform provider that offers a check-in/check-out system used by nearly 60 transit operators in seven Western European countries, a figure that includes some pilots. Most of the projects are in Switzerland, but there are a growing number of German cities, either fully implementing or trialing the technology.
Fairtiq told Mobility Payments in September that it had seen total transactions increase from 200,000 per week in February to more than 500,000 per week as of September, as riders have sought what they consider to be more hygienic payments methods, as well as more pay-as-you-go options.
No BLE for BVG Project
BVG's Cechini didn't go into details about how the check-in/check-out pilot would work, but she did say that it wouldn't use Bluetooth.
"Bluetooth beacons, we tested several years ago, but we decided not to go this way because it's complicated with maintaining those beacons," she said. "And now you have better technology, for example, GPS in your smartphone."
While Fairtiq's system also doesn't use Bluetooth, others, such as the YANiQ app in Osnabrück, the project in Hamburg and the Anda app in Portugal do. In addition, Seoul, South Korea-based fare-collection scheme Tmoney held a lengthy pilot of a be-in/be-out fare-payments service using Bluetooth low energy beacons in metro stations that ended earlier this year. Tmoney said it plans to roll out the service further.
Gian-Mattia Schucan, founder and CEO of Fairtiq said at the Mobility Payments Asia Pacific 2021 conference in September that the vendor doesn't use BLE beacons because "our bet is much more that we can do things without any hardware with artificial intelligence much faster," he said, adding that Fairtiq does use Bluetooth connections in a small way to solve coverage issues where needed.
"But to rely on hardware, we will not go that route, and it's because this communication is not stable enough these days. It might change, of course, but if we don't need it, we won't."
Daniel Voelsen, team coordinator for mobility sales systems for Stadtwerke Osnabrück, when asked after the September conference for a response, told Mobility Payments that he is skeptical about the accuracy of the data using only the technologies that Fairtiq relies upon, such as GPS and Wi-Fi localization, rather than beacons.
"Of course, it's easier and maybe cheaper to handle a system without the support of additional hardware," he said. "On the other hand, the important question is, is there is enough significant data and is the intelligence of the back-end algorithms able to complete missing data to get reasonable results? We think, no. Even if real artificial intelligence is used, it depends on reliable data. And data from thousands of different smartphone models is not very consistent and reliable at all."
The spokesman from BVG confirmed that the operator would use technology from a "third party solution" provider, but declined to say whether it was Fairtiq or another supplier. It was also unclear which transport mode or modes, such as buses or the U-Bahn, BVG will test the check-in/check-out service on, but the spokesman told Mobility Payments that the pilot won't be limited to a particular BVG transport mode.
Testing Culture
Besides launching a large test of contactless EMV payments on its buses, BVG also removed cash acceptance on board buses this year. But transportation officials in Berlin have not made a rollout decision yet, and contactless EMV fare payments has not been popular among gateless German transit agencies.
Like contactless payments, the check-in/check-out mobile-ticketing pilot could be a long one. BVG has not released details on how long the new pilot will last. But BVG's Cechini said that the company, in general, has a culture of conducting thorough testing before making recommendations for expanding use of a technology.
"We start step by step, and we have an approach where we test and iterate and pivot and learn more about what works and what our customers want," she said. "We start with a small group. We have our test apps. We try things out. We make research. We look at the data and then decide where we will go."
© Mobility Payments and Forthwrite Media. Mobility Payments content is for individual use and cannot be copied or distributed without the express permission of the publisher.