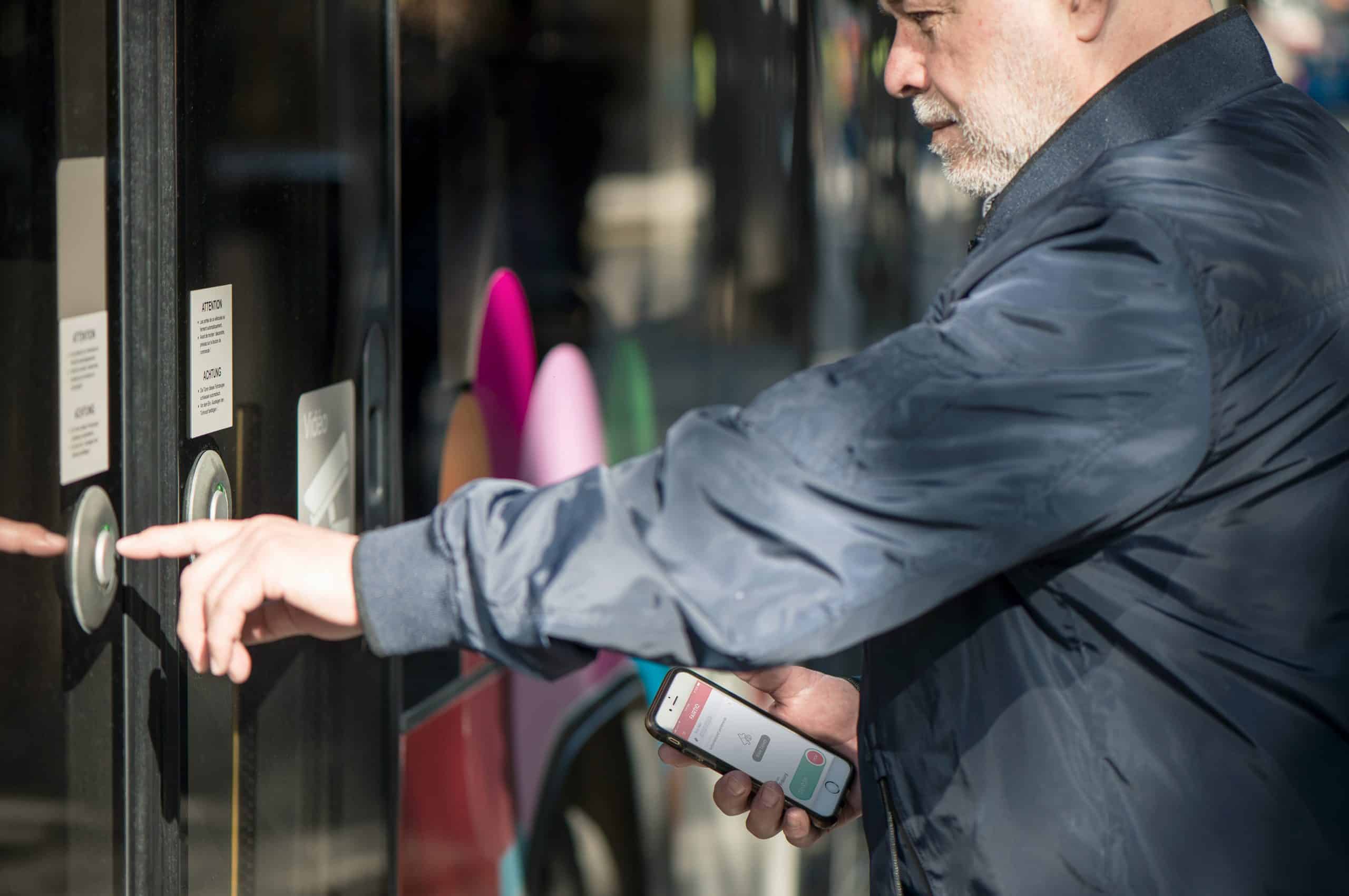 Article Highlights
Key Takeaway:
With transit riders and agencies looking for more "touchless transit" options, interest is growing in mobile-ticketing and fare payments apps that enable users to walk in and off transit vehicles without touching surfaces or interacting with agency staff. One option is a be-in/be-out system, though some are not convinced a fully hands-free approach is necessary.
Key Data:
Fairtiq transactions, fueled by demand during the pandemic, now surpass 500,000 per week, up from 200,000 per week in February.
Organizations Mentioned:
• Tmoney
• SWO (Osnabrück)
• Fairtiq
It's no secret that interest is growing in "touchless transit" in the wake of the Covid-19 pandemic. So technologies that enable fully hands-free fare payments, letting passengers be-in/be-out, or BIBO, are getting a serious look–as transit agencies seek to let more customers bring their own fare media and minimize passenger interaction with agency staff.
BIBO systems generally use Bluetooth low energy or such other positioning and motion-detection technologies as GPS, Wi-Fi and accelerometers or a combination of some or all of these. The mobile-ticketing apps use the technologies to detect the presence and absence of registered users, allowing the riders to avoid tapping contactless cards and NFC devices, scanning QR codes or even checking in or out with a swipe of their finger in the app. The passengers merely walk in and walk out of the metro, bus or other transit mode. The agency or ticketing provider then calculates the best fare and charges a stored credit card or bank account.
Yet, there is some debate in the industry about whether a full be-in/be-out system is necessary or even preferable for users. And that debate was on display at a recent Mobility Payments Asia Pacific 2021 conference session in a panel that counted among its representatives a fare-collection scheme, a transit agency and a mobile-ticketing app provider.
"I think be-in/be-out is sometimes a little bit over-valued," said Daniel Voelsen, team coordinator for mobility sales systems for Stadtwerke Osnabrück, or SWO, which runs transit for a city of 170,000 in Northwestern Germany. "Everyone is cool with checking in. You have a little bit more control if you have check in/be out rather than be-in/be-out.
The transit operator launched a first-of-its-kind check-in/be-out fare payments service with its YANiQ mobile app last October. SWO uses Bluetooth low energy, or BLE, beacons aboard the agency's buses, with help from GPS and motion-sensing data from the passenger's smartphones, to track the passengers' journey. Germany-based eos.uptrade developed the app.
Voelsen added that it's potentially a problem if the customer forgets to check in, but there is technology in the system that can resolve it.
Tania Son, manager of strategic planning, marketing and sales at Seoul-based fare-collection scheme Tmoney, said she sees the value of allowing users to avoid checking in or checking out. Tmoney held a lengthy pilot of a BIBO fare-payments service using BLE beacons in metro stations that ended earlier this year. It was a fully be-in/be-out, and Tmoney plans to roll out the service further. The company also held an employee pilot of "Tmoney Face Pay," using facial recognition technology. Face Pay would effectively allow users to be-in/be-out as well, as the system authenticates their facial biometrics and opens subway gates. The one-year pilot, conducted at 22 gates in 13 stations along one line of Seoul's giant subway system, is scheduled to end in December.
"It's just my opinion, but after Covid-19, many people want to travel without tapping their smartphone or even to do any behavior which needs a touch," Son said. "I think it's the perfect moment to develop this kind of solution." Both the FacePay and BLE pilots are intended to allow customers to simply walk past either a camera or BLE beacon and board a subway train without taking any action to check in.
Need for Accuracy
Tmoney's Son acknowledged that there were some problems with accuracy of the BLE system during the trial. The system had difficulty with "target detection," when users' smartphones were in their pockets, or when a closely-packed group of users carried their smartphones through the gate at the same time. Developers are working to "enhance that accuracy" by the end of the year, she said. Son estimated that the BLE system is about one to two years away from rollout in all Seoul metro stations, with an additional year to go before it's ready to roll out on the city's buses.
She said Face Pay also experienced some issues, as well. "While under ideal conditions performance is excellent, under real-use cases where conditions are changing, such as illumination and distance, performance slightly decreases," she said. She added that even among employees, there are privacy concerns when using Face Pay. "We think it will take time to reach a social consensus to use this solution," Son said.
Even slight decreases in accuracy can cause problems for transit operators, who rely on exact measurement of passengers' journeys not just for revenue but for customer trust of the mobile-ticketing or payments system.
"Even if there are only one or two stops falsely identified, the result can be an overpriced ticket, which isn't acceptable," Voelsen told Mobility Payments after the conference. He added that while the YANiQ app requires users to check in, it allows them to "be out," when ending the journey. This also avoids incorrect or forgotten check-outs.
Gian-Mattia Schucan, founder and CEO of Switzerland-based check-in/check-out app provider Fairtiq, who also spoke on the conference panel, expressed doubts, as well, about the accuracy of current technology used for be-in/be-out systems. But he said the technology is coming along and Fairtiq seems to be moving toward a check-in/be-out system, like of the YANiQ app. But Fairtiq has no plans to move to a full be-in/be-out system, at least at present.
Fairtiq does not rely on BLE beacons, Schucan noted, unlike YANiQ. Instead, it mainly uses Wi-Fi and GPS positioning technologies, along with other localization and motion-detection sensors to keep track of passengers' trips, including transfers. Fairtiq also uses artificial intelligence to refine its technology.
The start-up has seen strong growth of transactions for its consumer-facing app and Fairtiq technology incorporated in other apps, including in SBB Mobile from Swiss Federal Railways, which bills the app as the most popular in Switzerland. The Fairtiq transactions, fueled by demand during the pandemic, now surpass 500,000 per week, up from 200,000 per week in February, as Mobility Payments reported. It's used by nearly 60 train, bus and other transit operators–some only piloting the technology–in Switzerland, Germany and some other Western European countries. None of the operators have fare gates.
This year, the start-up introduced a "Smart Stop" feature, which automatically alerts and checks users out of the app if it determines the customer is no longer on a train, bus or other transit vehicle. It uses the localization and motion-detection technologies in the smartphone, including the accelerometer, to determine the user's status. This, in effect, could turn Fairtiq into a check-in/be-out system.
When asked by panel moderator Greg Pote, chairman of conference organizer APSCA, if Fairtiq has held back from introducing a full be-in/be-out system because of technical issues or because it believes users feel more comfortable with the act of checking in, Schucan replied that it was a "combination of the two."
But he added that between the time users check in and they check out, Fairtiq acts like a BIBO system, collecting data from the positioning and other chips and sensors in user smartphones. Regarding the technology itself, he said it does not yet have the "accuracy level that will be required for a full-fledged" be-in/be-out system, though that could be available in coming months.
Any accuracy issues that might give Schucan or SWO's Voelsen pause about introducing BIBO are not creating vulnerabilities in their apps for fraud, however. Both say few riders try to evade fares, perhaps 1% to 2%, or less. For those that do, the apps first warn and then block users who show a pattern of trying to abuse the system, such as checking in late or checking out or turning off their phones when a train, for example, is traveling at high speeds, where there is no station or right after a random ticket (inspection) check is conducted.
Difference of Opinion on BLE
Using data mainly from GPS and Wi-Fi connections from user smartphones, Fairtiq trains its algorithms to recognize transit journeys or potential ticket fraud. Schucan added that users don't actually need to have their phone's Wi-Fi connection turned on for it to be used as a localization technology, as long as the phone isn't in flight mode. That saves some battery power.
"Our bet is much more that we can do things without any hardware with artificial intelligence much faster," he said, adding that Fairtiq does use Bluetooth connections in a small way to solve coverage issues where needed.
"But to rely on hardware, we will not go that route, and it's because this communication is not stable enough these days. It might change, of course, but if we don't need it, we won't."
Voelsen, when asked after the conference session for a response, told Mobility Payments that he is skeptical about the accuracy of the data using only the technologies that Fairtiq relies upon, rather than beacons.
"Of course, it's easier and maybe cheaper to handle a system without the support of additional hardware," he said. "On the other hand, the important question is, is there is enough significant data and is the intelligence of the back-end algorithms able to complete missing data to get reasonable results? We think, no. Even if real artificial intelligence is used, it depends on reliable data. And data from thousands of different smartphone models is not very consistent and reliable at all."
He added that SWO decided not to use expensive on-board beacons, like those that include a CPU and GPS and LTE connections, "but cheap and stable BLE beacons."
Whatever the technical elements of the BIBO system­–whether it relies mainly on beacons, GPS data or facial recognition–the question ultimately will become what passengers prefer. Especially in a post-Covid world, Tmoney is betting on a preference for completely hands-free travel, while SWO and Fairtiq believe there's a benefit in requiring the customer to perform at least one additional step, a swipe of the finger to check into in the ticketing app.
Mobility Payments Asia Pacific 2021 continues this week.
© Mobility Payments and Forthwrite Media. Mobility Payments content is for individual use and cannot be copied or distributed without the express permission of the publisher.