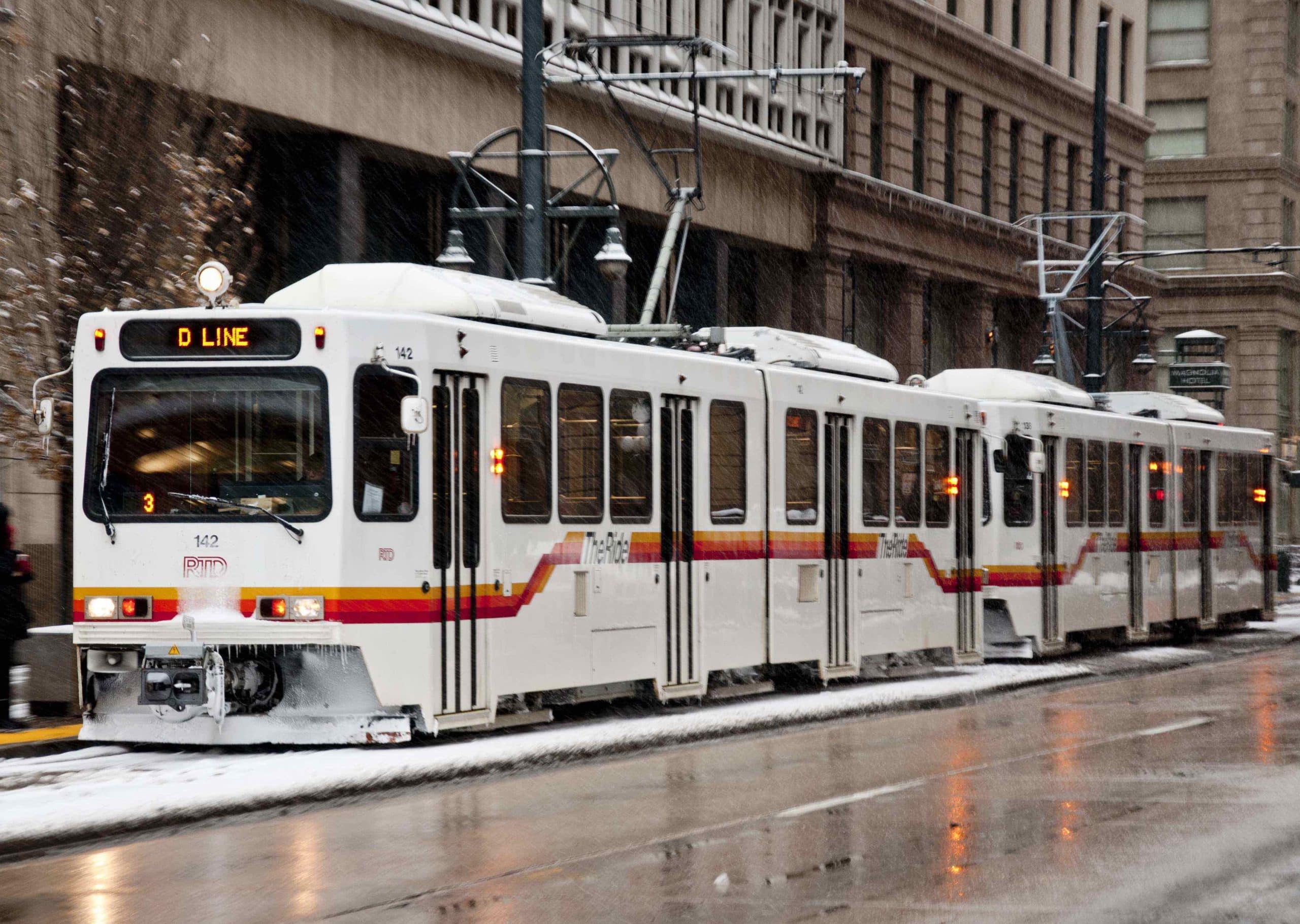 Article Highlights
Key Takeaway:
The first transit agencies that have enabled mobile ticketing in ride-sharing Uber and Lyft apps complain about data sharing from these TNCs. In addition, transactions in the apps, after two years or more have been low. Taken together, this shows that concept of public agencies and private TNCs working together to deliver door-to-door mobility is, at the very least, off to a slow start.
Key Data:
• CHART: Share of mobile ticketing sales by app, RTC
• CHART: Share of mobile ticketing sales by app, RTD Denver
• CHART: Mobile-ticketing sales by app, 2020-21, RTC
• CHART: Share of revenue by fare type, RTC
• TABLE: Ticketing in 3rd-party apps, cities
When the Regional Transportation District of Denver began enabling Uber to sell its bus and train tickets in May 2019-in the world's first integration of its kind-it was seen as a rare example of a public transit agency and a private ride-hailing company putting competition aside and working together.
A second U.S. transit agency, RTC of Southern Nevada, followed eight months later, allowing Uber to sell its bus tickets in the Uber app. Both agencies later integrated with another ride-hailing company, Lyft.
But the collaborations have not gone as smoothly as the transit agencies had hoped.
Both agencies complain that the ride-hailing companies, also known as transportation network companies, or TNCs, are not sharing data the agencies say they could use to improve their operations.
The situation has spurred more talk among Denver transit officials of launching their own mobility-as-a-service-platform, in part to ensure they get the data the agency says it needs.
And RTC of Southern Nevada, which serves the gambling mecca of Las Vegas, believes that the cardholder data it doesn't receive when the TNCs sell its bus tickets creates a hole in its fraud-prevention efforts.
In addition, more than two years on from the first integrations, transit ticket sales in both the Uber and Lyft apps still represent a very low percentage of total mobile ticketing sales, let alone total fare revenue for the agencies. (See charts below.) Agency officials haven't complained publicly about the low sales, and this may be caused in part by Uber and Lyft users wanting to avoid breaking up their trips by riding on public transit during a pandemic.
But taken together, the complaints about poor cooperation on data sharing and low ticket sales to date show that concept of public agencies and private TNCs working together to deliver door-to-door mobility is, at the very least, off to a slow start.
And these early difficulties could signal problems ahead for data sharing among the various players participating in future MaaS platforms.
RTD Denver: 'Data About Those Customers is Slim.'
While RTD Denver continues to tout its first-in-the-world integration of transit ticketing with Uber and its participation with other third-party apps, the agency has expressed some frustration with the data it gets from the TNCs.
Specifically, it wants the origin and destination of trips when customers buy RTD tickets in the Uber and Lyft apps.
Tonya Anderson, RTD's manager of electronic fare operations, speaking Monday at the Transport Innovation Summit 2021, said in response to a question from Mobility Payments that the agency does get sales data from every ticket sold in third-party apps, Uber, Lyft and the trip-planning Transit app. That includes such information as the type of ticket sold and when the tickets were activated.
But the omission of origin and destination data is "really challenging," she said.
"The use or the travel patterns of our customers, if they are booking a ride, we obviously want to have that information so that we can optimize our transit service based on this information," she said.
Anderson said she has consulted with internal mobile-ticketing and MaaS steering committees at the agency.
"And for them to be able to just kind of wrap their heads around what data do they want, it's almost like we want all the data that's available," she said. "But it's a little unrealistic" to expect that data from the TNCs or other third parties when they are selling RTD tickets in their own apps, Anderson acknowledged. These third-party app providers have their own "privacy concerns" about sharing data, she said.
The result is, however, that when Uber or Lyft sells an RTD ticket in their app, the agency does not get all of the data it wants. In fact, "the data about those customers is slim," Anderson said.
RTD is not the only transit agency working with Uber that can't get this type of data. NEORide, which handles ticketing for a group of more than a dozen transit agencies in Ohio, Kentucky and Michigan, including Metro of Cincinnati, began enabling Uber to sell its mobile tickets in July 2020.
"We were told when we entered the agreement with Uber that they would not be able to provide origin or destination information, although we would love to get it," Katherine Conrad, director of client services for the Ohio Transit Risk Pool, which includes NEORide, told Mobility Payments. She said she has no complaints so far about the data her agency does receive, which includes tickets purchased, ticket amount and date purchased.
Can't Beat 'em, Join 'em
While RTD accepts that Uber and Lyft won't provide the origin and destination data for riders that book their bus or train tickets in the TNC apps, Anderson said RTD does get this type of data as part of a contract it has with Uber to provide on-demand paratransit service for disabled customers.
She noted that RTD subsidizes the Uber paratransit rides. The lesson RTD has taken from this is that it has to have more skin in the game to get more data.
That won't work for mobile tickets that the TNCs sell in their apps, because the agencies don't pay much to Uber or Lyft outside of their roughly 5% processing fees. And it could be argued that even though the users are buying RTD tickets, they are doing so in the TNC apps so the customers, in effect, belong to Uber and Lyft.
This fact has helped add momentum to the idea within RTD that the agency should launch its own MaaS platform, Anderson said.
"If RTD had our own on-demand booking platform that integrated scooters, bikes, other ride-hailing and then our train and bus service, then we would have all of that data, all of the travel patterns from our customers," she said. "And we would be able to then optimize our public transportation service."
Data Comes through Masabi, but Not about Payments for TNCs
UK-based software-as-a-service vendor Masabi provides the mobile-ticketing platform for the transit agencies, including for the third-party apps. So it's mainly Masabi that provides the ticketing data to the agencies from its Justride platform. Masabi also provides white-label software for the agencies' local apps: Mobile Tickets for RTD Denver, rideRTC for RTC of Southern Nevada and EZfare for NEORide.
Third-party apps selling these agencies' tickets and passes, including Uber and Lyft, do so through the Masabi platform, as well, using an SDK. Masabi's platform also provides payments, except for Uber and Lyft, which process their own transactions.
Masabi did a lot of integration work to connect these third-party apps to its platform. So the vendor has pitched the idea to agencies that it could bring in other apps as additional mobile-ticketing sales channels. And, in fact, the main mobile-ticketing contracts–perhaps the only mobile-ticketing contracts–for these agencies is with Masabi, not the third-party apps.
That's why it is mainly Masabi that provides all or most of the ticketing and payments data these agencies see when their tickets or passes are sold in any of the apps.
But since it doesn't process payments for the Uber and Lyft apps, it cannot pass on any payments or cardholder data to agencies. This is one complaint that RTC of Southern Nevada has because the agency says Uber and Lyft do not give it this payments data. (See below).
A spokesman for Masabi asserted that it doesn't "share data" with the agencies. All of the data generated in its platform is "owned by transit agencies," so Masabi is merely passing this data on to them. He added that the data agencies receive may depend on the "configuration they choose and so may differ slightly from agency to agency."
There is also other data generated outside of Masabi's Justride platform that the vendor does not provide, though the spokesman did not elaborate.
Masabi did not list the specific types of data that its platform generates. But information obtained by Mobility Payments from RTC of Southern Nevada show that the data includes:
Customer information for all purchases, such as ticket type, number of tickets purchased, ticket value and unique ticket number. Masabi also provides payments information, including the credit card type used, first six and last four numbers of the card, the customer's name and approval code for transaction.
Uber and Lyft: No Complaints from Agencies
But again, the payments information is only provided to agencies for their own apps or in apps in which Masabi processes the payments, such as the Transit app.
Both Uber and Lyft confirmed that they don't provide payments data to agencies for customers who buy tickets in their apps.
Some agencies, like RTD Denver, say they don't want this information, citing privacy concerns.
And spokesmen for the ride-hailing companies say they haven't heard any complaints from agencies about this or other data-sharing policies.
"I'm told by our teams that the data we share is the same data agencies are used to receiving from Masabi (for their other apps)," the Uber spokesman told Mobility Payments.
He said Uber provides the number of tickets sold, ticket type, ticket price, and the time and date tickets are sold. He added that Uber doesn't collect location data for transit ticket purchases.
A Lyft spokesman expressed surprise that there was any dissatisfaction at all with the TNCs over data sharing. He contended that Lyft has "strong, collaborative relationships" with transit agencies. He was not specific on what data Lyft provides to agencies, saying only that it includes the "number of users and usage," when the agencies "have requested it."
RTC: TNCs Not Helping Fraud Prevention
Meanwhile, Uber said transit agencies needn't worry that they are not receiving payments data for sales of their tickets in the Uber app. "Generally, if we process the payment, we are on the hook for the fraud," he said.
And RTC confirmed that Uber and Lyft cover all fraudulent transactions and chargebacks. Both charge RTC processing fees of 5.11% of ticketing revenue they handle.
But that does not appear to be reassuring for Michelle Whitney, manager of revenue operations, for RTC of Southern Nevada, who said fraud is very much a concern for her agency.
"Las Vegas is a transient city, and we see a new customer on our transit system in the resort corridor every three days," Whitney told Mobility Payments. "Preventing fraud on our mobile app platforms is challenging when our partners are not passing through the customer purchase information, i.e., card type, card number, cardholder name, etc."
Despite the hefty processing fees of more than 5% from Uber and Lyft when users buy RTC tickets in their apps, the agency sees little or none of the payment information, according to Whitney.
The 5.11% fee it pays to the TNCs would be in addition to the commission of around 2.3% of ticketing revenue it pays Masabi for using its SaaS platform, plus fixed monthly costs.
Since Masabi doesn't see the detailed payments data when a customer buys an RTC ticket in one of the apps from the TNCs, neither does RTC.
"Uber and Lyft are outside of that, because they keep all that financial software; it's not part of those algorithms, and it's not part of that fraud prevention," Whitney told Mobility Payments.
With the Uber and Lyft data is not being fed into the fraud prevention algorithms, RTC wouldn't get any red flags when a user of one of these ride-sharing apps, say, tried to make multiple purchases that exceeded a certain value within an hour. The agency could, therefore, not prevent a chargeback or other bad behavior, she said.
When asked if the lack of payments information from Uber and Lyft is a significant issue for RTC, given the low percentage of RTC tickets they sell, Whitney replied that fraud, in general, is a "big issue." And even though RTC doesn't pay the cost of a fraudulent transaction in either the Uber or Lyft apps, Whitney indicated there are other impacts.
"Customers can create multiple accounts across Uber, Lyft, the Transit app and rideRTC (local app)," she said. "There's essentially four platforms that sell transit passes, and then they can create a fraudulent account across all four of those platforms. Those four platforms don't work together. So a customer, if they've stolen a card, can make a purchase and run up charges on all four of those accounts, and we'd never know."
Small Share of Transactions
If fraud losses from the ticket sales in the TNC apps haven't yet become a major problem, it may be because only a small percentage of the agency's customers are buying bus tickets in the apps now.
Figures obtained by Mobility Payments show that sales of RTC's passes in the Uber app represented much less than 1% of the total $35.6 million in fare revenue RTC collected for its fixed-route bus service during the year ending June 2021. The figure for Lyft was insignificant since it had only fully launched the RTC ticketing service in its app in May 2021. (See chart to right).
That share of transactions in the Uber and Lyft apps increased slightly during the July-through- September-2021 period, but still amounted to less than 1% of total fixed-route bus fare revenue. Sales of RTC passes in the trip-planning Transit app, was 1.7% for the year ending in 2021 and 2.3% for the July-through-September period. Most mobile-ticketing sales for RTC happens in the local rideRTC app, which accounts for around 20% of total fixed-route fare revenue.
Cash makes up a whopping 60% of total fare payments for RTC's bus service, which is not surprising given that many of RTC's customers are casino and restaurant workers who earn cash tips and that 70% of RTC's customer base is considered low income. Around 20% of total fares are paid for with paper passes bought outside of the bus.
RTC sells a total of five types of mobile passes, not counting single fares, ranging from two hours to 30 days, which also can be bought with the local app or third-party apps and scanned on validators on board. The passes can't be used on the Las Vegas Monorail, which is owned by a different agency, the Las Vegas Convention and Visitors Authority.
The scanning of the mobile tickets also gives RTC the location of where customers board. The agency plans to introduce reloadable contactless cards and possibly open-loop contactless payments next year, which could give it more data.
When looking at mobile transactions alone, RTC's sales figures show that 85% of the revenue comes from the local rideRTC app, which the agency launched in 2016. Most of the rest comes from the Transit app.
Mobile-ticketing sales for RTD Denver were also weighted heavily toward the local app, which the agency, like RTC, launched well before integration with third-party apps. In sales figures updated last spring, RTD said its local Mobile Tickets app, which launched in 2017, made up 95.5% of just under $6.1 million in net total mobile-ticketing sales for the year ending in February 2021. Of this total, sales of RTD tickets through Uber accounted for only 2.4%, Transit for 1.9% and Lyft–which only began sales in October 2020–for two-tenths of 1%.
An RTD spokeswoman recently told Mobility Payments that third-party ticket sales still "constitute a small percentage of RTD's mobile ticket sales."

Boding Ill for Future Collaboration?
RTC's Whitney, speaking at a Ticketing and Payments Innovation conference March 31, had even harsher words for the data-sharing policies of the TNCs, calling working with them a "painful experience."
"We are not getting any data from the TNCs, so having that deep integration into our mobile app and selling our transit passes, we're relying on them to provide the smallest amount of data to us on the customer's behaviors and things of that matter," she said. "It's bigger than just the transit agency. Let's just say that all these other companies, they really need to get out of the way of the customer and realize the big picture."
She told Mobility Payments more recently that things have improved in terms of data sharing from the TNCs, though she didn't specify how. And it's clear that Whitney and RTC continue to support integration of its ticket sales with third-party apps, including Uber and Lyft, which she said yields a "seamless" travel experience for customers. RTD Denver continues to support the integration with third-party apps, as well.
Yet, the issues to date between the public transit agencies and Uber and Lyft might not augur well for future collaboration between public transit agencies and private TNCs, which have traditionally been seen as competitors.
For MaaS platforms to finally take off, these two parties will need to work together, including on data sharing. That's especially true in such markets as the U.S., where TNCs have a strong presence and would have to be part of any successful MaaS app. MaaS seeks to enable users to plan, book and pay door-to-door mobility in the same app or platform.
Dottie Watkins, who was recently promoted to deputy CEO of Capital Metro, speaking on the same panel as Whitney in late March, said going forward, transit agencies first need to up their game on data.
TNCs are experts at monetizing big data, which puts the transit agencies at a disadvantage, she said. "We need to figure out how we install that knowledge base within our agencies so we're really ready to play on that playing field."
And Watkins suggested that agencies are also at a disadvantage because they don't demand more robust travel data from the TNCs.
"Right now, we're desperate to collaborate because we know that that's what the customer needs, but at some point, the price of entry for that collaboration is going to have to be sharing data."
© Mobility Payments and Forthwrite Media. Mobility Payments content is for individual use and cannot be copied or distributed without the express permission of the publisher.