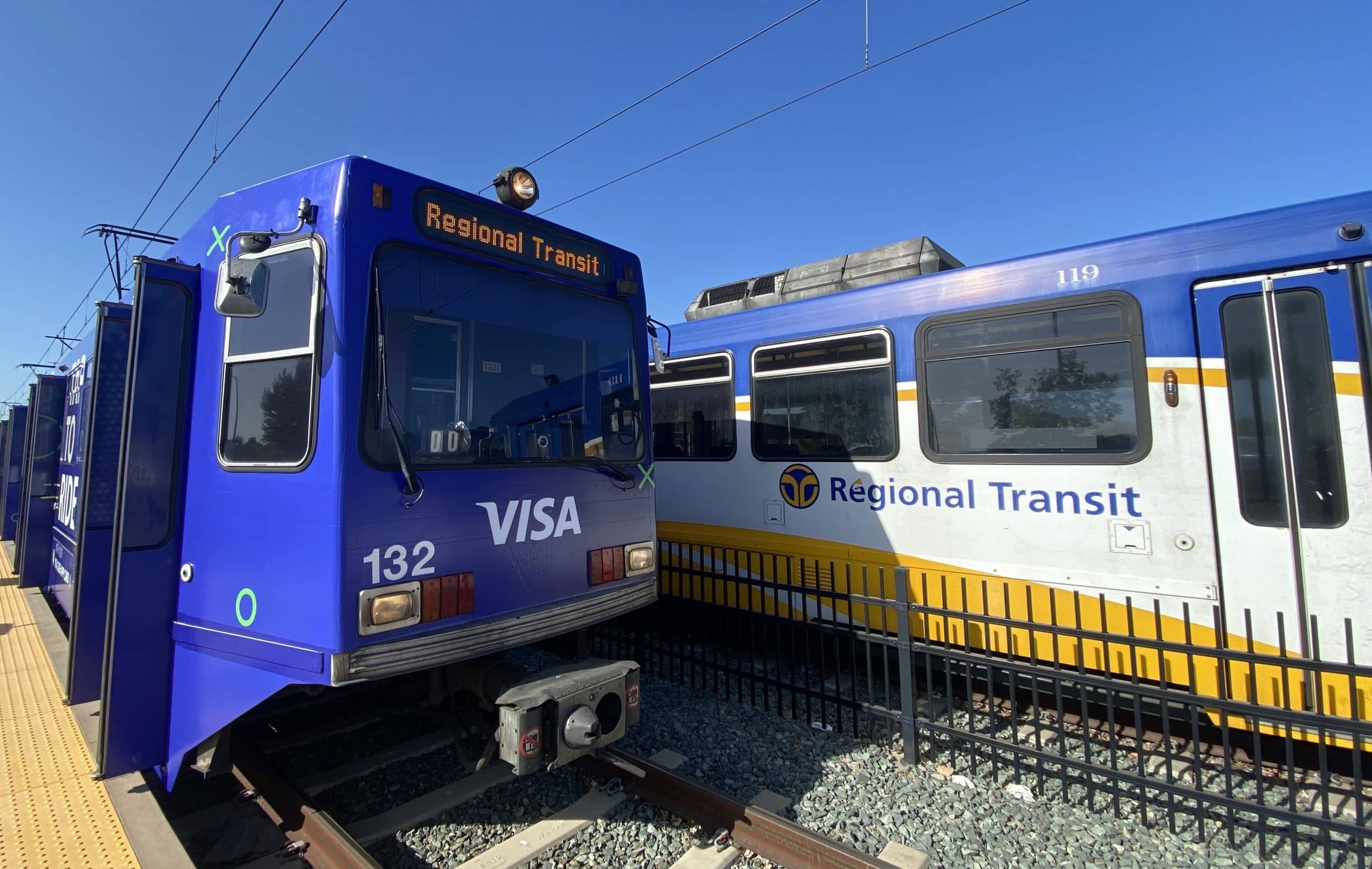 Article Highlights
Key Takeaway:
A top revenue manager for Sacramento Regional Transit, the agency serving California's capital city, said he believes there won't be widespread rollouts of open-loop payments in California or throughout the U.S. until payments networks and banks reduce fees for agencies to accept debit and credit cards.
Key Data:
• Chart: SacRT-bank card fee percentages
• Table: Bank card fees for all Cal-ITP pilot agencies
• Chart: MST-open-loop revenue
A top revenue manager for Sacramento Regional Transit, the agency serving California's capital city, said he believes there won't be widespread rollouts of open-loop payments in California or throughout the U.S. until payments networks and banks reduce fees for agencies to accept debit and credit cards.
Sacramento Regional Transit, known as SacRT, is the largest agency piloting open-loop payments through the state-backed California Integrated Travel Project, or Cal-ITP. The agency has yet to decide whether it will roll out open-loop technology on its network after the trial.
When asked by Mobility Payments if the level of bank card fees would be a factor in SacRT's decision on whether to move forward with open loop, Casey Courtright, senior manager, revenue and analytics, said it would. And he believes the issue has probably stalled other open-loop rollouts.
"That's absolutely been a point of contention as to why I think open-loop payments hasn't made its way into transit yet; it's because the banking fees were so high," he told Mobility Payments. "So getting those down is absolutely something that needs to be addressed before you're looking at really, really widespread rollouts."
As Mobility Payments reported last month, U.S. transit agencies pay high bank card fees to accept open-loop payments, especially compared with European agencies. The card fees in the U.S.–interchange, acquiring fees and network fees combined–sometime amount to 8% or 9% of open-loop fare revenue.
Visa's New Transit Interchange Category
As Mobility Payments also reported, Visa the past few months has been quietly cutting the most onerous of the interchange fees that U.S. agencies have faced, one for "small ticket" transactions made when riders tap "regulated" debit cards. These are debit cards issued by banks covered by the federal Durbin amendment, which takes in most debit cards issued in the U.S. And under the law, banks can and do charge a fixed fee of $0.21 per transaction, plus $0.01 for fraud protection and another 0.05% of the transaction amount. The interchange is passed on to transit agencies as part of their merchant fees.
Many types of merchants and retailers pay fees based on this small-ticket interchange rate, but it often hits U.S. transit agencies accepting contactless credit and debit cards for fares the hardest because of the low value of their transactions.
For example, on a $2 single fare, the fixed and percentage fees amount to $0.23. If agencies aggregate transactions, they could reduce the impact of this fixed fee, but not all agencies can aggregate for all their riders, if at all, say observers.
Visa has begun offering a lower interchange rate on these small-ticket debit card transactions, with a new fee category specifically for transit agencies. The category lowers interchange for transactions of $5 or less made with regulated debit cards to only a $0.02 fixed fee, plus 2% of the transaction value. This small-ticket category by far represents the highest number of transactions for California agencies trialing open loop and presumably for U.S. agencies that have already rolled out the technology.
The cut was thought to be targeted at California, but one source told Mobility Payments that it applies nationwide. That could not be immediately confirmed. Agencies in New York, Chicago, Dallas, Miami and Portland, OR, have rolled out open-loop payments in the U.S.
Visa did not respond to multiple requests for comment by Mobility Payments on its new transit interchange category. Elavon, the merchant acquirer for SacRT's trial and the other three live Cal-ITP pilots, declined to comment.
A spokesman for Fiserv, another acquirer targeting the U.S. transit market, would only say that it was "aware that small-ticket interchange programs under $5 are creating savings in a number of U.S. transit agencies."
Visa is the dominant payments network in the U.S., and for the small trials of open-loop payments in California, Visa-branded debit and credit and card credentials in NFC wallets account for around 85% of transactions, with Mastercard making up the rest. (See chart on open-loop revenue for Monterey-Salinas Transit below.)
Carl Sedoryk, CEO and general manager for Monterey-Salinas Transit, the first agency to launch an open-loop trial under the Cal-ITP program, last month, told Mobility Payments last month that Visa actually put the special interchange program into effect in November. However, MST's merchant billing statements and those from SacRT did not reflect the changes until February. Sedoryk said he was told that Visa had set a three-year limit on the interchange cut.
Meanwhile, a source last month told Mobility Payments that Mastercard was also offering lower interchange to transit agencies on debit transactions, although that was not clear from the merchant billing statements for the California open-loop trials.
Bank card fees are much lower for transit agencies in Europe, where interchange is regulated at 0.2% on debit cards and 0.3% on credit cards. The European agencies still must pay acquirer and processing fees.
Drop in Bank Card Fees
While all other interchange rates and acquirer and network fees remain unchanged, Visa's lower interchange for small-ticket regulated debit transactions can still save agencies money since it's the most-used category for the open-loop fare payments.
Because of that, merchant billing statements obtained by Mobility Payments show that SacRT's interchange as a percentage of open-loop revenue dropped from a high of 6.5% in October 2021 to 3.6% in February 2022. This helped to reduce overall bank card fees from a high of 9.6% of open-loop revenue in October to 7.4% four months later. (See chart on this page).
SacRT's pilot, which launched last summer on light rail only, has seen low adoption so far. So overall bank card fees would be somewhat lower still if more riders tapped their bank cards and wallets to pay.
For example, for Monterey-Salinas Transit, which has seen greater adoption of the technology during its trial, overall bank-card fees represented 7.5% of open-loop revenue, before the new interchange rate was applied. And for Clean Air Express in Santa Barbara County, bank card fees made up only 4% of open-loop revenue. That's because single fares for this agency, a commuter bus operator, are much higher than other agencies running pilots, with the lowest charge for contactless payments priced at $6 for a one-way fare. (See table above).
SacRT's Courtright attributed the low adoption of open loop in SacRT's trial in part to the fact that the agency has at least a 50% transfer rate between bus and light rail. But the agency does not offer open-loop payments on buses because Cal-ITP already had a trial running on buses with Monterey-Salinas Transit.
"Cal-ITP was searching for a partner to demonstrate the technology on light-rail vehicles," said SacRT, adding that the agency is considering expanding open-loop payments to its bus fleet in the future.
In addition, SacRT trains are unmanned, so there are no staffers to direct riders to the contactless terminals, as there would be on board buses. That could be another reason adoption of the open-loop technology is running low.
California Officials Lobby Visa?
Courtright welcomed the reduction in interchange for the most-used debit card category, and he said he believes that Cal-ITP helped convince Visa to lower it for transit agencies. Visa is a strong backer of the Cal-ITP program, which seeks to help the roughly 300 transit agencies in the state to accept open-loop payments.
"I think Cal-ITP, they're attempting, 'If you build it, they will come,' kind of approach with Visa," said Courtright. "They've been working very closely with Visa and Mastercard throughout this process as partners in the program to (say), 'Here's what the transit industry needs.' It's given Visa some insight into the transit agencies here in the States that they just hadn't had in the past, where the whole (open-loop payments) topic had been avoided because of that extremely high interchange fee."
Monterey-Salinas Transit's Sedoryk also said last month that he believed lobbying from Cal-ITP and other officials may have encouraged Visa to set up the special interchange reduction.
He and Courtright, however, acknowledge that they have no direct knowledge of any negotiations between Visa and state officials to lower interchange. And the interchange cut is likely not limited to California agencies.
Cal-ITP is part of the California Integrated Mobility program, run by Gillian Gillett, within the California Department of Transportation, or Caltrans. The program has few full-time staffers, and it relies on consultants to do much of the work. So it's not clear just how much clout Cal-ITP would have with Visa.
Gillett did not respond to multiple requests for comment through a Caltrans spokesman. When asked about interchange during an interview with Mobility Payments in February, Gillett said, "I don't think the fees are as much of an issue as that of transit (agencies thinking that they) needed a separate currency. That's the first and more significant hurdle."
SacRT's Courtright said that without lower bank card fees, open-loop payments might be difficult for transit agencies to justify, especially for smaller agencies with very low base fares. SacRT charges a standard fare of $2.50, with discounts for seniors, students and people with disabilities reducing that to only $1.25.
"There are far lower base fares than ours, especially in small rural communities, where fares may be $1.50 for a single ride and 75 cents with a discount," he said. "Well, you couldn't pay 22 cents in banking fees right off the top for a 75-cent transaction. So I think they're beginning to understand it. If they want to get into the space, they're going to have to lower their fees in some of these cases."
© Mobility Payments and Forthwrite Media. Mobility Payments content is for individual use and cannot be copied or distributed without the express permission of the publisher.