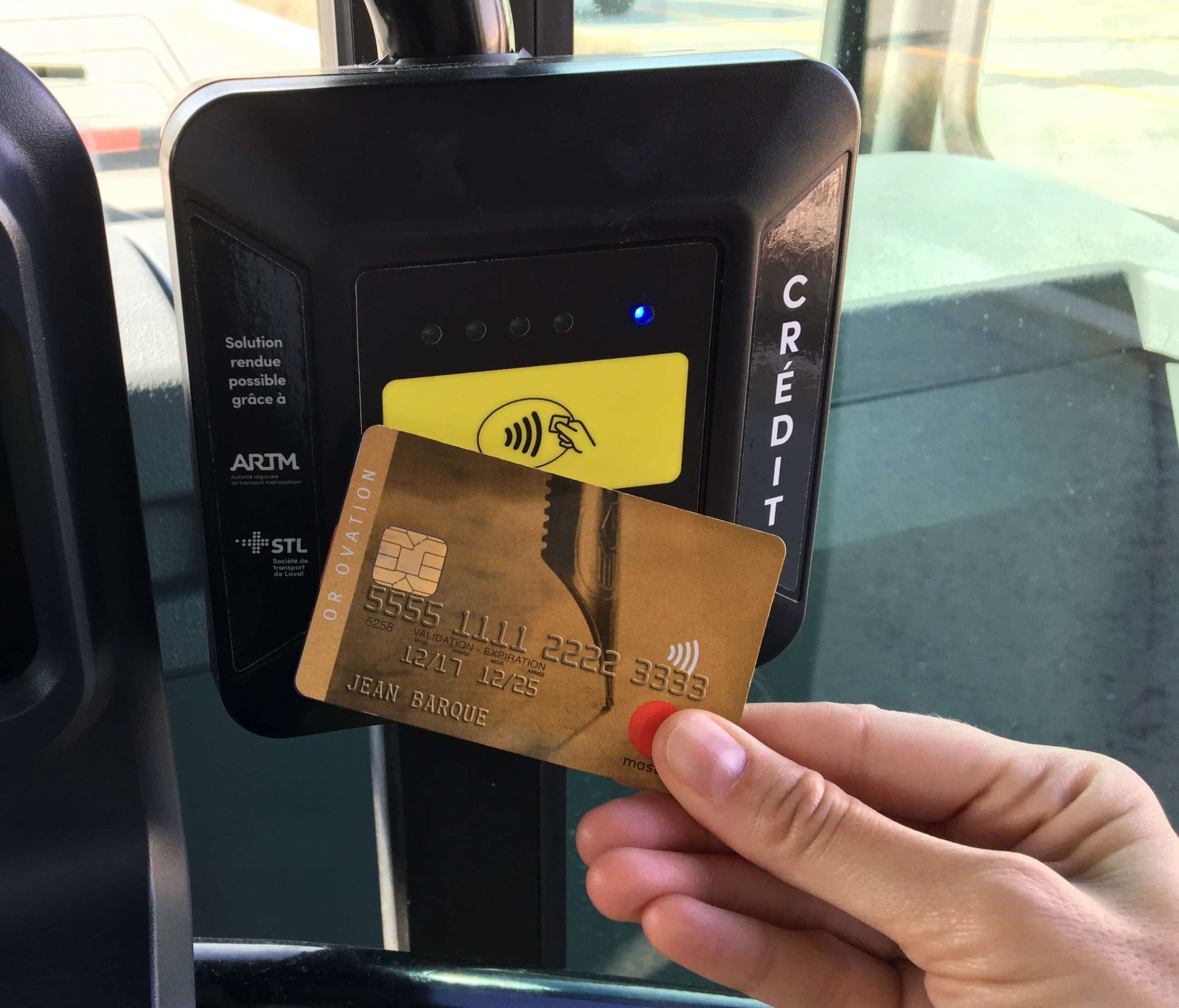 Article Highlights
Key Takeaway:
Montréal-area transit operator STL this month officially launched its open-loop payments service–one of the few in Canada and the largest project outside of Vancouver. Along with TransLink in Vancouver, the two transit agencies now want to enable Interac debit. Interac is believed to be paying for the upgrades for at least one of the agencies.
Key Data:
The cost to enable more than 5,000 Compass terminals to accept Interac debit would cost about CA$2.1 million (US$1.7 million), which includes purchase of the VSAMs and recertification of the terminals, including for end-to-end compliance with EMV specifications. That doesn't include a yearly licensing fee starting at just under CA$60,000.
Organizations Mentioned:
• STL (Laval, Québec)
• TransLink (Vancouver)
• Cubic
• Planeta Informática
• STM (Montréal)
Montréal-area transit operator STL this month officially launched its open-loop payments service–one of the few in Canada and the largest project outside of Vancouver.
Like Vancouver transit authority TransLink, STL only accepts Visa and Mastercard credit cards, though TransLink says it can accept Visa and Mastercard debit but processes them as credit; and it also takes American Express cards.
Both open-loop services have seen low take-up by customers so far, with open loop making up fewer than 2% of total fare transactions. There are few other Canadian transit agencies offering open-loop payments. Toronto's Metrolinx launched a pilot on its airport line last year. BC Ferries also accepts contactless payments.
STL's open-loop service only became fully operational on board its more than 360 buses in February, though the agency has actually accepted open-loop payments on a subset of its buses for years, after launching a trial five years ago. TransLink launched its open-loop service for its buses and SkyTrain metro in 2018. The low adoption for both agencies appears to have more to do with the lack of incentives for customers to use open-loop cards rather than any aversion to tapping credit cards to pay.
Neither transit agency offers fare capping for open loop, and customers can only pay for single rides with their credit cards. TransLink even offers riders a lower price–20% or more–on single fares if they use their closed-loop Compass cards rather than contactless credit.
TransLink said it sees open-loop payments as an option for occasional riders and has no intention of phasing out Compass.
Meanwhile, STL, which serves Laval, the largest suburb in the Montréal metropolitan area, uses the closed-loop Opus card. So do other transit operators serving the area. That includes Montréal Métro operator, STM.
An STL spokeswoman said any decision to offer fare capping with open-loop cards or credentials in NFC wallets must be made by Montréal-area transit authority ARTM, which is paying for STL's open-loop rollout.
Pinning Hopes on Launch of Debit
Both agencies are gearing up for acceptance of debit cards and credentials from Canada's domestic debit scheme Interac.
As in other countries, contactless payments are making up a growing share of transactions at retail stores in Canada, and debit is leading the way.
According to interbank association Payments Canada, 62% of contactless transactions were made with debit cards or card credentials in wallets in 2020, compared with 38% with credit. All contactless transactions–credit and debit combined–increased by 13% over 2019. That is attributed in large part to the pandemic, which has caused consumers to seek to avoid touching public surfaces.
The value of the debit contactless transactions were lower, at 43%, compared with credit at 57%, because average transaction values for debit cards are generally much lower than for credit. This makes contactless debit a natural fit for fare payments, the agencies believe.
"That's where we need to go; it's a small amount to pay on the bus, and credit is not for everyone," STL representative Estelle Lacroix told Mobility Payments. "And the younger customers, they don't necessarily have a credit card. So debit is a solution for a big portion of the population."
Interac is by far the most-used debit card in Canada. It has nearly 30 million cardholders (out of a total population of 38 million) and more than 24 million active monthly users, according to an Interac spokesman.
Compass Terminals Require New Chip
TransLink, along with its main technology supplier, Cubic Transportation Systems, and Interac, announced in late November they would integrate an Interac debit application into more than 5,000 terminals of the closed-loop Compass card. Compass is accepted on TransLink's four transport modes, including buses and the three-line SkyTrain metro.
The parties said Interac acceptance would launch by the end of 2022, which would be at least a year after the announcement. It would also be around 18 months after Cubic submitted a proposal on how it would implement a certified Interac "Flash" contactless application on thousands of Compass terminals.
According to the proposal document, "Implementation of Acceptance of Interac Flash on Compass," obtained by Mobility Payments, Cubic would enable Interac on the Compass terminals by plugging in a separate secure-access module (SAM), or chip, into the more than 5,000 Compass terminals.
These chips are being supplied by Brazil-based Planeta Informática, which developed a way to enable open-loop payments on closed-loop validators potentially without having to replace the contactless readers. That's as long as the validator already has an EMV Level-1 certified reader, which is the case for the Compass validators. All that would be needed are the new SAMs, along with some libraries added to the validators' code.
Planeta calls the chip "VSAM" and developed it in collaboration with Visa, starting in 2018. It comes with a certified Visa contactless kernel. (The "V" originally stood for Visa, but Planeta now says it refers to "Virtualization.") To date, it's used mainly in Brazil, including for the metro in Rio de Janeiro, and at least three other live projects. Outside of Latin America, besides Canada, there is at least one project in southern Europe in the implementation stages.
Cubic in its proposal, dated June 30 of last year, said there would be a 13-month implementation period required after it received the notice to proceed. That notice apparently came last fall before the announcement.
Neither TransLink, Interac nor Cubic would say how much the implementation would cost, but according to Cubic's proposal, it would run about CA$2.1 million (US$1.7 million), which includes purchase of the VSAMs and recertification of the terminals and existing card brands, along with end-to-end compliance with EMV specifications. That doesn't include a yearly licensing fee to Planeta starting at just under CA$60,000 for the first year, according to the document.
Interac is believed to be paying all of these costs, though neither TransLink nor Interac would confirm that. A TransLink spokesman did tell Mobility Payments in December that "the integration comes at no cost to TransLink." And Cubic said in its document that it was providing the proposal "to Interac."
The announcement last November said TransLink was "on pace to be the first transit agency in Canada to fully integrate Interac debit contactless payments across a regional transit system."

But it might not be the first transit agency to roll out Interac for transit, beyond a pilot. STL said it could be ready as early as this fall, though that could stretch until the end of the year. That would match the planned launch date of the much larger TransLink project. (Metrolinx added Interac debit payments acceptance to its open-loop pilot last October).
François Mottet, strategy lead for France-based Flowbird, which provided the nearly 400 validators for the STL project, as well as serving as payments service provider, told Mobility Payments that the readers don't need any new hardware.
"When we deployed the validators for STL, the reader itself was already certified Interac," he told Mobility Payments. "So it's just software. We have no change of reload keys or reload software. All is ready from a validator point of view."
The validators would still need to be certified as part of an end-to-end certification, including the connection between Flowbird's PSP and the acquirer, Moneris. That is likely one of the reasons that, despite the validators being ready, the Interac debit service is not due to launch until the fall by the earliest.
STL's Lacroix said the introduction of Interac debit was planned from the beginning, and was part of the tender request. That's why no additional hardware is necessary in the readers.
But even with the addition of Interac's much-used debit cards, open-loop payments will still play second fiddle to closed loop. That's not likely to change until the Montréal-area transit authority, ARTM, sets a policy to bring about parity of closed- and open-loop payments for the STL and any of the other transit operators in the area that launch open loop.
For now, at least, open-loop payments is seen as an "emergency solution," Lacroix said.
"If you look at the cost, it's not the most efficient; it's going to be much more cost-effective if you have a monthly pass," she told Mobility Payments. "But if you need to take the bus today, and you don't know how much it costs; you don't have any money on you; or the line is too long, and you're late, then you're going to use your credit card to get on."
She added: "Right now, with the credit and the debit, it could evolve, but that will be the authority to decide."
© Mobility Payments and Forthwrite Media. Mobility Payments content is for individual use and cannot be copied or distributed without the express permission of the publisher.