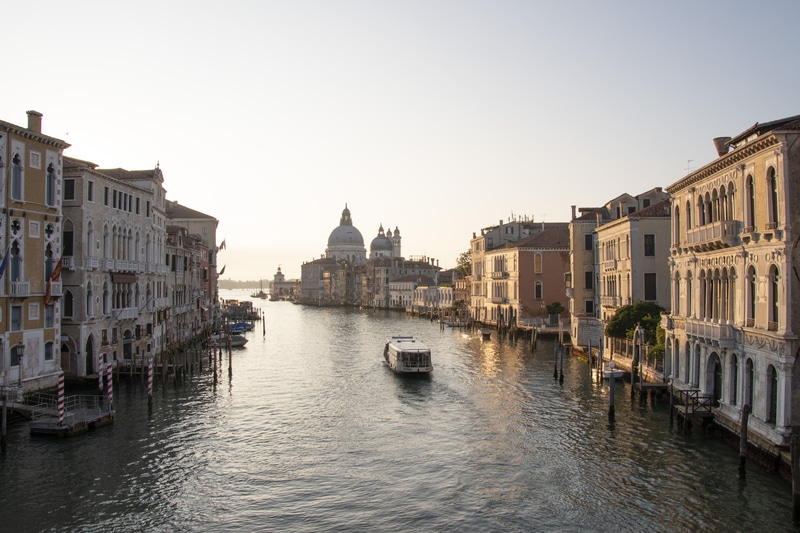 Article Highlights
Key Takeaway:
AVM, the public transit agency that runs buses, trams, water buses and shuttles in Venice, plans to launch its open-loop payments service next fall after apparent delays, following official award of a contract as part of its unconventional procurement process for open-loop technology.
Key Data:
Table: Venice Open-Loop Project Bid Results
AVM, the Italian public transit agency that runs buses, trams, water buses and shuttles in Venice, plans to launch its open-loop payments service next fall after apparent delays, the agency said Monday. It follows official award of a contract as part of the agency's unconventional procurement process for open-loop technology.
In addition, AVM, or Azienda Veneziana della Mobilità, confirmed that Visa will be a major "marketing and communications partner" for the project.
Much will be riding on the rollout, since AVM and the city of Venice have taken a fairly unique approach to their procurement of the open-loop system. Officials are, in effect, outsourcing the development and operation of the new fare-collection service to a vendor group in the form of a five-year concession agreement. After a procurement process earlier this year, followed by a protest filed by one of the losing vendors, AVM Monday officially named U.S.-based Conduent and Conduent's acquiring partner Elavon as winner of the agreement. Mobility Payments had earlier reported Conduent/Elavon's winning bid.
In exchange for a "commercial fee"–or cut of each open-loop transaction–along with an acquiring fee, the Conduent/Elavon group will pay for 1,900 validators, to be installed on board transit vehicles, as well as at platforms and gates. It will also pay for other capital costs, including a back-office system and fare software that will be able to offer best-fare calculation. Elavon will provide the merchant acquiring for the project. Mobility Payments first reported on the capex-free procurement initiative in early June.
While it's more complex than a concession agreement for a vendor to operate a food and drink stand at a municipal stadium or a gym operator at a local city sports center, Venice hopes its open-loop concession concept gives it the same advantages as these simpler agreements: That is, lower costs to taxpayers for capital expenses while shifting the risk to private companies if the service doesn't take off as expected–in this case, among tourists and other public transit riders.
"With a zero-cost investment, entirely supported by private partners, we are introducing a new global capital ticketing solution in the city, on a par with what has already been done in London, New York, Berlin and Milan, for the benefit of residents, students, commuters and tourists," said Venice city official Michele Zuin, in a statement Monday. He also appeared at a press conference Monday that sought to generate publicity for the service, at least nine months before the planned launch. Representatives from AVM, Conduent and Visa also attended the event.
Not Zero Cost
Of course, Venice's planned open-loop service will be many times smaller than those in London and New York, as well as one in Milan; while Berlin doesn't have a multimodal open-loop fare payments system in place yet.
In addition, the open-loop service will not be zero-cost. AVM will pay the commercial fee, which according to request for tenders could have been up to 3.5% the first year and an acquiring fee of up to 1% for domestic debit cards, not more than 3% for "non-consumer" domestic cards and up to 5.5% if a customer uses an international bank card. In its tender documents, AVM estimated the procurement would cost €4.2 million. (US$4.5 million).
Still, the concession agreement could be a good deal for AVM.
The commercial fee is unlikely to reach 3.5% after the first year of the concession, if it even hits 3.5% for the initial year. Update: AVM's head of institutional and customer relations and chairman of the vendor selection committee, Giovanni Santoro, told Mobility Payments that AVM negotiated a commercial fee that is less than the maximum rate listed in the request for tender. It starts at 2.5% and later goes down to 2%. The acquiring fees range from 0.5% to 3.5%, also below tender request rates.
And unlike software-as-a-service implementations that can support open-loop payments, AVM does not have to directly pay for the validators and other hardware.
Conduent, in a separate announcement of the project Monday, said Venice's transport network has 540 land buses,149 water buses, along with speedboats, motorboats and ferries, 20 trams on two lines and two people movers. The transport network serves 100 million to 120 million passengers every day, said the vendor. All these modes would need to get validators with certified readers.
And the agreement requires the winning vendor group to pay a minimum of €500,000 to market the new system. Conduent, apparently in an attempt to improve its chances of winning the contract, sweetened the pot by offering €750,000 for marketing and communications. (See table below).
Visa might be contributing even more marketing and communications value for the open-loop service, and perhaps even indirectly help fund development of the open-loop system. Visa Italy country manager Stefano Stoppani, in a brief statement to Mobility Payments, said Visa's involvement in the project is to provide "experience and marketing." Update: He seemed to say that Visa did not have a direct contract with AVM, though didn't immediately respond to a follow-up question asking for confirmation of that.
AVM's Santoro said that Visa is not paying to display its logos. The validators themselves will display logos of AVM and Conduent only, while the units will display the usual payments network logos of Visa, Mastercard and other accepted brands. But he did indicate that AVM has a contract for marketing and communications with Visa.
"Visa will invest in communication for the 'enforcement' of contactless payment in the Venice public transport network with a direct deal with AVM," he said. End update.
As Mobility Payments has reported, it's not uncommon for payments schemes, such as Visa and Mastercard, to offer promotional and technical (including certification) assistance to transit agencies rolling out open loop. Sometimes this takes the form of indirect or even direct funding. Other Italian transit operators ATM Milan and ATAC of Rome are believed to have received millions of euros from Mastercard in separate promotional deals, as Mobility Payments has reported.
The deal with Visa would not be for exclusive acceptance of cards and wallet credentials bearing the brand. When it launches, Venice's open-loop service will accept Visa, Mastercard and American Express cards, in addition to Italian debit card Bancomat; along with these credential brands in NFC wallets, such as those connected with Apple Pay and Google Pay. The NFC payments services may not support Bancomat yet.
In addition to open-loop payments, AVM will continue to accept the closed-loop Unica card and other fare-payments methods.
Difficult to Make a Profit?
Industry vendors will be watching to see whether Conduent can make a profit from the concessionaire contract in Venice.
As Mobility Payments earlier reported, the structure of the Venice deal and any that follow poses risks for prospective vendors, since they would have to fund millions worth of hardware and operational costs, as well as pay for "communication" of the service to help sell tickets.
There is no guaranteed compensation for Conduent if the commissions don't cover the costs of the system.
One source in Italy who is knowledgeable about the Venice contract told Mobility Payments earlier that he believes the concession deal will be a money-loser by itself, adding, however, that the vendor will be able to use Venice as a reference implementation to win business elsewhere. Update: AVM's Santoro did not agree that the contract would be a money-loser for the vendors involved. End update.
Conduent/Elavon was one of three pairs of suppliers competing for the AVM concessionaire contract, for a total of six vendors that submitted joint bids. Besides Conduent/Elavon, a pairing of payments provider Nexi and fare-collection supplier Pluservice, both of Italy, bid on the contract and came in second. A third vendor pair, France-based Flowbird and Italy's Leonardo S.p.A., placed third.
AVM had invited a total of 13 individual vendors to submit bids. Besides some lesser-known names, that list included Italy-based AEP Ticketing Solutions, U.S.-based Cubic Transportation Systems and Australia-based Vix Technology. None of these three vendors bid on the project.
Conduent had placed second in the procurement in technical points to the Nexi/Pluservice team. But even though the technical category carried more weight, Conduent/Elavon was able to edge out the Nexi group on "economic" points to win the overall bid. That was thanks to the Conduent team's low overall bid of €3.43 million and lower proposed maintenance fees of just over $75,000. Conduent did offer less than the Nexi group for promotions. (See table below). It's not clear what the specific commercial or acquiring rates were for any of the three bids.
Mark Brewer, then president of Conduent's Transportation division contended to Mobility Payments' in August that his company's bid on the Venice contract was on firm financial footing.
"It's one small city on the world stage," said Brewer, who has since left the Conduent's Transportation Solutions unit and now heads public sector business development for the company. "For sure, I approved it because I approve every deal. We went through it, we looked at the consequences. And one of the questions I always ask is, 'Hey guys, what's the worst thing that can happen?' And that's an operational question and a financial question."
Conduent has a strong presence in Northern Italy, but is believed to be struggling with one of its biggest contracts–providing a non-open-loop transit ticketing system to eight transit agencies in the Lombardy region, including passenger rail operator Trenord and Milan public transit operator ATM. Conduent had announced this contract in 2018.
Venice Project Behind Schedule
The planned launch in September or October of 2023 of the Venice open-loop service is apparently behind schedule, with the agency originally talking about a launch in the first part of next year.
Update: Undoubtedly, one reason for the delay is a protest filed by Nexi/Pluservice, whose total bid score came in less than 1% lower than Conduent/Elavon's. As Mobility Payments reported in October, Santoro confirmed the denial of the appeal. He said the scores "refer to an estimation of the tender's object economic value" of the bids, though did not elaborate. Santoro blamed the delay in rollout of the project solely on the protest. End update.
A regional administrative court turned down the appeal in early October, and the Nexi group did not apparently appeal the decision. That cleared the way for the award of the contract to the Conduent-led group.
© Mobility Payments and Forthwrite Media. Mobility Payments content is for individual use and cannot be copied or distributed without the express permission of the publisher.