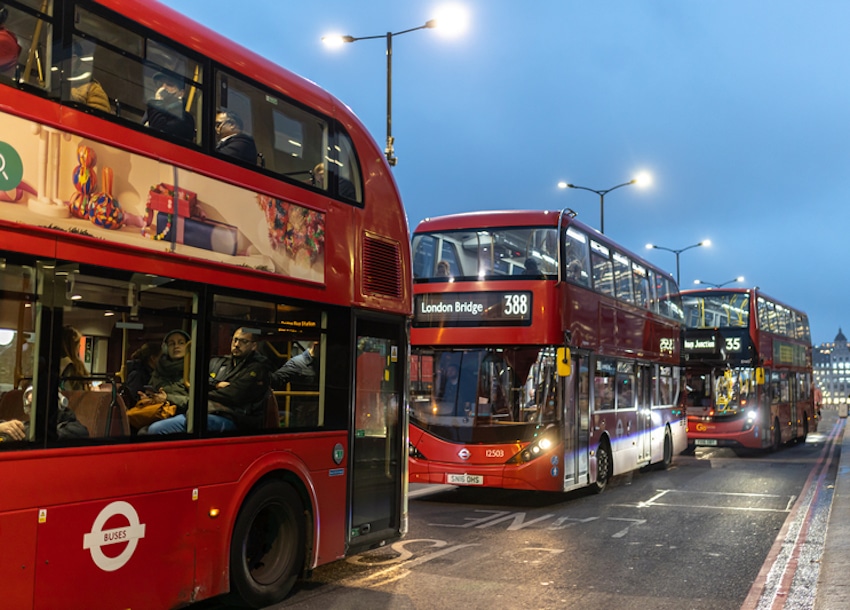 Article Highlights
Key Takeaway:
Transport for London, in marking the 10th anniversary of its launch of open-loop payments on buses, noted that seven in 10 pay-as-you-go transactions are now contactless on buses, with the rest using closed-loop Oyster cards. But including season tickets and especially concessions drops the contactless share to 39% or less.
Key Data:
• Graphic: Share of open-loop payments for various payments methods
• Chart: TfL-Journeys by method of payments–Nov. 2022
• Chart: TfL payments–updated Sept. 2021
Organizations Mentioned:
Transport for London, in marking the 10th anniversary of its launch of open-loop payments on buses earlier this month, noted that seven in 10 pay-as-you-go transactions are now contactless on buses, with the rest using closed-loop Oyster cards.
The transit authority, which rolled out open loop on the rest of its transport network, including the Underground, in September 2014, had said earlier this year that contactless EMV accounted for more than 60% of all pay-as-you-go (PAYG) fares or journeys on all modes.
And as Mobility Payments reported in April, because of accelerated use of open loop, revenue from contactless payments had already returned to pre-Covid levels by the end of last year, even though ridership on buses and especially the Underground had not yet fully recovered from the pandemic.
But it's important to point out that the lofty contactless open-loop penetration rates don't include concessionary discounts or season tickets and other passes. If these categories of fare payments are included, the percentage of contactless open loop drops to 39% of bus trips and 42% of bus and Underground journeys combined, a Transport for London spokeswoman told Mobility Payments the past week.
That roughly matches a breakdown of trips by payment method that Transport for London included in its bidder prospectus for the planned upgrade of its fare-collection system, which the authority released last month. The procurement document for the up to £1.5 billion (US$1.8 billion) contract, code-named "Project Proteus," estimated that contactless open-loop payments represented 40% of all rides. (See bar graph on this page).
The rest includes Oyster pay-as-you-go, season tickets on Oyster cards and mag-stripe tickets. It also included what the breakdown represented as second-largest category of rides, called "free travel."
This category, which makes up around 25% of rides, no doubt includes Freedom passes for seniors and disabled persons. It may also include other concessionary cards, such as 60+ Oyster cards and Zip cards for youth, the latter also based on Oyster.
The impact of concessions, season tickets and pay-as-you-go Oyster on the penetration of contactless payments may even be larger in some calculations.
In its announcement Dec. 13 commemorating the 10th anniversary of the availability of open-loop payments on buses, Transport for London noted that bus ridership had topped five million trips per day, or around 80% to 85% of pre-pandemic levels. Of those trips, the agency said that around 1.7 million were pay-as-you-go open loop, or around 34%.
Meanwhile, if concessionary travel is excluded, but season tickets are kept in the mix, open loop accounts for 54% of all trips on London buses and the Underground, said the Transport for London spokeswoman. The remainder are Oyster PAYG, season tickets and printed tickets. Bus and tram passes and day tickets are included in these non-contactless ticketing categories, as well.
That breakdown of rides by payment method–excluding concessions–is similar to one that Transport for London released in September 2021. (See line graph on this page.) Like the bar graph released with the bidder prospectus, it's clear that growth in contactless open-loop payments is mainly coming from the reduction in season tickets, especially on Oyster cards, but also on mag-stripe paper tickets. There has been some shrinkage of Oyster PAYG over the years since the authority launched open loop, as well.
Transport for London has offered both daily and weekly fare capping with open-loop cards and open-loop credentials in NFC wallets at least from 2014, giving riders a better deal than they got with Oyster PAYG. The latter only offered daily fare capping for many years.
While the share of trips customers pay for with bank cards or credentials in wallets is still impressive, large-scale future growth in use of the technology will likely have to come mainly from concessions.
As Mobility Payments reported last summer, Transport for London is working on a system to tie discounts for seniors, students, disabled persons and other concessions to open-loop cards and devices, the agency confirmed.
A spokesman for the authority said at the time that development work was still in the "very early days." He added that any introduction of the service would be available across the various transport modes that Transport for London oversees. In other words, the agency "would look to apply wherever the concession is valid on our (contactless) pay-as-you-go system."
The Project Proteus tender documents did not specifically mention that work to support concessionary discounts with open-loop cards and credentials would be part of the planned contract.
© Mobility Payments and Forthwrite Media. Mobility Payments content is for individual use and cannot be copied or distributed without the express permission of the publisher.