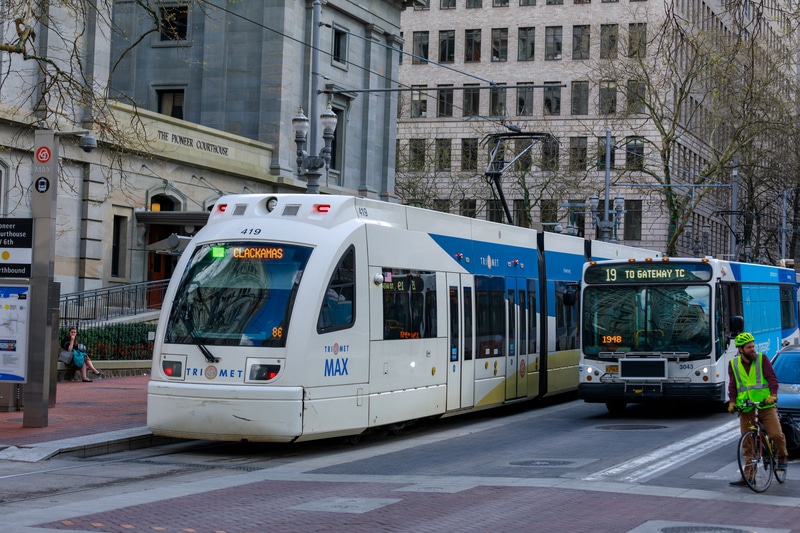 Article Highlights
Key Takeaway:
U.S. transit agency TriMet of Portland, Ore., introduced open-loop payments at the same time it launched its contactless closed-loop Hop Fastpass card, in July 2017. The agency now faces challenges in shifting its emphasis to contactless EMV, including accommodating concessionary discounts and paying high interchange.
Key Data:
Chart: Percentage of bank card fees for TriMet
Organizations Mentioned:
• TriMet
• INIT
U.S. transit agency TriMet of Portland, Ore., introduced open-loop payments at the same time it launched its contactless closed-loop Hop Fastpass card, in July 2017. But it promoted Hop much more than open loop for years, and not surprisingly, the closed-loop card makes up the vast majority of electronic transactions for the agency.
But TriMet has shifted course and is now giving open loop top billing over its closed-loop card on its website and in social media. And it's considering launching a paid promotional campaign outside of its own media channels, according to Dave Whipple, TriMet's digital communications manager.
"Until recently, the emphasis in our messaging had been on using a Hop card, which helps ensure that frequent riders are getting the best deal through fare capping, and that they have the ability to use discounted fares for youth, seniors and people with disabilities," Whipple said, speaking at a recent webinar organized by the U.S. Payments Forum.
He said the pandemic convinced TriMet to move the emphasis to open loop, as contactless bank cards became more commonplace and "public health measures were encouraging contactless transactions." In the future, the agency said it believes contactless will help it recover lost ridership, both from customers taking occasional and "spontaneous" trips, as well as daily commuting.
"The idea is to reinforce to customers that if you're interested in riding transit, you really don't need to do anything or go to much effort to get a transit fare," Whipple said. "You're probably already carrying it."
Sophia Maletz Franklyn,director of fare revenue and administrative services, speaking at the same webinar, which focused on customer messaging for open loop, noted that open payments now account for 12% of all full fares the agency collects. Open loop had accounted for only 1% of total full-fare taps in 2017, she said. Taps from riders paying with contactless EMV debit or credit cards and open-loop credentials in NFC wallets earlier this year were up by more than 170% compared with July 2019, she said.
"We still don't have open payments available to our reduced fare riders, but a very large percentage of our full fare riders are taking advantage of open payments," she said.
Discounts, Interchange and Other Challenges
Still, open-loop payments remains small as a percentage of overall fare revenue for TriMet. Full fares account for only 55% of total fare revenue, an agency spokeswoman told Mobility Payments.
When adding in revenue from discounted fares for seniors, youth, disabled persons and low-income riders along with paratransit riders, it brought the percentage of open-loop payments down to 6% of all electronic fare revenue for the year ending in October 2022, the spokeswoman said. And that percentage doesn't include cash fares dropped in fare boxes, which make up around 14% of revenue on fixed-route transit vehicles. These are mainly or exclusively buses, TriMet's most-used transport mode.
Meanwhile, Hop made up 86% of all fare revenue on fixed-route transit services, according to the spokeswoman. The closed-loop card as a percentage of all fare revenue was not immediately available.
The agency early on enabled Hop users a choice of carrying a physical card or to create a virtual Hop card for use with Apple Pay and other NFC payments services, just like open-loop payments users can do with their debit and credit cards.
And only Hop users get monthly fare capping, along with the daily fare capping that riders of both open- and closed-loop payments enjoy. TriMet was one of the first U.S. transit agencies to support fare capping, which it launched in 2017, with two smaller agencies in the region.
Meanwhile, customers can't get their senior and other discounts by tapping bank cards or open-loop credentials in NFC wallets, but they can with Hop. Maletz Franklyn said TriMet plans to link concessionary discounts with open loop cards and credentials, but it's unclear how that will happen.
Of the relatively few open-loop fare payments rollouts in the U.S. to date by transit agencies of any size–in New York, Chicago, Miami and Dallas, along with Portland, New York's Metropolitan Transportation Authority has by far the largest adoption rate. That rate approaches 40% of rides paid for with open loop on its most-used transit mode, the New York City Subway. One advantage open loop has in New York is that MTA is replacing an aging mag-stripe closed-loop card program and has promoted its open-loop OMNY service aggressively. Other agencies, such as TriMet, are not replacing their closed-loop cards. (MTA does have a closed-loop OMNY card based on white-label EMV technology, which it launched in October 2021).
And then there is the problem of interchange for TriMet.
Bank Card Fees High, Fare Aggregation Appears Sparse
As Mobility Payments has reported, TriMet has paid a high percentage of its open-loop revenue in bank card fees, mostly interchange. That rate has reached 8% to 9% for total bank card fees. (See chart on this page). Interchange makes up at least two-thirds of open-loop bank fees, with acquiring fees and network assessment fees accounting for the rest.
For example, of the just under $150,000 in open-loop revenue TriMet recorded in December 2021, the agency paid a little less than $12,700 of it in bank card fees, amounting to 8.5% of the revenue, according to records obtained by Mobility Payments.
Although TriMet offers daily fare capping–once a rider takes only two rides, totaling $5-Maletz Franklyn said the TriMet open-loop system doesn't yet support the MTT (mobility and transport transaction) model from Visa.
MTT helps to enable pay-as-you-go transactions and aggregation of fares. With more fare aggregation, transaction amounts would be higher, reducing fixed interchange costs as a percentage of each transaction. These costs can represent a large share of low-value transactions.
TriMet's main fare-system vendor, INIT, told Mobility Payments that when the agency launched open-loop payments in 2017, Visa had not yet established MTT. Visa certified INIT to implement MTT only last year.
"So that is a direction that we are moving down the road to take advantage of the best fees available to transit agencies," Maletz Franklyn said. It's not clear when TriMet, with help from INIT, will support MTT, however.
Aggregation of transactions are considered an important step for U.S. transit agencies seeking to reduce high fixed interchange costs.
When asked during the webinar if she had any specific "data" on TriMet's transaction and interchange costs, Maletz Franklyn responded that she didn't have "anything offhand" and pointed the questioner to published interchange rates by the major payments schemes, acknowledging it would take a "little bit of digging" to find the information.
There are hundreds of interchange rates, depending on the card product and type and the category of merchant. But there is one rate that affects transit agencies the most.
U.S. federal law caps interchange rates for debit cards issued by most banks at a fixed $0.21 per transaction, with an additional $0.01 allowed for fraud protection, plus a small variable fee of .05%. The fixed fee does not amount to much on the purchase of a computer or new set of tires, but it's significant on a $2 or $3 transit fare.
Visa, whose brand accounts for by far the most open-loop fare transactions in the U.S., has introduced an interchange rate for transit agencies that substantially reduces these particular debit card fees for transactions of around $5 or less, as Mobility Payments has reported. But the offer is believed to be temporary and may only apply to California.
It's not clear whether TriMet aggregates transactions at all for open-loop payments. If not, it would mean the agency pays interchange and other fees on each full-fare transaction amount of $2.50. Even if it can aggregate, that would apparently mean the maximum transaction amount would still be only $5, the daily fare cap. Not all riders reach even that amount. Whichever is the case, TriMet still gets hit hard by interchange.
Linking Concessions to Open Loop
Meanwhile, Maletz Franklyn said in the webinar that TriMet is hoping to enable customers to receive their concessionary discounts with their open-loop cards or wallet credentials in the next year or two.
She did not say how exactly, though it would presumably link cards with the customers' discount eligibility on the back end of the account-based ticketing system TriMet uses, built mainly by INIT.
TriMet did make Maletz Franklyn available for a separate interview to discuss this or other issues.
She mentioned during the webinar that the agency plans to enable customers to register their open-loop cards and credentials, supporting the payment account reference, or PAR, specification from EMVCo, a joint venture owned by Visa, Mastercard and other international payments schemes.
PAR creates a unique identifier associated with a specific cardholder PAN, enabling merchants and acquirers to track the PAN and all tokens stemming from it. The PAR feature needs to be supported in readers.
Supporting it would link TriMet's customers' contactless credit and debit cards to the same cards loaded as tokenized credentials in NFC wallets. This would enable riders to tap their cards, smartphones and smartwatches interchangeably, as well as track all trips they take with their open-loop payments accounts, whether a physical card or virtual version on smartphones and smartwatches.
In addition to that, she suggested TriMet could use PAR to associate a senior discount or other concession to their preferred open-loop card or wallet credential. Other agencies have mentioned they are working with PAR, but they have not said whether it would help them link discounts to credit and debit cards.
Reducing High Fixed Costs
Overall, Maletz Franklyn said one reason it's important for her agency to increase open-loop adoption is to reduce high fixed costs for the open-loop system (though that does not appear to help the agency with high fixed interchange costs assessed on each transaction).
The open-loop costs are already "way better" than TriMet's most expensive sales channels, like its walk-in offices, ticket-vending machines and IVR system, she said, though not mentioning any figures.
"When we were processing very few transactions, the cost was considerably higher than our closed-loop sales channels," she said. "But as the numbers are starting to move closer and closer together, the open payments costs are starting to look better."
© Mobility Payments and Forthwrite Media. Mobility Payments content is for individual use and cannot be copied or distributed without the express permission of the publisher.