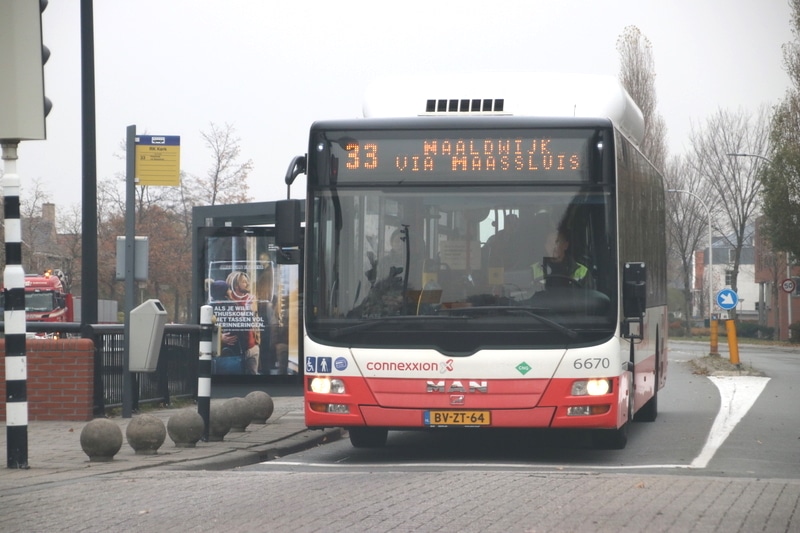 Article Highlights
Key Takeaway:
Transit riders in the Netherlands could begin receiving concessionary discounts while using their contactless debit and credit cards or NFC wallets later this year. Agencies also plan to begin issuing white-label EMV cards to eventually replace widely used closed-loop OV chip card scheme.
Key Data:
Open-loop payments accounted for fewer than 2% (1.69%) of trips in early December 2022 for transit operators that have adopted OVpay.
Transit riders in the Netherlands could begin receiving concessionary discounts while using their contactless debit and credit cards or NFC wallets later this year, the program director for the country's nationwide open-loop rollout told Mobility Payments.
Bas van Weele, who also serves as director of external affairs for transit operator Arriva in the Netherlands, said the feature, which would link eligibility for senior and, later, other discounts to riders' preferred open-loop cards or wallet credentials, would happen by the third or fourth quarter of this year. The implementation will be small at first, he added.
Van Weele also said plans this year call for Dutch transit agencies to begin issuing closed-loop cards based on white-label EMV technology. The new cards will eventually replace the widely used but low security OV chip card.
The transit agency group rolling out open loop is working with Mastercard and banking fintech bunq on the closed-loop EMV card. As Mobility Payments reported, France-based Thales DIS, formerly known as Gemalto, is believed to have won a contract to supply these white-label EMV cards, which would likely tie into a back office supplied by Germany-based Scheidt & Bachmann. As of last month, project backers had scheduled a pilot for March of this year on Arriva buses in the Dutch city of Lelystad.
Plans also call for Dutch agencies to issue a virtual version of the closed-loop EMV card for such NFC payments services as Apple Pay, but not at first.
The white-label EMV closed-loop cards, like the concessionary discounts tied to open loop, are expected to launch around the third or fourth quarters of 2023, van Weele told Mobility Payments, in brief comments, though he added: "Since this is all innovation, these are just best estimates for now."
Running Behind Schedule
As Mobility Payments reported last month, a group of nine Dutch transit agencies, along with Translink, which runs the existing closed-loop OV-chipkaart, or OV chip card, scheme, are coordinating what will be one of the first nationwide multimodal rollouts of open-loop payments globally. Backers call the service OVpay. The rollout–estimated to cost at least €100 million (US$106.6 million) for capital expenses–is behind schedule, however. And some observers believe the actual capex cost will be much higher. That does not include operational expenses.
The rollout will include the replacement or upgrade of around 60,000 transit terminals and multiple back offices supporting a complex check-in, check-out system across numerous agencies and regions. Work began roughly eight years ago.
Among parts of the system that is behind schedule is the phase out of the nearly 20-year-old OV chip card. In December 2020, Dutch transit officials had said this card scheme would be fully retired by the end of 2023. That official termination date has now been moved back by one year, to year-end 2024, and some observers believe that this is an overly optimistic end date.
The present closed-loop card uses proprietary Mifare-compatible technology, including Mifare Classic. The latter has been hacked. Despite this, the technology has held up for years and has helped enable the Netherlands to offer one of the few nationally interoperable, multimodal and multiagency fare-collection systems globally. The existing closed-loop system can support concessions and other discounts, along with distance-based fares.
Postpaid Closed-Loop Fares
It's card-based technology, not account-based, so it's difficult to update fare policy and offers, among other challenges. And unlike bank cards and open-loop credentials in wallets, customers have to load value onto their OV chip cards.
But Dutch transit agencies, such as GVB, which serves Amsterdam with metro, trams and buses, offer generous discounts of up to 60% with the closed-loop card. And crucially, they also enable registered users to travel with no balance and to postpay for travel.
In the case of the GVB Flex offer, customers can receive these discounts and postpaid fares for both local transit in and around Amsterdam and with national commuter rail operator NS on the same OV chip cards.
Users must carry personalized OV chip cards, not anonymous, and they must register their bank accounts, which will be used for regular direct debits. Dutch transit agencies are expected to continue this type of offer as they move from the aging OV chip card to white-label EMV closed-loop cards.
This type of offer probably wouldn't work for transit agencies in a number of countries, where there are a lot more unbanked customers. But in the Netherlands, it could persuade regular riders not to adopt open-loop payments, say some observers.
While OVpay project backers have mentioned offering fare capping, they do not appear to be planning a London-style pay-as-you-go open-loop service featuring both daily and weekly fare capping. This is believed to have accounted for much of the success of Transport for London's open-loop service.
Open-Loop Adoption Low So Far
It's too early to tell how Dutch transit riders will take to open payments. Initial figures show low adoption so far.
A report dated Dec. 14 from the OVpay coordinating group and obtained by Mobility Payments, shows that open-loop payments accounted for fewer than 2% (1.69%) of trips for transit operators that have adopted OVpay. (The report mentioned only use of "debit cards" with this figure, so it's not clear whether the figure includes credit cards. But debit is the most-used type of payment card by far in the Netherlands for domestic transactions.)
The 1.69% figure is the share of open-loop payments for trips riders took during the first nine days of last month on any of 25 public transit operations. The operations are bus, train and tram services provided by transit operators holding concession agreements to offer service in a particular city or region.
The 25 operations do not include services by such large providers as NS, the national commuter rail operator; or RET, a multimodal operator that serves the Rotterdam area. Neither NS nor RET have yet launched open-loop payments with OVpay, except perhaps for pilots.
The 1.69% open-loop share may include the first week or two of service by GVB in Amsterdam. The other operators that have launched OVpay are mostly smaller bus agencies.
The open-loop penetration rate, while small, does show signs of growth. The 1.69% share is up from just under 1% of open-loop trips in November 2022 and 0.63% in October 2022. The vast majority of non-open-loop trips were paid for with the closed-loop OV chip card. These OV chip card trips are believed to include those with discounted concessions. The non-open-loop trips may also include trips paid for with cash or paper tickets.
The OVpay group said riders have taken a cumulative total of just under 2 million open-loop trips between July and November 2022. That would represent around 60,000 to 70,000 trips per day of the roughly 4 million trips per day taken on public transit in the Netherlands.
Link to Concessionary Discounts
Discounts for seniors, youth and other categories make up a significant share of public transit trips in the Netherlands. For example, riders 65 and above account for 20% of the total. These riders receive concessionary discounts of 34% off the normal adult fare.
The Dutch transit operators supporting OVpay are expected to begin linking concessionary discounts for the senior riders to the riders' preferred debit cards or tokenized wallet credentials. The customers would have to register with the account-based system and provide their date of birth or otherwise verifying their age. Discounts for young riders, while a big category of trips, are less important because few children carry debit cards.
The launch of open-loop concessionary discounts might not happen until the fourth quarter of this year, according to OVpay's van Weele. Project backers had been talking about a launch of this feature in the second quarter of this year. It's not clear whether there has been a delay or not.
Whatever the case, the launch is expected to be small yet significant. Support for discount concessionary fares with bank cards and card credentials in NFC wallets has been among the biggest challenges for transit agencies rolling out open-loop payments. It limits growth of open-loop for these agencies.
In addition to open-loop and closed-loop contactless payments, Dutch transit operators are also rolling out a barcode-based mobile payments service called TapConnect.
© Mobility Payments and Forthwrite Media. Mobility Payments content is for individual use and cannot be copied or distributed without the express permission of the publisher.