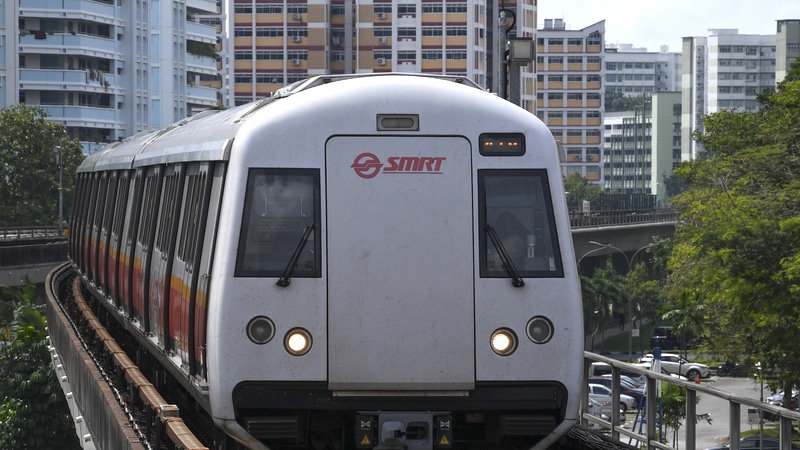 Article Highlights
Key Takeaway:
Since launching open-loop payments in 2019, Singapore's Land Transport Authority has seen adoption grow to more than 30% of adult full fare trips, and the authority has eliminated single-trip paper tickets. But it has no plans to end its closed-loop program. Among concerns by the authority is that "EMV scheme owners" could raise fees, said an executive.
Key Data:
• Chart: Open-loop penetration with and without concessionary trips
• Chart: Share of open loop from cards and devices
Organizations Mentioned:
Since fully launching open-loop payments in 2019, Singapore's Land Transport Authority has seen adoption grow to more than 30% of adult full fare trips, and the authority has eliminated single-trip paper tickets.
Plans call for LTA to substantially move to a full account-based ticketing system within three years by further expanding use of open loop and putting most of the authority's closed-loop EZ-Link cards onto the ABT platform–or "tokenizing" the cards, as the agency calls it. Enabling closed-loop concessionary cards for the ABT system could take longer, the agency told Mobility Payments.
LTA provides concessionary discount fares to seniors and other riders amounting to 35% of its trips. When these trips are included, the share of open-loop payments for the authority fall from more than 30% to around 20%. (See chart below). It remains to be seen how or even if the authority will support the discounts on rides for the concessions when customers tap their contactless credit and debit cards and NFC wallets.
Concerns about Interchange; Closed Loop to Stay
LTA has no plans to phase out fare payments through its closed-loop EZ-Link card program, and the stated reason for this may be surprising to some. According to a senior executive with the agency, it's not because LTA owns EZ-Link Pte. Ltd., which–like closed-loop e-purses in other major Asian cities–is a profit-making business with a strong retail footprint.
Instead, LTA wants to keep its close-loop card as a hedge against possible increases in interchange and other bank card fees, as well as any substantial changes in EMV specifications, the agency representative said.
"We didn't want to totally get rid of EZ-Link, but we've 'tokenized' it just in case we have a problem with the EMV scheme owners, (if they) will try to give us a difficult time," Deborah Wong, senior vice president, fare systems at LTA subsidiary MSI Global, told Mobility Payments.
Around 10% of the EZ-Link cardholders are now covered by account-based ticketing system. When asked, Wong confirmed that potential problems LTA is concerned include "uncertainty" regarding interchange or other bank card fees to accept credit and debit cards and open-loop credentials in NFC wallets.
"We don't want to be in a locked-in position. (We want to) make sure that we have a contingency plan," she said.
With more that 3 million non-concessionary trips per day–around 30% of those open-loop, the fees can add up.
She later added that LTA also worries there might be significant changes to EMVCo specifications that would require the authority to change or upgrade its certified terminals. There are 30,000 of them at metro gates and on board buses.
"This is one of the reasons the authority is hesitant to move totally to open-loop standards," she said of the possible changes to EMV specifications.
She would not disclose what LTA currently pays for interchange, network assessment fees or acquiring fees.
LTA reportedly aggregates fares daily for cards and wallet credentials branded Visa and cards supporting NETS, a domestic debit network. It also reportedly aggregates up to five days or SG$15 (US$11.35) of transactions for Mastercard-branded cards and credentials. This fare aggregation could blunt the impact of fixed interchange fees, provided the cardholders take multiple trips during the aggregation period. It would not help with interchange charged as a percentage of the transaction amount, which credit cards often are.
For tourists and other visitors, LTA actually imposes a surcharge of $0.40 on the riders themselves when they tap with an international card or credential branded Visa or Mastercard, Wong said.
Regarding potential changes in the specifications from EMVCo, this is not a common concern voiced by agencies, at least not publicly. EMVCo is co-owned by the major global payments schemes, such as Visa and Mastercard.
'Real Savings with Open-Loop Acceptance'
LTA launched its SimplyGo service in 2019, following lengthy trials. The service will save the authority significant money, said Wong. The 30%-plus contactless open-loop share is up from around 19% in August 2021. Wong said 57% of open-loop trips are paid for with physical credit and debit cards, the rest with smartphones or wearables.
SimplyGo does not only refer to open-loop payments. LTA called its new system "Account-Based Ticketing," or ABT, before changing it to a more consumer- friendly name. Besides open loop, LTA is also moving its EZ-Link cards to the SimplyGo ABT system.
LTA also accepts a separate e-purse scheme, NETS FlashPay, for fares, which like EZ-Link uses Singapore's closed-loop CEPAS technology. It's not clear whether LTA is also planning to enable FlashPay cardholders to register for the ABT system.
By reducing use of closed-loop cards with the old card-based system, the agency will see lower costs from such expenses as closed-loop card procurement, initialization, issuance and distribution, as well top-ups, refund claims and disposal of the cards when they expire.
"There's quite a hefty cost to all this, so there are real savings with open-loop acceptance," Wong said. She said LTA would not be releasing figures quantifying the savings until the account-based ticketing system is fully rolled out.
Eliminating Single-Trip Tickets
The move to open-loop and account-based ticketing helped LTA do away with its paper single-trip tickets earlier last year, saving money, as well, "and with it, removal of coin collection paving the way for a cashless system," Wong said.
LTA distributed around 600,000 of the tickets, which could be used for one-way and roundtrip tickets, per month before the pandemic, she said. Their use had been falling since at least 2013, when they only accounted for 0.9% of total trips.
The drop accelerated after SimplyGo was rolled out in 2019, thanks no doubt to deep discounts of nearly 50% LTA offered customers for tapping their bank cards or closed-loop EZ-Link cards to pay for rides instead of buying the paper tickets.
"The single-trip ticket essentially caters to tourists," Wong said. "So because of EMV, we believe that the tourists can actually get around without the need to purchase single-trip tickets. Once they get off the plane, they can just use a credit card and then travel on public transport."
Tourists who don't have bank cards or didn't want to use them to pay fares would have to buy a tourist pass or an EZ-Link or NETS FlashPay card to ride. The cards reportedly cost SG$5, not counting the stored value.
LTA reduced the minimum top-up amount for EZ-Link adult cards from SG$10 and the top-up amount for student concessionary cards from $5 down to $2, to help users, including locals, to afford to use the closed-loop cards to pay for the single rides.
Support for Concession Cards
LTA is progressively enabling EZ-Link cards, including what it calls SimplyGo Concession cards, for the ABT system. This creates an account for card and makes it easier for users to load value online; track spending; get electronic notifications, including low-value alerts; and block lost cards.
All the data for these actions is stored on a network server, not on the card, as before. That includes top ups of up to SG$400 (US$303), which are generally available sooner for customers than under the old system. The EZ-Link card becomes just another token on the network.
"Whenever you do a top-up, you could do it in the convenience of your home or anywhere else. It is as easy as doing any online e-Commerce purchase with your mobile app or website," said Wong.
For customers eligible for up to 50% concessionary discounts­­, which include seniors, disabled persons and students, a SimplyGo Concession card makes it easier to buy monthly concession passes or view and redeem eVouchers.
Cardholders can change most existing EZ-Link regular and concession cards by putting them on a reader on a ticket-vending machine or kiosk to upload the information from the card to the network. Or they can buy a new SimplyGo-enabled card.
But even with incentives, it could take years to "tokenize" all of the eligible EZ-Link cards. And there seems to be little talk from LTA about supporting concessions with open-loop cards and wallet credentials.
That is something that transit agencies that have introduced open loop are dealing with now. The technology that can establish a link between concessionary discount and contactless credit or debit cards or credential on NFC devices is largely under development. It's impractical, of course, to enable the bank cards themselves to support concessions.
Some transit agencies are trying out different "solutions" to support concessions with open loop, including the Metropolitan Transportation Authority, which introduced a link between concessions and its OMNY service in late October, though it does not include a way to determine eligibility online.
Silvester Prakasam, senior advisor for public transit ticketing for LTA, who has played a key role in the development and operation of SimplyGo, said during a Visa-sponsored webinar in November that he thought adoption of open-loop could reach 100% within in a couple of years.
That appears unlikely, even if LTA followed through with Prakasam's idea of offering discounts to customers who tap their credit or other open-loop cards or wallet credentials to pay. (LTA does not yet support fare capping with open loop). He did add during the webinar that "the key problem for contactless cards for us will be how to manage concessions."
With concessions making up a little more than a third of all LTA trips, a failure to find a way to link concessions to bank cards will substantially limit growth of open loop for LTA. But it's likely that LTA will continue to support concessionary cards only on the CEPAS-based EZ-Link platform, as part of the account-based ticketing system, for the foreseeable future.
"So right now, there isn't any need," she said of establishing a link for concessions to open loop. She added that LTA's MSI Global subsidiary will look into the technology if overseas clients ask for it.
LTA set up MSI Global in 1995. It has supplied closed-loop systems to agencies in such cities as Bangkok, Dublin and Manilla, as well as closed-loop systems that also support open loop in Doha, Qatar; and Bangalore.
© Mobility Payments and Forthwrite Media. Mobility Payments content is for individual use and cannot be copied or distributed without the express permission of the publisher.