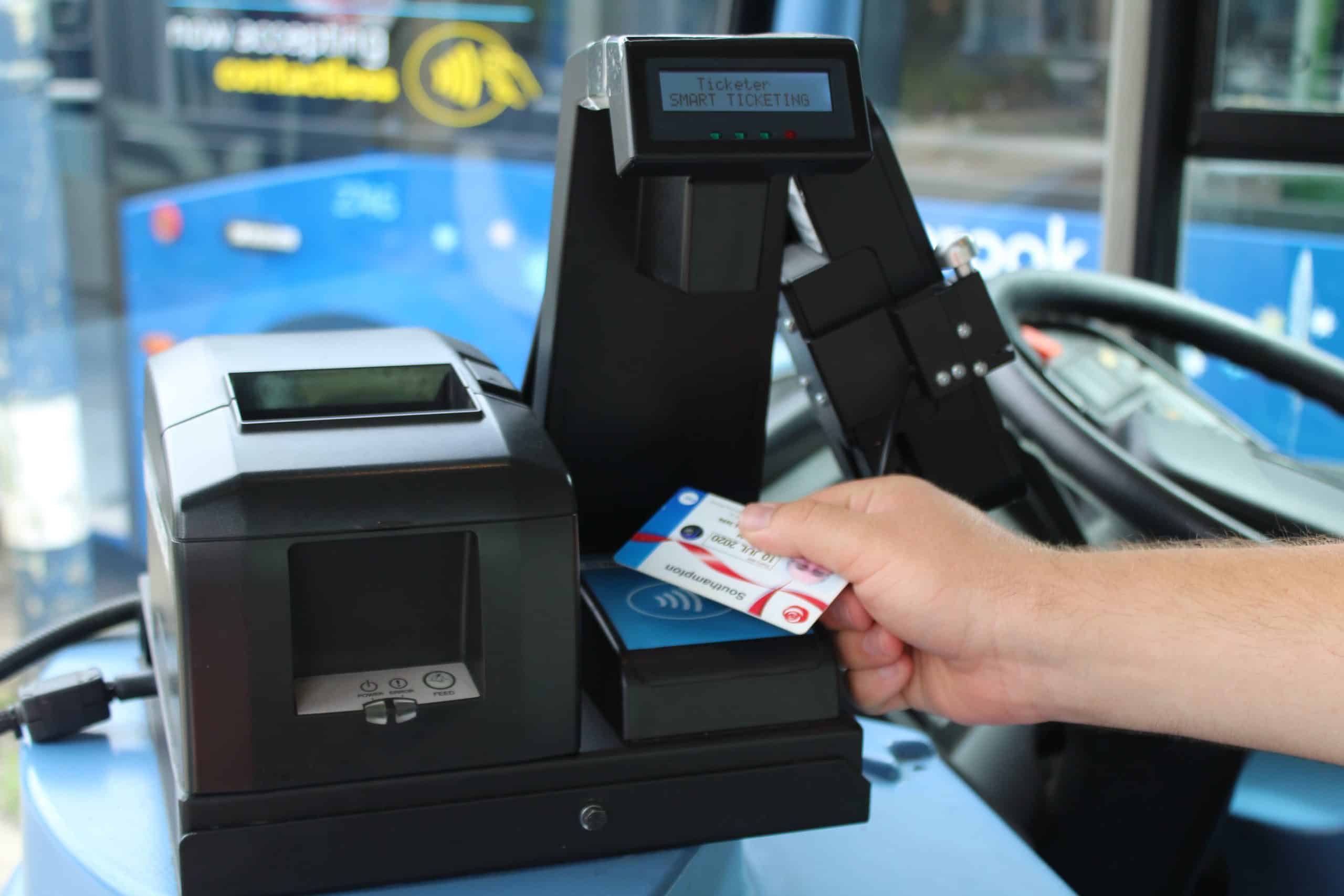 Article Highlights
Key Takeaway:
Panelists during the Second Edition of the debate webinar, "The Pros and Cons of Open-Loop Payments" weigh in on whether transit agencies should support concessionary discounts with open-loop cards and wallets and, if so, how.
Key Data:
With discounted fares for seniors, disabled persons, veterans and others making up a third or more of trips for many transit agencies globally, the question of whether to support concessions with open-loop payments is a hard one to avoid.
This is the second in a series of articles on the pros and cons of open-loop payments as debated last week by a panel of experts assembled by Mobility Payments and APSCA. This installment: Concessions: The Achilles Heel of the Open-Loop Proposition?
Transit agencies rolling out open-loop payments have an important question or two to answer: Should they support concessionary discounts with their open-loop service and, if so, how?
With discounted fares for seniors, disabled persons, veterans and others making up a third or more of trips for many transit agencies globally, the question is a hard one to avoid. Yet, as Mobility Payments has reported, few transit agencies now accepting open-loop payments are also supporting concessions today when customers tap their credit and debit cards to pay.
Co-organizers of last week's webinar–independent payments and identity organization APSCA and Mobility Payments–highlighted the topic in the second edition of their online debate series, "The Pros and Cons of Open Loop Payments," held June 27.
Panelists during the debate said they saw little problem for transit agencies to link the concessionary discounts to riders' preferred bank cards on the back end and then to apply the discounts there at the end of the day, after the customer taps.
Potential problems, however, can happen before and after that tap. First, agencies have to establish that the customers are entitled to the discounts to begin with. Then they have to make sure riders who are not eligible for the concessions don't try to get them fraudulently.
'What Problem Are You Trying to Solve?'
Of all panelists, Shashi Verma, CTO for Transport for London, spoke the most forcefully against the idea of supporting concessions with open loop. That is a bit ironic because Verma is best known as the man behind Transport for London's launch of open-loop fare payments in late 2012, which for years has been considered the premier open-loop service globally.
While he remains a strong supporter of open loop, and noted that the technology "has delivered the value that we wanted out of it," open loop was not designed to support concessions, he said. Closed-loop cards are much more suited for this. In the case of Transport for London, that is the Oyster card. The launch of closed-loop Oyster, which turned 20 last week, predated open loop at TfL by nearly 10 years.
"In the same way that we didn't port everything from magnetic stripe into Oyster, we should not try to port everything from Oyster into contactless," Verma said. "They're different technologies, and they're meant for different purposes."
He contended that there are three characteristics of concessions that make bank cards a poor delivery method for the discounts.
The first is that there is either a discounted payment or no payment at all with the concession. "And if there's no payment being made, you have to wonder, why it is that you're trying to use a bank card for it?" Verma said.
The second characteristic is that customers have to qualify for the concession, which means identity becomes a much more important part of the proposition. "And bank cards, by definition, are structured to be anonymous tools," he said.
"So you have to wonder, what problem are you trying to solve by trying to shoe horn concessions into a technology that's not built for it?"
– Shashi Verma, CTO, Transport for London
And third, concessionary discounts are subject to abuse by riders, so agencies, including TfL, find it necessary to do spot checks. Developers write to the closed-loop Oyster card chip to flag the transaction at the validator, Verma said. "If a member of staff or an inspector was to check it (Oyster concession card), you can check it very easily."
Customer volumes, especially passing through London Underground gates, are too great to go to the back office for the flag. And developers wouldn't be able to write to the chip of a bank card to flag a concessionary fare transaction at the terminal. This and the other characteristics of concessions make open loop a bad choice for supporting the discounts, Verma concluded.
"All of these things are very, very difficult, I won't say impossible, but they're very, very difficult with contactless bank cards," Verma said. "So you have to wonder, what problem are you trying to solve by trying to shoe horn concessions into a technology that's not built for it?"
Closed-Loop System Needed
Unsurprisingly, TfL is not currently working on support for concessions with its contactless open-loop service. So customers can't tap their credit and debit cards or NFC devices connected with Apple Pay, Google Wallet and the rest to receive their concessionary discounts. And since the agency's mobile app doesn't support a virtual version of the Oyster card, riders eligible for concessions can't tap smartphones or smartwatches at all to receive their discounts.
Verma, when asked about this, contended that it's a "minor issue" and suggested that many riders entitled to concessions, such as senior citizens, may not want to use their phones to pay fares. There are others that would, he acknowledged.
"That's a problem that can be solved if the only question is form factor of whether we can put a 60-plus pass on a phone."
For agencies that don't have a closed-loop card program and plan to leapfrog to open loop, Verma expressed doubts that they could adequately support concessions with the new technology.
"I would be amazed if anyone can run a payment system entirely on open loop without having to do anything on closed loop to get the concessions."
'Up to 99.9% Discount, We Can Accommodate'
Panelist Bas van Weele, program manager for the Netherlands' nationwide rollout of open loop, agreed with Verma that for free rides, it wouldn't work to use open-loop payments. "At this point in time, to our knowledge, you will need a closed-loop card."
But the OVpay consortium of nine Dutch transit operators along with fare-collection provider Translink Systems that is jointly implementing open-loop payments, plans to enable customers to receive nearly all of their other concessionary discounts with debit cards and possibly credit cards.
"Up to a 99.9% discount, we can accommodate that because as soon as we know that you are eligible for that discount, it's just something in the generic back office, and you will have the discount."
The OVpay group will also introduce a new closed-loop card, which will comply with EMV specifications. This prepaid bank-issued card will only be usable to pay transit fares, but it will support all concessionary discounts, including the free rides.
The Dutch transit operators, however, want to encourage riders to use open loop so are not limiting the technology only to occasional riders paying for full-fare single trips, as many transit agencies elsewhere have done.
"We will even use other propositions…with open loop to make sure that it will attract as many people as we can."
– Bas van Weele, program director, OVpay
"We will introduce connecting concessionary fares to that (open loop). We will use (other) discount products to connect to that, and eventually we will even use other propositions like a park-and-ride or bicycle-sharing programs with open loop to make sure that it will attract as many people as we can," said van Weele.
How to Link a Debit Card
As Mobility Payments reported in April, according to plans, Dutch transit customers wanting to link concessionary discounts to their debit cards would have to have a Dutch bank account.
They would first go to the OVpay website or app to create an account. They could then link this account to their debit cards, apparently by entering a primary account number, or PAN; or their IBAN from the underlying bank accounts.
An initial version of the sign-up procedure, as described in March, would apparently require customers to set up the link between their transit accounts and debit cards after first paying for a full-fare journey with the bank card. This transaction would appear on their bank statements with a reference code. The customers would enter this code into the OVpay site or app, along with the amount of the full-fare transaction.
Van Weele didn't address Verma's other concerns, namely the possibility of fraud with support for concessions with bank cards. But that is an important consideration for agencies planning to introduce the technology.
Dealing with Potential Concession Fraud
Panelist Çınar Basmacı, a board member for Turkey-based supplier Kentkart and sponsor of the webinar, said the vendor's open-loop concessionary product, which is live in one Turkish city, does enable bus drivers to visually check on a screen the ID of the customer using a bank card to receive discounts.
"There's always a panel in front of the driver, whether it's closed loop or whether it's open loop," said Basmacı, who is also head of business development and delivery for Kentkart. "Whenever a concession(-enabled) card taps on the validator, the privileged person's image appears on the driver's panel so as to identify any fraud."
He said one thing that bus drivers check for is to make sure the person appearing in the image is the the same person who is tapping the card. And if the driver has any suspicions (and presumably then confirms them), he can put the card on a blacklist, said Basmacı. "We have a button," he said.
"You don't need to buy a closed-loop card; you don't have to go through the top-up network."
– Çınar Basmacı, board member, Kentkart
"The main point is to have the image of the right person available for a check by the driver, on top of all the inspections and inspectors and whatever we have in the field."
When asked how Kentkart's concession product for open loop would work at faster-paced transit gates, Basmacı said the "same approach also is applied." Inspectors or other security personnel could be placed in front of the gates. A Kentkart spokeswoman later said that a light and/or sound on a validator would indicate that a rider had just tapped either a closed-loop or open loop card supporting concessionary discounts. Then the inspector could do spot checks.
In one written question posted during the webinar, an attendee asked: "How (do you) eliminate the misuse of concessionary open-loop payments? You can't say by the passenger's appearance if he is eligible for a discounted fare."
One Asia-Pacific-based industry expert responded to the question after the event, saying that transit agencies sometimes use inspectors to check concession holders after they've tapped their cards, though for many agencies, there are few inspectors compared with the number of customers.
"If they (agencies) are relying on a bus driver or guard to validate upon the tap in real time, then card-based (closed-loop) will be more appropriate–although my experience is that operators or authorities are not all that keen on these intensive approaches and are looking for more automated means," said the expert, who asked not to be named.
Although, it's not clear how checking to avoid misuse of the concessionary discount feature for either open or closed loop could be automated.
A physical check by bus drivers or gate inspectors of riders tapping bank cards for concessions could create delays for riders. The eligibility for the discount is linked on the back end.
That is different from a closed-loop concession card, which often includes the user's photo and other details. And the rider has this card already in hand when they enter the bus or gate.
One of Few Live Implementations
Kentkart has one of the few live products in the field globally to link concessions to open loop, in Gaziantep, a city of around 2 million people in south-central Turkey.
The city, which runs more than 300 buses and nearly 50 trams, soft-launched the service last November. It has around 10,000 credit card registered by concession holders, said Basmacı. These riders reportedly tap the cards to pay for around 180,000 fares per month while receiving their concessionary discounts. The city offers discounts to seniors, disabled persons, police and military personnel or veterans and victims of the massive earthquake that struck the region in February. Students also reportedly qualify for discounts.
Riders can register online for the service. They enter their national ID information and credit card number. The system ties into online Turkish government databases via an API to quickly confirm and establish eligibility for the concession. That verification process is designed to take no more than 30 minutes, but can be much less. Then the cardholder is ready to tap.
"You don't need to buy a closed-loop card; you don't have to go through the top-up network," noted Basmacı, adding that the system follows applicable privacy laws.
Kentkart is expected to introduce the open-loop concession service in other Turkish cities, where it already has a strong market share as incumbent fare vendor. It's unclear, however, how Kentkart's product could easily scale outside of Turkey, especially to a country without access to centralized government databases, as in Turkey.
The Kentkart spokeswoman acknowledged that outside of Turkey, the time it takes to establish and link eligibility for concessions would most likely be slower than in Turkey, perhaps much slower. But she added:
"That is not the objective. The objective is to have an alternative to use your credit card for concessions, bypassing the need to go physically to a center and apply for a concession."
'Not the Most Elegant Solution'
Panelist Carl Sedoryk, CEO and general manager for small U.S. transit agency Monterey-Salinas Transit, said he wants to get out of the business of verifying and registering eligibility for concessions.
The agency, with 130 fixed-route buses, has been using a single sign-in platform, Login.gov, from the U.S. federal agency, the General Services Administration, to enroll seniors to receive 50% discounts. These customers can prove their eligibility for the discounts by uploading an ID card on the federal website.
The state of California last year set up the connection with Login.gov for transit agencies working with the state-backed open-loop procurement initiative, Cal-ITP. Monterey-Salinas is the first agency to use the platform to enroll customers, which now only works with seniors.
For other categories of riders entitled to concessions, the agency apparently uses its own databases and makes the link with the users' preferred credit or debit cards.
"Our goal is to get my operation out of the validation process and allow third-party databases to determine whether you're a student, whether you're a veteran, whether you're a person with disabilities, whether you're elderly," Sedoryk said.
"Our goal is to get my operation out of the (eligibility) validation process."

– Carl Sedoryk, CEO, Monterey-Salinas Transit
The Login.gov platform was not designed to establish eligibility for transit discounts. Members of the public and federal employees mainly use the platform to securely apply for government jobs, enroll in airport trusted traveler programs and request small business disaster loans.
Sedoryk acknowledged that the ease of use of Login.gov for establishing eligibility for concessions is not what it should be.
"It is a bit cumbersome," he said. "The state is working on perhaps using other third-party private databases that draw data from the same source but make it perhaps a more elegant solution. But the proof of concept is there and can be done."
Only 60 seniors who are customers of Monterey-Salinas Transit have registered with the U.S. federal platform over the past six months or so, since Cal-ITP launched with Login.gov. Sedoryk, however, does not entirely blame the platform for the low adoption.
"We have not been marketing this because it was a demonstration," he said. "We weren't certain how it was going to work. Part of it is lack of marketing and part of it is it's not the most elegant solution yet. It's still under development."
Transit agencies in the California cities of Sacramento and Santa Barbara plan to begin offering concessions with open loop using the Login.gov platform in coming months.
It's not the first platform Cal-ITP has used, but the other, which went through the state Department of Motor Vehicles, was deemed not secure enough–though Cal-ITP denied this.
'No Longer the Achilles Heel'
Panelist Paradon Nitaya, COO for Thailand-based Transcode, said his work with account-based ticketing systems shows that these systems and open loop can indeed work with concessions. They will apply the proper discounted fares when a rider taps an open-loop card or wallet. "It's no longer the Achilles heel (of open-loop service) like it used to be a few years back."
But he still favors closed-loop technology to support concessions, adding that if a transit agency already has an open-loop system running, it might be better to use EMV prepaid or white-label cards for the closed-loop program.
The cost of running an EMV-based system for open loop and a separate system for closed loop with proprietary technology can be "quite expensive," Nitaya said.
Overall, many of the panelists made it clear that while the technology to link concessions with open loop is beginning to become available, there are challenges to overcome, especially for verifying eligibility and preventing fraud.
"It's no longer the Achilles heel like it used to be a few years back."
– Paradon Nitaya, COO, Transcode
Moreover, most backers of open loop today acknowledge that there will be a continued role for closed-loop cards to play–especially to help agencies accommodate unbanked and underbanked riders and those who don't want to use open-loop cards and wallets.
Given that, some experts are wondering whether it's worth the effort to deliver discounts to concession holders with credit and debit cards at all. Others say that in order to make open loop more than a payments option only for tourists and other occasional riders, they need to support concessions with the technology.
And the debate continues.
© Mobility Payments and Forthwrite Media. Mobility Payments content is for individual use and cannot be copied or distributed without the express permission of the publisher