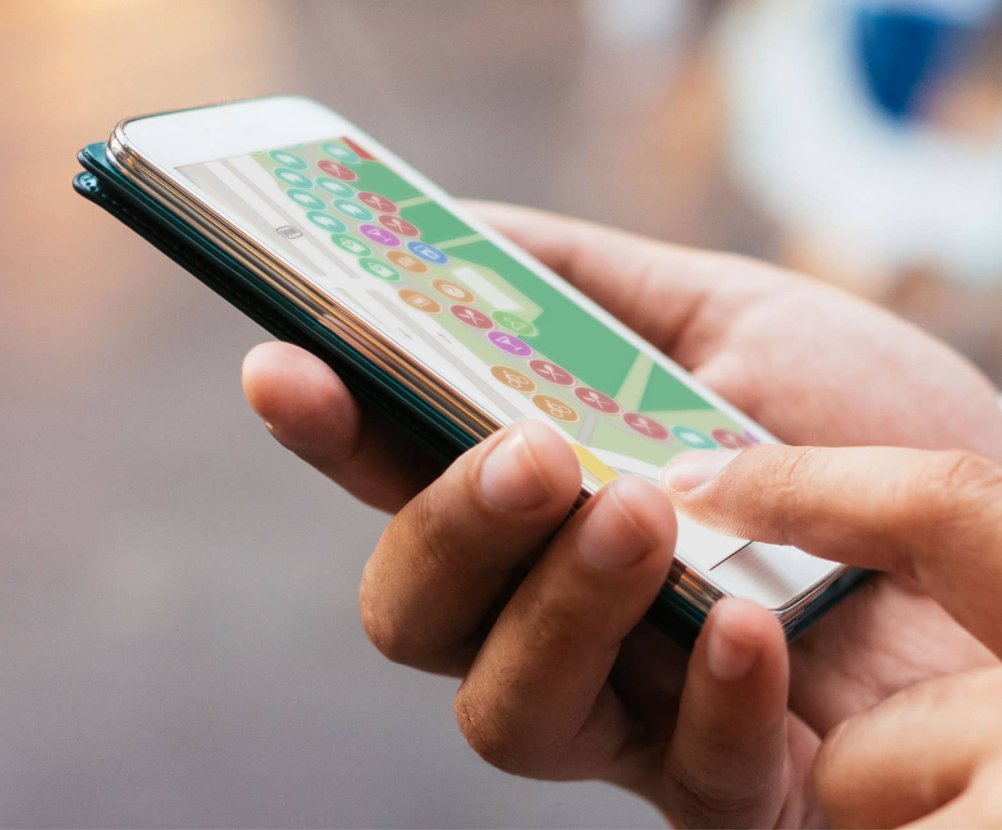 Article Highlights
Key Takeaway:
The tests by Google of enabling users to initiate public transit ticketing in its Maps app–a first for the search giant–could mean that Google plans to compete with such popular trip-planning apps as Transit and Moovit to offer more complete mobility-as-a-service platforms.
Key Data:
Organizations Mentioned:
• Google
• Token Transit
• Masabi
• Uber
• Moovit
• Transit
(This premium article was originally published in July 2020. © Mobility Payments and Forthwrite Media.)
Three small public transit agencies in the U.S. are quietly testing use of Google Maps and Google Pay to enable customers to first plan then pay for tickets. It's believed to be the first pilots of its kind for Google, a move that could mean the search giant plans to compete with such popular trip-planning apps as Transit and Moovit, which are starting to enable public transit ticketing and payments, Mobility Payments' sister publication NFC Times reported.
The move also could mean Google wants a more complete mobility-as-a-service, or MaaS, product. Whether that is true or not, Google Maps now integrates public transit scheduling and route data from thousands of public transit agencies globally but does not really go beyond trip planning, so any move into ticketing and payments for metro, bus, tram and other public transit initiated through Maps would be significant. And the mobile-ticketing technology provider for the three small pilots, San Francisco-based Token Transit, told NFC Times that it indeed plans to add more cities to the Google tests in coming months.
A Google spokeswoman confirmed to Mobility Payments' sister publication that it is testing the "ability to easily purchase transit tickets in Google Maps using Google Pay" and added that it is "working closely with the local transit authorities to continue improving the user experience in these cities."
Other trip-planning apps, such as Transit and Moovit, have already begun to enable ticketing and payments for public transit, especially Transit, which offers the service working with ticketing providers, such as UK-based Masabi and Token Transit in a small number of cities. For example, users can first plan then pay for ticketing in such mid-tier U.S. cities as Denver and Cincinnati through Transit.
And trip-planning apps such as Transit and Moovit, along with Google Maps, also list search results for other modes of transit, including ride-hailing services like Uber and Lyft and microtransit options, such as bike or scooter rental. In some cases, the apps enable ticketing and payment, working with the same ticketing vendors or linking directly with the service provider's site. Moreover, Uber itself has been enabling public transit ticketing through its own app.
Trip planning combined with booking and payment of fares, tickets or passes in the same app is the definition of a mobility-as-a-service, or MaaS, offer. And while there is debate over which types of companies should control MaaS platforms, providers of third-party trip-planning platforms, such as Google, have been mentioned as possibilities.
Google Starts Small
Token Transit already provides mobile ticketing through its software-as-a-service app to the three Google pilot transit agencies–San Joaquin County RTD, based in Stockton, Calif.; Kalamazoo Metro Transit, in Kalamazoo, Mich.; and Manatee County Area Transit, serving Bradenton, Fla, and nearby cities and towns. The pilots are low profile for now, since all three cities had suspended fare collection because of the Covid-19 pandemic in July 2020. But the agencies are still running the pilots, enabling users to search and book the transit tickets in Google Maps and Google Pay, but then charging $0 for the fare.
Zachary Browne, co-founder and head of operations for Token Transit, told the Mobility Payments' sister publication that the three pilots launched two to three months ago, and there has been little promotion so far.
"We're the only company working with Google right now to integrate ticketing into Google Pay and Google Maps; that's a big feature," Browne said. "It's an active development; we're rolling out more cities and more and more pass types later this summer."
Kathy Schultz, planning and development manager for Kalamazoo Metro Transit told the Mobility Payments sister publication that riders using the service can first plan their bus routes in Google Maps on their smartphones. "Riders can pick their destination, click on the transit link within Google (Maps) and see 'Buy and save Metro Transit tickets to your phone,' that links directly to Google Pay," she said.
Users can then store the tickets in the Google Pay wallet and can display the tickets there for visual inspection by bus drivers. But Schultz said that the tickets might be displayed instead in the Token Transit app if the riders have it on their phones.
A spokeswoman from Manatee County Area Transit in Florida described the procedure as even simpler than that. She told the Mobility Payments' sister publication that in the pilot, an icon for Token Transit appears on the search results screen in Google Maps when users click on the bus stop they will take to begin their trips. They can then click that icon and be taken to the Token Transit app or mobile website to buy the ticket.
And users don't even have to visit Google Maps first to book tickets with the three transit agencies on Google Pay. They can go into the Passes section of Google Pay, then click Transit to see the three transit agencies participating in the trial. After clicking the agency of their choice, they would be taken to Token Transit to buy a ticket.
Already Supporting Fare Payments with Cards
Google Pay already supports transit fare payments, but only with cards. It enables open-loop fare payments in several mostly large cities, such as London, New York and Sydney that accept contactless EMV credit and debit cards to pay fares. Google Pay also supports closed-loop transit cards in a smaller number of cities, such as Melbourne, Australia; and Portland, Ore. Neither the open-loop nor closed-loop card transactions begin in Google Maps.
Enabling open-loop or closed-loop cards in Google Pay, while not difficult, requires a lot more integration work than enabling mobile ticketing through software-as-a-service platforms, like those from Token Transit and such competitors as UK-based Masabi and U.S.-based Delerrok, now part of Cubic Transportation Systems.
These software-as-a-service ticketing platforms are quick for agencies to plug into and launch service for their customers, especially for mobile ticketing–often taking only a matter of days. And with mobile ticketing, they also don't require any up-front capital costs.
But large agencies usually want a customized platform that can handle a wide range of fare policies and features. And the agencies certainly want to support not only mobile ticketing but card-based fare payments. Also, even though Masabi and Delerrok can provide card-based fare collection in addition to mobile ticketing, their systems would likely be hard-pressed to handle fast-paced metro and bus services in large cities. Also, transit agencies must pay fees based on transactions or gross revenues as long as they use the software-as-a-service platforms.
Overall, contactless and mobile fare payments is in high demand in the aftermath of the Covid-19 lockdowns. This will no doubt spur continued interest by Google and other trip-planning apps to add mobile ticketing and payments to their app menus.
© Mobility Payments and Forthwrite Media. Mobility Payments content is for individual use and cannot be copied or distributed without the express permission of the publisher.