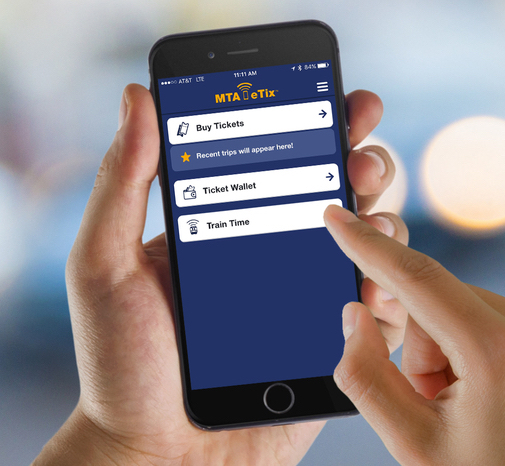 Article Highlights
Key Takeaway:
Third-party providers are promoting their cloud-based software-as-a-service platforms, hoping to encourage more transit agencies to outsource their fare collection via smartphone apps, especially agencies that still accept cash and paper tickets for fares.
Key Data:
• Table with details on three major SaaS ticketing platforms.
• Bar graph showing growth in mobile ticketing for commuter rail operators in New York.
Organizations Mentioned:
• Metropolitan Transportation Authority
• Masabi
• Cubic
• Token Transit
• Long Island Rail Road
• Metro-North Railroad
• Whatcom Transportation Authority
(This premium article was originally published in May 2020. © Mobility Payments and Forthwrite Media.)
As the Covid-19 crisis sows fear among mass transit customers and causes ridership on buses, trains and trams to crash, there is heightened interest in mobile ticketing and other electronic fare payments as a way to ease the concerns and help coax wary riders to return.
Third-party providers are promoting their cloud-based software-as-a-service platforms, hoping to encourage more transit agencies to outsource their fare collection via smartphone apps, especially agencies that still accept cash and paper tickets for fares. In figures collected by NFC Times, mobile ticketing for mass transit using these third-party platforms had already been increasing at a steady pace before the Covid-19 lockdowns, for both large and especially small agencies in the U.S. (See graph and text below).
And while mobile payments with NFC devices using such services as Apple Pay and Google Pay is also growing in such places as London and New York, only a limited number of agencies have enabled NFC mobile payments. Many more agencies, particularly smaller ones in the U.S., have hired third-party contractors to run their electronic ticketing for them.
The companies behind these so-called "fare-payments-as-a-service" platforms, such as UK-based Masabi, U.S-based Delerrok, now owned by Cubic Transportation Systems; and Token Transit, also of the U.S., are seeking to promote their platforms as a way for transit agencies to recover from severe damage to their fare business caused by the pandemic. Some agencies have seen ridership plunge by more than 90%.
Sort of like Salesforce for the fare-collection market, these cloud-based platforms have been growing in popularity. They are especially favored by smaller agencies because these agencies do not want to spend the time and upfront money needed to build their own mobile apps and electronic fare-collection systems.
Among the roadblocks to getting customers comfortable again riding in public buses and trains are fears riders have touching surfaces, such as fareboxes that accept cash, which may harbor the virus. That is despite more frequent disinfection by the agencies. The fare-payments-as-a-service platforms players have been keying on the advantages of their platforms as a way for agencies to quickly enable what Masabi co-founder and head of innovation Ben Whitaker calls "zero-touch ticketing." That's at the same time that agencies address longer-standing pressures to improve efficiency of their fare-collection systems and offer their customers more digital options.
"We think that challenge is coming right on the heels of the requirement that as we come out of the COVID lockdown period, more transit riders are going to want zero-touch ticketing," Whitaker said. "And they don't want it to come at the other end of a one- to three-year project. They want to see this happen quickly."
He asserts that fare-payments-as-a-service could help agencies introduce new technology, including account-based ticketing, mobile ticketing, cash digitization and mobility-as-a-service much more rapidly if they plug into a third-party, cloud-based platform like those that Masabi, as well as platforms that competing start-ups or former start-ups are offering.
Pros and Cons of Fare-Payments-as-a-Service
But there are trade-offs. While the transit agencies retain control over their fare rules and their data and can brand the white-label apps from the third-party providers, they don't own the servers, software or IP. Without this control, the agencies can neither offer full-on customization of the apps to their customers nor introduce new features that the third parties haven't yet added to their global platforms.
Also, while agencies avoid typically high upfront costs and a much longer time to market of developing their own apps and electronic fare-collection systems, they would have to continue to pay monthly transaction fees, or commissions, to the third-party vendors long after the capital costs of building their own platforms would have been paid for.
And the more customers use the third-party apps, the more the fees the agencies would have to pay to the platform providers, although the vendors usually offer incentives by decreasing the fee rates for longer contracts or as transaction volumes increase. The fare-payments-as-a service vendors also contend their fees come in well below what it would cost to agencies to operate and maintain their own mobile-ticketing systems, in addition to allowing the agencies to greatly reduce or avoid paying any capital expense. That is a key benefit for small and mid-tier agencies, which not only have trouble funding the cost of building the electronic fare-collection systems, at tens or hundreds of millions of dollars, but also could find it difficult to maintain them and keep them up to date.
The third-party platforms ordinarily charge either a percentage of each transaction, in the single digits, which is Masabi's revenue model; or a per-transaction fee, which Delerrok favors. For smaller agencies, those Delerrok fees start out at 10 U.S. cents per transaction for low volumes, then decrease progressively to 5 cents and then 3 cents per transaction for higher volumes. U.S.-based Token Transit charges a percentage of gross revenue, usually 8%, (or 7% plus 6 U.S. cents for transactions below $2).
The mobile-ticketing apps use either QR/bar codes, which users have scanned on board buses and on transit platforms or gates­ for authorization; or a simpler visual inspection method, in which riders display their digital tickets, often color-coded, to bus or tram drivers or train conductors.
Besides mobile ticketing, the fare-payment-as-a service platforms, especially Delerrok, also offer closed-loop contactless cards. Some agencies that use the cloud-based platforms accept both cards and mobile ticketing and some only accept one or the other.
Boris Karsch, vice president of strategy for Cubic, told NFC Times in late January that the systems integrator acquired Delerrok last fall because it "saw a lot of pent-up demand among smaller agencies (in the U.S.) for electronic ticketing." Many of these are agencies that still only accept cash or paper tickets. Cubic paid a total of around $43 million for Delerrok.
Cubic plans to add capability of accepting open-loop, contactless EMV, payments to the Delerrok platform and also trip planning, through its partnership with Israel-based Moovit, which was recently acquired by Intel. Masabi said it is also planning to enable payments of open-loop credit and debit cards and these credentials on NFC devices in Europe and North America.
Karsch said he could imagine that over time, the third-party fare collection platforms would be used by "larger and larger agencies." That is significant coming from Cubic, the largest systems integrator globally, which has built or is building complex fare-collection systems worth hundreds of millions of dollars for some of the largest public transit agencies globally, including those in London, New York, Chicago, Los Angeles, San Francisco and Sydney.
"Larger agencies still perhaps prefer more heavy customization and things like (advanced) user interfaces, etc.," said Karsch. "Over time, people will see the benefits of an 'as-a-service'model, same as, you know, even the largest companies right now use Salesforce because of the cost benefits and the proven track record of those solutions."
Adoption of Third-Party Platforms Grow
A sampling by NFC Times of U.S. transit agencies using platforms from Masabi, Delerrok and Token Transit shows that use of fare-payments-as-a-service with smartphones and cards has been growing at a healthy pace among riders.
Not only smaller agencies are showing higher use but also some large agencies, such as New York's Metropolitan Transportation Authority, which launched Masabi's Justride technology for mobile ticketing for its Long Island Rail Road and Metro-North Railroad commuter lines starting in 2016. The agency calls the service MTA eTix. Both services have seen steady increases and now each account for 40% of the number of tickets sold.
A spokesman for the MTA told NFC Times that the agency had originally projected that around 5% of tickets would be sold via the app in the first year, increasing to 20% after four years. Instead, he said, the MTA recorded mobile-ticket sales of 15% of the total number of tickets sold after six months, increasing to 40% of tickets sold just before the Covid-19 lockdowns.
Boston's Massachusetts Bay Transportation Authority launched mobile ticketing even earlier with Justride in 2012, and it now accounts for more than one-third of all tickets sold, according to Masabi.
Meanwhile, it took less than a year for a much smaller agency, the Piedmont Authority for Regional Transportation, or PART, in North Carolina, to see electronic ticketing account for around 40% of transactions. That was as of February 2020. The agency had fully rolled out Delerrok's TouchPass system on all its buses in July 2019, accepting fare payments from either mobile apps or closed-loop smart cards.
Scott W. Rhine, executive director of the authority, told NFC Times that about half of TouchPass users pay with their mobile phones and the other half with a smart card, which they can top up through the app. A survey the agency conducted in February showed that 42% of respondents said they were highly satisfied with the service and another 24% were somewhat satisfied. Only 8% said they were highly dissatisfied. Users load value into their TouchPass accounts and can get daily and monthly fare capping.
In Bellingham, Wash., the Whatcom Transportation Authority also launched TouchPass last summer and told NFC Times that 35% of rides on its buses are now paid for with the electronic payments service. More than 90% of TouchPass transactions use cards, the remainder are from the mobile app. As with PART in North Carolina, Whatcom users must choose to use either the mobile app or the card, not both. Whatcom provided nearly 4.5 million bus rides during all of 2019.
And in Greenville, S.C., TouchPass accounted for 18% of rides in January 2020, up from 13% in August 2019. Just under 80% of the TouchPass transactions were with cards, the rest from the mobile app. The city's transit agency delivered more than 50,000 bus and trolley rides each month before the pandemic. Greenville transit agency Greenlink also continues to sell paper tickets.
But Greenlink recently said it would no longer sell 20-ride paper tickets starting July 1 because the passes have to be punched by bus drivers after each boarding by customers. That creates possibly risky interaction between customers and bus drivers, said James Keel, the city's public transportation director. After July 1, all the passes will be loaded onto TouchPass cards or in the TouchPass app.
"Issuing tickets and transfers, handling money and hole-punching the paper passes all bring customers into close contact with our drivers," Keel reportedly said."TouchPass allows a touch-free form of payment, which is cleaner and safer for everyone."
As for Token Transit, RTC of Washoe County in Reno, Nev., launched mobile ticketing in December 2016 using the vendor's platform. After the first year, 2017, the agency had sold only 41,000 tickets. But that nearly doubled to more than 77,000 after the second year, 2018; and was up by 54% to 119,000 last year. According to the latest figures, from February 2020, mobile ticketing made up only 10.4% of the 615,000 bus rides the agency provided during the month.
San Bernardino, Calif., agency Omnitrans, which also works with Token Transit, had a similar penetration rate. The agency told NFC Times its mobile ticketing has grown from 4.8% of rides the first year after launch in mid-2018, increased to 5.8% the second year and hit 9.3% during February of this year.
MTA Runs Separate Ticketing Systems
New York's Metropolitan Transportation Authority, which runs the New York City Subway, by far the largest metro system in the U.S., along with a major bus system, also is the largest commuter rail operator in the country with its Long Island Rail Road, or LIRR, and Metro-North Railroad.
The slower-paced commuter rail lines, using Masabi's Justride platform, has seen strong growth in take-up of mobile ticketing since launching in 2016. The LIRR recorded 21% of the number of tickets it sold coming from the mobile app, eTix, in 2017, increasing to 38% in 2019. The rate further increased to 43% as of February, a spokesman told NFC Times. LIRR, in total, provided just under 120 million trips in 2019, according to the American Public Transportation Association, or APTA.
On sister commuter rail operator Metro-North, 19% of tickets sold in 2017 were paid for in the eTix app, increasing to 38% in 2019 and 40.5% in 2020 before the Covid-19 lockdown, the agency said. (See graph on this page). According to the APTA, Metro-North played host to 86.5 million total commuter rail trips in 2019. The other ticketing options commuters using the MTA trains have are paper tickets and MTA's mag-stripe MetroCard, which is being retired for all of MTA's transport modes.
The agency said the LIRR pays an average of $55,000 per month in fees to Masabi, while Metro-North paid $52,000 in December, one of the latest months for which figures are available. While Masabi usually charges agencies a percentage of the fare amounts, for the MTA, it is charging a per-transaction fee on a six-step sliding scale. The scale ranges from 5.9 cents per transaction for up to 5.99 million transactions down to 5.3 cents for 30 million or more transactions.
The MTA told NFC Times it believes the adoption of its eTix service is growing because it's easy and intuitive to use for customers, who can quickly buy all the tickets the commuter rail services offer, such as one-way, round trip, CityTicket, weekly and monthly, without waiting in line at ticket offices or using a ticket machine. Users pay with a credit or debit card they've registered in the app. The agency said the app has performed as expected, although it needed additional fraud-prevention tools.
Customers must activate their tickets in the ticket wallet of the app before they ride. When asked by conductors, they either show a color-coded ticket for visual inspection or display a bar code that the MTA employee scans.
There are no contactless mobile or card-based ticketing with eTix, which is completely separate from MTA's OMNY contactless and NFC enabled fare payments system, which launched a year ago. OMNY is being rolled out on MTA's New York City Subway and on the city's buses. And while Masabi's Justride system, in general, will later be able to accept contactless EMV cards, MTA said it is unlikely it will extend OMNY to the LIRR and Metro-North commuter rail trains because there are no ticket gates on commuter rail lines on which to install the contactless readers.
It means that MTA must fund at least two ticketing systems, but it says eTix is its "least expensive ticket distribution method." The fees it pays to Masabi amount to much less than 1%–just 0.17%–of fares collected on the LIRR and Metro-North, according to the MTA spokesman.
The eTix system required no capital costs because it requires no readers or QR code scanners. Authentication is done only by visual inspection.
Masabi also serves smaller agencies, including the Sonoma-Marin Area Rail Transit or SMART, in the San Francisco Bay Area. A spokeswoman told NFC Times that the SMART eTickets app, based on Justride, accounts for 15% of SMART's total paid fares. The app launched in 2017.
"Mobile ticketing is popular, but isn't currently growing because our app doesn't hold our most popular pass products," she said, speaking of the period before the pandemic. She blamed the lack of growth on availability of the contactless Clipper card used throughout the Bay Area. "Clipper connects to all the Bay Area transit districts, which the regular riders use in order to receive the best discounts."
'Zero-Touch Ticketing'
Of course, with the Covid-19 pandemic, there are many fewer tickets being purchased of any kind on public transit in many countries, especially major cities in the West. Transit agencies in the U.S. in the past month to two months have reported ridership falling by more than 90% during the lockdowns. Last week, New York's MTA officials joined with other U.S. transit officials in calling on Congress to allocate an additional aid package for agencies. The MTA itself estimates it will need a whopping $32 billion more to address shortfalls through 2021.
Since late March, the MTA has closed all of its counters and offices for the Long Island Rail Road and Metro-North and encouraged customers to use the mobile eTix service.
Like Masabi, Cubic is promoting its technology to agencies eager to welcome customers back.
"As transit agencies look to regain ridership post-COVID-19, the ability to do so safely goes beyond stringent cleaning, sanitization and social distancing," a Cubic spokeswoman told NFC Times in a statement. "Transit authorities are looking for additional ways to reduce the number of touch points the rider encounters during their journey. This means reduced cash handling, no exchange of physical media and reduced vending machine use. Agencies seek to give their riders the option to pay via mobile app, mobile wallet, bar code or contactless credit card, reducing touch points and giving riders increased confidence their journey can be conducted safely."
Yet, while transit agencies, like banks and payments networks are seeing increased interest for contactless and NFC mobile payments–there are exceptions in terms of customers' avoidance of cash. For example, Tonya Anderson, senior product manager for electronic fare collections for Denver transit agency RTD, said on a recent Masabi-sponsored webinar that during the coronavirus pandemic, essential workers–the main people taking transit these days–are mostly paying with cash.
As NFC Times earlier reported, RTD before the pandemic had been selling around 270,000 mobile tickets per month–mainly from its own app based on Masabi Justride. Anderson noted that while the pandemic and associated lockdowns have caused the percentage of sales of mobile tickets to fall by nearly 83%; and the value charged to the agency's closed-loop contactless smart cards to drop even more, by just over 90%. But fare box revenue–that is, cash–had only fallen by only 63%.
London transit authority Transport for London went completely cashless on its buses in 2014. But for U.S. agencies, it's clear that despite fears that notes, coins and paper tickets will harbor the virus, these forms of payment and fare media are likely to prove very difficult to eradicate–unless the agencies stop charging fares altogether, which some have done during the pandemic.
"Transit agencies should still take cash, as many riders lack banking or mobile phones, so you can't save money by getting rid of fareboxes," said Ed Park, transit planner at RTC Washoe in Reno.
© Mobility Payments and Forthwrite Media. Mobility Payments content is for individual use and cannot be copied or distributed without the express permission of the publisher.