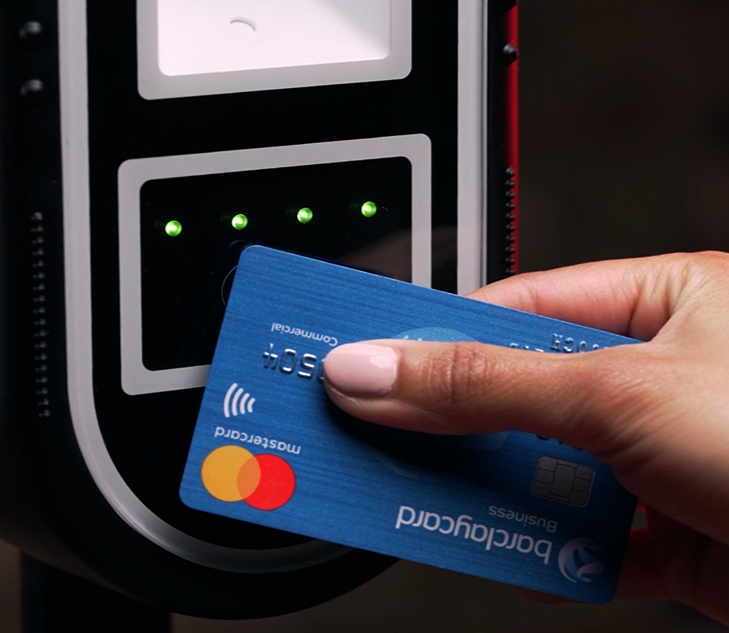 Article Highlights
Key Takeaway:
Software-as-a-service ticketing platforms, which are increasingly used by transit agencies to quickly enable contactless and mobile ticketing, are starting to also enable open-loop payments with their cloud-based platforms.
Key Data:
The NEORide consortium is now installing more than 1,000 validators on buses through Masabi. The units cost $1,200 apiece, plus $425 per unit for installation, not counting warranty and training.
Organizations Mentioned:
• Masabi
• Littlepay
• Cubic Transportation Systems
• NEORide Consortium
(This premium article was originally published in June 2020. © Mobility Payments and Forthwrite Media.)
In what is believed to be a first, a transit agency in Europe plans to accept contactless credit and debit cards using a third-party software-as-a-service platform this summer, according to UK-based platform provider Masabi, although the company declined to name the agency. The project is expected to begin as a pilot.
Masabi told Mobility Payments' sister publication NFC Times that it believes that the Covid-19 pandemic has convinced transit authorities and operators of the need to offer contactless and mobile payments–either open-loop or closed-loop–if they don't already offer it, because these modes of payment reduce use of cash and paper tickets, which are considered a risk for spreading the coronavirus.
Masabi recently signed a deal with EMV transit payments gateway and processor Littlepay to help package its technology for transit agencies, with their "cEMV-in-a-Box" product. Littlepay announced the deal this week and told NFC Times there would be a pilot later this year. Masabi confirmed that the first open-loop project involving its Justride "fare-payments-as-a-service" platform would support cEMV in a box.
Demand for Contactless Expected to Increase
Transit agencies and operators are "preparing for a post-pandemic world (that is) trending towards contactless payments," Masabi marketing head James Gooch told NFC Times." A key requirement of this is to make the ticketing and payments experience as safe as possible, which means minimizing the need to handle cash, tickets and ticketing infrastructure. For this reason, we have seen a strong interest in contactless EMV and other contactless-ticketing options."
Meanwhile, other software-as-a-service vendors, such as U.S.-based Delerrok, which was recently acquired by Cubic Transportation Systems, is expected to enable its TouchPass platform to support contactless EMV, as well. Cubic, the world's largest fare-collection systems integrator, has implemented open-loop fare collection for some of the largest transit authorities globally, including those in New York, Sydney and for London's showcase open-loop service that rolled out across all modes of transport overseen by Transport for London in 2014. Cubic finalized its acquisition of Delerrok for a total $43 million early this year to tap the small to mid-tier agency market in the U.S.
"Over time, we will bring the full suite of Cubic capabilities to the platform, open payments being a near-term add to the platform," Boris Karsch, vice president of strategy for Cubic, told NFC Times in early 2020. (Karsch in October 2020 because senior product unit director for TouchPass at Cubic).
Large-scale fare collection implementations like Cubic offers to big agencies can take years and cost tens of millions of dollars to implement, much more if the integrator operates the system.
Trade-Offs for Using Third-Party Platforms
With fare payments-as-a-service platforms like those from Masabi, Delerrok and such other vendors as Token Transit, transit agencies can launch with much lower upfront costs and much faster time to market. But there are trade-offs. While the transit agencies retain control over their fare rules and their data and can brand the white-label apps from the third-party providers, they don't own the servers, software or IP. Without this control, the agencies can neither offer full-on customization of the apps to their customers nor introduce new features that the third parties haven't yet added to their global platforms. Sometimes the platforms can't support complex fare policies, say critics.
These cloud-based platforms charge a flat fee or percentage of each transaction or a percentage of gross fare revenue to operate and maintain the fare payments platforms. They provide mobile ticketing and also closed-loop contactless card payments. Some agencies only use mobile ticketing, some use both. Customers create accounts and load them in apps or online, mainly with credit and debit cards. This flavor of account-based ticketing can then be expanded to acceptance of contactless EMV credit and debit cards and card credentials on NFC phones and wearables as an option. That is what the platform providers are gearing up for now.
Agencies Face Budget Constraints
But expanding to contactless EMV requires transit agencies to install new terminals on board buses and at train gates. That's an expensive proposition for smaller agencies, especially with budgets under great pressure from recent lockdowns that caused ridership to plummet by 70%, 80% even 90% or more.
"PostCovid-19, with budgets tightening, it will be interesting to see how transit authorities progress," one industry veteran said. "What I am hearing is that many want 'touchless' ticketing, which could be account-based or card-based, open or closed, as well as MaaS (Mobility-as-a-Service) encompassing adjacent methods like bikes, scooters, parking, etc. But the existing proprietary ticketing solutions cannot readily enable this within the financial constraints they have."
The NEORide consortium, made up of 13 small and mid-tier transit agencies in the U.S. states of Ohio and Northern Kentucky, is using state and federal transportation grants to enable contactless EMV ticketing. NEORide launched mobile ticketing last fall on buses using technology from Masabi. Now it is expanding to contactless cards, and the contactless card readers in the validators it is buying will also be ready to accept EMV-credit and debit cards and card credentials on NFC devices. The consortium is now installing more than 1,000 validators on buses through Masabi. The units cost $1,200 apiece, plus $425 per unit for installation, not counting warranty and training, Katherine Conrad, director of client services for NEORide, told NFC Times. The group is using a $3 million grant from the Ohio Department of Transportation and also U.S. federal grant money for the project. 
Masabi's Justride platform is not apparently able to handle contactless EMV transactions in North America, yet, however. Ben Whitaker, Masabi's co-founder and head of innovation, told NFC Times earlier this year that while he expected live transactions in Europe this summer, it would be the end of this year or early next year before agencies would do live contactless EMV transactions on the Masabi platform in the U.S.
It's not clear whether that time schedule has changed in the aftermath of the Covid-19 lockdowns, but Masabi's Gooch this week also said the U.S. would follow Europe in live EMV transactions and also for support for the cEMV-in-a-Box product with Littlepay.
"The adoption of contactless bank cards is still lower in the U.S., but this is changing quickly and the demand for cEMV transit solutions in North America will follow," Gooch said.
Through its partnership with Littlepay, Masabi would be able to offer its validators and readers with connections to the Littlepay payments gateway. The gateway, in turn, would connect fare transactions with the acquirer when a rider taps to pay a fare. A Littlepay spokeswoman told Mobility Payments' sister publication NFC Times that it already has integrations with such acquirers as Elavon, Valitor and Global Payments/TSYS, as well as a gateway connection via Cybersource. All or most of these companies also process transactions, although the spokeswoman says Littlepay can also process EMV transactions for fare payments. She also confirmed that Littlepay can support the open-loop fare payments Model 2, which allows for aggregated processing of fares and fare capping.
The cEMV-in-a-Box setup does not include a specific acquirer. One would need to be selected by the transit agency. The entire end-to-end fare transaction chain would then need to gain certification, as well.
As NFC Times reported in March, UK-based Littlepay, founded in 2016, announced that it had won the gateway contract with the Helsinki Regional Transport Authority. The Finnish authority plans to accept contactless EMV payments on its multimodal system, including its buses, metro, trams and ferries. A pilot is planned around the beginning of next year and the rollout is expected to be completed in 2023. The service will also support daily and weekly fare capping.
Littlepay now handles contactless EMV payments on board most of the public transit buses in the UK outside of London, including the entire fleets outside of London for three of the country's top five privately owned bus companies, Go-Ahead, First Group and Arriva, totaling more than 17,000 buses. The company spokeswoman said Littlepay has other projects in the pipeline in Europe and the U.S. Besides Helsinki, it also has a project planned Portugal.
Moreover, like Masabi, she indicated that Littlepay is seeing more interest in the U.S. as the Covid-19 lockdowns are eased.
"We have especially noticed increased demand in the U.S. where, until recently, contactless adoption had been slow," she told NFC Times. "At Littlepay, we have not seen any projects to deploy contactless EMV cancelled. In fact, we have seen some accelerated."
© Mobility Payments and Forthwrite Media. Mobility Payments content is for individual use and cannot be copied or distributed without the express permission of the publisher.