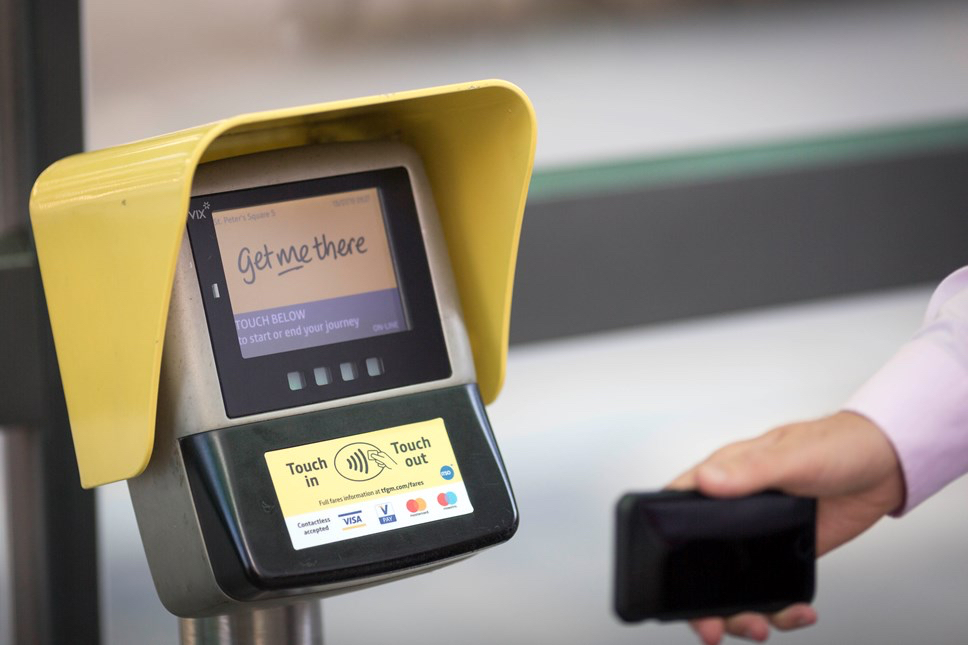 Article Highlights
Key Takeaway:
Contactless open-loop payments got off to a fairly fast start for Transport for Greater Manchester and its Metrolink tram service after the service launch in July 2019, especially the percentage of contactless transactions from NFC wallets.
Key Data:
Of the 170,000 rides paid for with contactless between July 15 and Aug. 11 (2019), 82.2% were from contactless EMV cards, 17.4% from NFC smartphones and 0.4% from NFC smartwatches. The NFC phones and watches are linked to wallets from the major Pays services, such as Apple Pay, Google Pay and such wearables only services as Fitbit Pay and Garmin Pay.
Organizations Mentioned:
• Transport for Greater Manchester
• Transport for London
(This premium article was originally published in August 2019. © Mobility Payments and Forthwrite Media.)
Transport for Greater Manchester, which last month launched open-loop payments on its large Metrolink tram network, said Thursday that contactless credit and debit cards and NFC wallets accounted for a combined 170,000 rides during the first four weeks of the service.
That number of contactless rides works out to around 5% of total rides that the 93-stop, 100-kilometer Metrolink network sees during an average four-week period. That is not bad for the first month of contactless service, though is well below contactless usage in London and also on UK buses outside of the capital, where contactless payments launched much earlier. But the percentage of contactless payments on the Metrolink tram made with devices tied to NFC wallets is already slightly above the rate seen in London, NFC Times has learned.
Tapping with NFC Wallets
A spokesman for Transport for Greater Manchester told Mobility Payments' sister publication NFC Times that of the 170,000 rides paid for with contactless between July 15 and Aug. 11, 82.2% were from contactless EMV cards, 17.4% from NFC smartphones and 0.4% from NFC smartwatches. The NFC phones and watches are linked to wallets from the major Pays services, such as Apple Pay, Google Pay and such wearables only services as Fitbit Pay and Garmin Pay.
Those percentages have held from the first day, July 15, that the Manchester transit authority launched contactless on its trams. A spokeswoman said that customers used contactless debit and credit to pay for more than 4,000 journeys that day–83% by contactless EMV cards; 16.5% with smartphones and 0.5% with smartwatches.
By comparison, in London across all transit modes, NFC wallets linked to such devices as smartphones and smartwatches accounted for 16% of contactless journeys, with the rest of the contactless transactions coming from EMV cards. That is according to a report issued in June by banking and payments group UK Finance, citing information from Transport for London, as NFC Times reported in August 2019. Of course, Transport for London oversees much larger services and total contactless transactions are in the millions per day.
Use of NFC wallets for transit payments in London is growing, increasing by around 6 percentage points over the past two years: In April 2018, Transport for London said NFC devices made up one in eight open-loop contactless transactions, or 12.5%, with the rest coming from EMV cards. In July 2017, the share of open-loop payment transactions was one in 10, or 10%.
The New York Metropolitan Transportation Authority announced this past week that of the first one million contactless transactions from the first phase of its OMNY open-loop service, 80% were NFC wallet transactions and 20% contactless bank cards. But this ratio is considered misleading, as NFC Times reported, because major U.S. issuers are just now rolling out significant numbers of contactless EMV cards. So there are still few contactless cards in the pockets of New Yorkers.
As NFC Times reported last week, the open-loop payments service from Transport for Greater Manchester last month was the first open-loop service offered on any type of rail transit in the UK since Transport for London extended open-loop payments to the London Underground and light rail in September 2014. Transport for London had launched open loop on buses in December 2012. Buses in Manchester have supported contactless payments earlier, though the contactless terminals on board buses give riders a physical ticket.
London Still Leads in Overall Contactless
The 5% of total transactions on the Metrolink trams in Manchester from contactless cards and NFC wallets compares to a much higher percentage of overall contactless transactions from both cards and wallets in London.
The London transit authority's open-loop service has become popular and has become a global showcase for open-loop fare payment. Recent figures cited by UK Finance show that customers in March used contactless credit an debit EMV cards or card credentials on NFC devices for a combined 54.2% of all pay-as-you-go transactions, with the remainder paid for with the closed-loop Oyster card. Pay as you go is the largest category of fares on The London Underground and some other modes of transit overseen by Transport for London. But customers can't pay season tickets, travel cards or youth, senior or other concessionary fares with open-loop contactless. These ticket types make up a significant percentage of rides, but pay as you go surpassed season tickets in 2016.
Meanwhile, since Transport for London launched its open-loop service, major privately held UK bus operators outside of London have been equipping all of their buses to accept contactless.
The top five bus companies in the UK: Stagecoach, Arriva UK, First Bus, Go-Ahead and National Express now accept contactless on their entire fleets–a combined 24,700 buses, noted UK Finance. And all told, a total of 72% of mass transit buses throughout the UK, including those owned by municipalities, now accept contactless.
Contactless adoption rates for transit buses across the UK outside of London are around 25%, said UK Finance. The rates are highest in the Southeast of the country, closer to London, at around 50%; and lowest in the Northwest, around 12%.
There were no figures for what percentage of the contactless payments on buses outside of London were made with NFC wallets, on either smartphones or wearables.
Neglecting to Tap Out
Meanwhile, the rollout of open-loop on the Manchester trams hasn't gone completely smoothly. The transit authority said that some customers paid more than they should have because they neglected to tap out upon leaving the tram.
The service in Manchester goes further than most of the contactless payments so far launched on buses outside of London. It aggregates the fares that riders pay throughout the day, and offers daily fare-capping discounts. This is the same open-loop fare-collection model as Transport for London uses, known as model No. 2, although there are some differences between the two implementations.
The failure to tap out by Manchester tram customers means they are automatically charged the maximum fare per ride of £4.60 US$5.59). And this fare also doesn't quality for the daily fare cap of £7 (US$8.50).
The transit agency offered some refunds the past month and has increased its information campaign to remind customers to tap out at their stop.
"We recognize this is a different way of paying for travel, and it will take some people a little while to adapt, which is why our customer information has an emphasis on the need to 'touch-in' and 'touch-out.' "