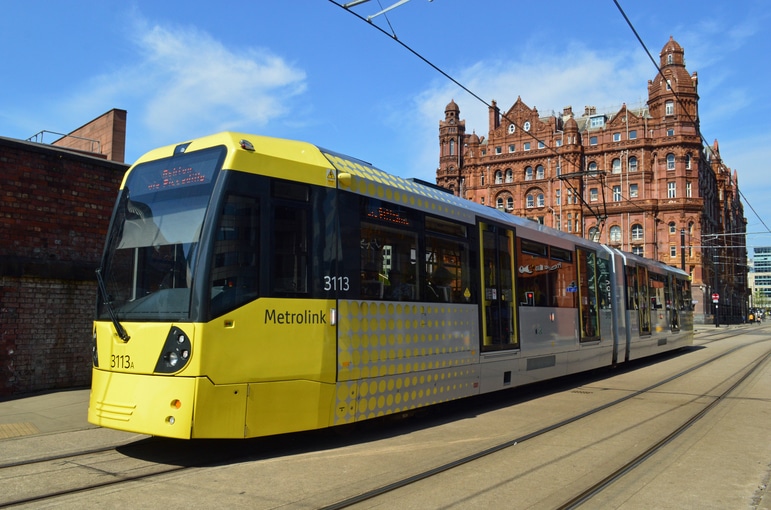 Article Highlights
Key Takeaway:
Transport for Greater Manchester has seen use of NFC mobile wallets more than double as a share of contactless payments for its tram service over the past two years. The pandemic, which encourages passengers to use their own fare media, is believed to be one reason for the growth.
Key Data:
• Chart: Growth in use of NFC wallets in Manchester
Transport for Greater Manchester in the UK is the latest transit agency seeing substantial growth of contactless open-loop fare payments from NFC mobile wallets–with the percentage of its contactless tram trips paid for with Apple Pay, Google Pay and other Pays services more than doubling over the past two years, Mobility Payments has learned.
The percentage of total contactless trips that customers are tapping for with their NFC-enabled smartphones and wearables reached 39% this month, the agency told Mobility Payments. The other 61% were paid for with contactless EMV debit and credit cards. The trips are on the Manchester transit authority's Metrolink tram, the largest network of its kind in the UK in terms of ridership outside of London.
That current contactless penetration rate for NFC mobile wallets is up from 18% in September 2019, a couple of months after Transport for Greater Manchester had launched open-loop contactless payments for its tram network. The share of NFC wallet payments hit 30% of all contactless journeys a year ago. (See chart this page.)
Contactless payments–with both EMV cards and NFC smartphones and smartwatches–is also increasing as a percentage of total rides–reaching 35% as of this month. That is up by 12 percentage points from a year ago, said a spokeswoman. Users can also pay for tram rides with closed-loop fare cards, concessionary cards, printed tickets and a mobile app using visual inspection by agency staff for ticket validation.
Besides Apple Pay and Google Pay, Manchester Metrolink tram riders can also tap to pay with credit and debit card credentials stored in wallets for Samsung Pay and Garmin Pay.
Much of the increase in contactless payments, including from NFC wallets, has come during the pandemic. Transit agencies globally have been reporting an increase in use of electronic payments, in general–with many passengers perceiving that these payments methods are safer than more traditional fare media.
And Transport for Greater Manchester is not the only agency seeing growth in use of NFC mobile wallets. As Mobility Payments first reported in August, Transport for New South Wales in Sydney said NFC payments services like Apple Pay account for more than half–or 55%–of all contactless open-loop payments. Contactless payments, including from cards, in turn make up more than 30% of all rides. A spokeswoman for the Australian transit agency attributed the increase in use of smartphones and wearables mainly to the pandemic. And a transit agency official also recently credited the convenience of contactless with helping to fuel the growth.
Meanwhile, Transport for London, which oversees public transit in the UK capital, said recently that customers are tapping their smartphones and smartwatches to pay for rides for around one quarter of all contactless trips. That's up from just over 20% of contactless fare payments originating from mobile wallets in February 2020, Mobility Payments reported.
But although the percentage of contactless and NFC transactions are up substantially during the pandemic, total contactless rides probably have suffered because of the sharp dropped in ridership.
According to figures from the UK Department of Transport, Transport for Greater Manchester saw ridership for its Metrolink tram service plummet to 10.3 million trips for the 12 months ending in March of 2021. That's down 76.7% from the previous 12 months.
This sharp drop likely impacted total contactless rides, which the Manchester transit authority announced this week had topped 5 million since the agency launched open-loop contactless in 2019. And those 5 million contactless rides were still a small percentage of total rides delivered across greater Manchester during that time, including by bus, which are mostly provided by commercial bus companies.
Transport for Greater Manchester is hoping to replicate the success of contactless open-loop payments in London, where such payments account for more than half of all rides across several modes, including metro, bus, light rail and national rail in and around the London.
However, while Transport for Greater Manchester offers daily and, more recently, weekly fare capping for contactless pay-as-you-go rides–which is similar to what Transport for London offers–the fare capping in Manchester only applies to Metrolink trams rides. There is no integration with contactless systems enabled by the commercial bus companies or other modes of transport.
But Manchester officials, working with the UK government, said they plan to offer a "London-style" multimodal fare system by 2024, which would include a daily cap and single multimodal ticket. Trains will be integrated by 2030, officials said.
© Mobility Payments and Forthwrite Media. Mobility Payments content is for individual use and cannot be copied or distributed without the express permission of the publisher.