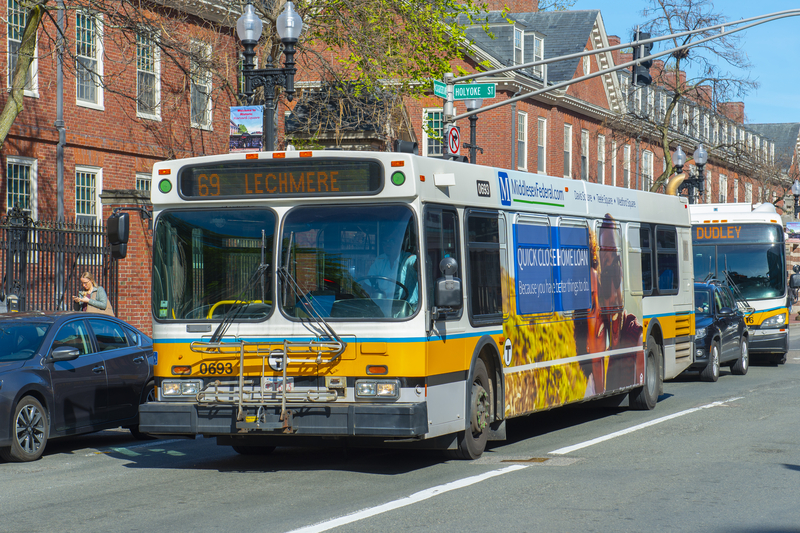 Article Highlights
Key Takeaway:
Agencies that have moved to electronic fare payments need a way to accommodate customers who don't have EMV payments cards or smartphones or don't want to use them to pay fares. Using more retail cash reload locations and other alternatives, agencies have set goals to rid cash from their vehicles, although that is often not easy to do.
Key Data:
The state of California is seeking to help agencies reduce their rate of cash acceptance by enlisting fintechs to offer open-loop card alternatives and other products to accommodate the unbanked and underbanked, which officials estimate make up 25% to 30% of the state's population.
In the wake of the Covid-19 pandemic, elimination of cash has taken on greater urgency for transit agencies. Fare-collection system suppliers say they are seeing strong demand for cashless options, including linking their mobile ticketing and contactless closed-loop card products to retail networks where customers can use cash.
Agencies that have moved to electronic fare payments need a way to accommodate customers who don't have EMV payments cards or smartphones or don't want to use them to pay fares. Using the cash points, networked by fintech companies such as InComm Payments and Payzone, combined with ticket machines in stations, transit agencies are seeking to accommodate their customers who are unbanked and underbanked, along with those who wish to pay cash.
Many agencies have already rid themselves of direct cash payments and fareboxes, such as those in major Asian cities, such as Tokyo, Hong Kong and Taipei, which use reloadable physical and virtual fare cards on smartphones that customers also use for retail payments with a broad network of merchant acceptance points. Customers also can reload the cards at these locations. That's in addition to being able to reload card accounts online.
In the West, agencies only use closed-loop fare cards for transit payments, so in addition to machines and ticket agents in stations and online networks, where available, the agencies in major cities use a network of merchants that earn commissions to sell and reload fare cards. For example, there are 4,000 tickets shops, including newsagents, in London that can sell and reload Oyster cards.
Big Agencies Move against Cash
That helped Transport for London end all cash acceptance on buses in 2014, a high-profile move that the authority reportedly said would save £24 million (US$40.7 million) per year at the time. That included a "one more journey" feature that allowed customers to take one additional trip if they didn't have money on their closed-loop Oyster cards. The same year, Transport for London had rolled out open-loop payments to all its modes of transport, after having started on buses in late 2012. This also reduced the need for cash, and when it ended cash acceptance on buses, cash reportedly only made up less than 1% of fares.
The Massachusetts Bay Transportation Authority, or MBTA, in Boston plans to completely do away with cash fare payments on its various transport modes when it rolls out its massive new fare collection system, scheduled to be completed by 2024.
"We really made sure that we (will) have a very expansive sales network, and a lot of different ways to load remotely," Nealay Vasavda, MBTA's technical lead for policy implementation, said at a recent virtual conference. He added that the agency also will offer customers the "ability to go negative" on their fare cards, and to "pay the agency back later." That raised some complaints from the community that some riders would be given a free ride, which is not the case, said Vasavda.
In New York City, which has been rolling out a new OMNY fare collection system focused on open-loop payments since 2019, plans call for introducing a contactless closed-loop OMNY card this year. The card would give customers who don't have open-loop credit, debit or prepaid cards–or who don't want to use them to pay fares–an option other than the agency's aging mag-stripe MetroCard, which will be phased out in 2023. An estimated 12% of MTA customers are unbanked.
Customers will be able to purchase the OMNY card in more than 4,000 retail outlets, mainly drugstore chains in New York City and, later, in vending machines. The latter will enable customers to purchase and reload their cards at New York City subway stations. MTA will work with prepaid payments service provider InComm to distribute and manage closed-loop OMNY as reloadable gift cards.
The fare collection systems in London, Boston and New York has been implemented by U.S.-based Cubic Transportation Systems.
State of California Seeks to Enlist Fintechs
The California Department of Transportation, or Caltrans, is leading an initiative, Cal-ITP, to help the state's 300-plus transit agencies, most of them small bus operators, to move to open-loop fare payments.
Alongside that, the state is seeking to help agencies reduce their rate of cash acceptance by enlisting fintechs to offer open-loop card alternatives and other products to accommodate the unbanked and underbanked, which officials estimate make up 25% to 30% of the state's population.
Already onboard is San Francisco-based Square Inc. with its Square Cash app, which enables users to send and receive funds and add value that they can use with a companion debit card, which is based on EMV technology. Monterey-Salinas Transit, which is trialing open-loop payments, plans to introduce Square Cash cards soon, Other agencies adopting open-loop contactless EMV cards will likely do the same.
Another example of new EMV-enabled cards that unbanked and underbanked people can use to pay fares is the Angeleno Card, which is a free prepaid debit card for low-income Los Angeles-area residents.
But in the tendering documents, the California officials said that the fintechs and other alternative card would not be enough. "We see that the current state of the issuance market does not provide sufficient solutions for every existing transit payment use case, and cash may need to continue to be accepted for some time."
SaaS Platforms See Demand to Reduce Cash
Eradicating cash is often more difficult for smaller agencies, which usually run only bus services, including rural routes that offer few, if any, stations where consumers can reload cards at machines or at ticket counters.
As they face more pressure to offer contactless and mobile ticketing, a number of smaller agencies are signing up with software-as-a-service ticketing platforms, which allow the agencies to plug into the platforms to begin offering touchless ticketing with a quick time to market and low start-up costs–especially if the agencies only offer mobile ticketing with visual validation by bus drivers.
When asked, UK-based SaaS ticketing vendor Masabi told Mobility Payments it was seeing strong demand from transit agencies to reduce their cash handling by enabling cash reloads and ticket purchases from retail locations.
"Yes, we are seeing this as a massive trend, with nearly every RFP now including an element on how to handle cash effectively, efficiently and safely," said James Gooch, Masabi's head of marketing. "The new reality created by the Covid pandemic has seen transit agencies prioritize the implementation of contactless payment methods for all rider segments."
Masabi announced in late May that it was enabling cash-based ticket purchases for customers of transit operator National Express West Midlands through more than 1,300 merchant outlets in the region supporting bill-payment network Payzone. Customers can pay cash or use other forms of payments that the shops accept and display a bar code in the white label National Express app that Masabi provides, branded mTicket. Payzone uses an API from Masabi to send visual and bar-code tickets to customers using that white-label app.
U.S.-based SaaS ticketing platform Bytemark told Mobility Payments it also was seeing higher demand from transit agencies for reducing cash handling and was enabling the cash reload service through its own white-label app for agencies in Austin, Texas; Des Moines, Iowa; and Seattle, Wash. The services use InComm Payments' VanillaDirect Pay.
"What it lets people do is you can either buy a ticket, or you can add money to a wallet depending on whether the agency has wallets or not, at a retail store, and then what happens is the app will pull up a bar code and the retailer can scan that bar code, and then you can pay cash at the retailer, and then the money is added to your account or is used to purchase a ticket," said Stephanie Schrauth, VP, product strategy & marketing at Bytemark.
Masabi said it enables cash-loading services at retail locations for three transit agencies in the U.S., including Las Vegas NV; Duluth MN; and Dayton OH; also working with InComm Payment's and T-Cetra, the latter for the Dayton Regional Transit Authority. And today, it announced it had added the NEORide consortium, which handles fare collection for 13 agencies in Ohio, Kentucky and Michigan, though the cash acceptance will be at agency centers, not merchants, at least for now.
Dayton RTA's Brandon Policicchio recently said the agency has set up more 200 retail outlets, each within a quarter-mile of the agency's bus routes or stations. Customers can reload their accounts on the agency's app or on contactless closed-loop cards the agency began issuing in April 2021.
Continued Challenges for Small, Mid-Tier Agencies
As Mobility Payments has reported, RTA's goal is to completely eliminate cash from its transit vehicles by the end of this year, a target it had moved back earlier this year. The original goal was to end cash acceptance by June 2021, but Policicchio told Mobility Payments the agency might not remove all of the cash fareboxes from its buses until the third or fourth quarters of this year. As of January 2021, cash usage accounted for 28% of rides, down from 43% in May 2020. But the reduction in cash usage leveled off starting in October 2020, and didn't drop much after that.
In Las Vegas, RTC of Southern Nevada has had little success in reducing cash usage at all on the buses it operates, where cash payments still make up 60% of all fare payments.
"So far, we haven't seen a huge decrease in that cash acceptance, oddly enough," said revenue operations supervisor Michelle Whitney, speaking at a Transit Ticketing Digital conference in March.
She added that the agency is happy with the usage of mobile ticketing by customers, which is mainly through its local rideRTC app. RTC has seen 30% adoption on its mobile app, and before the pandemic actually had more tourists using the app instead of ticket vending machines or some other options the agency had made available for purchasing tickets, Whitney said.
But serving the gambling mecca of Las Vegas means that many customers, both residents and visitors, carry cash and want to use it to pay fares, she said. She added that in addition to the cash-heavy tourist trade, Southern Nevada has a large population without access to debit cards or credit cards.
"I don't see it (cash) ever going away, especially here in Las Vegas," Whitney said.
That may be the case in Las Vegas, but most transit agencies elsewhere would like to see cash retired for good from on board their buses and at train and other transit stations, using digital payments, retail cash-handling networks and fintechs to rid their organizations completely of notes and coins.
© Mobility Payments and Forthwrite Media. Mobility Payments content is for individual use and cannot be copied or distributed without the express permission of the publisher.