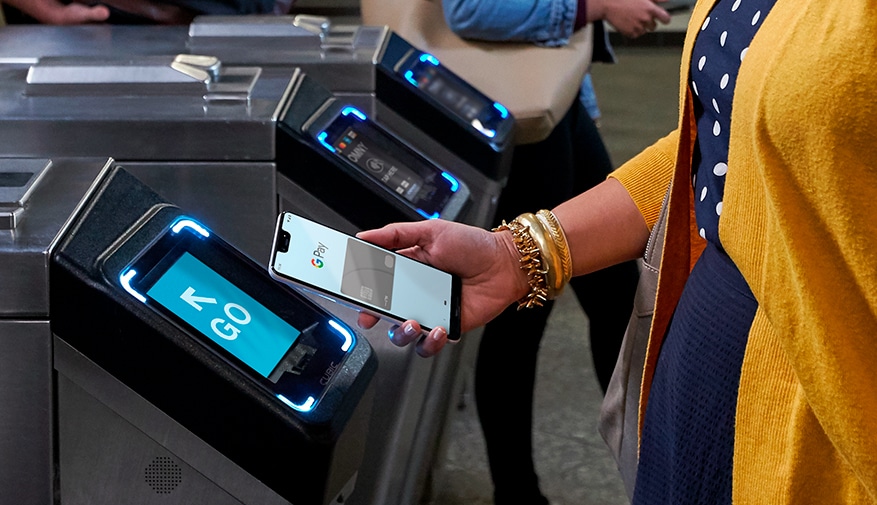 Article Highlights
Key Takeaway:
NFC wallets account for a growing share of contactless fare payments for major transit agencies, as Covid-wary customers see the convenience of using their smartphones or wearables to pay.
Key Data:
Chart: Percentage of trips from NFC wallets out of total contactless trips for four major transit agencies.
Transit agencies that have rolled out open-loop contactless payments are seeing growing use of NFC wallets to pay fares, as Covid-wary passengers see convenience in tapping their phones or wearables to pay.
Such high-profile open-loop fare payments projects as those in New York City and Sydney are seeing more than half of all contactless transactions coming from NFC wallets (see chart below), with such payments services as Apple Pay, Google Pay and Samsung Pay.
New York's Metropolitan Transportation Authority told Mobility Payments this week that as of the second half of September, NFC wallets made up 67% of all contactless transactions for its open-loop OMNY service. That is actually down from the past two years, but still represents strong usage.
Transport for New South Wales in Sydney, Australia's largest transit authority, has said that more than half of all of its contactless rides–or 55%–are coming from NFC-enabled smartphones or wearables supporting the Pays wallets, as Mobility Payments first reported in August. That is up from 35% earlier this year. The rest of the contactless trips are paid for with physical contactless credit and debit cards.
The Sydney transit agency has attributed the growth of NFC wallets to both the pandemic–which causes riders to seek more personal fare media–and the greater convenience of NFC devices. All told, contactless cards and NFC wallets account for more than 30% of all rides delivered by the agency.
Meanwhile, Transport for Greater Manchester told Mobility Payments last week that 39% of contactless payments for rides on its Metrolink tram are from NFC wallets, up from 30% a year ago–and more than double that of two years ago.
And Transport for London, whose open-loop payments service is the largest in the world, released a figure late last month saying that 25% of rides on the Underground, buses and other modes of transport it oversees are with NFC wallets. That's an increase from just over 20% of contactless fare payments originating from mobile wallets in February 2020. The authority said that more than half of all rides, both pay as you go and season tickets, are paid for with open-loop contactless cards or NFC devices.
Veteran UK-based consultant Tim Jefferson said he believes that while the spike in contactless payments during the pandemic is boosting use of both cards and NFC wallets for fare payments and other in-person transactions, NFC wallets are growing faster than physical contactless cards because of the "ease of use" for customers to tap their smartphones to pay.
"It's mainly due to riders having their mobile handsets in their hands and not having to get their payment cards out to ride," Jefferson, senior consultant for The Human Chain/FirstPartner, told Mobility Payments.
Among the projects the firms are working on are those involving open-loop payments and account-based ticketing. Jefferson said that besides transit agencies in London and Manchester, those in such other major UK and European cities as Edinburgh, Rome and Milan are also seeing "substantial" use of NFC wallets for paying fares, with rates he estimated at 25% to 35% of all contactless trips. Open-loop payments services in Brussels and Bonn are seeing lower use of mobile wallets.
Meanwhile, in the Saudi capital Riyadh, which will soon launch large metro and bus systems, Jefferson expects the vast majority of the contactless rides will be paid for with such NFC payments services as Apple Pay and the local Android-based wallet mada Pay. Market research indicates that 90% of contactless payments already come from smartphones at retail in the country, "so modeling suggests that this will be the same or higher on the bus and metro network," he said.
Use of smartphones and wearables to pay for fares on the New York City Subway and buses are following a different dynamic than in most other open-loop cities. While more than two-thirds of OMNY transactions come from NFC wallets, that is actually down from 73% in the fall of 2020 and 80% in August 2019, after the system had recorded its first million transactions.
A key reason is that unlike most other developed countries, NFC Pays wallets rolled out first in the U.S., followed more recently by physical contactless EMV credit and debit cards. But New York is one of the cities that banks have been targeting with their new and replacement dual-interface cards, in part because they know customers can tap the cards to ride the subway and buses in the city with the OMNY service, in addition to paying at a growing number of contactless-enabled merchants. According to Visa, more than 70% of Visa-branded cards in New York were contactless as of the end of 2020, up from 5% when the MTA rollout began in May 2019.
Riders in New York can also tap any of five Pays services to cover fares: Apple Pay, Google Pay, Samsung Pay, Fitbit Pay and Garmin Pay.
© Mobility Payments and Forthwrite Media. Mobility Payments content is for individual use and cannot be copied or distributed without the express permission of the publisher.