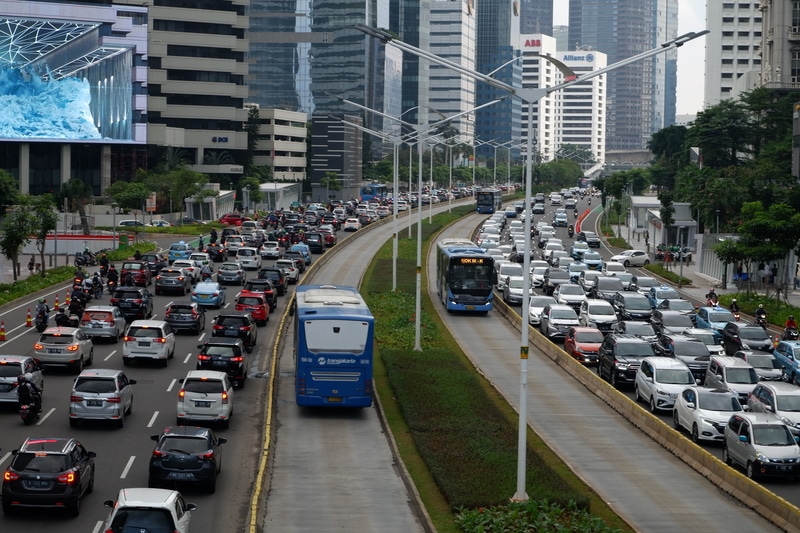 Article Highlights
Key Takeaway:
Indonesian capital Jakarta has been rolling out more public transit options along with plans to expand to multimodal fare collection and mobile ticketing, as it deals with serious traffic congestion.
Key Data:
Jakarta reportedly lost nearly US$5 billion per year before the pandemic because of the gridlock, including workers idled during their hours-long daily commutes.
Organizations Mentioned:
• Jakarta Lingko
• Thales Group
Indonesia's capital Jakarta, whose metropolitan area is home to more than 30 million people, is notorious for its stifling traffic congestion. In response, the government launched metro and light-rail networks and now it is funding an expansion of the fare-collection system to enable more multimodal payments and to build a mobility-as-a-service platform.
Jakarta Lingko, known as JakLingko, a transit operator-owned company that integrates fare payments and connections in the large Jakarta metropolitan area, known as Jabodetabek, awarded a reported Rp 900 billion (US$64 million) project to a consortium that includes France-based Thales Group. Thales announced the eight-year build-operate-transfer project Friday, though the consortium it belongs to was essentially awarded the deal several months earlier.
That was after JakLingko reportedly cancelled or rescinded the award to a consortium that included Indonesian telco Telkom, digital payments provider Gojek and NEC. Thales' consortium includes Indonesian electronic payments network Jatelindo Perkasa Abadi; Aino Indonesia, a payments gateway and processor; and MaaS technology supplier Lyko.
JakLingko aims to offer the ticketing and payments service across the area's various transit modes, including metro, light-rail, buses, commuter trains and even online motorcycle taxis. Plans call for supporting a contactless closed-loop card more widely, as well as a QR-code-based mobile app. Update: The latter has already launched in the first phase of the project on Sept. 29.
A spokeswoman for Thales' Ground Transportation Systems division told Mobility Payments that backers are calling it a common ticketing and MaaS project because the consortium is building a platform and mobile app that will provide door-to-door route-planning and fare information and payments across multiple transport networks. It will cover five public transport systems, including Transjakarta BRT (bus rapid transit) and MRT Jakarta, along with light rail, commuter rail and an airport train. End update.
By August of 2022, the final phase of the project is scheduled, which will introduce account-based ticketing. ABT will enable the consortium to move the system off the existing card-centric architecture and to enable the system handle up to 5 million transactions per day, said Thales. That will be up from 2 million trips per day for earlier phases. Update: Thales has implemented similar ticketing platforms for transit agencies in Qatar, Egypt and Thailand, the spokeswoman said. End update.
According to reports, the consortium will make its money by charging Rp 100 to Rp 150 per transaction, or up to about 1 U.S. cent each. At 5 million transactions, that would amount to as much as US$50,000 per day.
By 2029, the government hopes to increase use of public transportation to 60% of all trips in greater Jakarta, noted Thales.
All of that depends on whether officials can persuade more commuters to get out of their cars and scooters to relieve the traffic woes that beset the Indonesian capital. Jakarta reportedly lost nearly US$5 billion per year before the pandemic–because of the gridlock, including workers idled during their hours-long daily commutes.
© Mobility Payments and Forthwrite Media. Mobility Payments content is for individual use and cannot be copied or distributed without the express permission of the publisher.