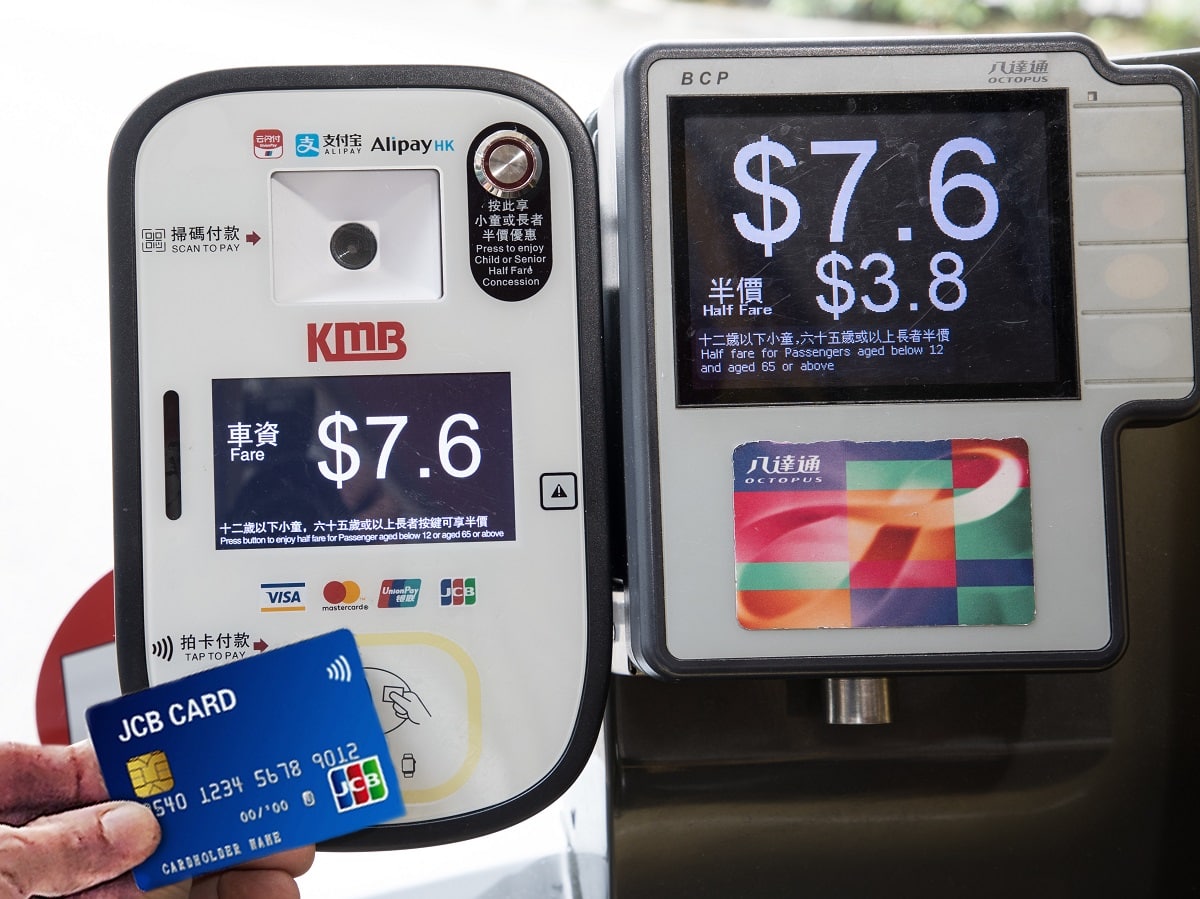 Article Highlights
Key Takeaway:
Major bus operators–and shareholders in Octopus Holdings–have launched open-loop contactless payments in Hong Kong, a move that offers competition to the dominant payment method for low-value purchases in Hong Kong–Octopus.
Key Data:
Three operators now accept contactless EMV cards and NFC wallets, in addition to QR code mobile ticketing on nearly 3,000 buses combined. Plans call for another 3,000 buses to be equipped by the end of the year.
Organizations Mentioned:
• MTR Corp.
• Bravo Transport
• Kowloon Motor Bus
• Octopus
Two more bus operators in Hong Kong on Saturday launched acceptance of open-loop contactless fare payments, with both also accepting QR code-based mobile ticketing–as the near ubiquitous closed-loop Octopus card continues to see more competition.
Bravo Transport Services, owner of both Citybus and New World First Bus, announced it began accepting contactless EMV cards and credentials in NFC wallets on a combined 1,700 buses in Hong Kong over the weekend. That follows Kowloon Motor Bus, which in August expanded contactless open-loop payments to 1,000 buses it operates in the Chinese territory.
Kowloon Motor Bus, or KMB, said it plans to equip its entire fleet of around 4,000 buses to accept open-loop payments by the end of the year, in addition to taking three QR code-based mobile ticketing services
All three bus operators, Citybus, New World First and KMB, now accept contactless EMV cards branded Visa, Mastercard and UnionPay, along with EMV card credentials on Apple Pay, Google Pay and Samsung Pay-though not all of these wallets support UnionPay. In addition, KMB in August began to accept JCB contactless cards, as well.
The three operators earlier began taking QR code-based ticketing and payments, including from users of the AlipayHK wallet. KMB noted that, as of August, it was accepting a total of 10 electronic payments "methods" on the first 1,000 buses it had equipped for e-payments. Besides the four contactless payments brands and three NFC wallets, KMB said it also accepts QR code payments from the AlipayHK EasyGo, service, Alipay Transit QR code service from mainland China and a separate QR code service from Union Pay.
Together, the three Hong Kong bus operators own just over 20% of Octopus Holdings Ltd., the parent of Octopus Cards Ltd. operator of the Octopus card.
They are the first shareholders of Octopus to support open-loop payments, which now is a direct competitor to Octopus for transit fare payments, in addition to earlier competition for retail payments.
Octopus has been a dominant presence in Hong Kong's payments market. It's carried by more than 95% of residents of Hong Kong and is accepted not only for fares on buses, trains, light rail, taxis and other modes of transport in the Chinese territory, but also by retailers throughout the district. Other applications include paying parking fares and access control for government buildings.
MTR Corp., which runs the Hong Kong metro network, along with other transit rail services, owns most of Octopus Holdings. MTR hasn't said it would move to contactless EMV payments, but early this year it launched another competing payments service to Octopus–QR code ticketing on its heavy rail operations. Some believe it could only be a matter of time before MTR also accepts contactless open-loop payments.
Transit operators–and their government owners–in a number of other Asian cities, including Tokyo, Seoul, Taipei and Kuala Lumpur, have resisted the move to open-loop payments in the past, as well. As in Hong Kong, these operators or transit authorities co-own shares in e-purse companies that have expanded far beyond transit. Singapore was an exception, with Land Transport Authority rolling out contactless open-loop payments on its metro and bus networks in 2019.
© Mobility Payments and Forthwrite Media. Mobility Payments content is for individual use and cannot be copied or distributed without the express permission of the publisher.