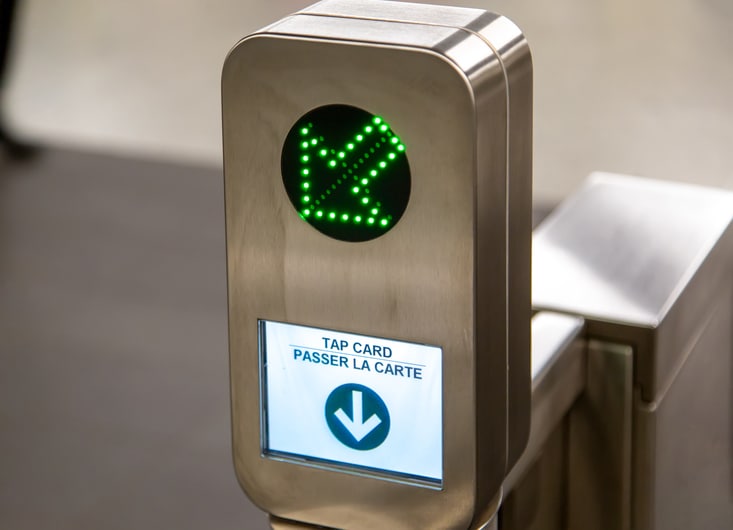 Article Highlights
Key Takeaway:
More transit agencies are taking a modular approach to building their new or upgraded fare systems.
Key Data:
• Table: Some agencies taking the modular approach
• Table: Pros and cons of modularity
Transit agencies planning to roll out new electronic fare-collection systems have typically hired automated fare-collection vendors to handle the entire projects, from supplying the validators and payments processing to building or procuring the back office and integrating the various parts into a complete system.
But a number of agencies today are taking a different approach–breaking their procurements into "lots," which they contract for separately as they put together the building blocks of their new or expanded fare systems.
The agencies aim to hire multiple vendors and use more commercial off-the-shelf software, along with open APIs as they replace their legacy systems or add new and innovative services. With the modular, open-architecture approach, they believe they will be able to roll out the new technology more quickly and at a lower cost, while avoiding being locked into single-source suppliers and their technology.
Fueling the changes are growing expectations by transit agency customers for more mobile-based services, open-loop payments, interoperability across various transit modes and mobility-as-a-service, or MaaS, Tim Jefferson, UK-based senior consultant for The Human Chain/FirstPartner, told Mobility Payments.
But this approach also comes with some risks for agencies, which have been used to procuring their fare-collection systems from large vendors, whom they rely upon for just about everything, including system integration, he said. Agency financing models are built around funding these single-vendor procurements that usually come with high Capex costs and last seven to 10 years.
"Agencies also have to have the in-house or external IT capability to be able to procure, set up and run" these new systems, "along with their legacy fare business," said Jefferson. "This approach will not work for all agencies."
In addition to changing their funding models, agencies would need to adapt their procurement processes and alter their appetite for risk, he said. That being said, "even the biggest in the world, Transport for London, TfL, is taking this (modular) approach with its new procurement, Project Proteus, to replace its single-source vendor approach with a multivendor, flexible API approach."
TfL: Seeking 'More Modular Solutions Based on Open Standards'
TfL for many years has contracted with U.S.-based automated fare-collection system vendor and system integrator Cubic Transportation Systems. But unlike most agencies using a large fare system vendor like Cubic, TfL years ago took greater control of its fare system and owns key intellectual property.
While Cubic still plays a significant role in TfL's closed-loop Oyster and open-loop payments systems, that could end in 2025, when the agency's new fare-collection contract or contracts will take effect. In a market notice in late 2020 of the forthcoming procurement, which the agency estimated at the time would be valued at £1.1 billion (US$1.4 billion), TfL signaled it would use the procurement as an opportunity to try out a new approach–to "disaggregate elements of the contract."
In other words, it would take the modular approach. Kevin Fallon, TfL's lead commercial manager, expanded on the concept at a conference last year.
"There is significant interest in our change and innovation roadmap to take our highly successful but bespoke system and journey toward a more modular solution based on open standards," he said.
Breaking Up a 'Monolithic, Heavily Customized Platform'
If TfL is the largest transit agency in Europe to disclose plans to go modular, Toronto's Metrolinx is probably the largest in North America to make known its intention to pursue the approach.
In a request for information it issued a year ago, Metrolinx called for "radically changing the way it contracts" for fare collection, noting that it had spent more than CA$1 billion (US$787 million) on its Presto closed-loop system since its inception 15 years ago. One of the top goals for the new procurement is to reduce costs.
Among other things, Metrolinx said it wants to "move away from an unpredictable, never-ending set of change requests."
Lowering costs is a key goal for transit agencies, which have been hit hard by falling ridership and plummeting fare revenue because of the pandemic.
But long before the pandemic, Presto, launched in 2009 after around three years of planning and tests, had come under criticism at various times for delays, cost overruns, and untendered extensions for the main vendor, IT services firm Accenture.
Metrolinx had been planning to end its master services agreement with Accenture in October of this year, with the agency in procurement documents noting that it wants to move away from its present "monolithic, heavily customized platform that is costly to maintain."
But the planned procurement in Toronto may be a good example of the difficulties agencies face in moving on from their legacy systems and dominant vendors. Agency planners appear to have badly miscalculated how long the transition would take.
A Metrolinx spokeswoman confirmed to Mobility Payments that the agency has granted a three-year extension to Accenture to 2025.
A local report said that Metrolinx officials had heard from vendors and potential bidders on the new contracts that, among other things, a six-month transition period was not long enough for them to take over for Accenture. This, in part, would risk the agency not receiving enough viable bids from vendors other than Accenture to have a truly competitive tendering process. The extension comes at significant cost to the agency, according to the report.
"We extended the Accenture deal to 2025 to bridge the procurement process and ensure a smooth transition to new systems and contracts without interruption to customer service," the Metrolinx spokeswoman told Mobility Payments in a statement.
Metrolinx in earlier procurement documents said its new approach is to have a "multivendor operating model encouraging competition" across the ecosystem.
The spokeswoman told Mobility Payments that the agency will separate the services it tenders into several distinct "procurement lots." The system could include third-party application providers and software-as-a-service platforms, potentially plugging into the open architecture through APIs.
But plans for the lots are changing somewhat because of the need for Metrolinx to enable open-loop payments as soon as possible for at least some of the 11 transit operators that use the Presto card, including the Toronto Transit Commission. TTC runs bus, metro and streetcars in Toronto, Canada's largest city. Open loop was promised years ago but has yet to be delivered outside of a pilot on the UP Express airport rail link that Metrolinx itself runs.
One of the lots was going to be for around 5,000 new validators for bus and light-rail for the TTC. That is apparently off the table for now, as Metrolinx seeks to adapt existing terminals to accept contactless credit and debit cards.
The remaining lots include a contract for a vendor to supply an account-based back office that can support open loop, virtual Presto cards and limited-use tickets.
There will also be separate RFPs to find vendors to manage the Presto website and mobile app and to run the call center and customer care. Importantly, there will be lots for a system integrator to handle end-to-end technical integration for the technology from the various new contractors and one for an outside service integration and management firm. The latter would help Metrolinx design, introduce, manage and measure the services provided by the other vendors.
The agency said it will require all products, services and designs to use open standards and commercial off-the-shelf software and hardware wherever possible. It will also require sufficient rights of access to all IP so that any custom-developed software could be used beyond the term of the contract.
'Definitely Where Industry Wants to Go'
Mark Langmead, director of revenue for another large Canadian transit authority, TransLink in Vancouver, told Mobility Payments that he believes that "open architecture is definitely where this industry wants to go."
TransLink has hired Cubic for two bespoke projects–its closed-loop Compass card, which fully launched in 2015; and open-loop payments acceptance, rolled out on top of the agency's 5,000 Compass card readers and launched in 2018.
Compass, which also had reportedly experienced delays and cost overruns, is now used by customers to pay for 96% of rides, according to TransLink, while users of Visa- and Mastercard-branded credit cards and other open loop payments still only tap for fewer than 2% of trips. The main reason for that is that the agency offers 20% to 30% discounts for customers using Compass, while it still charges the higher cash price for open loop.
Langmead did not specifically criticize Cubic or the single-source vendor-led model. But he, nonetheless, indicated that TransLink would look hard at the modular approach for its next major procurement, whenever that occurs. This open architecture approach could benefit transit agencies in a "big, big way," he said.
"You don't want to buy the walled garden system if you can avoid it," Langmead said, adding that open architecture would make it so "the very independent components of your revenue collection system can be interchanged with the latest and greatest without having to swap out the entire system."
As an example of the potential for using open technologies, agencies need look no further than the standard smartphone, he said.
"The power of a smartphone and the price point of the smartphone–you could put a smartphone on every bus to collect all the fares," he told Mobility Payments. "You've got a self-contained thing that communicates to your back end. You could easily upgrade that as you want, as opposed to buying a bespoke piece of hardware that a certain manufacturer makes and may stop making as soon as they don't have customers."
Langmead said an agency using this procurement approach could either serve as its own system integrator, if it had the staffing, expertise and facilities; or it could go through the RFP process to separately hire a company to handle integration for the project.
See below for Cubic's position on this trend.
Agency: Learning Curve Could be 'Rocky Road'
The Helsinki Regional Transport Authority, or HSL, said it will take the former option, serving as its own system integrator.
HSL has already contracted separately for a merchant acquirer in Denmark-based Nets and a payments service provider in UK- and Australia-based Littlepay. It recently issued another tender request for the project, this one for 4,500 validators for its metro, buses, trams and ferries.
HSL said that the modular approach would enable it to "adopt new technologies and services faster in the future." And by keeping control of the IP of the core system, it would have more flexibility to develop its own new services or to procure them from third parties. The agency is not the only one in Finland taking the modular approach. Others, including those in the cities of Tampere and Oulu, working through a centralized IT procurement agency, are also separately sourcing the acquirer, PSP and validator pieces for an open-loop payments system.
HSL told Mobility Payments that it has no illusions about the difficulty of taking on the new role of system integrator, however.
"The new role demands new competencies, knowledge, processes and most of all–a new mindset," a spokeswoman said. "The learning phase is a rocky road, and there is not a system integrator onboard to smoothen the ride."
The agency told Mobility Payments that the open-loop rollout is part of an account-based ticketing system, which will only cost around €15 million (US$17 million). That no doubt includes the cost of the 4,500 validators, but it's not clear how much of the €15 million estimate includes operating expenses. Both the acquirer and PSP charge ongoing fees, the latter for its software-as-a-service platform. (See table on pros and cons of the modular approach on this page.)
An agency spokeswoman did not respond to a follow-up request for a breakdown of the cost estimate, but backers of the modular approach say they believe HSL will be saving a significant amount of money by letting separate contracts.
Targeting Smaller Agencies
The modular approach also could help small to mid-tier agencies to procure new fare systems, especially to introduce open-loop payments, Paul Griffin, Littlepay's global head of commercial, told Mobility Payments. He contended that smaller agencies are usually hard-pressed to find a large system integrator to respond if they want to hire one to build their fare system.
"Small to mid-tier agencies wouldn't even have the phone answered by the likes of these SIs," Griffin charged. "They cannot get out of bed for anything less than a city with two million people."
Littlepay, a six-year-old start-up, has been aggressively pushing the modular concept for agencies that want to roll out open-loop payments. HSL in Helsinki is perhaps the largest of the single agencies that the start-up is working with, but the SaaS vendor mainly targets small to mid-tier agencies for its services, including calculating fare capping and providing a form of PSP.
The vendor got started enabling private bus companies serving various cities in the UK to handle contactless credit and debit cards and is working on all five cities in Finland now rolling out open loop. Besides Helsinki, Tampere and Oulu, the list includes Hämeenlinna and Vaasa, both cities with fewer than 70,000 people.
"We're seeing more modular RFPs coming through now," said Griffin. "We're seeing RFPs hit the street at the moment in places like Spain, France and Sweden. They are actively segregating the payments piece from the back-office piece from the devices piece, and the advantages there are obvious. It brings competition and radically reduced cost."
The California Integrated Travel Project, or Cal-ITP, in the U.S., which seeks to help the state's more than 200 transit agencies that offer fixed-route bus service to roll out interoperable open-loop payments systems, is also taking the modular approach. Under the plan, the agencies–mostly small bus operators­–will be able to order from among multiple vendors that the state has lined up to sell validators, fare-calculation software and acquiring services.
While Cal-ITP's "mobility marketplace" is somewhat different from agencies sending out their own separate RFPs for validators, back office, PSP, acquiring and perhaps mobile app development, the concept is the same. They are seeking to separately procure the components for a system that are designed to be plug and play.
Griffin said agencies like those Littlepay is working with, including the Cal-ITP program, are closer to pure modular procurements than those from TfL and Metrolinx. He said he believes the pure-play agencies won't need a system integrator. That's because the various vendors, including the validator makers and PSPs, are using open standards and international EMV specifications. In addition, the technology of the vendors offering different parts of the system may already be pre-integrated and at least partly certified.
He acknowledges that implementations become more complex if an agency wants to support both closed-loop and open-loop fare-collection systems. While Griffin said he believes there are viable open-loop alternatives for agencies to support unbanked and underbanked customers and offer concessionary senior, student and other discounts, most agencies use closed-loop proprietary cards to accommodate these customer segments.
Still, Griffin argues that the industry is definitely moving toward a modular and open-architecture approach and away from single-source system integrator-led implementations. That doesn't bode well for these large suppliers, he contends.
"They've been very successful over many years in locking it down, but the expectation from the agencies will start to shift, and they'll start to make demands of companies like Cubic and larger SIs to say, 'No, I want to have a choice of terminal. I don't want to have to spend inflated prices on my terminals when I can get them on the market at a third of the price.' "
Cubic: 'Patchwork Approach' Can be Expensive
Cubic Transportation Systems, the largest fare-collection system integrator globally, with projects worth hundreds of millions of dollars apiece going on in New York, Boston, San Francisco, Brisbane and elsewhere, said it sees the trend for more modularity largely as one of "piecemeal solutions." Agencies want to add services or features to their legacy fare-collection systems, as they seek to get the maximum return on investment on their existing systems.
The agencies have good intentions, but the "patchwork approach" can lead to "overlap in capability, or worse case, gaps," Andy Taylor, Cubic Transportation Systems' senior director of global strategy, told Mobility Payments.
"The agency also needs to know that the cost of building and evolving their system over time can often be far higher than procuring a solution from a vendor directly," he contends. "As budgets get trimmed, I see the desire from agencies to look at incremental changes to what they already have to improve services, but I still see these incremental costs being higher than what a single procured standard solution could be."
Gary Yamamura, president of technical and management consulting firm Edept, noted that agencies have been separately buying components of fare-collection systems, such as validators or mobile apps, for years. But no agency has yet convincingly demonstrated that the full DIY (do-it-yourself) approach is viable, said Yamamura, who also served a roughly one-year stint at Cubic starting in early 2020 after the vendor completed its acquisition of SaaS ticketing supplier Delerrok, which he co-founded.
"What I do not believe is that it's feasible for an agency to buy validators in one procurement, a mobile app in another, TVMs in a third and a generic back-end system later, all from different, unaffiliated suppliers, and expect an integrator that didn't supply the back-end system to successfully put them all together in a reasonable timeframe, within a reasonable budget and with the types of features that would compare well against the proprietary solutions of the leading AFC (automated fare-collection) integrators," Yamamura told Mobility Payments.
Cubic's Taylor said agencies shopping for bargains from smaller vendors could find that the low initial "sticker price" they are offered often doesn't represent all the costs they will end up paying.
"Say, for example, you just needed validators on your buses and you wanted them cEMV (open-loop) compliant only, then yes, some of the smaller hardware manufacturers could sell you them for a price," he said. "But then you have to consider the physical installation, integration into the back office, certification, validation, training, service and maintenance–and as long as the price you are being quoted covers all of that, then that's not an issue."
It's like buying a car in the U.S. The initial sticker price could make the cost look cheap, until you sit down in the dealer's office to fill out the paperwork, he said.
"All of a sudden there are license registration fees, relocation fees, sales tax, personal property tax, decal fees, dealer fees and a myriad of other fees you didn't know you were going to have to shell out for," Taylor said. "As long as agencies go into the modular approach and fully understand what the true cost of acquisition and integration will be, then it's a perfectly viable route."
Taylor also disputed that Cubic is only interested in large procurements. "We will engage with any city to discuss their specific needs and offer them a solution that meets that agency's unique needs, at a price point and business model that makes sense." It's not clear that when it comes to bidding on RFPs from smaller agencies, whether he was referring only to Cubic's SaaS ticketing offer, Umo, which targets small to mid-tier agencies.
Large Fare-System Vendors Offer Modules, Too
There is no denying that more transit agencies are considering the modular approach. And major fare-collection system integrators, such as INIT, Scheidt & Bachmann, Thales and Vix Technology, which often provide their own validators for their all-in-one projects, also bid on RFPs for agencies seeking to source components separately. For example, INIT, Scheidt & Bachmann and Vix recently bid on the Cal-ITP modular contracts in the U.S. INIT and Vix submitted separate proposals to supply both validators and fare-calculation software. Scheidt & Bachmann only bid on the fare-calculation software.
Cubic, which didn't bid on the Cal-ITP contracts, nonetheless, said it could supply modules where agencies demand them. The supplier, for example, promotes its Urban Mobility Back Office as supporting "industry-standard open APIs" and a modular architecture that agencies could procure as a component if they choose, then add third-party applications and devices.
Taylor said agencies could talk to Cubic about new models, "where we can co-develop specific modules that could then be licensed for resale to other agencies, so more people benefit, and the original agency gets a share of the license fee."
In a somewhat different deal announced in 2016, Cubic said it would pay licensing fees of up to £15 million to Transport for London to customize the pay-as-you-go contactless payments system it worked on with TfL for other agencies. It now promotes this TfL-like functionality as part of its back office offer.
Taylor said Cubic tries to provide standard APIs for its fare systems, when available. Agencies, however, have usually asked for a "project-based" approach in their procurements and have "very rarely" asked for a "productized" approach. While not specifically endorsing the modular model, he did add that he expects to see more agencies choosing open technology that could include third parties providing parts of the fare-collection system.
"That is changing, and I foresee more off-the-shelf solutions being procured in the future, which will drive down the cost of acquisitions," Taylor said. "That will benefit the customer at the end of the day as they may choose a Cubic back office with third-party validators or a mobile app, for example."
Large fare-collection system implementations that basically rely on one major vendor are not going away anytime soon. But it seems clear that more and more agencies are looking for alternatives to avoid being locked into solitary-supplier contracts and proprietary technologies.
© Mobility Payments and Forthwrite Media. Mobility Payments content is for individual use and cannot be copied or distributed without the express permission of the publisher.