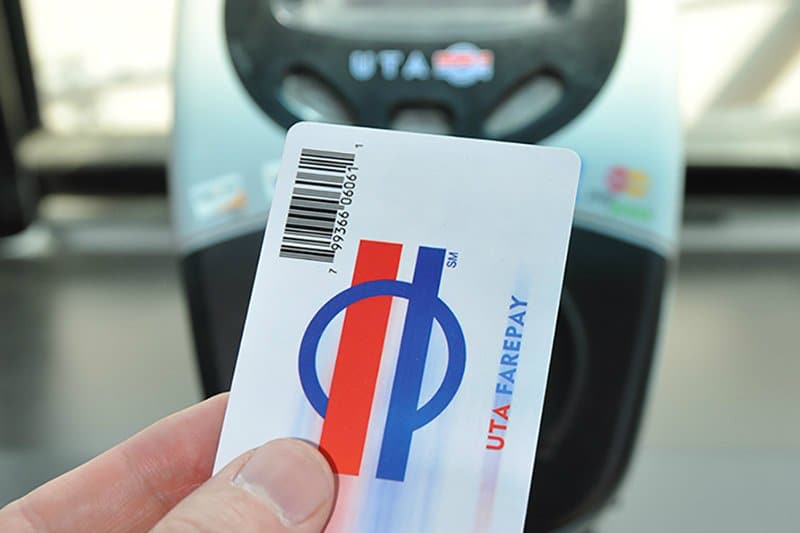 Article Highlights
Key Takeaway:
The Utah Transit Authority has hired fare-collection system vendor Scheidt & Bachmann with a $32.2 million contract to implement and host its new account-based ticketing system, including replacing all validators and ticket-vending machines and also swapping out its mobile-ticketing system.
Key Data:
Table: 8-Year Contract Costs
The Utah Transit Authority has hired fare-collection system vendor Scheidt & Bachmann to implement and host its new account-based ticketing system, including replacing all validators and ticket-vending machines and also swapping out its mobile-ticketing system, which itself was replaced on an interim basis last year.
The contract, which was finalized last week, is to run for eight years for a total of $32.2 million, with an option to extend. It calls for Scheidt & Bachmann to deploy the new validators, TVMs, mobile inspection devices, a back office, as well as the mobile-ticketing app in three years for $21.9 million in "initial" costs. (See table on this page.)
The deal also includes about $10.2 million for five years of "post-deployment services." These will be costs for hosting the back office and maintenance and support for the various hardware and mobile app. UTA referred to these five years of fixed and variable costs as "ongoing pricing," not specifically as operating expenses. The section of the contract with this information was heavily redacted before being released by the agency.
Even if the ongoing pricing are operating expenses, however, it may not include all of the opex for the fare system. A consultant for UTA in 2021, estimated opex for a new electronic fare-collection system would cost nearly $34 million over 10 years from the vendor alone. Including agency operating costs would increase opex to nearly $100 million, not counting maintenance and support for fareboxes.
UTA expects the new fare system to be "up and running" by mid-2026, including enabling users to reload the agency's closed-loop FAREPAY cards at the new ticket-vending machines, as well as online and through retail locations.
UTA had total ridership of more than 44 million trips per year before the pandemic. Nearly half, or 47%, were on buses. The agency's TRAX light-rail service accounted for 37% of rides, and its FrontRunner commuter rail service made up 11%.
The new validators will be technically ready to support open-loop payments. The agency, however, is not playing up this feature and staffers didn't mention it when seeking approval for the contract last month from the board of trustees. So it's not known when UTA will begin accepting credit and debit cards and open-loop card credentials in NFC mobile wallets on its buses, trams and commuter rail.
UTA was the first transit agency in North America and one of the first in the world to accept open-loop payments, launching the technology nearly 15 years ago. But it ended the service in 2018 because of poor usage.
Demand by riders in the U.S. for open-loop payments may have changed over the past five years since more people are carrying contactless credit and debit cards. But while agencies that overhaul their fare-collection systems usually order terminals that are EMV-ready, at least some agencies are holding back on launching open-loop payments.
UTA issued its request for proposal for the new fare system in May 2022, as Mobility Payments reported at the time. It had expected to sign a contract with the new vendor earlier.
A UTA representative told board members last month that the agency had received "more than a half-dozen responses" to the RFP. But UTA staffers declined a request by Mobility Payments to immediately release the names of the other bidders, including second finalist that the selection committee had named for the procurement, along with Scheidt & Bachmann.
'Separate and Independent'
The agency originally decided it needed a new fare system after a seven-month study found that the agency "operates several fare collection systems as separate and independent systems," Jerry Van Wie, fare systems program manager for UTA, told Mobility Payments. "The hardware devices associated with these systems, specifically the ticket-vending machines and the card validators, have exceeded their useful life. Maintenance of these devices is extremely challenging due to the unavailability of replacement parts." U.S.-based Clevor Consulting Group conducted the study.
The new contract calls for Scheidt & Bachmann to replace around 1,300 validators, 90% of these on buses. Most buses will get a new validator at each of two doors. The remaining 10% of validators will go onto rail platforms.
The vendor will also replace ticket-vending machines. UTA currently uses 175 TVMs. Germany-based Scheidt & Bachmann, in fact, supplied these existing units, between 2008 and 2012. And UTA will also get new mobile inspection devices. It now has 90 in operation.
Besides 700 buses it operates throughout most of the state of Utah, UTA has more than 100 light-rail vehicles, the latter serving 50 stations. The agency also runs 18 commuter trains, with 15 stations.
Procurement Model Foregone Conclusion?
Van Wie, in a short presentation to the three-member UTA board March 22, noted that Clevor had recommended that the agency "procure a new, fully integrated, vendor-hosted, account-based electronic fare-collection system."
But he pushed back on the notion that UTA had been focused only on procuring with a single-supplier model. In a statement to Mobility Payments, Van Wie did not accept the notion that UTA had ruled out such other procurement models as the modular approach or software-as-a-service for the new fare system. "This is a bit of a leading question embedded with an inaccurate assumption that UTA decided against modular or SaaS approaches," he said. "What is important to understand here is that UTA selected the vendor that offered the best value to UTA in the way of a new fare-collection system."
Taking the modular approach would have had UTA separately acquiring its validators, ticket-vending machines and back office, or building the latter itself, then integrating the system components or hiring a system integrator to do so. Some agencies are pursuing the modular approach, which is believed to save money and increase flexibility, as Mobility Payments earlier reported. But this model also puts more demands on the agency itself to help run the system.
Replacing Interim Mobile App
A few months after it issued the RFP for the new fare system last year, UTA awarded a contract to UK-based Masabi to replace its then-supplier, Passport Labs, which was exiting the ticketing market at the end of 2022.
The UTA board in late July approved a one-year contract with Masabi, with an option to extend it for another year. It's not clear when Scheidt & Bachmann will have the new mobile app ready to take over from Masabi's Justride ticketing platform, which customers access via the Transit app. Users show their tickets for visual validation to bus drivers and other transit agency employees.
A timeline for the new fare system slates development of the mobile app by Scheidt & Bachmann as part of the fourth phase of the system implementation, with work beginning sometime next year and ending around the end of 2025. That's after the vendor is scheduled to deliver ticket-vending machines, validators and the back office.
Clevor Consulting in 2021 estimated that a new mobile-ticketing service would cost UTA $2.1 million in capital costs and $3.3 million to operate over 10 years, most of it–$2 million–to be paid to the vendor. All of the Scheidt & Bachmann-supplied validators will support both contactless and QR and other 2D bar codes, along with the contactless interface.
© Mobility Payments and Forthwrite Media. Mobility Payments content is for individual use and cannot be copied or distributed without the express permission of the publisher.