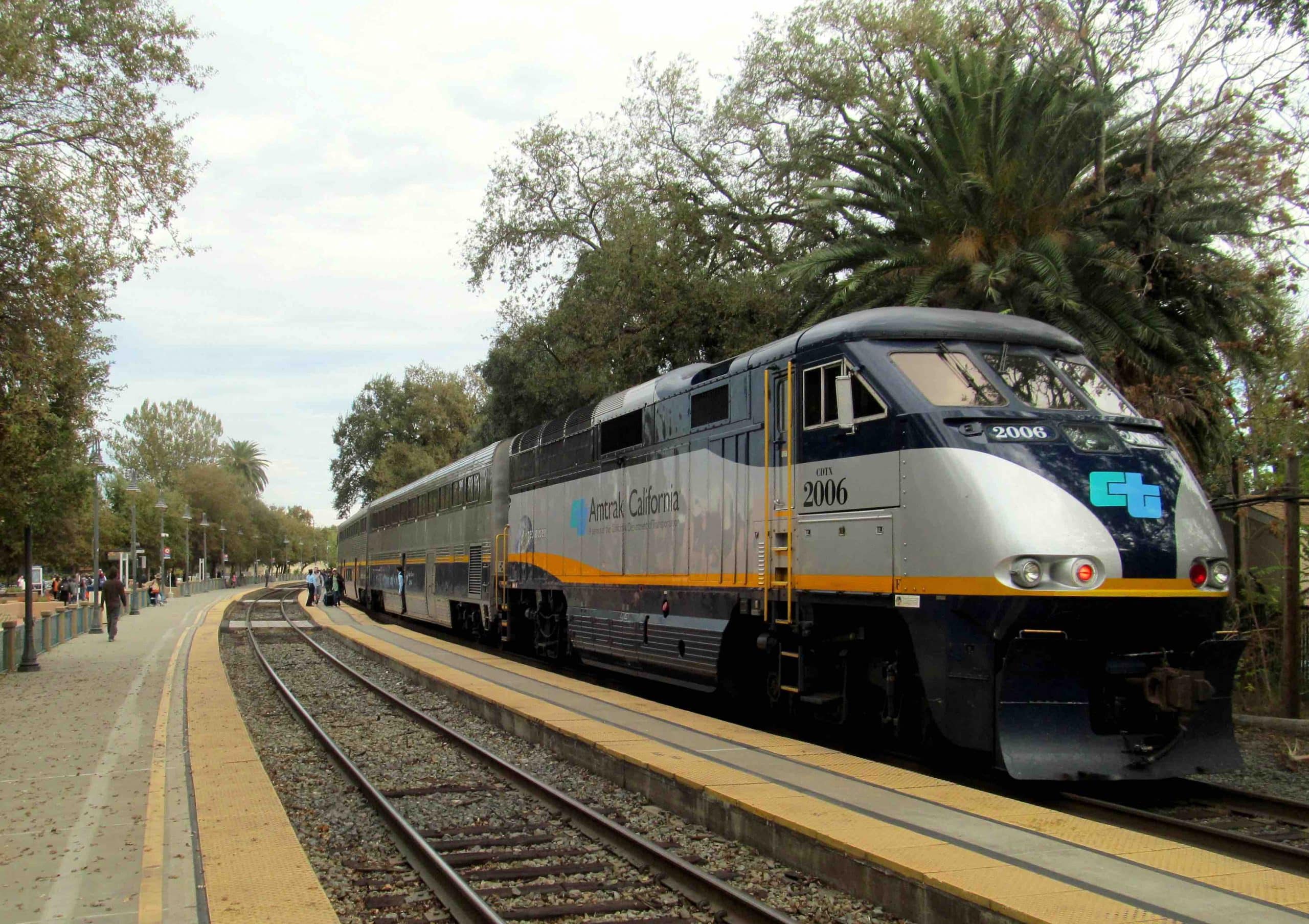 Article Highlights
Key Takeaway:
The Capitol Corridor commuter and intercity rail service in Northern California plans to launch an open-loop payments trial in February, likely followed by a full rollout of the technology. Both the rail authority and a South Carolina bus agency are buying open-loop technology through the Cal-ITP program, the latter the first out-of-state agency to do so.
Key Data:
CCJPA has 18 stations and had pre-Covid ridership of just under 1.8 million in fiscal year 2019. That dropped to only 354,000 for the year ending last September, but ridership was up by 161% during the first seven months of the current fiscal year.
The Capitol Corridor commuter and intercity rail service in Northern California plans to launch an open-loop payments trial in February, likely followed by a full rollout of the technology, Mobility Payments has learned.
The consortium of six transit agencies that make up the Capitol Corridor Joint Powers Authority, or CCJPA, is buying open-loop technology through the state-funded California Integrated Travel Project, or Cal-ITP. The state has contracted with six vendors to make their open-loop technology available for orders by transit agencies, both in California and other U.S. states.
In a separate procurement, a small bus agency serving the resort community of Myrtle Beach and nearby coastal cities and towns in South Carolina is also planning an open-loop service using technology procured via Cal-ITP, Mobility Payments has learned. It would be the first out-of-state project for the California state initiative. (See below.)
Neither of the two projects have been announced yet. The consortium and agencies involved both hired the same Cal-ITP-vetted vendors in the spring. The vendors only began selling technology within the past five months. Mobility Payments earlier this month reported on one of the first projects procured past the trial stage through Cal-ITP–by a group of small agencies in far Northern California.
EMV Payments Get Test with Commuters
The Capitol Corridor project could be of particular interest because contactless open-loop payments have not typically been accepted for commuter or long-distance trains. With much higher ticket prices, the service will likely require additional fraud-prevention measures. And train conductors, in this case those employed by Amtrak, will likely carry handheld EMV readers.
CCJPA provides commuter and intercity service between San Jose, Silicon Valley, the eastern part of the San Francisco Bay Area, the state capital of Sacramento and a few cities to the northeast. The San Francisco Bay Area Rapid Transit District, or BART, manages the state-funded rail service. And CCJPA contracts with U.S.-government owned Amtrak to operate the trains.
CCJPA has 18 stations and had pre-Covid ridership of just under 1.8 million in fiscal year 2019. That dropped to only 354,000 for the year ending last September, but ridership was up by 161% during the first seven months of the current fiscal year.
Amtrak also handles all ticketing for the Capitol Corridor service, including selling single trip, 10-ride and monthly tickets and passes, all of which are prepaid. Open-loop payments could change that.
"The eventual goal after the pilot would be to really move into that space where we can (enable) people to tap as they go," a Capitol Corridor spokeswoman told Mobility Payments. "(It's) really making that statement true, you know, 'hop aboard,' and not have to think about whether or not you bought a ticket, what kind (of ticket) or what is the cheapest one. So we want to be able to offer a good, equitable fare for everybody."
Open-loop would not necessarily replace Amtrak ticketing, she said. But accepting open-loop credit and debit cards and credentials in NFC wallets could make it easier for customers to transfer to make connections on local public bus and rail services that feed into or out of the Capitol Corridor stations.
"That's not currently possible under the Amtrak-ticketing system," added the spokeswoman (though Amtrak tickets on Capitol Corridor often can be used for free transfers on at least some local, connecting transit providers.)
The spokeswoman earlier noted that the authority receives limited data on customers from the Amtrak ticketing system, which also "severely limits" the authority's flexibility to adjust fares in response to market conditions. Also, there are "rigid" fare products like the monthly passes, which some customers might not be able to afford to pay for in advance.
The authority will likely enable monthly fare capping along with pay-as-you-go open-loop fares.
Questions on Open Loop Vs. Closed Loop
Regarding connections to local transit agencies using open-loop payments, no transit agency in CCJPA's service area currently accepts open loop, except for the Sacramento Regional Transit District. SacRT is piloting open-loop payment through Cal-ITP for its light-rail service.
But agencies serving the nine-county San Francisco Bay Area, along with the regional transit authority, the Metropolitan Transportation Commission, are not taking credit and debit card or credentials for fares. Instead, they are investing heavily in their closed-loop Clipper card program. (The infrastructure for the next-generation Clipper card now being rolled out is technically ready to accept open loop, but it's unclear when it would be activated.)
During a CCJPA board meeting in April, one board member questioned why the authority is pursuing open-loop fare payments instead of supporting Clipper, which most people in the Bay Area use to ride on public transport.
Capitol Corridor managing director Rob Padgette responded that open loop would be more interoperable across the eight-county CCJPA service area than Clipper or other closed-loop cards.
"You're not storing funds on an independent card; you're able to use your existing card if you're traveling from out of town," he said. "If you travel from Sacramento to the Bay Area, you can use the same payment mechanism using standardized payment approaches. The whole thing we're trying to do here is to take away the friction of having different systems in different metro areas.
Still, another board member, representing BART, strongly urged that the Capitol Corridor's planned contactless fare system also support next-generation Clipper.
Pilot Delayed, Additional Contracts
CCJPA originally planned the open-loop pilot in November of this year, but moved it to February 2023. It's not clear why, though the authority spokeswoman said it was because of "installation" issues and other tasks that needed to be completed.
The authority has hired state-contracted vendors Kuba to supply validators, Littlepay as transit processor and Elavon as acquirer for the pilot and presumably for the rollout expected to follow. Visa-owned Cybersource is expected to be the payments processor.
UK-based Kuba submitted an invoice for just under $322,000 to CCJPA in May, according to a state document, which did not say how many validators the authority had ordered. Littlepay, which is based in Australia, will likely charge a fee of 2.25% of the amount it handles as payments service provider. U.S.-based Elavon is expected to charge 3 cents per open-loop transaction it processes.
In addition, the CCJPA board in June authorized up to $535,000 for marketing, communications and customer support for the pilot and $125,000 for software to track and report on financial and operations data from the pilot.
CCJPA said it is also playing a larger role in supporting Cal-ITP. It calls itself a "fiscal sponsor" of the state program, and in April authorized two contracts. One is to pay wireless broadband network FirstNet up to $389,000 to subsidize mobile data communications costs for transit agencies using Cal-ITP. The costs would go to pay for data connected with open-loop payments services, as well as real-time transit information.
The other contract would pay state lobbying firm California Strategies up to $300,000 for legislative and governance support to help the "transition of Cal-ITP to a state-supported institution."
All of the contracts to boost Cal-ITP statewide, in addition to CCJPA's own open-loop pilot, will be paid for mainly or entirely out of state funds.
Agency: 'We are Too Small' for Major Vendors
Meanwhile, South Carolina's Waccamaw Regional Transportation Authority, known as Coast RTA, also said in the spring it would buy from the Cal-ITP vendors, which is the first agency outside of California to do so.
The agency, which has 10 fixed bus routes serving two counties on the northern South Carolina coast, said it first had considered seeking to hire a major fare-collection system vendor and was preparing a request for proposal.
But then the agency staff said it "came to the realization that none of the major players (INIT and others) would bid on an RFP from us because we are too small."
It said it contacted Cal-ITP and decided to hire Littlepay as transit processor, Kuba to supply validators and Elavon as acquirer. (Germany-based INIT, in fact, is one of the six vendors with a state master service agreement to sell through the Cal-ITP program, but has not apparently sold any goods or services through the program yet.)
Kuba reported to the California state government that it invoiced Coast RTA for $52,000 for the validators. It's not clear how many validators Coast RTA ordered or when it plans to launch the open-loop service.
Unlike most other U.S. agencies, Coast RTA­ has a goal of eventually eliminating cash on board its buses after it begins accepting contactless credit and debit cards and open-loop credentials in NFC wallets, like those connected with Apple Pay and Google Wallet, along with the Square Cash App. The latter is seen as an option for unbanked and underbanked customers.
The agency said one strategy it's considering is to issue closed-loop cards that could be reloaded at retail outlets. Those include reload and bill-payment networks run by such fintechs as InComm Payments.
However, closed-loop cards aren't part of the Cal-ITP program, so Coast RTA would have to hire another vendor to help it issue and accept the cards.
© Mobility Payments and Forthwrite Media. Mobility Payments content is for individual use and cannot be copied or distributed without the express permission of the publisher.