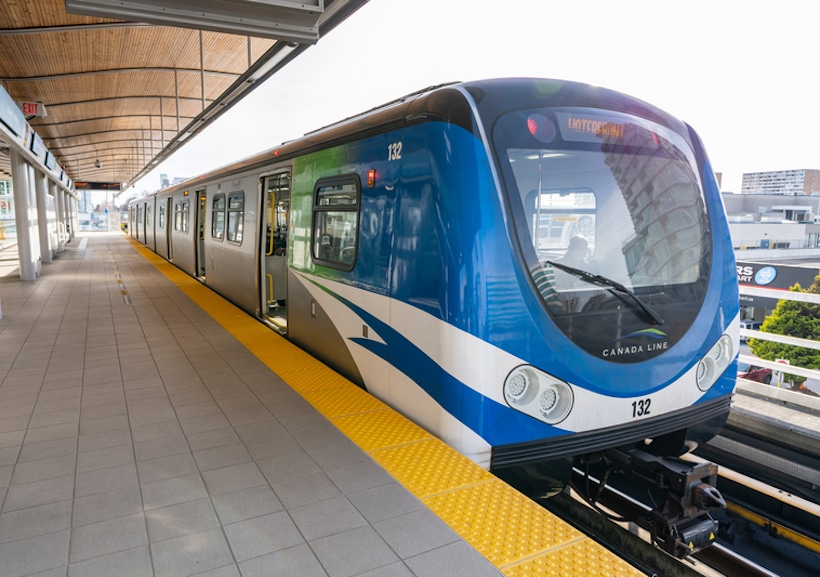 Article Highlights
Key Takeaway:
Despite a high-profile launch recently of domestic debit card acceptance in Canada and more open-loop rollouts there, Canadian transit agencies say they have no plans to promote open-loop payments over their closed-loop cards–at least for now.
Key Data:
• Table: Open-loop adoption rates; fare policies vs. closed loop in Canada
Despite a high-profile launch recently of domestic debit card acceptance in Canada and more open-loop rollouts there, Canadian transit agencies say they have no plans to promote open-loop payments over their closed-loop cards–at least for now.
Whether that changes in the future remains to be seen, but for now, policies that make closed-loop cards a better deal for riders than tapping credit and, more recently for one big agency, debit cards, have led to very low open-loop adoption rates in Canada.
For example, such major transit authorities as TransLink in Vancouver and Metrolinx in Toronto are seeing only 2% of trips paid for with open loop, not counting an airport shuttle line service, spokespersons for the agencies told Mobility Payments. And that UP Express airport rail service in Toronto is recording only a 5.5% open-loop adoption rate.
Among the reasons: Nearly all of the agencies are accepting only credit cards, not domestic debit for fares, except for UP Express, which began taking Interac-branded debit cards in October 2021. TransLink added Interac less than a month ago. This is a problem for open-loop adoption since debit is much more popular for low-value contactless transactions among Canadian consumers than credit.
Contactless Viewed as Cash Replacement
But more importantly, Canadian agencies largely see open loop as a payments option only for occasional riders, not their regular customers. It's mainly viewed as a replacement for cash, which is why many but not all of the Canadian agencies that have rolled out open loop charge users the same price as they charge cash users.
The agencies also limit use of open-loop to single adult full-fare rides, including Vancouver's TransLink, the first to launch open-loop fare payments in Canada, in 2018.
TransLink is among the agencies that charge open-loop users the same price as cash, while giving customers tapping their closed-loop Compass cards a discount of 24%. There is no fare capping with open loop and, of course, only riders who carry the agency's closed-loop card can get concessionary discounts as seniors, disabled persons and other categories. Not surprisingly, TransLink has said that around 96% of its trips in 2021 were paid for with the authority's closed-loop card. TransLink recorded ridership of around 220 million in 2021.
The emphasis on closed loop is much the same at other agencies in Canada that have launched open-loop payments, including those in and around Canada's largest city, Toronto, which use the regional Presto closed-loop card managed by Metrolinx. While the Toronto Transit Commission, or TTC, the largest transit agency in the area and operator of the Toronto subway system, has not yet launched open loop, eight smaller agencies have.
For example, the Hamilton Street Railway, which serves the city of Hamilton with bus and paratransit service, charges users of open-loop payments the same fare as those paying cash. That's true for at least five other municipal bus operators in the Greater Toronto-Hamilton metropolitan area that accept credit cards for fares.
Hamilton Street Railway, or HSR, customers pay a 25% higher fare than they would if they tapped closed-loop Presto. They also get automatic fare capping only with Presto, but not with open loop, and can receive concessionary discounts if they are seniors, youth or students, but only with the closed-loop card.
"Currently, there aren't any plans to extend these perks to contactless payment," an HSR spokeswoman told Mobility Payments. "The 'Presto contactless' payment option is aimed at the occasional rider." Other agencies using Presto refer to open loop as "Presto contactless," as well, indicating they view Presto as the main fare-collection program, open-loop as an add-on.
Another bus agency, serving the Toronto suburb of Oakville, which launched acceptance of credit cards last August, also charges users the same fare as those paying cash. That is a 23.1% premium on what they would pay with the Presto card.
"There are no plans to adjust the contactless payment fare at this time, as it is equivalent to our cash fare, and we're looking to see what the uptake and use will be," a spokeswoman told Mobility Payments. She added that the agency also has no plans to introduce daily or monthly fare capping with open loop, "since this payment option is (only) offered as an alternative to paying cash fares."
But Geoff Marinoff, head of a larger suburban bus agency near Toronto, Mississauga Transit, or MiWay, sounded a slightly different tone.
He told Mobility Payments through a spokesman that "lowering the contactless card price to the same level as Presto is being examined, but the timing has not been confirmed." When, or if, that time comes, the Presto agencies in the metro area would make the move in concert, he said.
Meanwhile, two Metrolinx-owned transit operators, UP Express and GO Transit, the latter a commuter rail and bus operator, do charge users of credit and, for UP Express, debit cards, the same fares as the riders receive when tapping closed-loop cards.
Push for Parity with Closed Loop?
Following the successful launch of Interac's Flash contactless debit application on TransLink's 5,000 terminals Jan. 11 in Vancouver, open-loop backers are now pushing the authority to put open loop at least on par with closed-loop Compass cards in terms of fare rates, Mobility Payments has learned.
An Interac Flash steering committee, which helps set strategy for the launch and operation of Interac debit for TransLink, has called for riders tapping contactless EMV cards and credentials in NFC wallets to receive the lowest available rate by next July. Committee members would like to see contactless designated as the preferred payments method for TransLink customers. The committee includes representatives from Interac and acquirer Moneris, along with TransLink and vendor Cubic Transportation Systems.
Backers hope to increase Interac's share of fare revenue from around 3%–which it reached a week or two after the launch–to more than 60% of fare payments.
A TransLink spokesman told Mobility Payments that the authority recorded 70,000 Interac taps between Jan. 11 and Jan. 24, the first two weeks following the launch, or 5,000 taps per day. But he said Metrolinx, which runs the regional Presto system, does not plan to change course on the role of open loop, at present.
"We have no plans to make contactless Interac and credit payments equivalent to stored value at this time," he said, adding that the agency is "always reviewing" its policies. "Customers get a discounted rate through stored value on Compass products to encourage routine transit use."
STL, an agency serving Montreal's largest suburb of Laval, last April told Mobility Payments it had an open-loop take-up of less than 2%. That's when STL officially launched open-loop on board its buses. It had soft-launched the technology a couple of months earlier. This low penetration rate is unlikely to have increased since then.
Like most of the Toronto agencies, STL still only accepts credit cards, though STL, like Metrolinx, is in the process of implementing Interac debit.
Debit Cards Preferred Over Credit
Transit agencies pay around CA$0.02 per transaction to accept Interac-branded domestic debit cards and card credentials in smartphones and wearables. That is less than they pay for accepting either Visa- and Mastercard-branded credit cards or these brands on debit cards. The latter are not treated like domestic debit cards in Canada, even if issued by a Canadian bank. This lower interchange rate gives agencies another incentive to support Interac debit on their validators.
According to interbank association Payments Canada, 57% of all contactless transactions in the country—the vast majority at retail merchants–were made with debit (read: Interac) cards or debit card credentials in mobile wallets in 2021, while 43% were made with credit cards. That ratio is even higher for very low-value transactions. The latter would include transit fare payments.
STL had hoped to enable its customers to tap Interac debit to pay fares as early as last fall, but hasn't yet launched. And an implementation of Interac by TransLink also took a little bit longer than expected when the agency launched the service last month. TransLink, in fact, was hoping to launch Interac early, in August 2022, which would have netted the authority a bonus payment of CA$400,000 (US$301,200) from Interac, as part of a promotional deal with the debit network that was potentially worth a total of CA$2.75 million.
'Deterrent to Widescale Adoption'
But the lack of debit is only one of the barriers that backers of open-loop payments in Canada face as they seek to build adoption.
Many transit agencies also continue to give customers a discount to use closed loop and don't offer fare capping with credit or debit.
Taken together, these factors would definitely "act as a deterrent to widescale adoption," of open loop for any transit agency, John Hill, who has been involved in the high-profile open-loop fare payments service operated by Transport for London.
Hill, an "open-payments consultant" and former senior account director with Cubic Transportation Systems, said that as a consultant, he served as delivery lead for the implementation of contactless payments in London.
Transport for London launched open loop on buses in late 2012 and throughout its entire multimodal network in the fall of 2014. Adoption is above 60% for all pay-as-you-go contactless and closed-loop Oyster transactions, though that adoption rate falls to 42% if all concessions and season tickets and passes are included, as Mobility Payments reported.
"The London experience has been that if you want to drive any particular product, be it Oyster pay as you go or open-loop pay as you-go, you need to make it easy for the customers, and they need to have confidence that they will receive the best fare," Hill told Mobility Payments. "Anything that acts against these two principles will limit adoption."
Hill added that he was not speaking for either Cubic or Transport for London and doesn't know the specific situation for open loop in Canada.
© Mobility Payments and Forthwrite Media. Mobility Payments content is for individual use and cannot be copied or distributed without the express permission of the publisher.