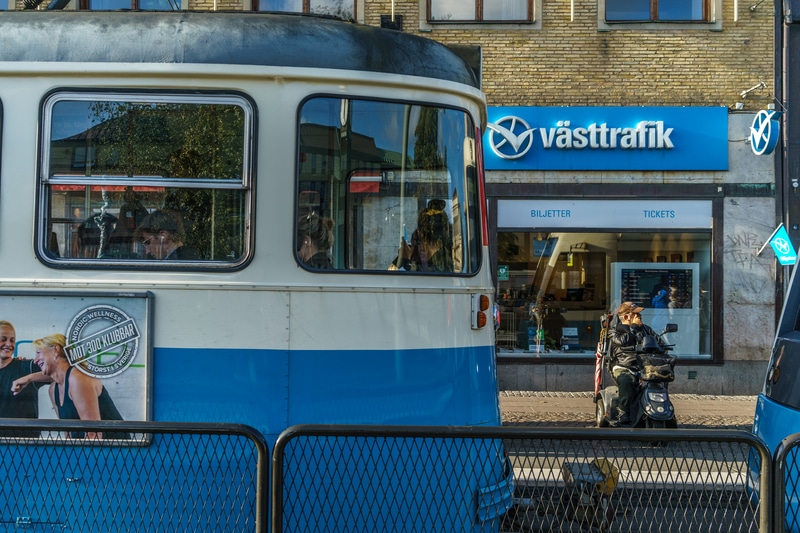 Article Highlights
Key Takeaway:
Gothenburg transit authority Västtrafik spent SEK 40 million (US$3.7 million)–much of it for a no-bid contract addition for vendor Vix Technology–to roll out and operate open-loop payment over five years. The authority contends this project won't be a waste of money, despite its planned new fare system.
Key Data:
The transit authority said that while it will spend SEK 40 million (US$3.7 million) on the Vix open-loop project, it will save more than 80% of that amount by being able to remove hundreds of ticket-vending machines on board trams. But many if not most of these TVMs were purchased only in 2015 and began operating in 2017, said sources.
Earlier this month, Gothenburg transit authority Västtrafik launched open-loop payments, the fourth city in Sweden to do so, according to Vix Technology, the vendor that implemented the service on 4,500 upgraded validators on buses, trams and ferries in the city.
At the same time, the transit agency is in the process of a broader procurement of a new fare system, issuing a request for qualification in January for vendors to supply around 8,000 EMV-enabled validators, along with a new back office for open loop.
While Västtrafik said it hasn't released any timeline for the new fare system, sources say plans call for launching it in 2025, if not sooner.
This sets up a scenario in which Västtrafik will be paying for two open-loop systems at the same time and even perhaps operating them simultaneously, say observers.
That situation could have been avoided, they say. The open-loop rollout by Vix started off being called a pilot, but appears to have grown into much more than that. And it launched at least a year late, said one source, increasing the risk for overlap with the planned fare system.
"It's unclear how the large tender for cEMV (open loop) will play into it all," said one Sweden-based industry observer. "There is a clear challenge in having multiple payment providers in different zones, especially when thinking long term about more complex fare structures."
Observers are raising other questions, as well. One is about the two projects replacing equipment that is not so old.
The transit agency said that while it will spend SEK 40 million (US$3.7 million) on the Vix open-loop project, it will save more than 80% of that amount by being able to remove hundreds of ticket-vending machines on board trams. But many, if not most, of these TVMs were purchased only in 2015 and began operating in 2017, said sources.
In addition, the 8,000 validators will eventually replace the up to 4,500 validators Vix has upgraded to support open loop, and some of these validators–those on board buses and other vehicles of outside the large tram network–were purchased from UK-based Access-IS only around five or six years ago.
"Now you're replacing a fully functional validator from Access-IS five or six years after they've been procured. I think it's such a total waste of money," said another observer.
These and other questions are muddling Västtrafik's planned fare system RFP, its first such tender request in years. A surprising 10 or so vendors have been qualified to compete for what could ultimately be a 21-year contract to implement, maintain and operate the fare system.
No-Bid Contract Addition for Vix
Among the questions industry observers are asking are how this big procurement will work with the open-loop payments system Vix has rolled out.
Australia-based Vix has operated Västtrafik's closed-loop card program since 2006, and the vendor has benefitted from past contract extensions without having to take part in competitive bids, say observers. No-bid contract extensions are relatively common for fare systems in Sweden and in some other countries, so this sort of thing doesn't only happen in Gothenburg.
In the case of the open-loop project for Vix, a Västtrafik spokesperson contended that the agency didn't need to put the SEK 40 million deal out for competitive bids because Vix was adding open-loop functionality to the existing infrastructure of closed-loop validators.
Yet, with open-loop just now launching in Gothenburg, it's unclear whether the transit agency will be duplicating costs–that is, paying for open-loop functionality in the planned fare system while also paying Vix for the vendor's rollout and operation of the recently launched system.  
And while it's not clear when the clock started ticking on Vix's five-year open-loop agreement, it's possible there will be two different open-loop systems running at the same time, operated by different suppliers, said one observer, who like the others cited in this article, asked not to be identified.
Västtrafik spokespersons confirmed that agency has committed to paying Vix for five years of operations of open-loop payments throughout Gothenburg's largest public transit zone, Zone A, which covers 75% of trips. Meanwhile, with the planned regional fare system expected to be operational by 2025, perhaps as early as next year–overlap with the Vix system is likely.
Västtrafik, through a spokesperson, confirmed to Mobility Payments that part of the approximately 8,000 validators under procurement would "eventually" replace the 4,500 validators upgraded by Vix. The agency, however, contended that it has not "communicated" any timeline for when the new 8,000 validators will be deployed.
That is despite a question-and-answer sheet (highlight added) saying that the 8,000 validators would roll out between 2024 and 2028. All or nearly all trams, buses, trains and boats will get the new acceptance devices.
Västtrafik serves more than 440,000 customers per day on its various modes of transport in Gothenburg and Western Sweden.
Under the Vix implementation, customers will be able to tap their Visa- and Mastercard-branded debit and credit cards and NFC devices supporting for Apple Pay, Google Wallet and Samsung Wallet to pay for single-trip tickets. These types of tickets make up roughly half of all trips, with period tickets accounting for the rest, said a spokesperson.
Vix, in announcing the open-loop launch earlier this month, said it had made software and hardware upgrades to 4,500 existing "fare collection and validation devices." Vix has enlisted its sister company Littlepay to serve as payment service provider for the open-loop service.
The SEK 40 million project includes capital costs for the validator upgrades by Vix. But Västtrafik said the amount of capital costs are confidential and declined to release the amount.
Update: And not all of the SEK 40 million will go to Vix. The amount includes "Västtrafik's costs for installations and deinstallations, Västtrafik's project team, costs related to communication and education of on-board personnel and development and testing of other affected systems," the authority said. End update.
The agency does appear to acknowledge, however, that the open-loop system implemented by Vix would be "temporary," enabling customers to use cEMV, or open loop, "until Västtrafik has procured and implemented a new ticketing and payment solution," said one spokesperson.
But another Västtrafik spokesperson added that the Vix project "was never planned as a pilot. From the start, this was meant meant to be full deployment in Zone A."
Update: Martihn Sjöstedt, general manager, Nordics and Northern Europe at Vix, declined to comment on the forthcoming tender request, citing "commercial confidentiality."
He did say in a statement to Mobility Payments that the "conversations (with Vix) around the possibility to run cEMV on existing infrastructure started with Västtrafik several years ago. The project has been running for a while and has no relation to the ongoing tender."
He added that the Vix open-loop implementation required only "minor hardware upgrades to Västtrafik's existing Vix device estate," which is believed to refer to the validators that Vix itself provided. Sjöstedt said that Vix provided the validators not only on trams. But he seemed to say Vix didn't do any upgrades to validators it did not originally supply. "We made it possible to certify the devices for EMV payments and to upgrade the existing system," Sjöstedt said. End update.
Saving on TVM Costs?
When asked why the agency didn't just wait until the new fare system becomes operational, in a couple of years, a spokesperson said the "business case" for the Vix project was to save money on ticket-vending machines.
"The current cEMV functionality meant savings from mandatory reinvestments in ticket vending machines for trams," he said. "With cEMV, we get basically the same functionality as the ticket-vending machines on the trams and, in addition, the possibility for patrons to buy tickets on board buses in Gothenburg, something that has not been possible up until now."
The agency claims it will save SEK 33 million (US$3.1 million) from getting rid of the ticket-vending machines, or TVMs, on its trams. It says it has 300 of them, supplied by Czech Republic-based Mikroelektronika.
That savings no doubt includes the money it would cost to replace the machines if they were needed. But sources told Mobility Payments that Västtrafik acquired many if not most of the ticket-vending machines in 2015, and they were commissioned in 2017, "so they are hardly old," said one of the sources.
Mobile Ticketing Important
Västtrafik has a very popular mobile-ticketing app that it has to protect. The app, To Go, is used by more than 95% of customers. In fact, ensuring all validators can also scan the 2D barcode tickets in this app, especially on its large tram network, is a major reason that the agency is planning to procure new acceptance devices.
At present, the agency can't electronically read the 2D barcodes in the mobile app or printed on paper tickets on its trams, which is one of the most-used transport modes for the agency. The older validators on board don't have the necessary scanners. Conductors do some random checks, but without the optical readers, the agency loses a significant amount of fare revenue.
Vix is believed to have provided the validators on board the trams, with Access-IS supplying newer validators on buses and other transit vehicles. Vix said it also has supplied validators for buses and ferries, in addition to those in trams.
Västtrafik wants a uniform set of validators, all supporting cEMV, closed-loop complying with the Swedish technology standard and 2D barcode scanning for mobile ticketing.
The new fare contract will run for 12 years with options to extend it for nine additional years, making for a 21-year contracting opportunity for the single vendor to be selected. Officials have not made public an estimate for the cost of the contract, but it will be sizable, though Västtrafik said it will be developing parts of the system in-house.
It's not clear when the agency will issue its RFP, but it might not happen until after the summer, said one observer.
Of the roughly 10 vendors expected to be invited to submit tenders, Vix, as the long-term incumbent supplier to Västtrafik, likely has an advantage, one observer said. Access-IS, the other existing validator supplier, might have a leg-up when the bidding starts, as well.
More than Single-Trip Tickets?
Among the differences between the recent open-loop rollout from Vix and the larger procurement that is coming is that the latter will support more options for processing open-loop transactions.
The Vix open-loop upgrade by design will not enable pay-as-you-go fares or aggregation, only payments for single rides.
"In order to make it easy and possible to just tap your card to get a ticket, we can only have one type of ticket," said an authority spokesperson. "We have chosen the single ticket, which is the most-sold ticket on our buses and trams." He added that customers can use the single tickets to ride as much as they want during 90 minutes.
The existing fare validators also support a Mifare-based closed-loop card. This card can store period passes, as well, which make up around half of trips overall, including on trains and ferries. Customers mainly store their period passes on the agency's mobile app, however.
The next generation of the closed-loop card, or Västtrafikkort, will not support Mifare. Neither will it support white-label EMV technology, like Stockholm's Storstockholms Lokaltrafik, or SL, is doing with its closed-loop SL card. Instead, it will comply with a local technology standard known as BoB, said an agency spokesperson. This standard seeks to create interoperability among transit fare payments in Sweden, enabling customers to load their cards in one city and tap to pay in another.
It's not clear that Västtrafik will definitely enable pay as you go with open loop with the new system it is tendering. That decision hasn't been made yet, said a spokesperson. But the system definitely will be capable of that. The Q&A sheet from Västtrafik for the RFQ said the agency's acquiring bank, Swedbank, "has experience with MTT/pay-as-you-go integrations."
Pay as you go would enable fare capping and reduce the need for Västtrafik to issue as many period passes.
The transit agency has said it expects open-loop payments to account for 10% to 20% of total ticket sales, or up to 20,000 transactions per day. Many of these transactions will be from NFC wallets, the agency predicts.
But whether customers pay their fares using physical debit or credit cards or NFC smartphones and smartwatches, a key question remains: How much will it cost Västtrafik to enable open-loop payments, and will it be rolling out the technology one time or two times?
© Mobility Payments and Forthwrite Media. Mobility Payments content is for individual use and cannot be copied or distributed without the express permission of the publisher.