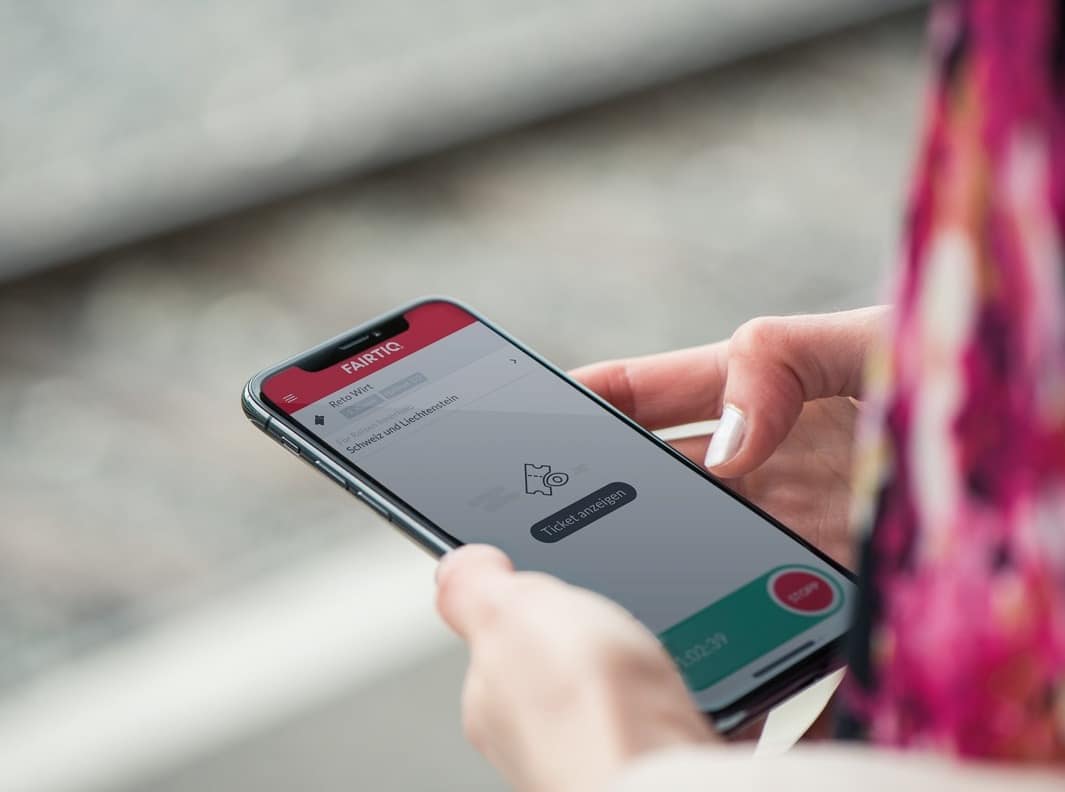 Article Highlights
Key Takeaway:
The Switzerland-based start-up Fairtiq has seen transactions for its check-in/check-out technology more than double this year as riders seek more Covid-safe, pay-as-you-go options.
Key Data:
Fairtiq says it handles more than 500,000 transactions per week, up from 200,000 transactions per week in February.
Organizations Mentioned:
• Fairtiq
• SBB (Switzerland)
• Stadtwerke Osnabrück
• RMV (Germany)
• ZVV (Switzerland)
• BLS (Switzerland)
Switzerland-based start-up Fairtiq said transactions for its fare-payments technology have more than doubled since February, as Covid-wary riders continue to seek what they consider to be more hygienic payments methods, as well as more pay-as-you-go options.
Fairtiq founder and CEO Gian-Mattia Schucan told Mobility Payments that transactions in the company's check-in/check-out app–which is available throughout Switzerland and in a growing number of cities in Germany and a few other Western European countries–increased from 200,000 per week in February to more than 500,000 per week at present.
He said the growth is the result of increasing usage by riders of existing transit agency and operator clients, not from new clients. The transactions include those in Fairtiq's consumer-facing app, as well as Fairtiq technology incorporated in a small number of other apps.
The start-up, which launched in 2016 and fully rolled out in Switzerland in 2018, announced in July that it had hit 30 million trips total paid for in its app, with five million of these journeys coming within the previous three months.
There are several reasons for the jump in transactions, Schucan told Mobility Payments. Among them is that customers do not want to touch coins or screens that are not their own. In addition, customers are uncertain about how much public transit they will use in the future. "So there has been a significant switch from (prepaid) passes–monthly passes, yearly passes–to our solutions, because it's just pay as you go."
Fairtiq's technology uses GPS, Wi-Fi and other location and sensor technologies to enable users to hop onto buses, trains, trams and even boats in Switzerland and some other countries and begin their trips by swiping to check in on the app. They swipe to check out when they've reached their destination stop or station. The start-up recently launched technology that automatically checks out customers if they've forgotten to do so.
Growing Interest in PAYG
Pay as you go, combined with fare capping, is more and more suited to today's ridership patterns, which have been transformed by Covid, said Schucan. More people are working from home at least some days during the week or have changed their other regular travel schedules. Also, more people work part-time.
Given these trends, customers are less likely to want to buy prepaid period passes, he said. Fairtiq charges the best fare based on the user's travel route and frequency, using stored payment cards and, in some markets, PayPal, Switzerland's mobile-payments service TWINT, and a few other means. The company offers daily fare capping and is experimenting with monthly capping.
Pay as you go is one reason Fairtiq's growth rate is faster in Switzerland than other mobile apps, which are popular in the country, Schucan contends. The other apps include SBB Mobile, from Swiss Federal Railways, which bills its app as the most popular in Switzerland, with more than 3 million users. Most SBB Mobile tickets and passes are still prepaid, validated with QR codes during spot checks by conductors or other agency staff.
Fairtiq, which is mainly a consumer-facing app, lent its technology to SBB, which introduced a check-in/check-out service, EasyRide, in its app in late 2019.
Swiss transit agencies ZVV, which serves Zurich; and Bern-based BLS; also incorporate Fairtiq in their own apps. Customers of both of these agencies and SBB also can use the Fairtiq app. RMV, a transit agency that serves the Frankfurt Rhine-Main area in Germany, is using Fairtiq technology, as well, in its own app for a pilot.
Schucan, who formerly worked for SBB, said Fairtiq accounts for 15% of total public transit rides in Switzerland, up from 8% last year. That takes in transactions from Fairtiq's consumer-facing app and those in apps that incorporate its technology.
All told, nearly 60 transit operators in seven countries use Fairtiq. Besides Switzerland, that includes Germany, Austria, Liechtenstein France and Belgium. National rail operators in the latter two countries, SNCF and SNCB, respectively, are holding trials with Fairtiq.
Fairtiq's business model is to charge agencies and operators set-up fees, a fixed monthly fee for operating the service and a percentage-based transaction fee. The start-up does not release revenue figures or its level of funding, but Schucan confirmed that the company is funded by private investors and does not receive funding from Swiss or other transit agencies.
Fairtiq is not the only check-in/check-out or check-in/be-out service in Europe. Some others, such as Stadtwerke Osnabrück, the public agency that manages transport and other services for the city of 170,000 in the German state of Lower Saxony, began rolling out a check-in/be-out (CIBO) service last October. The much larger German city of Hamburg plans to launch a CIBO service later this year. Both are using a system anchored by Bluetooth beacons, in which riders check in with a swipe in the app, then simply leave the transit vehicle at the end of their trips.
Automatic Check Out
Fairtiq mainly uses Wi-Fi localization, along with GPS and other location technologies to keep track of passengers journeys, including transfers. It uses artificial intelligence to refine the technology.
This year, the start-up introduced a "Smart Stop" feature, which automatically checks users out if the technology determines the customer is no longer on a train, bus or other transit vehicle. It uses the localization and motion-detection technologies in the smartphone, including the phone's accelerometer, to determine the user's status. This, in effect, turns Fairtiq into a check-in/be-out system.
While the number of people forgetting to check out is only around two per thousand, around 30% of Fairtiq's transit agency and operator clients have already opted in and have switched on the feature, Schucan said.
Ways to Detect Fraud
A largely touchless fare-collection system used in gateless transit networks naturally raises questions about how the system prevents fare evasion.
Schucan said Fairtiq uses artificial intelligence, in addition to the localization and motion-detection technologies, to reduce fraud. But he added that it's rare for users to try to cheat the system, for example, by turning off their phone's GPS connection or by checking in late or checking out early. Fewer than 1% try it, he said.
"We have a lot of fraud scenarios that we can detect," Schucan said. "If you regularly check out at high speeds, or you check out where there is no station, or you check out right after the ticket (inspection) check while still being on the train, we will detect that." If the behavior persists, the passenger would be excluded from the system.
He compared the Fairtiq fraud-detection system to software that banks and credit card companies use to see "implausible patterns of behavior," noting that Fairtiq is definitely more secure than paper tickets. "Obviously, we track every single transaction that a user does on his phone, so we know a lot more about the individuals' fraudulent behavior" than an operator would know about someone who might be tampering with paper tickets.
Meanwhile, the Fairtiq app or Fairtiq technology used in other apps generate a QR code that users can show to conductors, ticket inspectors or other staffers who do spot checks. In countries such as Switzerland, Germany and Austria, where Fairtiq has a strong or growing footprint, transit agencies do not use gates or barriers, even for their underground or metros systems.
Doing Away with Gates?
Its reliance on gateless transit system could create a challenge for company when it comes to expansion. Obviously, a check-in/check-out or check-in/be-out system is not designed to open gates, which are common in many countries. These gated systems generally use contactless (or sometimes mag-stripe) cards, NFC virtual cards and sometimes QR code-based mobile ticketing. Schucan suggested that transit agencies or operators could link the Fairtiq location-based system to these card- or QR code-based systems when needed to open gates.
That would, in effect, require customers to both check-in and out on the app and tap in or scan in and out on a terminal–obviously, not an efficient system.
Instead, transit officials should consider doing away with gates and barriers altogether, suggests Schucan. They could save a lot of money on hardware and maintenance of gates, terminals and card-based fare systems, he contends.
While some agencies have considered this step, it would be a tough sell for many agencies, especially in major cities in Europe, Asia and North America, which have well-developed card-based systems that require users to tap in and possibly tap out. Schucan argues that going gateless is more about changing habits than sacrificing security or revenue.
"It's sort of rethinking the whole system and making it more flexible," he said, though acknowledging officials of very large transit agencies might prove hard to convince.
"In some places, there might be security elements that they want to keep up so no one can walk into the system who hasn't passed through gates," he said. "That's really only a concern for the very large cities."
Addressing Battery Concerns
Fairtiq also has to deal with user concerns that the location technologies it uses will eat up too much of their phone's battery, leaving them on the hook for higher fares if their phones die before they end their trips.
In addition, some handset makes automatically shut down location functions when users set their phones on power-saving mode and the company has to instruct users to switch off specific battery-saving elements.
Schucan said that location technologies in today's smartphones are becoming more and more energy efficient, and running out of battery power, especially during an average trip of around 15 minutes, is very rare.
He adds that for many late model phones, even if users turn Wi-Fi off, it still can be used for localization by the app. "For an iPhone, you can't actually switch it off unless you put the flight mode on, in which case we have other problems to deal with," he chuckled.
Just as with mobile-ticketing and payments apps using QR codes and NFC, transit agencies hold users of the Fairtiq app responsible for having enough juice left in their batteries to power the apps until the end of the trip.
That's not a problem with contactless cards and some NFC-enabled apps with virtual cards, especially those with the cards stored on a secure element in an NFC phone or smartwatch. These can work by drawing power entirely or almost entirely from the reader.
But Schucan insists that Fairtiq technology would not drain a phone's battery in a significant way. "The consumption produced by us is similar to the consumption of a music player," he said.
Given Fairtiq's soaring usage, power consumption doesn't appear to be a pressing issue for riders.
Still, it remains to be seen how far riders and transit agencies globally will want to go with touchless travel, if it means they do not actively need to tap a card, phone or other token to signal the start and end of their trips.
© Mobility Payments and Forthwrite Media. Mobility Payments content is for individual use and cannot be copied or distributed without the express permission of the publisher.