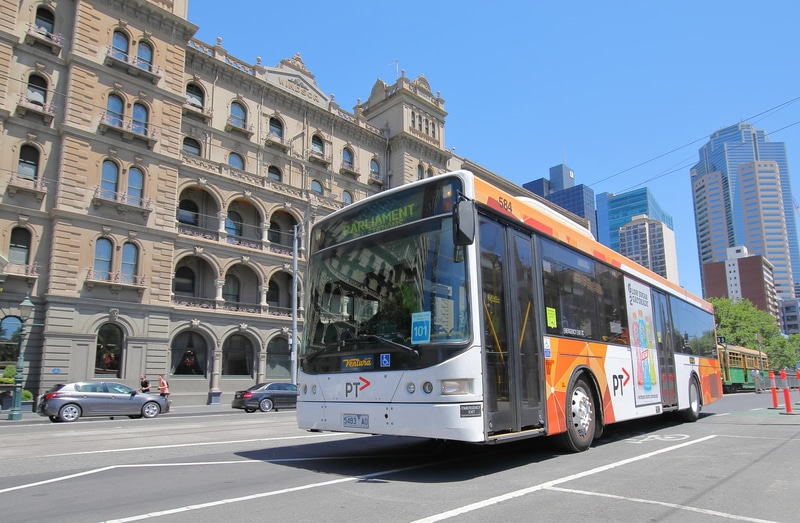 Article Highlights
Key Takeaway:
U.S.-based Cubic Corp. sent a letter of complaint to the premier of the Australian state of Victoria in Melbourne, contending that a flawed procurement process led to the selection of rival vendor Conduent for a 15-year, AU$1.7 billion (US$1.1 billion), contract for a new fare system, according to published reports today.
Key Data:
The Cubic executives also contended that Cubic's bid was AU$100 million lower than the contract price the state government agreed to with Conduent of AU$1.7 billion (US$1.1 billion) over 15 years.
U.S.-based Cubic Corp. sent a letter of complaint to the premier of the Australian state of Victoria in Melbourne, contending that a flawed procurement process led to the selection of rival vendor Conduent for a 15-year, AU$1.7 billion (US$1.1 billion), contract for a new fare system, according to published reports today.
In the letter, signed by Cubic Corp. CEO Stevan Slijepcevic and Jeffrey Lowinger, president of the Cubic Transportation Systems division, the executives reportedly complained about the possible errors and questioned Conduent's qualifications. They also contended that Cubic's bid was AU$100 million lower than the contract price the state government agreed to with Conduent. The letter was first reported by Australia's ABC News.
"We are writing to bring to your attention our serious concerns about possible errors in the tender process," the letter began, according to one report. "These errors could impact Victorians for years to come."
The executives reportedly suggested that the government re-evaluate the award, "to ensure that Victoria receives the innovative technology solution its residents desire and deserve," the letter stated, according to a published report.
Among the assertions in the letter, addressed to Victoria state premier Daniel Andrews, was that state officials in Melbourne gave Conduent a chance to negotiate after Cubic had submitted its bid.
"This gave that bidder a significant opportunity to explain and improve its offer, an opportunity that was not given to Cubic despite having a lower-priced, technically superior offering," the letter stated, according to a report. This reduced the "competitive tension during the tender process, and it prevented the state from potentially receiving an improved offer from Cubic had it had similar discussions and interactions with Cubic," the executives reportedly stated in the letter.
The government reportedly pushed back on the letter. Andrews, who confirmed he had received a letter from Cubic, reportedly said, "there's a probity auditor that's been deeply involved in that process," adding, "advice was provided as to who won that process, and the tender has been awarded. I'm really not in a position to have anything more than that to say."
A state government spokesperson also reportedly argued that "the procurement process for the new ticketing contract was a rigorous process undertaken by experts that concluded Conduent to be the best option for Victoria's public transport network."
"Conduent has a reputation for delivering successful projects in Australia and across major global cities–we have every confidence in this new ticketing contract and the track record of the technology."
Andrews also referred questions to state Public Transport Minister Ben Carroll, who had touted the contract and selection of Conduent at a press conference in Melbourne last month.
"It's a bit like the person on Brownlow medal night that can't win the Brownlow because they've been suspended," he reportedly said today, referring to a medal awarded to Australian footballers. "You can't then ask the tribunal to redo the process. Rules are in place. Procurements are in place. We've had a very thorough, very diligent procurement process."
Cubic Questions Conduent's Experience
Conduent is to take over Melbourne's fare system project in December, and has agreed to a two-year implementation timeline, then around 13 years of operation of the system. It will cover buses, Melbourne's large tram network, metro rail, regional passenger trains and perhaps coaches. Officials did not offer a breakdown of how much of the AU$1.7 billion contract would go to hardware and how much to operations, as Mobility Payments reported last month.
NTT Data of Japan, which is the incumbent vendor for the current closed-loop myki card, was the third finalist in the procurement. But the myki card has come under much criticism over the years for delays, cost overruns and technical problems, likely making NTT Data's bid toxic for politicians.
NTT Data may have offered the lowest bid, but officials have not released the amount of the bids for either of the runners-up in the procurement. And the government today reportedly declined to confirm that Cubic's bid came in AU$100 million lower than Conduent's, as the letter reportedly asserts.
Published reports last month, in fact, had speculated that Cubic was likely the more expensive option of the three finalists and that transportation officials worried that they would be locked into Cubic technology.
Despite its reputation for locking in transit agencies to its fare technology, Cubic would have been considered the frontrunner for the Melbourne contract.
It's the largest fare-collection system vendor globally, running systems in London and New York, as well as owning the two largest projects in Australia: Sydney's closed-loop Opal card and open-loop payments service and the account-based ticketing system now being implemented in Australia's third-largest state of Queensland, home to Brisbane. The budget for the Queensland project was $AU371 million, including seven years of operation.
"Cubic has successfully delivered projects around the world and has consistently been selected in procurements for those cities based on our proven products/services and ability to deliver these technologies on time and on budget," the Cubic letter reportedly stated. "We urge you to personally evaluate if the right decision was made, particularly since the selected provider has not yet successfully delivered the technologies and services that the state is seeking."
Cubic has had its own problems with late implementations of projects, including in such cities as Boston and New York. It's also been over budget in past projects. But it has more experience delivering account-based ticketing and open-loop payments, including on smartphones.
Although Conduent has implemented open loop on trams in Australia's fifth largest city, Adelaide, and in some other mostly small cities in Italy and France, the vendor does not have much account-based ticketing and open-loop experience in large cities, nor does it have much practice, if any, delivering virtual closed-loop cards to Apple's iPhone. (That is one criticism of Melbourne's closed-loop myki card service–it's only available on Android phones. That is likely due to restrictions from Apple.)
Carroll, the Victoria state transport minister, last month touted the Conduent's experience in Paris, Dubai, Montreal and New Jersey.
But as Mobility Payments reported, it's not clear that any of these four projects are account-based ticketing systems. They are not open loop, at least not yet, and they don't support closed-loop on the iPhone.
A year ago in Montreal, Conduent announced a three-year extension to its contract, mainly to manage maintenance and upgrades in the Montreal region for the closed-loop Opus card. The transport networks serving the region handle 1.7 million rides per day. Conduent has managed at least parts of the system for nearly 20 years.
Two years ago, the company announced with France-based Flowbird a contract to replace all bus and tram "onboard ticketing platforms," including validators, for the Paris region. Riders can tap the closed-loop card with Android phones but not with the iPhone. Conduent won a separate contract to supply a back office for Paris around four to five years ago for around €60 million (US$68.5 million), Mobility Payments has learned.
Dubai's Roads and Transport Authority, or RTA, only last year issued a request for proposal for an account-based ticketing system, for which Conduent was one of the bidders. Conduent today is believed to only run the bus network today.
Moreover, some of Conduent's projects have run into problems in North America and Europe.
Conduent suffered a big setback with its fare project for U.S. transit agency SEPTA in Philadelphia, when the agency issued tender documents for practically a brand-new fare system. Conduent's Key card system had been beset by delays and cost overruns. After 11 years, SEPTA had reportedly paid the vendor $263 million, more than twice as much as the project was originally supposed to cost.
Conduent is also believed to be struggling with one of its biggest contracts in Europe–providing a non-open-loop transit ticketing system to eight transit agencies in the Lombardy region, including passenger rail operator Trenord and Milan public transit operator ATM, Mobility Payments has learned. Conduent had announced this contract in 2018.
© Mobility Payments and Forthwrite Media. Mobility Payments content is for individual use and cannot be copied or distributed without the express permission of the publisher.