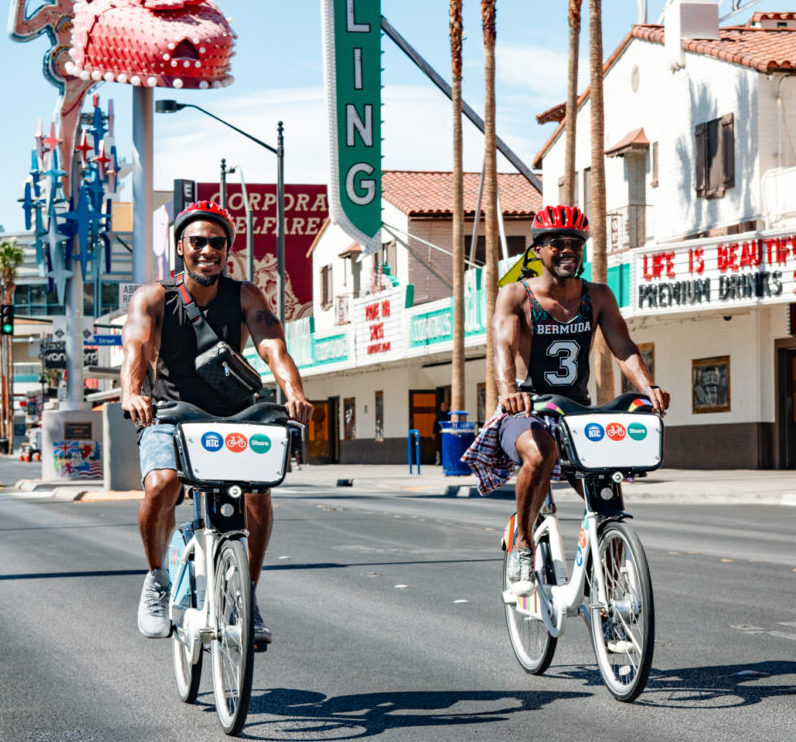 Article Highlights
Key Takeaway:
The transit agency serving Las Vegas and the surrounding region is the first in the U.S. to enable customers to pay fares for public transit and bike rental from the same account in a third-party trip-planning app, though mobile ticketing in these apps are slow to take off.
Key Data:
Transit says it has sold tickets for only around 65,000 RTC bus rides since January 2020. That represents a tiny share of RTC total ridership of just over 39 million for 2020 alone.
(This premium article was originally published in May 2021. © Mobility Payments and Forthwrite Media.)
RTC of Southern Nevada, the main transit agency serving Las Vegas and the surrounding region, now enables customers to buy passes for bike share in addition to tickets for buses through the trip-planning Transit app. Although the implementation is relatively small, project backers say Las Vegas is the first U.S. city to launch bike share and transit passes in the same app.
The move follows RTC's launch of mobile ticketing for bus fares in the Transit app and also in the Uber ride-hailing app in January 2020. RTC also offers mobile ticketing through its own mobile app, rideRTC, which it rolled out more than four years ago.
In addition to the city's 400 buses, the transit agency also oversees RTC Bike Share, with at least 150 bicycles at 21 stations operated by Bicycle Transit Systems, with hardware–including bicycles, stations, docks and mobile technology–provided by vendor BCycle. Until recently, to buy bicycle passes and unlock bikes, customers needed a separate mobile account.
Trip-Planning Apps Interested in Public Transit Ticketing
Trip-planning apps like Transit have been keen to promote the addition of public transit ticketing and payments to their apps over the past one to two years, as they build toward introducing what they tout as mobility-as-a-service, or MaaS, platforms. True MaaS platforms enable users to plan, book and pay for multimodal rides, including with both public and private mobility providers. But significant rollouts of MaaS apps have proved elusive.
In addition to RTC of Southern Nevada, Transit said riders can use their Transit accounts to purchase fares with more than 30 transit agencies in the U.S. and Canada. That also includes RTD in Denver, Metro in Cincinnati, AC Transit in Oakland, CA, Big Blue Bus in Santa Monica, CA and ARTM in Montreal. Transit already had provided payments for a small number of microtransit services and that includes six bike-share systems. Among them are BIXI in Montreal, MoGo in Detroit and now RTC Bike Share in Las Vegas.
Rival trip-planning apps Moovit and Google Maps, along with some smaller providers, are also enabling public transit ticketing and payments. For small and mid-tier transit agencies in particular, the app providers are working with such software-as-a-service ticketing platforms as UK-based Masabi and U.S.-based Token Transit. Google says it is not building toward a MaaS offer and instead is intent on boosting transit payments for its mobile payments service, Google Pay.
Transit last week announced it is also working with U.S.-based SaaS ticketing provider Bytemark. In addition, U.S.-based Cubic Transportation Systems has launched its own branded app, Umo, which combines a trip-planning feature from Moovit with Cubic's own SaaS ticketing platform. And Cubic said it could offer SaaS ticketing to other trip-planning apps besides Umo.
Masabi provides the ticketing and payments for RTC bus ticketing sales in all three apps, Transit, Uber and rideRTC, using its Justride SaaS platform. RTC pays Masabi a 2.5% commission on the mobile ticket sales, based on a tiered-pricing model, an RTC spokeswoman said. That does not include credit card fees the agency must pay for selling tickets to customers with stored cards in the apps. BCycle still provides the passes for bike rental, but Masabi could take that over one day, said the agency spokeswoman.
Third-Party Apps Off to Slow Start?
Looking at some early returns, it appears that transit riders are choosing local agency apps over the third-party trip-planning or ride-hailing apps to buy their mobile tickets, unless agencies make the third-party apps the default for mobile ticketing. Also, when both a local app and one or more third-party apps are available for ticketing, the local app is usually more established, sometimes introduced years earlier.
For example, while RTC in Las Vegas has seen around 30% adoption of its mobile-ticketing platform, according to one official, the vast majority of that usage is on the local rideRTC app, launched in 2016, rather than the Transit or Uber apps, both launched 16 months ago. Customers still make the majority of fare payments with cash, however.
Scott Mazick, RTC director of technical services, told NFC Times through a spokeswoman this past week that the rideRTC app accounts for 20% of total sales.
On the other hand, Transit says it has sold tickets for only around 65,000 RTC bus rides since January 2020. That represents a tiny share of RTC total ridership of just over 39 million for 2020 alone. Mazick said that the Transit app accounted for 3.5% of mobile ticket sales in 2020, which would mean it made up roughly 1% of total ticket sales. RTC ticket sales in the Uber app were even lower, accounting for less than 1% of mobile ticket sales.
RTC isn't the only U.S. transit agency that has seen low adoption so far for mobile ticketing in trip-planning apps. RTD Denver was the first transit agency to sell public transit tickets through the Uber app, starting in the spring of 2019, and later that year it began selling tickets through the Transit app. It added yet another third-party app, Lyft, in 2020.
Still, after two years working with the third-party apps, the vast majority of RTD's customers still use the agency's own white-label app, Mobile Tickets, launched in the fall of 2017. The local app accounted for more than 95% of mobile-ticket sales for the year ending in February 2021. The other three apps, Uber, Transit and Lyft, made up the rest. RTD notes that, overall, mobile ticketing has greatly exceeded expectations and the agency says it will continue to offer customers various options to pay for their rides.
Customers use the Transit app more often to pay for rides with agencies that make up the NEORide consortium, which handles fare collection for more than a dozen bus operators in Ohio, Kentucky and Michigan. NEORide began selling tickets through the Transit app in the fall of 2019 and according to the group, 55% of mobile ticket sales are made through Transit, with another 5% sold through Uber and the Moovit trip-planning apps. The high use of Transit is mainly due to the fact that Metro in Cincinnati, the largest operator in the NEORide group, made Transit the default app for mobile ticketing. The other 40% of NEORide's mobile-ticketing sales go through the local EZfare app.
Yet, mobile ticketing still makes up a small percentage of total rides for the group. Transit announced earlier this month that it had handled 500,000 rides for the 13-agency transit group since 2019. Cincinnati Metro delivers more rides than that every month.
Elsewhere in Ohio, the Dayton Regional Authority says it achieved 35% of customer boardings with its mobile-ticketing service through the Transit app, which is the agency's default app, as of January 2021. That's only around eight months after launching the service. Still, only around 6,000 customers are using the agency's mobile service in total. Dayton RTA has a goal of eliminating cash payments of fares on board its vehicles completely by the end of the third or fourth quarters, a target moved back from the original goal of eliminating cash by June 2021.
Cash Still King in Vegas
Eradicating cash is unlikely to happen anytime soon for RTC in Las Vegas, where cash still accounts for 60% of fare payments.
"So far we haven't seen a huge decrease in that cash acceptance, oddly enough," said revenue operations supervisor Michelle Whitney, speaking at the Transit Ticketing Digital conference in March. She added that the agency is happy with its mobile-usage rate. "We still have that 30% adoption on our mobile app. We actually had more tourists (pre-pandemic) using our mobile app instead of our ticket vending machines or some of our other options that they had available for purchasing the fare."
But serving the gambling mecca of Las Vegas means that many customers, both residents and visitors, tend to carry cash and often want to use it to pay fares, said Whitney. Whitney added that in addition to the cash-heavy tourist trade, Southern Nevada has a large population without access to debit or credit cards.
"I don't see it (cash) ever going away, especially here in Las Vegas," Whitney said.
But the agency still wants to reduce the proportion of cash it deals with. In an analysis conducted prior to the pandemic, RTC found that it cost around 15% to manage the cash it collects in its fareboxes. That compares with an 8% cost to provide mobile ticketing. "We wanted to be able to reduce that operational cost and that overhead for handling all that cash," she said.
And if the agency can't eradicate cash, it can at least use mobile ticketing to move more of the burden of accepting cash to retailers, like the more than 300 retail locations at which RTC customers can scan a bar code on their smartphones to add value to their accounts with cash or a debit card. That's currently possible with either the Transit app or rideRTC.
"Shifting that acceptance to a retail location and out of our transit system, using different types of technology, I think that is kind of the key to still being able to say you accept cash," said Whitney. "Maybe (we need to) just ship it to somewhere else so that our operational cost isn't so incredibly high."
Many U.S.public transit agencies now have similar systems in place, either for mobile ticketing, reloadable smart cards, or both, but RTC has opted so far to do without closed-loop fare cards in favor of smartphones. According to Whitney, the mobile apps reduce the learning curve for the city's constant churn of tourists. But, of course, it doesn't make cashless fare payments accessible to low-income people, who may not have access to smartphones capable of running rideRTC, Transit or Uber.
RTC's Mazicks said through the spokeswoman that the agency is working with Masabi to introduce account-based ticketing, which he said could also support both reloadable contactless smart cards and eventually open-loop fare payments.
A closed-loop mobile-ticketing service introduced in 2018 by Google for its NFC payments service, Google Pay, is available only on the Las Vegas Monorail, which is not run by RTC.
Dan Balaban contributed to this report.
© Mobility Payments and Forthwrite Media. Mobility Payments content is for individual use and cannot be copied or distributed without the express permission of the publisher.