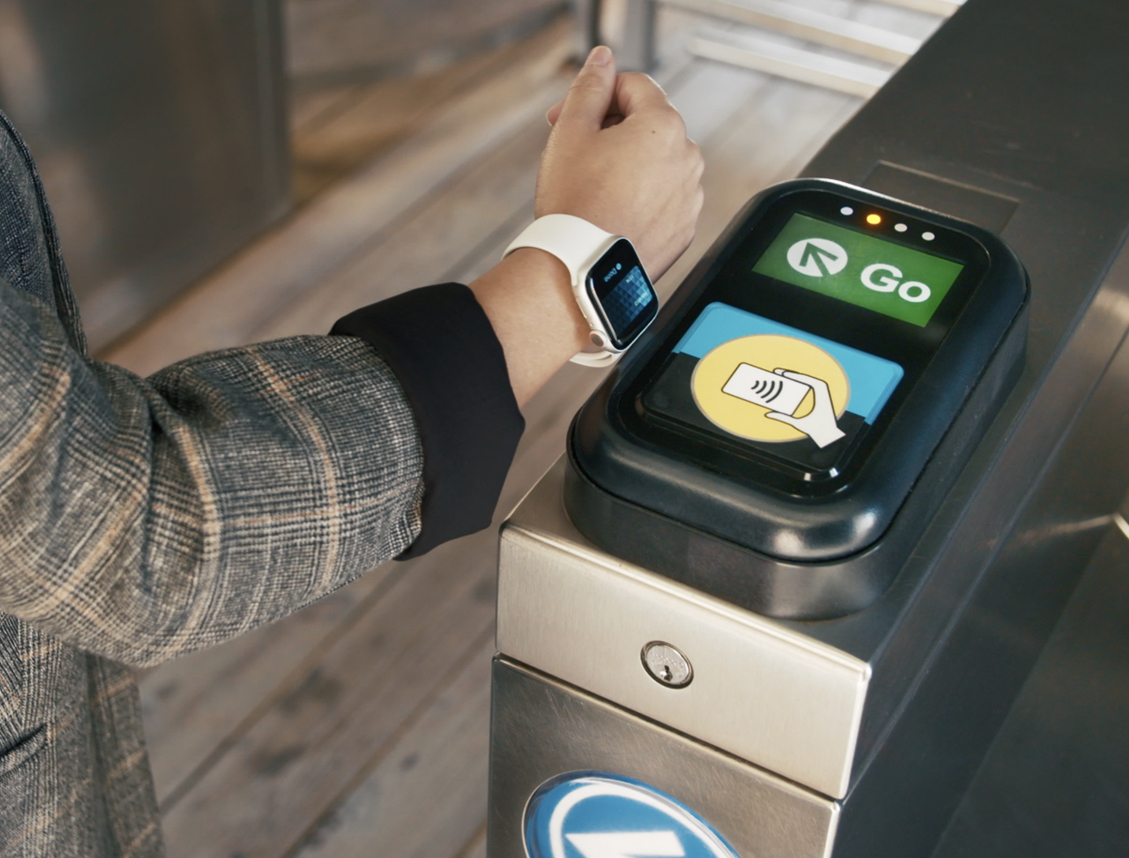 Article Highlights
Key Takeaway:
Over the past year, some large transit agencies in North America, Asia and Europe–working with major Pays wallets–have introduced mobile and wearables fare payments with closed-loop cards, including in Los Angeles, Washington, D.C., Chicago, Hong Kong, Tokyo, Slovakia and the UK county of Tyne and Wear.
Key Data:
Table: Major Pays Increase Pace Adding Closed-Loop Fare Cards
While the move to open-loop fare collection by transit agencies gets a lot of attention, some major agencies have been shunning the idea of accepting bank cards for fares while expanding ways their customers can pay with well-established closed-loop fare cards.
Over the past year, some large transit agencies in North America, Asia and Europe–working with major Pays wallets–have introduced mobile and wearables fare payments with closed-loop cards, including in Los Angeles, Washington, D.C., Chicago, Hong Kong, Tokyo, Slovakia and the UK county of Tyne and Wear. That adds to closed-loop cards that the Pays wallets, such as Apple Pay, Google Pay and Samsung Pay, already supported in China, Japan, the U.S., Australia and elsewhere. (See table below.)
One of the latest agencies to enable customers to pay with their devices is the Metropolitan Transportation Commission, or MTC, serving San Francisco and the nine-county Bay Area region, which in May 2021 announced the launch of the closed-loop Clipper card on Android smartphones supporting Google Pay. It had added Apple NFC-enabled iPhones and Apple Watches the previous month. The launches include technology from NXP Semiconductors and Cubic Transportation Systems.
Spate of Virtual Card Launches
The Pays wallets, led by Apple, accelerated the pace of support for closed-loop cards starting in 2020, especially in the U.S. Transit officials noted last year that concerns about the Covid-19 pandemic influenced their decisions to introduce mobile payments and enabling reloading of their closed-loop cards in apps. They said the virtual cards would reduce interaction between customers and transit staff and vending machines.
But the support for the closed-loop cards by the Pay wallets had already been in the works. For example, Apple had announced plans to support the closed-loop Ventra card in Chicago with its NFC-enabled iPhones and Apple Watches in March 2019, but the launch didn't happen until late October 2020.
Apple had launched closed-loop cards on Apple NFC devices a month earlier with two other U.S. transit agencies. The Los Angeles County Metropolitan Transportation Authority, or Metro, said customers with Apple Pay could pay fares with a virtual TAP card issued by the agency. In the same week, the Washington (D.C.) Metropolitan Area Transit Authority, or WMATA, announced it had put its SmarTrip closed-loop card on Apple's NFC-enabled devices, as well.
WMATA at the time had confirmed plans to support Google Pay and did so earlier in June 2021. The launches of digital closed-loop cards are not only in Pays wallets. For example, Metro in Los Angeles has launched the TAP card in its own Android app.
Apple and other Pays wallets are enabling users to tap without authenticating themselves with passcodes or biometrics and for some wallets, such as Apple Pay and at least some implementations of Samsung Pay, users don't even have to wake up their phones, though the devices must be turned on. They also work when the devices have shut down because of insufficient battery power.
Apple offers its Express Transit mode in all cities where it supports closed-loop cards, though not all cities where users can use Apple Pay to pay fares with open-loop credit and debit credentials. The former includes closed-loop cards in Tokyo, Beijing, Shanghai, Hong Kong, as well as Washington, D.C., Los Angeles, Chicago and San Francisco.
Riders tapping to pay fares with open-loop cards or credentials in wallets in London and New York City also can use Express Transit, but not in such open-loop cities as Sydney, Vancouver and the open-loop option in Chicago.
The Pays wallets can dispense with the authentication requirements they have for retail transactions for people paying fares because these transactions are low in value and are pay as you go, not season tickets. The latter would be more expensive and more risky without authentication.
Users must authenticate themselves when they are loading value to the cards, of course. The transit agencies usually enable users to add the virtual cards and reload them with value in both the Pays wallet and in a separate agency app. Users usually need to purchase transit passes in the separate app, in the U.S. In addition, for such agencies as Metro in LA, users can buy passes for bike share with their virtual closed-loop cards.
And Google plans to enable users to begin the purchase of digital versions of closed-loop fare cards directly in its trip-planning app, Maps, though the actual transaction, loading of value and storage of the cards will be in Google Pay.
No Hurry to Support Open Loop
Some of the largest agencies in the U.S., including Metro, still appear to have no immediate plans to support payments of fares with contactless EMV credit and debit cards or bank card credentials on NFC devices.
"Open payment is a capability that will cost money to develop and includes parameters that make equity more difficult for our seniors, disabled, students and low-income riders," a Metro spokesman told Mobility Payments, referring to fare payments with contactless EMV bank cards.
That policy runs counter to a general trend for large transit agencies to move toward accepting contactless EMV payments, following high-profile launches of the technology in London and, more recently, New York City, among other places.
In addition to contactless EMV cards, customers also can pay with their bank card credentials loaded into Pays wallets.
But Los Angeles is not alone in snubbing open-loop payments, which is being strongly backed by such payments schemes and Visa and Mastercard, along with banks. MTC in San Francisco earlier decided against supporting open-loop fare payments, at least for the near-term.
Instead, like Metro, MTC is focusing on its closed-loop payments card, Clipper, which is undergoing a $400 million-plus revamp by automated fare collection system vendor Cubic, including a 10-year operating agreement. And WMATA in Washington, D.C., while planning to introduce open-loop acceptance more than five years ago, cancelled the project.
In addition to saying the option is expensive, the U.S. agencies that are balking at open-loop note that it does not eliminate the need for maintaining their separate and established closed-loop cards for customers who have no bank cards or don't want to use them to pay fares. Also, it's more difficult to support concessionary fares for senior citizens, students and disabled persons with open-loop cards.
And in such major cities in Asia as Tokyo, Hong Kong and Taipei, where closed-loop fare collection schemes like Suica, Octopus and EasyCard have substantial retail payments footprints, the cards generate revenue and are often used widely to pay for low-value retail transactions, parking fares and also in some cases as an ID card.
© Mobility Payments and Forthwrite Media. Mobility Payments content is for individual use and cannot be copied or distributed without the express permission of the publisher.